Heat Warning For Central Alberta Today
Meteorologists with Environment Canada have issued a Heat Warning for eastern Alberta, parts of the northern reaches of the province and for the Red Deer region. In fact the City of Red Deer is forecast to reach a High of 31 today.
A period with maximum daily temperatures reaching near 29C or above and minimum overnight temperatures near 14C or above is expected to last until Friday.
For Cardston, Lethbridge, Cypress Hills, and Medicine Hat regions, maximum daily temperatures are expected to be near 32C or above and minimum overnight temperatures near 16C or above until Friday.
Residents of and visitors to the above warned regions are advised to take the following precautions to protect themselves, their families and their neighbours:
– Consider rescheduling outdoor activities to cooler hours of the day.
– Take frequent breaks from the heat, spending time outdoors at your house or at cooled public buildings (including malls or indoor pools).
– Drink plenty of water and other non-alcoholic, non-caffeinated beverages to stay hydrated.
– Do not leave any person or pet inside a closed vehicle, for any length of time.
Monitor for symptoms of heat stroke or heat exhaustion, such as high body temperature, lack of sweat, confusion, fainting, and unconsciousness. Particular vigilance is urged for vulnerable individuals, including children, seniors, individuals with pre-existing lung, heart, kidney, nervous system, mental health or diabetic conditions, outdoor workers, as well as those who are socially isolated.
For more heat health advice, including for vulnerable individuals, visit www.ahs.ca/heat.
Heat Warnings are issued when very high temperature conditions are expected to pose an elevated risk of heat illnesses, such as heat stroke or heat exhaustion.
Extreme heat affects everyone.
The risks are greater for young children, pregnant women, older adults, people with chronic illnesses and people working or exercising outdoors.
Watch for the effects of heat illness: swelling, rash, cramps, fainting, heat exhaustion, heat stroke and the worsening of some health conditions.
Check on older family, friends and neighbours. Make sure they are cool and drinking water
Never leave people or pets inside a parked vehicle.
Ask a health professional how medications or health conditions can affect your risk in the heat.
Watch for the symptoms of heat illness: dizziness/fainting; nausea/vomiting; rapid breathing and heartbeat; extreme thirst; decreased urination with unusually dark urine.
Please continue to monitor alerts and forecasts issued by Environment Canada. To report severe weather, send an email to [email protected] or tweet reports using #ABStorm.
Canadian swimmer says she was drugged at world championships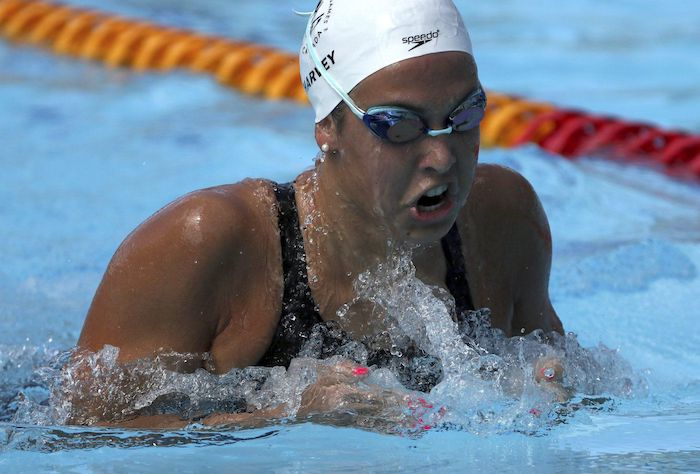 Canadian swimmer Mary-Sophie Harvey says she was drugged on the final day of the world aquatics championships and suffered a rib sprain and a concussion.
Harvey said in an Instagram post that there is a four-to-six hour window where she has no recollection of what happened, and that she remembers waking up with the Canadian team manager and doctor by her bedside.
She also posted photos of bruises on her body.
Montreal's Harvey competed in the women's 200-metre individual medley at the world championships in Budapest, Hungary, finishing eighth. She also earned a bronze medal in the women 4×200-metre freestyle relay after swimming in the preliminaries.
"We are aware there was an incident the night before departure from Budapest," Swimming Canada spokesman Nathan White said in an email to The Canadian Press. "As soon as team staff became aware, Mary received excellent medical treatment from our team physician on site, and was cleared to travel home.
"Staff have been in contact with Mary since her return and we are offering her support. We continue to gather information on the situation, and the file has been forwarded to our independent Safe Sport officer."
Harvey said she debated on whether to write her post, but said "these situations sadly happen too many times for me to stay silent."
"I'm still scared to think about the unknowns of that night," she wrote. "I'm still in a way, ashamed of what happened, and I think I always will be. … But I won't let this event define me."
The 22-year-old Harvey competed for Canada in last year's Tokyo Olympics. She's scheduled to swim in this summer's Commonwealth Games in Birmingham, England.
This report by The Canadian Press was first published July 6, 2022.
Montreal Alouettes fire head coach Khari Jones, defensive co-ordinator Barron Miles
MONTREAL — Danny Maciocia is returning to the CFL sidelines.
The Montreal Alouettes GM assumed interim head-coaching duties with the CFL club Wednesday after the club fired head coach Khari Jones and defensive co-ordinator Barron Miles.
Noel Thorpe returns to the franchise as defensive co-ordinator and defensive backs coach.
Maciocia made the move with Montreal (1-3) on a bye week. The Alouettes return to action July 14 hosting the Edmonton Elks.
In a statement, the Alouettes said Maciocia will serve as head coach until the end of the '22 season.
"This kind of decision is always difficult to make, but we felt that we needed to make it early in the season while there is still time," Maciocia said. "We want to thank Khari Jones and Barron Miles for their work, and wish them the best in the future."
Maciocia's decision to let Jones go wasn't entirely a surprise. It was former Alouettes GM Kavis Reed who promoted Jones to head coach from offensive co-ordinator when the club abruptly announced just before the '19 season that Mike Sherman was longer the head man.
The amiable 51-year-old Jones posted an 18-18 regular-season record over two-plus seasons with the Alouettes, who'd reached the playoffs during Jones' first two years but were eliminated in the East semifinal.
Montreal finished third in the East Division last season with a 7-7 record before losing to Hamilton 23-12 in the opening round of the conference playoffs.
The Alouettes were 10-8 in 2019. It was the franchise's first winning campaign since 2012 and first playoff appearance since 2014 and secured Jones a three-year extension.
Maciocia was named Alouettes GM in 2020 but before that had served as the head coach of the Montreal Carabins from 2011-19, winning a Vanier Cup in 2014. Over nine seasons with the Carabins, Maciocia compiled a 57-16-0 record.
Maciocia also has CFL experience as a head coach with Edmonton (2005-08), winning a Grey Cup in '05. He also served as an assistant with Montreal (1997-2001) and Edmonton (2002-04).
Thorpe returns with the Alouettes for a third time. He began his CFL coaching career with Montreal in 2002, winning a Grey Cup with the Alouettes after spending six seasons with the University of British Columbia and Simon Fraser.
Thorpe won a Vanier Cup with UBC in 1997.
Thorpe coached special teams and defensive backs with Montreal from 2002-07. He returned in 2013 as the club's defensive co-ordinator and assistant head coach, positions he held through 2017.
He also served as a defensive backs coach, special-teams co-ordinator and assistant head coach with Edmonton (2008-10) and also worked as a defensive co-ordinator with the Ottawa Redblacks (2018-19).
Thorpe has a history with Maciocia. The two worked together in Edmonton in 2010 as well as the Carabins in 2011-12 when he served as the university team's special-teams co-ordinator.
Thorpe also spent the '21 season as Edmonton's defensive co-ordinator. But after the team hired Chris Jones as head coach/GM, the franchise announced Thorpe would not be retained.
Thorpe, a Vancouver native, rejoins the Alouettes after helping the Birmingham Stallions win the USFL championship.
This report by The Canadian Press was first published July 6, 2022.