Health care summer camp a life-changing experience?
From Red Deer Catholic Regional Schools
Four RDCRS students participate in Health Sciences Career Academy at Red Deer College
Four students from our division are participating in the Health Sciences Career Academy at Red Deer College this week. CAREERS: the Next Generation, Alberta Health Services and Red Deer College have collaborated to offer a summer camp that allows students to explore more than 20 different health sciences programs.
"It seemed like the perfect way to get some experience and to learn about the different jobs within the hospital. I was always curious to see the different types of nurses and behind the scenes. I now know I want to go into the medical field," said Abby Ward, Grade 12 student at École Secondaire Notre Dame High School.
"This Career Academy was an interest to me because I wanted to get more information about working in health services, as I am considering as choosing it as a profession. This will help me move forward by providing me knowledge about the variety of the careers that are in the medical field," said Mya Lozynsky, Grade 12 student St. Joseph High School.
Red Deer Polytechnic's Jenica Swartz named ACAC Indoor Track Runner of the Year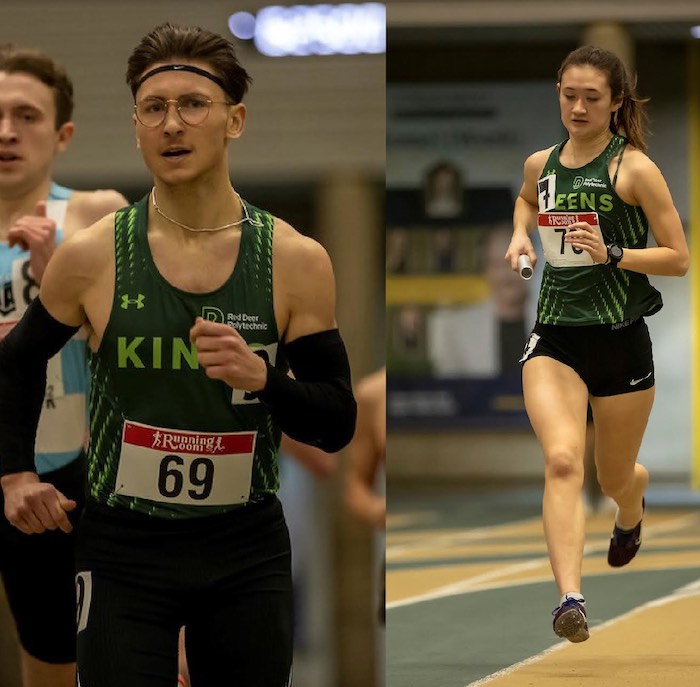 Jenica Swartz named Indoor Track Runner of the Year, Ethan Duret picks up an All-Conference Award
Red Deer Polytechnic and the Athletics department are pleased to recognize Jenica Swartz of the Queens Indoor Track Team as the Alberta Colleges Athletic Conference (ACAC) Female Runner of the Year and Ethan Duret of the Kings Indoor Track Team as he was named an ACAC All-Star.
Swartz was a crucial part of the Queens team winning their first-ever championship title in Indoor Track. Duret picked up multiple top-five finishes on the men's side at the ACAC championship.
Jenica Swartz (Queens Runner)
What a year it was for Jenica Swartz. It all started way back in August when she started training with the Queens Soccer and Cross-Country team. She was able to earn a gold medal in soccer and a bronze medal on the same weekend at the ACAC Soccer and Cross-Country Championship. Capping off the 2022 season, Swartz competed for the soccer team at nationals before flying to Medicine Hat for cross-country nationals where she ran the 6 km race that same morning and placed fourth. A few months later, she would help the Queens win the first-ever championship in program history in Indoor Track after picking up three individual golds, one silver and first place in both the relay events at the ACAC Championship held in Edmonton at the Butterdome this past weekend.
Head Coach Douglas Spicer explained that Swartz is an outstanding athlete and teammate.
"She leads by example in her training and competing in both cross-country and indoor track, along with being an integral part of the Queens Soccer program. It was a great pleasure working with Jen this year and watching her dominate the competition in her quiet, humble way."
Last season, Swartz broke her ankle and she had to have pins put in to repair the damage. Between the 2022/2023 cross-country and indoor track seasons, she had the pins removed and in the end, she came out on top in the 300m, 600m and 1000m events at the championship.
Swartz is a second-year student-athlete at Red Deer Polytechnic and is enrolled in the Bachelor of Science Pre-Med program. She was also named to the All-Conference team.
Ethan Duret (Kings Runner)
Ethan Duret is a second-year student-athlete with the Kings Indoor Track and Cross-Country team. He is from Red Deer and went to high school at Notre Dame Ecole Secondaire where he ran for their cross-country and track team before moving over to the Polytechnic. He is a five-foot-nine runner and is enrolled in the Bachelor of Commerce program.
Earlier in the Indoor Track season at the Grand Prix hosted by Red Deer Polytechnic, Duret earned himself two first-place finishes and a gold and bronze medal in both relay events. At the Championships, it was a much different story, Duret could not find the podium in the individual events but helped his team to a bronze finish in the 4x200m relay. He ended his weekend with two fifth-place finishes in the 300m dash and 600m run.
Spicer said he is a terrific athlete who is well-suited for indoor track, as he has natural speed, along with the endurance that he developed during the cross-country season.
"Although he did not finish in the top five in cross-country, he trained hard and developed a solid aerobic base which we refined during indoor track. This added more speed and endurance which suited his 600m and 1000m races in particular. Ethan is a goal-setter who asks a lot of himself and works hard to achieve his goals."
Duret will also be graduating from the program following the end of the academic year.
Please share the words Brian Burke says twice in this chat