Great vibes in the dressing room as RDC Queens Hockey squad gears up for new season
From RDC Athletics
Tight-knit Hockey Queens ready to hit the ice in 2019-20
Queens Hockey Head Coach Kelly Coulter is thrilled about the 12 returning student-athletes and 11 new additions he has assembled for the 2019-20 Alberta Colleges Athletic Conference (ACAC) Women's Hockey season.
"The vibe in the dressing room is fantastic. The girls seem to really get along and care about each other," he says. "They seem to be really connected so I think that bodes well on the ice for us as well."
Goaltender Karlee Fetch is back to play her fifth-year after an outstanding bronze medal performance in last year's playoffs. Bachelor of Science Nursing student Madison Fox will share the duties in net, after joining the Queens from the Pacific Steelers of the Junior Women's Hockey League (JWHL).
"Karlee is really mature in her game and as a person, so I think she will be a very good role model for Madison in terms of prepping for games and being a student-athlete," says Coulter. "Madison is a very good young goaltender who likes to compete, so it's a very good tandem."
Despite the absence of 2018-19 Second Team All-Conference defenceman Catherine Longchamps, the Queens have a solid returning group on the blue line. Victoria Johnston, Kirsten Baumgardt, Sydnee Decorby, Ashley Sutherland and Mariah McKersie are back at RDC. Bachelor of Science Nursing student Shelby Ballan is recovering from a lengthy injury, but will help the team. Joining the defensive corps are Wetaskiwin's Abby Fonteyne, Glendon's Brooke Skrypichayko and Spirit River's Tessa Ross.
Jenessa Fournier, Camryn Wallan, Neisha Germann, Jessi-Lynn Sumaling, Mary Hirsch and Hannah Petrie return up front. Sydney Rowley, Brooklyn Rowley, Madison Sansom, Carissa Hogan, Tyra Anderson, Braxton Shawara and Red Deer's Avery Lajeunesse join the forwards.
"Some of the student-athletes have been more dominant goal scorers on their teams, so we're hoping that will parlay into this season," says Coulter. "Character and compete level are common traits that we see with all of our players, which makes us extremely happy."
Madison Sansom is one of those added offensive weapons. The first-year Open Studies student from Saskatoon recorded 12 goals and 20 assists in 25 games with the Battlefords Sharks of the Saskatchewan Female Midget AAA Hockey League (SFMAAAHL) a season ago. Another talented first-year forward, Carissa Hogan had 12 goals and 13 assists in 28 games with the Swift Current Wildcats, and Coulter views Hogan's impact extending beyond the ice.
"We are finalizing our leadership group and we have seven girls – Camryn Wallan, Kirsten Baumgardt, Neisha Germann, Victoria Johnston, Sydnee Decorby, Ashley Sutherland and Carissa Hogan, a rookie on our team this year," says Coulter. "That's the group that we're going to be working with, but we are open to adding more as we feel we have a lot of character in our room this year."
The RDC Queens competed in six exhibition games, picking up three victories and some valuable playing time. The Queens defeated the SAIT Trojans 4-0, the Central Alberta Amazons 2-1 and the Olds College Broncos 3-1.
"Our girls have come in very good shape. The games that we've had in the exhibition season, we've been very happy with the compete level," says Coulter. "They are an intelligent young group and are very willing to learn. We are trying to figure out some chemistry and how people play together."
The Queens dropped a 3-1 decision to the Broncos, 5-2 game to the University of Lethbridge Pronghorns of U Sports, and a very close 1-0 contest to the defending champion MacEwan University Griffins, but they gained important preseason experience.
"The game that we played against MacEwan was a very good game. It had a lot of pace to it back and forth and I was happy that our girls were able to compete at that level," says Coulter. "I think it helped our girls, especially the rookies, to see the pace and compete levels. MacEwan has been the champions for three years, so they've set the bar."
The RDC Queens will open the season on Thursday, October 10 at 7:00 p.m. against the Broncos in Olds. Then 24 hours later, the Queens will host the Broncos at the Gary W. Harris Canada Games Centre.
"That should be a good series right off the bat," says Camryn Wallan, a third-year forward from Beaverlodge. "We're going to have to make sure that we use our speed, get pucks to the net and make sure we capitalize on our opportunities."
After many practices, hours of training and six exhibition games, the RDC Queens are ready to begin the season.
"I'm excited to get started. We had our team builder on August 25 and 26, and we've been together for a while," says Coulter. "All the girls are ready to compete."
For more information on RDC Queens Hockey, the student-athletes, scores, and game recaps of conference games, please visit: rdcathletics.ca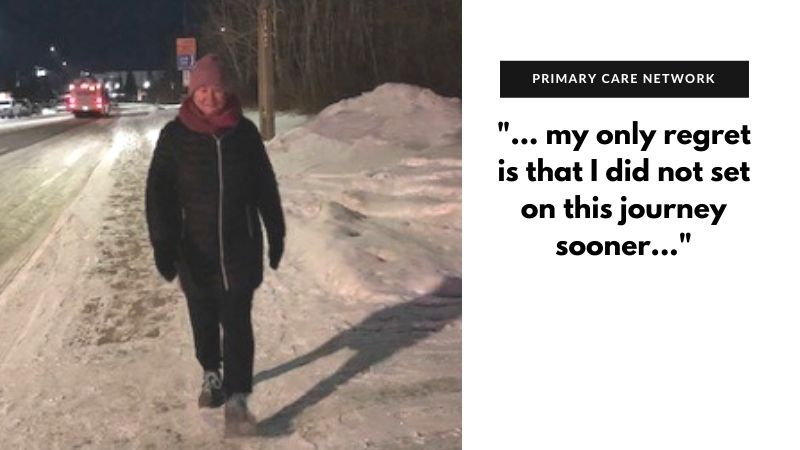 I was diagnosed with Type 2 Diabetes in October 2020. I worked with the RDPCN family nurse to adopted a completely new lifestyle. I decreased my caloric intake, started carb counting, and started walking daily. At first I would walk for 30 minutes a day and now I am up to one hour per day. At times the winter weather has challenged me but I have persevered. Evenings were always family time but I steal an hour for my walking. Fortunately, my family is supportive and at times my daughter or a friend join me and give me motivation.
I have begun to feel lighter and in better shape. I have lost 30 pounds and I have normal blood glucose and blood pressure now. I am still awaiting results of a liver fibroscan. It has taken me a lot of work and willpower to stay the course and I am not done yet. I really feel that I have dodged the bullet. For me a prospect of serious illness, heart attack, liver failure, losing a limb or my family losing me… was petrifying.
So if I were to give advice to anyone who recently got diagnosed with Type 2 diabetes, it would be this: first, make sure you understand what is going to happen if you don't do anything and then think about the consequences it will have on you and your family, those you love the most. For me that was the biggest motivation. And second advice, find your support system:  family, friends, medical professionals… anyone that will be able to be there for you, give you advice, challenge you and prop you and push you when needed.
I hope someone finds my story inspiring. After all, for years I had used every excuse in the book, not enough time, I cannot give up this or that… until the prospect of getting seriously ill became all too realistic. It is not easy to change one's ways, but it is more difficult to live with the consequences of the untreated diabetes, or even worse – to not live at all. My only regret is that I did not set on this journey sooner, before any damage was done.
To learn more about the RDPCN programs, visit www.reddeerpcn.com
Getting My Blood Glucose Back in the Normal Range Gave Me Tears of Joy
More on provincial update to vaccine passports and restrictions at recreation and cultural centres.
COVID update: Restrictions Exemption Program and mandatory masking
Following the announcement of new public health guidelines on September 15, 2021, The City will implement the Restrictions Exemption Program requiring proof of vaccination, medical exemption or negative rapid test result for visitors and participants at City recreation and culture facilities.
What is the Restrictions Exemption Program?

On September 15, 2021, the Government of Alberta declared a State of Public Health Emergency due to the rising hospitalizations and cases of COVID-19. As a result, they are implementing province-wide restrictions in an effort to reduce the impact of the pandemic.

The Restrictions Exemption Program allows businesses to operate as usual as long as patrons aged 12 and older provide proof of vaccination, medical exemption or a negative rapid test result. In order to continue providing recreation and culture opportunities in a safe and responsible way, The City has decided to implement the Restrictions Exemption Program for all City owned and operated recreation and culture facilities.

How does the Restrictions Exemption Program affect facilities?
Two exceptions to the REP include; volunteers performing sport-related responsibilities, and youth aged 12-17 participating in activities will not be required to show proof of vaccination, medical exemption or negative COVID-19 rapid test results.
Starting September 20, the following applies at City owned and operated recreation and culture facilities*:
• Anyone ages 18 or older will require will require proof of vaccination, medical exemption or a negative rapid test result within 72 hours of a visit to facilities.
o From September 20 to October 25, proof of a single dose is considered acceptable as long as the dose was given more than two weeks before visiting a facility.  After October 25, proof of double vaccination is required.
• Volunteers for organized sport groups can enter to perform their sport-related responsibilities without proof of vaccination, exemption, or negative COVID-19 test
• Youth sport, fitness and performance participants can participate in their activities without proof of vaccination, exemption or negative COVID-19 test.
*On Friday, September 17, The City announced that all vaccine-eligible individuals over the age of 12 be required to meet the requirements of the Restriction Exemptions Program.
After further clarity was provided by the Government of Alberta, revisions were made to exclude youth participants ages 12-17 and volunteers from the program.
Collicutt Centre
G.H. Dawe Community Centre
Servus Arena – Walking track is open for use through Activity Reservations
Kinex Arena
Kinsmen Community Arenas
Michener Aquatic Centre and Gymnasium
Recreation Centre
Setters Place at Great Chief Park (applies to use of indoor spaces only)
Intermediate School

Outdoor activities are not included in the Restrictions Exemption Program.

The Restrictions Exemption Program also applies to all leaseholder spaces within City facilities. Lease holders will be responsible for sharing these new requirements with their customers. Third-party operators (e.g., River Bend, Bower Ponds, Heritage Ranch, Neighbourhood Activity Centres, etc.) will make their own decisions regarding their operations. Rental permit holders for City operated recreation and culture facilities will be responsible for sharing recreation facility requirements with their memberships and visiting teams. For organized sports, please check with your sport organization for more information about specific requirements.
Why are you implementing the Restrictions Exemption Program?

The safety and well-being of customers, visitors and staff continues to be the driving force in our decisions in response to the COVID-19 pandemic. We are adopting the Restrictions Exemption Program in an effort to continue providing safe and accessible recreation opportunities for the community. If we did not adopt the program, our programs and services would be subject to further operating restrictions, which would significantly decrease access to our facilities.

For example, without the Restrictions Exemption Program, all adult group fitness classes and activities would be cancelled, and all facilities would be reduced to 1/3 capacity.

How do I show proof of vaccination, medical exemption or negative rapid test?

Acknowledging that not all Red Deerians may not be able to access their proof of vaccination immediately, The City will allow access to facilities from Monday, September 20 to Monday, September 27 with verbal confirmation of vaccination.

As of September 28, one of the following is required*:
Valid photo identification that matches the vaccine record (only required for adults 18 and over)
Valid paper or digital vaccine record that shows name, vaccine type and date of administration:
From September 20 to October 25: proof of partial vaccination (one dose) is considered acceptable as long as the dose was given more than 2 weeks before the time of service.
After October 25:proof of full vaccination (two doses) is required.
Find out how to access your records
• Tests must be privately-paid, Health Canada approved rapid antigen, rapid PCR or lab-based PCR test completed within the previous 72 hours.
o Valid test results should be a written or printed copy that clearly outlines the type of test, time of sample collection, clear indication of a negative result, and laboratory that completed the test, if applicable.
o Photos of a rapid test result taken offsite is not sufficient.
o Do not bring completed self-tests or rapid tests to businesses due to communicable disease risk.
• Tests must not be from Alberta Health Services or Alberta Precision Laboratories.
Proof of medical exemption
• A valid medical exemption is the original signed letter from a physician or nurse practitioner that includes:
o Person's name that matches their identification.
o Physician's or nurse practitioner's complete information, including:
 name, phone number, contact information, professional registration number and signature
 statement that there is a medical reason for not being fully vaccinated against COVID-19
 duration that the exemption is valid
*This information is take from the Government of Alberta COVID-19 website. Please visit their website for the most up to date information.
Are masks still required?

As mandated by the Government of Alberta, masks are mandatory in all indoor public spaces. Therefore, all visitors are required to wear a mask in City facilities, unless actively participating in activities.

Effective September 20, anyone unable to wear a mask will be required to provide medical exception letter from an authorized health professional. More information about mask exemptions is available at alberta.ca/masks.

I would like to cancel a booking/registration/monthly pass because of the new guidelines. Will I get a refund?
Yes, refunds are available. Please contact [email protected] or 403-309-8411 to request a refund for programs and passes. Email [email protected] to request a refund for facility rentals.
Can individuals from different households still participate in activities together?

Limitations are dependent on the type of activity. Indoor private social gatherings, which includes bookings for birthday parties, are limited to two households with a maximum of 10 vaccine-eligible, vaccinated people. There are no limitations on children under 12.

Physical activities, such as swimming, are not considered social gatherings and are not limited by capacity or household designation under the Restrictions Exemption Program.

Do I have to show proof of vaccination when booking?

Proof of vaccination will be requested at the entrance to the facility. Please be prepared to show your proof of vaccination, medical exemption or negative test result every time you visit a facility.

How long will these new rules be in place?

We do not have an end date for restrictions at this time. We will continue to follow public health guidelines as set by the Government of Alberta.
10.  Are City Staff required to be vaccinated?
For businesses that participate in the Restrictions Exemption Program, vaccinations for staff are not required. At this time, The City does not have a mandatory vaccine policy, but we are reviewing our approach on requiring vaccination for City employees and contractors.
11. Can a parent who is unvaccinated drop their child off for a program or activity?
Yes, if the child is 8 years or older and the parent does not enter the facility.
For children under 8, existing facility requirements remain in place; all visitors under 8 must be accompanied by an adult or someone 16 years or older. This person would need to show proof of vaccination, medical exemption or negative test result. The requirements of the provincial Restriction Exemption Program require all individuals over the age of 12 to be vaccinated in order to access a facility.
For preschool and childminding participants, please contact the program lead for further information.
12. Do I need to be vaccinated to enter a city facility to vote in the upcoming federal election?
The only City-owned polling station is the G.H. Dawe Community Centre. Elections Canada has an exemption from AHS allowing voters to enter polling stations without proof of vaccination. Masks will be required with proof of medical exemption for anyone not able to wear a mask.
13. With the Restrictions Exemption Program temporarily in place at City recreation and culture facilities, will I get a refund on my 2021 taxes or a tax break in 2022?
Programs, facility rentals and services offered at the recreation facilities are accessible with a fee. If you are currently registered or have a booking, you can contact us for a refund. Please contact [email protected] or 403-309-8411 to request a refund for programs and passes. Email [email protected] to request a refund for facility rentals.
Property taxes are collected for provision of services to the entire community, the main portion of your property taxes goes towards emergency services, outdoor amenities, police and road maintenance. With the funding that is put towards outdoor amenities every year, we are able to maintain our parks, trails, outdoor courts and rinks that are accessible to anyone for free.
For more information: