Graven Images: The Greening Of Calgary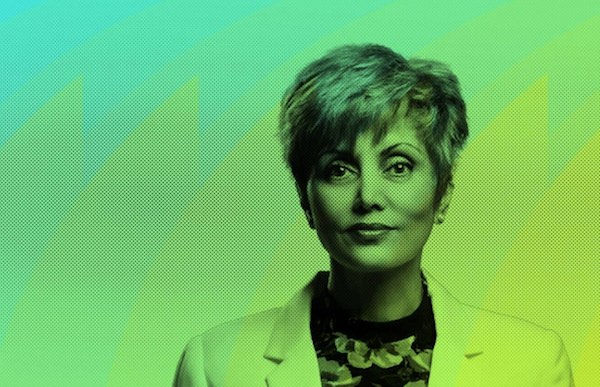 The city of Calgary this week elected the first woman mayor in its history. This is a source of great satisfaction to those citizens who cringe at Calgary's image as part buckaroo/ part bitumen cowboy. The fact that Jyoti Gondek is of Pashtun origin only deepens the sense of accomplishment for the urban elite of Calgary.
How giddy are the wokesters? A CBC reporter illustrated the story with a tweet showing a long series of emoji men followed by a single emoji of a woman. Because journalistic objectivity at the national broadcaster demands a clever tweet. "Look what we've done, world! Woman! Punjabi! Now we can hold our heads up in the polite society of the urban hives."
The new mayor has a PhD in urban sociology which "furnishes understanding of the complex as well as profound meaning of every urban reality, notably the territorial stabilization of social life, the rise of a space symbol system and culture, and the origin and evolution of human settlements."
Which sounds like the sort of convoluted stuff that Wokesters toss around when they're trying to distance themselves from the Stampede crowd. What it means in reality is that Gondek will commit $250 K to declare a climate emergency in Calgary as her first priority as mayor. As this photo below shows, it's not a moment too soon.
Can she tame the city's transit snarls and stare down a council bent on destroying the budget? Who knows? Who cares? The natural gas/ petroleum bastards will now have to take a knee to the symbolism of her outreach to Big Climate. And that's enough.
Okay, it's just a mayor in a mid-sized Canadian city, but you have to start with small dreams if you're going to make the world a progressive paradise. Especially when, like Gondek, you spend every working day cloying with guilt over how Calgary's energy industry is ravaging Mother Earth.
The big Green virtue dreams are the ones about to be dreamt in Glasgow in the next weeks as the world's guiltiest liberals— aka the IPCC— convene to reconstitute the world economy by killing fossil fuels. If this all sounds familiar it's because the Al Gores and Neil Youngs have been hard at this project for decades, sending thunderbolts of doom via a captive media. (Sample: 1987: NASA's James Hansen predicts world 3C warmer by 2020. Reality: average temp only 0.44C higher.) And lots more faceplants.
No matter. The evolution of Green is a litany of half-baked predictions and salacious slanders. Even as European governments scramble to replace their sacred renewable dreams with the realities of nuclear power or, gasp, Russian natural gas, the pious will still party like it's 1999— when all things seemed possible. There's a revolution of purity happening here, folks, and a few inconvenient facts isn't going to harsh the vibe.
The vibe, of course, is not climate change or even first women mayors. The vibe is victim culture, re-fitting Marxism so the uncouth and intemperate opposition can be permanently rendered inert. If Marx's wealth re-distribution is to happen equity— not just equality— must be achieved. Any weapon at hand— climate, gender, victimization— will serve to get there.
The old Commie's theories just need a new coat of victim's paint to make them current. Author Chris Rufo explains how the Left is making the quick flip after their Cold War dreams died in the '70s at the altar of capitalist riches. : "… rather than abandon their political project, Marxist scholars in the West simply adapted their revolutionary theory to the social and racial unrest of the 1960s. Abandoning Marx's economic dialectic of capitalists and workers, they substituted race for class and sought to create a revolutionary coalition of the dispossessed based on racial and ethnic categories."
Suddenly, it's all victims, all the time.
Thus the new liturgy, funded by Big Tech oligarchs such as Mark Zuckerberg and Bill Gates. Capitalist roaders are failed humans. Writes Christopher Chantrill: "Today's elites are totally down as Allies of the Oppressed Peoples. Their political power is justified by their untiring support of and advocacy for The Victims."
Andrea Widburg describes the role reversal in The American Thinker: "In its new iteration, Whites are irredeemably racist and evil. Equality is a trap because White societal dominance means that the other races (and sexualities) will never be able to catch up. Forced equity is the only answer, and one way to pave the way for that to happen is to force Whites to remove themselves from society, from the economy, from politics, and from any other area in which they can be seen to have an advantage."
Celebrating the ascent of symbolism, not the skill-set of politicians such as Barack Obama (and the removal of statues) is how whites willingly remove themselves from the economy and society. As Rufo tweets, "@LockheedMartin, the nation's largest defense contractor, sent key executives to a three-day white male reeducation camp in order to deconstruct their "white male culture" and atone for their "white male privilege."
To the surprise of the Marxists, their old enemies on Wall Street are enthusiastically taking the bait. Now they have only the rump opposition of libertarians and stubborn conservatives left to hammer into shape and the Bernie Sanders revolution, begun in the '60s, will be complete.
Calgary will be so proud.
Bruce Dowbiggin @dowbboy is the editor of Not The Public Broadcaster (http://www.notthepublicbroadcaster.com). The best-selling author of Cap In Hand is also a regular contributor to Sirius XM Canada Talks Ch. 167. A two-time winner of the Gemini Award as Canada's top television sports broadcaster, his new book with his son Evan is called InExact Science: The Six Most Compelling Draft Years In NHL History is now available on http://brucedowbigginbooks.ca/book-personalaccount.aspx
Battle of Alberta starts with a bang as Flames down Oilers 9-6 to open playoff series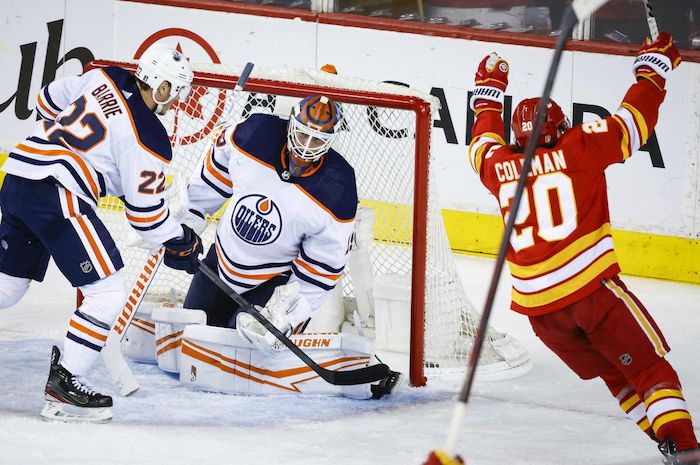 By Donna Spencer in Calgary
Matthew Tkachuk scored a hat trick for the Calgary Flames in Wednesday's 9-6 win over the Edmonton Oilers to open their playoff series.
The NHL's first playoff Battle of Alberta in 31 years compensated for its long absence with an abundance of goals in Game 1.
Blake Coleman scored twice for the Flames. Rasmus Andersson and Andrew Mangiapane each had a goal and two assists.
Elias Lindholm and Brett Ritchie also scored for Calgary while goaltender Jacob Markstrom stopped 22 shots for the win.
Zach Hyman scored twice for Edmonton. Connor McDavid produced his fourth straight multi-point game in the playoffs with a goal and three assists.
Edmonton's captain leads the league's post-season points race with five goals and 13 assists.
Leon Draisaitl had a goal and two assists and Kailer Yamamoto and Evan Bouchard also scored for the Oilers.
Edmonton starter Mike Smith was pulled in the first period after allowing three Calgary goals on 10 shots. Mikko Koskinen made 32 saves in relief.
The winner of the best-of-seven series advances to the Western Conference final.
Game 2 is Friday at the Saddledome before the series heads to Edmonton for Sunday's Game 3 and Tuesday's Game 4.
Teams that take a 1-0 lead in a best-of-seven series hold a series record of 503-232 (.684), according to NHL statisticians.
In a matchup of potent offences, the question ahead of the series was which team could keep the puck on its sticks and spend more time in the offensive zone.
Calgary dominated that department early. The Flames scored twice in a 25-second span in the first minute and led 3-0 by 6:05 when Smith was replaced by Koskinen.
Calgary's two goals in the opening 51 seconds was the fastest two goals to start an NHL playoff game, and electrified a sea of red dotted with Oiler orange and blue at the Scotiabank Saddledome.
The Oilers would not go quietly, however.
The Flames had survived a goaltender-dominated, grinding series with the Dallas Stars in the first round.
Wednesday's Game 1 was, by contrast, an open-ice track meet of mediocre goaltending. The Flames held a 40-18 edge in shots after two periods, but led 6-5 heading into the third.
Edmonton's Yamamoto briefly tied the game at 1:28 putting McDavid's rebound over Markstrom's outstretched pad.
Andersson regained the lead for Calgary at 2:57. Mangiapane from behind the net fed the all-alone defenceman whose wrist shot beat Koskinen's glove.
Tkachuk gave the Flames a two-goal lead at 8:55 with his second of the night. He snared a Draisaitl turnover at the blue line and beat Koskinen five-hole on a breakaway.
Tkachuk scored into an empty net to complete his hat trick. Hats rained down onto the Saddledome ice and chants of "we want 10" goals soon followed.
Draisaitl pulled the visitors within a goal at 19:21 of the second period when he beat Markstrom far side on an odd-man rush with McDavid.
Hyman scored at 9:38 and 14:06 of the second period. He circled out from behind the net and whipped the puck by Markstrom's glove for his second.
Hyman skated the puck into Calgary's end, stopped and got a shot away between defenceman Michael Stone's legs that deflected off Markstrom and into the top corner for his first.
Tkachuk batted in a rebound for a power-play goal at 8:24 after Bouchard converted a McDavid pass at 7:10. McDavid spun off of Dillon Dube to get a cross-ice pass away to Bouchard.
Zack Kassian's roughing penalty after Bouchard's goal gave Calgary the man-advantage for Tkachuk's goal.
Coleman struck 45 seconds into the second period and again at 6:10 for a 5-1 Flames lead.
He redirected a Noah Hanifin shot for his second goal and put a rebound over a prone Koskinen during a scramble around the crease for his first.
McDavid glided in front of the net and patiently waited for Markstrom to commit before tucking the puck between the goalie's pads at 7:41 of the first period.
Ritchie scored his first career playoff goal at 6:05. He knocked Edmonton's Evander Kane off the puck at the Oilers' blue line, reached to collect the loose puck and got a shot away under Smith's arm.
From behind the net, Backlund dished to an undefended Mangiapane in the slot for the latter to beat Smith from close range 51 seconds after opening puck drop.
Lindholm converted Calgary's first shot of the game into a goal 26 seconds after opening faceoff. He settled a bouncing puck off a cross-ice dish from Rasmus Andersson and swept it far side over Smith's glove.
The Flames were minus top shutdown defenceman Chris Tanev a second straight playoff game. He was injured in Game 6 of Calgary's first-round series against Dallas.
Tanev skated in both Tuesday's practice and in Wednesday's morning skate, but did not dress for Game 1.
Notes: With his 94th career playoff win as a head coach, Darryl Sutter joined Pat Quinn ranked No. 6 all-time . . . With three assists in Game 1, Johnny Gaudreau joined Jarome Iginla and Martin Gelinas (2004) among Flames to carry a six-game point streak in the playoffs . . . McDavid was the first Oiler to score a goal in four straight post-season games since Michael Peca and Shawn Horcoff in 2006 . . . The red lot fan zone adjacent to the Saddledome was closed Wednesday because of high winds . . . Game 1 was the highest scoring playoff game involving Calgary and Edmonton surpassing the previous high of 12 goals scored in Game 3 of the 1983 Smythe Division final.
This report by The Canadian Press was first published May 18, 2022.
This is what Jason Kenney said as he stepped down as Premier of Alberta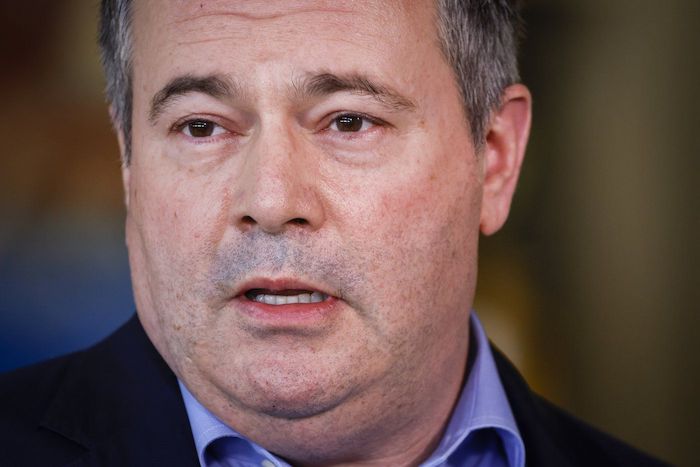 Premier Jason Kenney's address starts at the 10 minute mark and only lasts for 4 minutes.