GoFundMe campaign for Red Deer FireMedic facing long road to recovery
From GoFundMe campaign for "Big Ben"
On October 1, Ben a 42 year old firemedic from Red Deer was faced with an unexpected event. In a split moment, Big Ben (aka friendly giant as some of you may know him) needed the help of specialized surgeons. Due to the swift response of the firemedic dept, he was taken out of city to have emergency surgery. The surgery was successful, however he did sustain a stroke post op. Ben has a long road of recovery ahead with the potential for lifelong changes.
Currently Benny is out of cardiac intensive care and remains in hospital. His family, children (3), grandchildren (2), colleagues and close friends have been supporting him from near and far. He is recovering well but all of this will take time.
Ben has a large network of people who extend far and wide from childhood friends, clientele from the good ol' 'Mort's' days, his involvement with charities and schools that have been close to his heart, his team on the fire departments, fashion show peeps (yes he actually has graced the runway for many many charitable causes) and the list goes on.
If you have met Ben, you will have had that intimate knowing that he is 'that guy' who IS "hard to forget" not only because of his sheer size (6'5) but because he has that genuine and calming nurturing ability to touch our lives in so many ways.
Since his hospitalization, many people have reached out asking "how can I help?", "what can I do?". Well this page will be one of the ways you can help Big Benny.
We do not know the amount of his future expenses. At this moment, we are cherishing his daily progress and flowing one day at a time. With saying that however, we know that unexpected costs will arise.
Ben has a strong work ethic. He worked extra shifts, working at a second job to support himself, the lives and future of his children. Because of this change in life circumstance, he will not be able to leverage on these extra sources of income.
We are hoping to have a fund set aside to alleviate his burden. Should down the road if the funds aren't required and as Ben would have it, he can choose to donate the extra money to a charity dear to his heart.
Again, here is a link to the GoFundMe campaign.
Skills that maintain healthy relationships
Learn ways to improve your relationship skills using the acronym DEARMAN and GIVE, from the DBT therapy perspective, presented by a PCN Mental Health Counselor, Lana.
Interpersonal Effectiveness Skills
Learning to get along with others while also asserting your own needs is essential to healthy relationships. It can be difficult to balance your own needs and the needs of others. How can you get what you need without being aggressive or neglecting of the needs of others? There are three sets of skills you will learn to help achieve this goal: objective effectiveness, relationship effectiveness, and self-respect effectiveness.
Judy's story: I'm on the healthy road!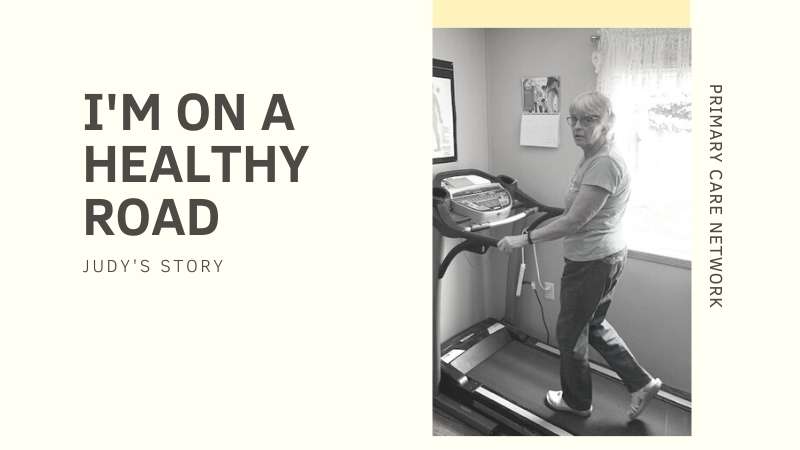 On the Healthy Road!
My journey to better health starting when my doctor told me my blood sugar was at pre-diabetes levels, my blood pressure continued to require medication and I had weight to lose. He sent me to see the RDPCN nurse. After some appointments there, the nurse referred me to the Health Basics program.
Exercise was my downfall. Working from home, I always found something else to do rather than exercise. Health Basics increased my awareness. I tracked what I was eating and became more aware of what I ate, when I ate and why I ate. I also realized things that would make me healthier that I wasn't doing. I realized being healthy is a process and I took one healthy step at a time. I also became aware of the wider variety of options for healthy lifestyle.
My husband and I visited friends over the summer and noted they had lost weight. This stimulated us to pay even more attention to our food intake. As a result of our overall efforts, I have lost about 32 pounds and my husband has lost 37. My blood sugar is now in the normal range. I have had significant decrease in my blood pressure medication. I have more energy. I enjoy exercising more as it is easier to move around and I have less arthritis pain. Health Basics is an excellent class- it started me on the healthy road. I also have much more confidence in my future health.
Click to learn more about the Red Deer Primary Care Network.
Read more success stories from the Primary Care Network.