GM DEXOS MOTOR OIL – Why does it matter to you?
GM DEXOS MOTOR OIL
Why does it matter to you?
What is dexos oil?
Dexos oil is an engine oil that meets a specific set of stipulations. The stringent specifications dexos oil meets help your vehicle meet the latest standards for emissions and improve fuel efficiency. Even if emissions standards and fuel efficiency don't rock your socks, you should use dexos oil for any engine that calls for it. The rationale being that the engine is designed in such a way that dexos oil specifications help it work as it should. Dexos oil is also specially developed for proper lubrication, sludge reduction, friction level moderation and controlling temperatures – the latter being especially important in vehicles with turbochargers or superchargers, as they create more heat. Coincidentally, due to the engine downsizing trend, the number of vehicles with forced induction (turbocharged or supercharged) has expanded quickly.
The dexos oil specification for GM vehicles also provides a global framework that enables GM vehicle owners anywhere in the world to know which oil is right for their vehicles, instead of making different blends for different regions as was often the case in the past.
Dexos goes beyond that.
Aside from meeting the current API (American Petroleum Institute) and ILSAC (International Lubricants Standardization and Approval Committee) requirements, dexos oils were developed through additional testing to provide a reduction in piston deposits of up to 28% and a slight improvement in fuel efficiency when compared to the API and ILSAC requirements.
What Is the Difference between dexos1 and dexos2? Can I use either?
No! Even though many of the features are very similar, dexos1 oils are designed for gasoline engines and dexos2 for diesels. Due to the inherent differences in operations between gasoline and diesel engines, using the intended oil is of the highest importance.
Can Dexos Be Used in Vehicles Older than 2011?
Even though you do not have to use Dexos oils in vehicles that were made before Dexos became the standard for GM, Dexos is compatible with older vehicles as well.
Visit our Express Service to get a $50 5w30 Full Synthetic Oil Change today! No appointment necessary !
GM to stop making the Camaro but a successor may be in works
Justin Allgaier takes his Camaro through its paces as he drives in the NASCAR Xfinity Series auto race at Pocono Raceway, July 23, 2022, in Long Pond, Pa. The Chevrolet Camaro, for years the dream car of many teenage American males, is going out of production. General Motors, which sells the brawny muscle car, said Wednesday, March 22, 2023, that it will stop making the current generation early next year. (AP Photo/Matt Slocum)
DETROIT (AP) — The Chevrolet Camaro, for decades the dream car of many teenage American males, is going out of production.
General Motors, which sells the brawny muscle car, said Wednesday it will stop making the current generation early next year.
The future of the car, which is raced on NASCAR and other circuits, is a bit murky. GM says another generation may be in the works.
"While we are not announcing an immediate successor today, rest assured, this is not the end of Camaro's story," Scott Bell, vice president of Chevrolet, said in a statement.
The current sixth-generation Camaro, introduced in 2016, has done well on the racetrack, but sales have been tailing off in recent years. When the current generation Camaro came out in 2016, Chevrolet sold 72,705 of them. But by the end of 2021 that number fell almost 70% to 21,893. It rebounded a bit last year to 24,652.
GM said last of the 2024 model year of the cars will come off the assembly line in Lansing, Michigan, in January.
Spokesman Trevor Thompkins said he can't say anything more about a future Camaro. "We're not saying anything specific right now," he said.
The company, he said, has an understanding with auto-racing sanctioning bodies that the sixth-generation car can continue racing. GM will have parts available and the Camaro body will stay on the race track, he said.
NASCAR said that because the Generation 6 Camaro was in production when GM originally got permission to race, it remains qualified to race in NASCAR Cup and NASCAR Xfinity Series races.
GM will offer a collector's edition package of the 2024 Camaro RS and SS in North America, and a limited number of high-performance ZL-1 Camaros. The collector's edition cars will have ties to the first-generation Camaro from the 1960s and its GM code name "Panther," the company said without giving specifics.
GM's move comes as traditional gas-powered muscle cars are starting to be phased out due to strict government fuel economy regulations, concerns about climate change and an accelerating shift toward electric vehicles.
Stellantis, will stop making gas versions of the Dodge Challenger and Charger and the Chrylser 300 big sedan by the end of this year. But the company has plans to roll out a battery-powered Charger performance car sometime in 2024.
Electric cars, with instant torque and a low center of gravity, often are faster and handle better than internal combustion vehicles.
Stellantis, formed in 2021 by combining Fiat Chrysler and France's PSA Peugeot, earlier this week announced the last of its special edition muscle cars, the 1,025 horsepower Dodge Challenger SRT Demon 170. The company says the car can go from zero to 60 mph (97 kilometers per hour) in 1.66 seconds, making it the fastest production car on the market.
Discover "Ultium" – the battery technology powering GM's EV fleet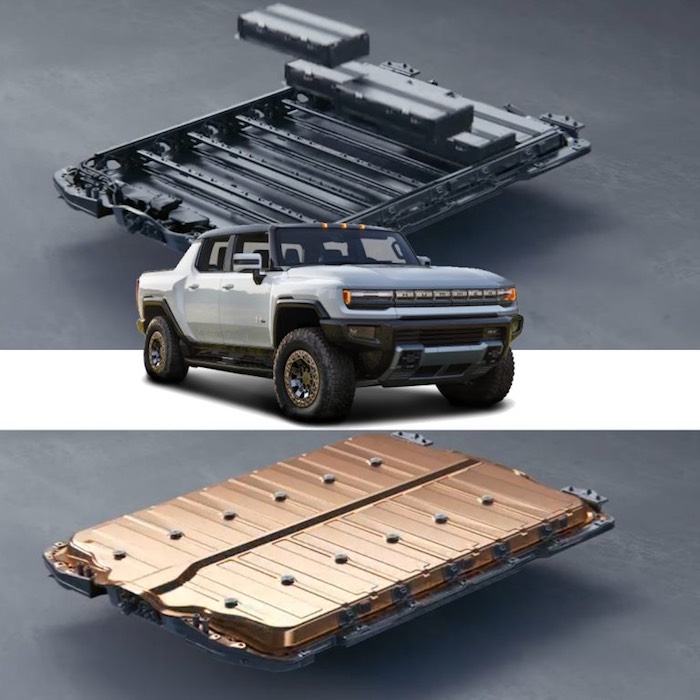 Electric vehicles (EVs) are becoming more popular around the world as people seek environmentally friendly transportation options. However, one of the key challenges facing the EV industry is the development of efficient and reliable battery technology. General Motors (GM), one of the world's leading automobile manufacturers, is taking on this challenge through its Ultium battery technology.
The Ultium battery is a cutting-edge battery system that GM has developed to power its next generation of EVs. This battery system is designed to be flexible, efficient, and cost-effective, making it an ideal solution for EV manufacturers. The Ultium battery is based on a modular design that can be scaled up or down depending on the needs of the vehicle. This means that the same battery system can be used in a wide range of vehicles, from small cars to large trucks.
The Ultium battery system features advanced chemistry that allows for a longer driving range and faster charging times. According to GM, the Ultium battery will be capable of delivering up to 643 kilometers of range on a single charge. This is a significant improvement over the current range of most EVs on the market today. In addition, the Ultium battery system can be charged at rates of up to 200 kW, which means that drivers can add up to 160 kilometers of range in just 10 minutes of charging.
Another key advantage of the Ultium battery system is its cost-effectiveness. GM has designed the battery system to use a minimal amount of rare earth materials, which are often expensive and difficult to source. By reducing its reliance on these materials, GM can reduce the cost of its battery systems, making EVs more affordable for consumers.
In addition to its technological advancements, the Ultium battery system is also environmentally friendly. GM has committed to using 100% renewable energy to power its Ultium battery factories, which will significantly reduce the carbon footprint of the manufacturing process. The company also plans to recycle up to 95% of the battery materials, reducing waste and further reducing the environmental impact of the battery system.
Overall, the Ultium battery system is a significant step forward for the EV industry. With its advanced technology, cost-effectiveness, and environmental sustainability, the Ultium battery system has the potential to revolutionize the way we think about electric vehicles. As more EV manufacturers adopt this technology, we can expect to see a significant increase in the adoption of electric vehicles, leading to a cleaner and more sustainable transportation future.