From mass graves to mass hysteria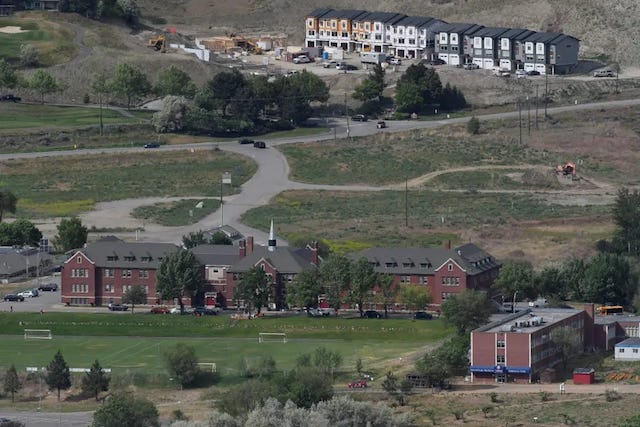 The grounds of the former Kamloops Indian Residential School in British Columbia, where some believe Indigenous students may be buried — though there have not been any excavations. – Reuters
A Canadian Teacher Fired for Challenging the Narrative on Residential Schools—Where's the Evidence, Where's the Justice?
A guest post by
| | |
| --- | --- |
| I am a teacher buffeted daily by the chill winds of political indoctrination, censorship, conformity, and anti-education in schools. | |
The New York Post reported this month that "after two years of horror stories about the alleged mass graves of Indigenous children at residential schools across Canada, a series of recent excavations at suspected sites has turned up no human remains." In July 2021 the Assembly of First Nations claimed the "mass grave discovered at the former Kamloops Indian Residential School was proof of a "pattern of genocide against Indigenous Peoples that must be thoroughly examined."
Yet the Canadian government already examined residential schools from 2008-15 through The Truth and Reconciliation Commission, with Commission Chair Murray Sinclair telling the media the number of missing children "could be in the 15-25,000 range, and maybe even more." To date there has not been a single missing child identified, and not a single document from a parent or chief indicating a child was missing from any of the almost 150 schools over almost 150 years.
I'm not ignorant of the subject of our past as I am informed on the subject of Indian Residential Schools as I am a member of the pan-Canadian Indian Residential Schools Research Group. I also did a Master's degree in Educational History with specialization in Indian Educational Policy under the supervision of Dr. Robert Carney, who was once the leading expert on the schools. I also obtained a Ph.D. from the University of Toronto where I argued A Case Against Censorship in Literature Education. Professionally, I have taught in high schools, elementary schools, and colleges and was for a time Principal of Neuchâtel Junior College in Switzerland. My last position was in Abbotsford as a senior French Immersion History teacher. It is to Abbotsford that I now turn, for that is where I was fired.
One fateful day in May 2021 I was teaching Calculus 12 at a high school named after the painter Robert Bateman where news was feverishly spread about the discovery of the remains of 215 children in a mass grave at the site of the long-shuttered Kamloops Indian Residential School. The principal used the PA system to ask teachers to stop their regular instruction to navigate the upsetting news with students. In this context, I spoke about the history of residential schools, the dislocation and despair of prairie First Nations (most residential schools being located in the Canadian west), the Indian Act (1876) and its authors' intentions to support its most marginalized communities, the role of the church as teachers and proselytizers, and the reports of abuse and neglect.
As it was a math class, some of the students were uninterested or bored by my history soliloquy, but one girl spoke up to say the schools represented "cultural genocide." I agreed with her by saying that modern western schooling was mandatory for indigenous children after 1920, and a third of these children were placed in residential schools (another third attending day schools, and the final third receiving no education at all).
I considered the discussion to be like any other, with some students engaged and others on their phone or quietly doing equations, until a second student, flush with anger and indignancy, reacted to my comment that children who died tragically while enrolled in residential schools did so mostly from disease. She said the Christian teachers in Kamloops (Oblate priests and brothers as well as nuns from the Catholic order The Sisters of St. Ann) were "murderers who tortured students to death by leaving them out in the snow to die."
I didn't say anything more, for I feared an argument, and directed students to return to their Calculus work. The class was given a break a few minutes later, and unbeknownst to me the girl complained to a counsellor, who told the principal, who told the district, and before class was over that day, I had a visit from two male administrators who commanded me in front of my students to gather my things and leave. While being frog-marched through the corridor I repeatedly asked what I had done wrong, but they wouldn't answer. When I was close to the front door I turned to them and said I wouldn't be leaving without hearing from the principal what I had done. This request was granted, but all the principal would say to me was that it was something I said.
My suspension ended after eight months when the district released its investigator's report, to which senior management appended a charge of professional misconduct, as the following excerpts show:
"While acting as a TOC for a Calculus 12 class, Mr. McMurtry…inferring [sic] that many of the deaths were due to disease was in opinion inflammatory, inappropriate, insensitive, and contrary to the district's message of condolences and reconciliation."

"He left students with the impression some or all of the deaths could be contributed to 'natural causes' and that the deaths could not be called murder."

"Both Mr. McMurtry and student accounts had some students passionately saying the deaths were murder, [and] the graves were mass graves."

"[We] consider this to be extremely serious professional misconduct."
While on suspension I dug into the grave story of murdered children and found I was right. Indeed, there was no discovery at all at the residential school in Kamloops in the middle of the Tk'emlúps te Secwépemc reserve. No graves. No bodies. No murder weapons. No police investigation. No historical record or documentation from a parent or tribal leader of a missing child. Nonetheless, prime minister Justin Trudeau unilaterally ordered that our country lower its flag from coast to coast and in our embassies around the world for over five months, though all that Culture/Media professor Sarah Beaulieu (the sole source of the story) found, using ground-penetrating radar in an abandoned apple orchard on the reserve, were soil anomalies, likely sewage trenches or tiles from 1924. My judgment day was February 21, 2023. The Abbotsford School District trustees had to pronounce on a recommendation for termination from management. That very day I saw that the National Post featured my story on Page 1. I was suddenly under a deluge of support from many media platforms, especially Rebel News which sent a reporter to cover the disciplinary hearing. I boldly predicted in front of supporters that my case was strong and the tide in Canada was turning against cancel culture and its witch hunts, but I was wrong. I was fired and will likely never teach again. Canadian historian Marcel Trudel wrote:
"There is nothing more dangerous than history used as a defense; or history used for preaching; history used as a tool is no longer history."
I would add that there is nothing more dangerous, in these times, than teaching history truthfully.
In my termination letter this February the case against me changed again, this time it was no longer about what I said but only my "inflammatory, inappropriate, and insensitive tone" that one day two years ago. Then this August I received a letter from the regulatory body for teachers, called the Teaching Regulation Branch (formerly the BC College of Teachers), which changed the case against me again. Now I am accused of "falsely suggesting that student deaths at the schools were comparable to the general child mortality rate and not the result of a government strategy of cultural genocide." In the same letter the TRB calls for the cancellation of my teaching certificate for life… before my case has arrived at arbitration, before an arbitrator has been chosen or dates have even been set, and long before the merits of my case have been fairly determined.
In Kafka's play The Trial there is a familiar quotation:

"Someone must have been telling lies about Josef K., he knew he had done nothing wrong but, one morning, he was arrested."
Subscribe to The Opposition with Dan Knight
I'm an independent Canadian journalist exposing corruption, delivering unfiltered truths and untold stories. Join me on Substack for fearless reporting that goes beyond headlines
Irish Saying: Is This A Private Fight Or Can Anyone Join?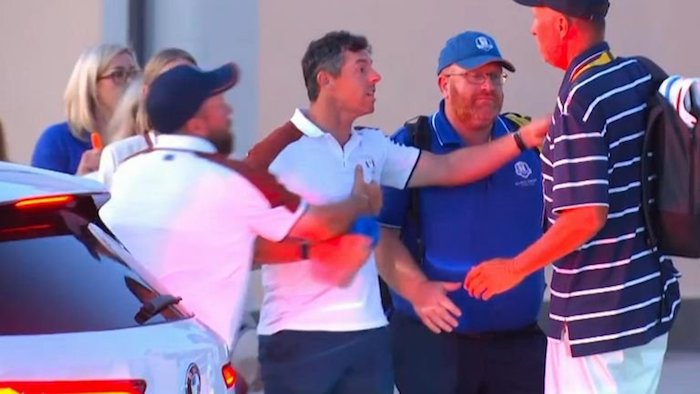 There's no crying in baseball. And there's no fighting in golf. Unless LIV is involved.
Don't tell the participants in the Ryder Cup this past weekend. Under the sunny skies of Rome, the Americans and Europeans produced storm clouds over… brace for it… a golf hat. Or the lack of a golf hat. Let us explain.
American player Patrick Cantlay chose to go hatless, eschewing the U.S. team wardrobe that everyone else agreed to wear. Needless to say the hat had patriotic themes and Cantlay's decision was seen to be controversial. It was not like quarterback Colin Kaepernick kneeling for the national anthem, but to those loyal to Old Glory its seemed disrespectful.
It wasn't helped when media reported that Cantlay had declined the chapeau because, as opposed to teammate, LIV member Brooks Koepka, he wasn't receiving a bonus for wearing the hat. And that, as a result, the embattled U.S. team was split over the controversy. (After first saying that he couldn't find a hat that fit, Cantlay later changed his story to say that the bonus/ dissension story was false.)
That was all the partisan European fans needed to hear. They began mocking Cantlay by doffing their hats and jeering him as Team USA stumbled on Friday and Saturday. Rather than fold, however, Cantlay went on a blazing run in Saturday's final match against Rory McIlroy and Matthew Fitzpatrick. Posting three straight birdies, his last forced the emotional Irishman into a difficult putt on 18 to get a tie.
After Cantlay's dramatic putt dropped, his caddie Joe LaCava (formerly Tiger Woods' caddie) mocked the crowd by doffing his hat in McIlroy's vision. As he did he came close to McIlroy who was preparing for his ultimately unsuccessful putt. The two exchanged words. They were not, "Have a good day." European team member Shayne Lowry then yelled at LaCava who returned fire.
When the sniping ended, the bare-headed Cantlay sunk a dramatic putt to give America hope on Sunday. But that didn't end the unpleasantness. In the parking lot, McIlroy got into it with Justin Thomas' caddy Jim "Bones" McKay. Lowry had to physically shove his fellow Irishman into a car to end the confrontation.
Golf's chattering classes went mad with excitement. What would happen on Sunday as Europe attempted to win the four points that would return them the Cup? Would America be inspired? Was Europe distracted by McIlroy's intemperate blasts?
Sunday, LaCava told media he'd met with McIlroy that morning to smooth things over. No hard feelings. In the end, etc. The most visible sign of Saturday's ruckus was Cantlay buddies Justin Thomas, Colin Morikawa and Xander Schauffele also going hatless in solidarity. It didn't help as Europe— led by McIlroy spanking Sam Burns 3&1— won the Cup 16.5-11.5. And McIlroy called LaCava a liar about talking to him.
But there was no mistaking the witches' brew cooked up on the weekend in Italy. The well-rested Americans were handed their hats (badda-bing) early by a Euro squad seeking revenge for their loss at Whistling Straits in 2021. The coach's selections on the U.S. side— Thomas, Koepka, Burns and Rickie Fowler— stunk out the joint. Calling them coach's selections exaggerates. Zach Johnson was told by his core players whom to invite.
The Euro coach's selections might not have been brilliant, but they didn't hinder the win. Nor were the Euros hurt by the partisan crowd that hooted, chanted and sang its dislike for the Yanks. But that is the Ryder Cup, and when the sides meet again at NYC's Bethpage Black in 2025 the rabble will reciprocate.
Some players called for calm. Rahm asked everyone to cool down after his half on Sunday. Cantlay smiled benignly through all the hullabaloo, saying the chaos is what makes the Ryder Cup great. But they were drowned out by the international press that pronounced critically on American vanity and the Euros swagger.
The Ryder Cup is traditionally— if not actually— considered the end of the golf season, the culmination of the majors and the FedEx Cup season. So it seemed only appropriate that the first full year of the Saudi-backed LIV Golf end with a sour taste for many. McIlroy, for one, has had a miserable time mixing the old (he won 2 times and earned $13,921,008 but with no majors) and the new (as defiant spokesman for the PGA Tour versus LIV he was hung out to dry by the Tour and many fellow players who allowed him to fight their fight). His outburst Saturday/ Sunday showed the strain he's carried.
As the only LIV member playing at Marco Simone Koepka did little to put a happy face on his chosen Tour. Dour, sullen and churlish, he refused the ceremonial doffing of his hat when he'd schooled young Lucas Aberg 3&2. Not that the European and PGA Tour officials connected to the Ryder Cup extended a hand or made pleasant noises about the proposed merger with LIV.
Indeed, the ghosts of LIV members haunted the event. Ryder Cup legends Ian Poulter, Lee Westwood, Henrik Stenson, Graham McDowell, Paul Casey, Dustin Johnson and Phil Mickelson were not only excluded from playing but told there was no place in the coaching room of their teams. It all felt somewhat hollow at times.
Thanks goodness #HatGate resurrected a bit of the old-fashioned bile that makes Ryder Cups so anticipated. For all the polite chumminess of today's PGA Tour, a silly pissing match is a nice diversion. After all, as Conn Smythe once said after a brawl-filled hockey game, "Much more of this and we will have to print extra tickets for the next game."
Sign up today for Not The Public Broadcaster newsletters. Hot takes/ cool slants on sports and current affairs. Have the latest columns delivered to your mail box. Tell your friends to join, too. Always provocative, always independent. https://share.hsforms.com/16edbhhC3TTKg6jAaRyP7rActsj5
Bruce Dowbiggin @dowbboy is the editor of Not The Public Broadcaster A two-time winner of the Gemini Award as Canada's top television sports broadcaster, he's a regular contributor to Sirius XM Canada Talks Ch. 167. Inexact Science: The Six Most Compelling Draft Years In NHL History, his new book with his son Evan, was voted the seventh-best professional hockey book of all time by bookauthority.org . His 2004 book Money Players was voted sixth best on the same list, and is available via http://brucedowbigginbooks.ca/book-personalaccount.aspx
The White House's 'Misinformation' Pressure Campaign Was Unconstitutional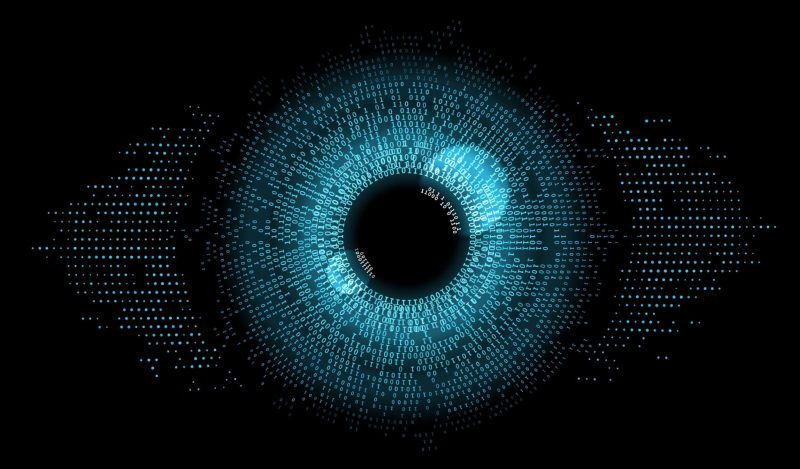 I am one of five private plaintiffs in the landmark free speech case Missouri v. Biden. Earlier this month, the Fifth Circuit Court found that the government "engaged in a years-long pressure campaign designed to ensure that the censorship [on social media] aligned with the government's preferred viewpoints" and that "the platforms, in capitulation to state-sponsored pressure, changed their moderation policies." This resulted in the censoring of constitutionally protected speech of hundreds of thousands of Americans, tens of millions of times. Based on this finding, the Fifth Circuit in part upheld an injunction on certain public officials put in place by a district court.
Even when the government appealed the injunction to the Fifth Circuit, its lawyers hardly disputed  a single factual finding  from the court's ruling. A unanimous three-judge panel upheld the core findings that "several officials—namely the White House, the Surgeon General, the CDC, and the FBI—likely coerced or significantly encouraged social-media platforms to moderate content, rendering those decisions state actions. In doing so, the officials likely violated the First Amendment." The government again appealed the injunction to the Supreme Court, where we expect a ruling this week.
The government's claim that the injunction limits public officials' own speech is absurd misdirection. The government can say whatever it wants publicly; it just cannot stop other Americans from saying something else. Free speech matters not to ensure that every pariah can say whatever odious thing he or she chooses. Rather, free speech prevents the government from identifying every critic as a pariah whose speech must be shut down.
We are all harmed when our rulers silence criticism. Our government's self-inflicted deafness prevented officials and their constituents from hearing viewpoints that should have had a meaningful impact on our policy decisions. Instead, government censorship resulted time and again in the silencing of scientifically informed criticisms of, for example, harmful COVID policies. This allowed misguided and divisive policies to persist far too long.
The scope of the current government censorship regime is historically unprecedented. "The present case arguably involves the most massive attack against free speech in United States' history," the district court judge explained in his ruling. He went on, "The evidence produced thus far depicts an almost dystopian scenario… The United States Government seems to have assumed a role similar to an Orwellian 'Ministry of Truth'." The Fifth Circuit panel concurred: "The Supreme Court has rarely been faced with a coordinated campaign of this magnitude orchestrated by federal officials that jeopardized a fundamental aspect of American life."
The government's only attempted defense is that it was merely offering help to the platforms without jawboning them—"just your friendly neighborhood government agency." But the law is clear that even "significant encouragement" to censor protected speech—not just overt threats or coercion—is unconstitutional. We discovered that social media companies frequently tried to push back against government demands, before finally caving to relentless pressure and threats. The evidence we presented from 20,000 pages of communications between government and social media demonstrated both significant encouragement and coercion—as when Rob Flaherty, White House director of digital strategy, berated executives at Facebook and Google, dropping F-bombs, launching tirades, and browbeating the companies into submission—until they removed even a parody account satirizing President Joe Biden.
But the more insidious and powerful censorship happens when government pressures companies to change their terms of service and modify their algorithms to control what information goes viral and what information disappears down the memory hole. With sophisticated deboosting, shadowbanning, search results prioritization, and so forth, citizens do not even realize they are being silenced, and viewers remain unaware that their feeds are carefully curated by the government. Novelist Walter Kirn compared this to mixing a record: turn the volume up on this idea (more cowbell) and turn the volume down on that idea (less snare drum). The goal is complete top-down information control online.
We were dismayed to discover the number of government agencies now engaged in censorship (at least a dozen) and the range of issues they targeted: the State Department censored criticism of our withdrawal from Afghanistan and the Ukraine War, the Treasury Department censored criticism of our monetary policy, the FBI (surprise!) ran point on several censorship ops, and even the Census Bureau got in on the game. Other targeted topics ranged from abortion and gender to election integrity and COVID policy.
Much of the state censorship grunt work is outsourced to a tightly integrated network of quasi-private (i.e., government funded) NGOs, universities, and government cutouts employing thousands of people working round the clock to flag posts for takedown. But constitutional jurisprudence is clear: the government cannot outsource to private entities actions that would be illegal for the government itself to do. If a government agent hires a hit man, he is not off the hook simply because he did not personally pull the trigger.
So-called "misinformation research" at places like the Stanford Internet Observatory is a slippery euphemism for censorship—not only because Facebook executives admitted to censoring "often true" but inconvenient information under government pressure, but because these entities function as laundering operations for government censorship.
Recent attempts to rebrand the work of the censorship-industrial complex with more anodyne euphemisms—"information integrity" or "civic participation online"—don't change the fact that this is not disinterested academic research, but cooperation in state-sponsored suppression of constitutionally protected speech, always in favor of the government's preferred narratives.
CISA, the government's censorship switchboard and clearinghouse agency housed within the Department of Homeland Security, described its work as protecting our "cognitive infrastructure"—i.e., the thoughts inside your head—from bad ideas, such as the ones advanced in this article. (Not kidding: YouTube recently censored a video of our lawyers giving a talk on our censorship case.) These ideas aren't throttled by government censors because they are untrue, but because they are unwelcome. There's a more accurate term for the government's takeover of our "cognitive infrastructure:" mind control. I don't know a single American of any political persuasion who wants to be subjected to that.
Republished from Newsweek