Freedom Convoy Update: Organizers stressing respect and drivers enjoying incredible Canadian hospitality on the way to Ottawa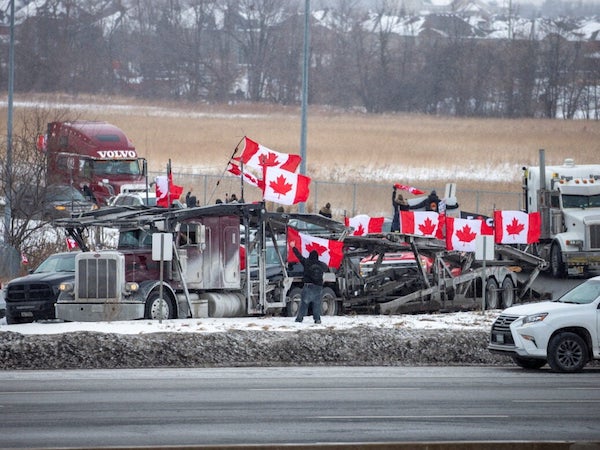 As the Freedom Convoy rolls into Ottawa, organizers are laying down the law on their fellow protestors. No one knows how many trucks and how many people are a part of this convoy. There has been a significant amount of concern that fringe groups will attach themselves to the convoy and perpetrate violence. If they do, there's a good chance their first resistance will come from the convoy participants. Organizers have been emphasizing a respectful and peaceful visit to the nation's capital. This is the message they've posted and shared on their official web pages.
We cannot stress enough how important it is for everyone to do the following:
1. DO NOT enter any government building or government property under any circumstances.
2. Treat all police officers with respect. Front line police officers are already under significant pressure from powerful politicized individuals and local politicians. They are our fellow Canadians, and the police in regions like Peel defended us when they refused to enforce Doug Ford's draconian Covid restrictions on citizens last year. Please do not put front line officers in a difficult position. Always be respectful, even if they issue you a citation. Just know that most of them are doing so under duress.
3. Keep calm. If you see individuals attempting to bait other truckers and attendees into conflict, report them to the police and our staff, or look to others around you to help with de-escalation. Sometimes it merely requires one calm head in a group to temper us all. Don't hesitate to be the negotiator!
4. Do not make any type of threat. Threats lead to escalation, which could lead to violence. Please do your absolute best to stifle any aggressive rhetoric. As you know, the legacy media will be present and will use this as ammunition against our movement. Their business model is built on a strategy of destroying reputations. Do not help them profit from destroying your reputation.
If we keep calm and show love and support for one another, many things will happen. We will eventually cause the government to reverse its policy on Covid passports and vaccine mandates as the UK has recently done. We will meet new friends, develop relationships, and there will likely be people who meet during this peaceful protest and fall in love and build a life together. Let's not sacrifice such a bright future for all of us by loosing our temper.
This is the first step in a long journey to a new golden age of freedom and understanding for one another. Let's build that future together.
Many would be surprised at the overwhelming support Canadians have showed along the entire route. At every stop, the participants are experiencing incredible hospitality. This was the experience of Mirror, Alberta's Chris Scott and his traveling companions as they stopped for a break in Blind River, Ontario Friday afternoon.
The following video was posted by Tamara Lich an organizer of the Freedom Convoy. This is from an emotional stop in Ontario on Friday where convoy participants were showered with kindness in the form of food, treats, and emotional support.
The cause as posted on the GoFundMe platform (currently at 7.7 million dollars raised)
To our Fellow Canadians, the time for political over reach is over. Our current government is implementing rules and mandates that are destroying the foundation of our businesses, industries and livelihoods. Canadians have been integral to the fabric of humanity in many ways that have shaped the planet.
We are a peaceful country that has helped protect nations across the globe from tyrannical governments who oppressed their people, and now it seems it is happening here. We are taking our fight to the doorsteps of our Federal Government and demanding that they cease all mandates against its people. Small businesses are being destroyed, homes are being destroyed, and people are being mistreated and denied fundamental necessities to survive. It's our duty as Canadians to put an end to this mandates. It is imperative that this happens because if we don't our country will no longer be the country we have come to love. We are doing this for our future Generations and to regain our lives back.
Alphonso Davies scores Canada's first-ever World Cup goal
AL RAYYAN, Qatar — Alphonso Davies scored against Croatia on Sunday to give Canada its first-ever goal at the men's World Cup.
The goal came 67 seconds into the game.
Canada's goalkeeper Milan Borjan set up the play with a long goal kick that found Cyle Larin down field.
Larin directed the ball to Tajon Buchanan on the right flank.
Buchanan then sent a cross that found Davies flying through the air and the Bayern Munich star headed the ball past Croatian keeper Dominik Livaković to give Canada a 1-0 lead.
Canada failed to score or secure a point in its first trip to the tournament in 1986, exiting after three first-round losses in Mexico.
Consider that 2,548 goals in total were scored at the 21 previous World Cups, with 132 of those scored at the 1986 tournament. Brazil came to Qatar as the all-time goals leader at the World Cup with 229, having competed at every tournament.
At the other end of the list, Congo (competing as Zaire), China, Indonesia (competing as Dutch East Indies) and Trinidad and Tobago have yet to score at the World Cup.
It looked like Davies was going to end the scoring drought in the 11th minute of Canada's opener Wednesday against No. 2 Belgium at Ahmad Bin Al Stadium, but his penalty kick was saved by Belgian 'keeper Thibault Courtois.
The 41st-ranked Canadians ended up losing 1-0 despite outshooting Belgium 21-9 (each team had three shots on target). Forward Jonathan David led Canada with seven attempted shots, none of which hit the mark.
Canada needed to secure at least a point against No. 12 Croatia to keep alive its hopes of making it to the knockout round.
In 1986, the bookmakers laid long odds on Canada getting a goal in Mexico. And they were proved right as the Canadian men lost 1-0 to France and 2-0 to Hungary in their first two outings at the tournament.
Defender Bob Lenarduzzi came close in Canada's final Group C game at Estadio Sergio Leon Chavez in Irapuato, on a corner against the Soviet Union, only to have the ball squib off his foot in the penalty box. Canada was blanked again, losing 2-0 in its tournament finale.
"It was a terrible effort," Lenarduzzi recalled prior to the tournament with a laugh.
"To this day I will have people, older people that is, say 'You cost me a few bucks. If you had scored there, I would have done all right.' Whoever scores that first goal for Canada _ and someone's going to do it in Qatar _ they don't know it, but they should thank me for them having that honour. Because I should have scored."
Canada has offensive weapons in Qatar. Cyle Larin came into the tournament with a Canadian men's record 25 goals while David had 22, Lucas Cavallini 18, Junior Hoilett 14 and Davies 12.
Midfielder Jonathan Osorio, who came into Sunday's matchup with seven Canada goals to his credit, said scoring in Qatar was just a step to a greater goal.
"Of course that will be very special to the country when we get our first goal," he said prior to the tournament. "You're going to be remembered forever really. But I don't think that's really the focus. The focus is getting the first win. That's what we're looking forward to.
"For us it really doesn't matter who scores as long as somebody does it and we're able to win the game. I think people are more looking forward to the first win rather than just the first goal."
The first strike was one of Canada's first team goals in Qatar, however.
Croatia outscored its opposition 14-9 at the 2018 World Cup, losing 4-2 to France in the final. But it was stymied in its Group F opener Wednesday, playing No. 22 Morocco to a 0-0 draw.
—
Follow @NeilMDavidson on Twitter
This report by The Canadian Press was first published Nov. 27, 2022
Canada's top five federal contaminated sites to cost taxpayers billions to clean up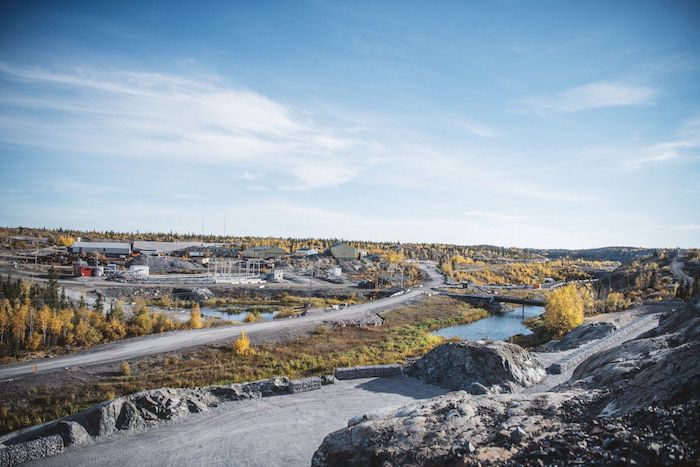 By Emily Blake in Yellowknife
With a cost estimate of $4.38 billion, remediation of the Giant Mine, one of the most contaminated sites in Canada, is also expected to be the most expensive federal environmental cleanup in the country's history.
The figure, recently approved by the Treasury Board of Canada, spans costs from 2005 until 2038, when active remediation at the former Yellowknife gold mine is anticipated to end. That includes $710 million the federal government said has already been spent, but does not include costs for long-term care and maintenance.
"It doesn't bother me so much that it's going to cost $4 billion to clean up Giant Mine. What really bothers me is that the taxpayer is covering that cost," said David Livingstone, chair of the Giant Mine Oversight Board.
It indicates the federal government failed to ensure private developers provided financial security to remediate sites. He said while that has improved over time, there will likely be more issues in the future.
"We as a society need to get a better handle on what it costs us to support mining industry and oil and gas industry," he said. "If the numbers suggest that it's going to cost more to clean up a site than that site generated in revenue to the Crown, we've got a problem."
There are more than 20,000 locations listed in the federal contaminated sites inventory, from dumps and abandoned mines to military operations on federal land.
Environment and Climate Change Canada says that after Giant Mine, the four most expensive cleanups are the Faro Mine in Yukon, the Port Hope Area Initiative in Ontario, Esquimalt Harbour in British Columbia and Yukon's United Keno Hill Mine.
More than $2 billion has been spent on the five sites so far, and it's anticipated they will cost taxpayers billions more in the coming years. Their final price tags are not yet known.
The most recent numbers from the Treasury Board of Canada indicate more than $707 million has been spent on remediation, care and maintenance at Faro Mine, a former open pit lead-zinc mine. Its remediation project is expected to take 15 years to complete and is currently estimated to cost $1 billion, plus $166 million for the first 10 years of long-term operation and maintenance.
Parsons Inc. was awarded a $108-million contract in February for construction, care and maintenance at Faro Mine until March 2026, with the option to extend the contract for the duration of active remediation. The company said the contract could ultimately span 20 years and exceed $2 billion.
In 2012, Ottawa committed $1.28 billion in funding over 10 years for the cleanup of historical low-level radioactive waste in the municipalities of Port Hope and Port Grandby, Ont. To date more than $722 million has been spent on assessment and remediation.
The Port Grandby Project was completed earlier this year and has moved into long-term monitoring for hundreds of years. The Port Hope cleanup, which started in 2018, will continue into 2030.
The cleanup in the Esquimalt Harbour seabed in Victoria currently has a budget of $162.5 million. Roughly $214 million has already been spent on remediation and assessment. The Department of National Defence said that may include costs before 2015, when the remediation project began.
Cleanup of United Keno Hill Mine, a historical silver, lead and zinc mining property near Yukon's Keno City, is estimated to cost $125 million, including $79 million during its active reclamation phase. That is expected to begin in 2023 and take five years, followed by a two-year transition phase then long-term monitoring and maintenance. More than $67 million has been spent on remediation, care and maintenance at the site so far.
Other costly federal sites that have been cleaned up include the Cape Dyer Dew-Line, 21 former radar stations across the Arctic, for $575 million, the Sydney tar ponds and coke ovens on Cape Breton Island, N.S., for nearly $398 million, and the 5 Wing Goose Bay air force base in Labrador, for $142.9 million.
The 2022 public accounts state the gross liability for the 2,524 federal contaminated sites where action is required is nearly $10 billion based on site assessments. Of the 3,079 unassessed sites, 1,330 are projected to proceed to remediation with an estimated liability of $256 million.
The federal contaminated sites action plan was established in 2005 with $4.54 billion in funding over 15 years. That was renewed for an additional 15 years, from 2020 to 2034, with a commitment of $1.16 billion for the first five years.
Jamie Kneen with MiningWatch Canada said the contamination from Giant Mine highlights the importance of the planning and assessment process for development projects.
"If you don't actually do any planning around something, you can end up with a pretty horrible mess," he said. "In this case, it killed people before they started even capturing the arsenic. We don't want that to happen anymore."
This report by The Canadian Press was first published Nov. 27, 2022.
___
This story was produced with the financial assistance of the Meta and Canadian Press News Fellowship.