Focus in fall should be on getting kids up to speed after covid – Red Deer Public School will not pilot K-6 curriculum
Red Deer Public will not pilot K-6 curriculum
Priority will be on recovery and supporting students
Alberta Education's release of the DRAFT Kindergarten to Grade 6 curriculum has received significant concerns from a range of stakeholders raising issues with the proposed programs of study.
The new curriculum is over 500 pages long with many of the pages containing outcomes and objectives that are sound, providing the knowledge, skills and perspectives that students need. Some of the pages however, have raised issues, some of them significant, particularly on segments of the Social Studies curriculum. We concur with many of those concerns.
Sharing the issues and concerns of many in our community, as well as across the province, The Board of Trustees voted unanimously to not participate in piloting the new curriculum at their April 14, 2021 meeting.
While the development of a new curriculum framework has been over a decade in the making, we need to ensure we take the time needed to get this right. Ultimately, the curriculum belongs to all Albertans and it should reflect the hopes and aspirations we have for our students who are the future of this province. What will students need in an ever changing world…curriculum fills those needs. The content and way many of us learned in the past is not what today's students will need to be prepared for the future. Every student needs to be equipped with the knowledge, skills and attitudes that will enable them to create their future.
Our focus will be on recovery… Given the significant challenges we anticipate with what we hope will be a return to school under 'near normal conditions' in September, Red Deer Public's focus for the 2021/22 school year will be on recovery, as it will be with school divisions across the province. We know there will be learning gaps for many students and our priority needs to be addressing those and getting students back on track. We are also mindful of the social and emotional challenges many students and families have faced during the pandemic, so we need to prioritize mental wellness as well. With competing priorities, including curriculum implementation, we need to focus on our most important work and make the best choice for students. Recovery is our most pressing need and it will be Red Deer Public's priority for next year.
With that in place, seeing both strengths and weaknesses in the draft curriculum, Red Deer Public wants to provide constructive and meaningful input to make the new curriculum better without officially piloting the new curriculum.
Our teachers will play a key role…Work will still take place with our teachers from Kindergarten to Grade 6, as well as division and school leadership, to inform our decisions and provide constructive feedback. That work will take time and will be done through a detailed and authentic look at the curriculum's content as well as how teachers will be able to deliver the outcomes. That process will not involve Red Deer Public students.
Given province-wide concerns with the new curriculum, we encourage Alberta Education to be flexible in piloting the new curriculum and request that they welcome and listen to feedback beyond pilot jurisdictions in order to improve the curriculum. Where we can provide input on elements of the program, Red Deer Public is ready to make meaningful contributions.
During the 2021/22 school year we will still need to engage our teachers in preparing for a new curriculum for when it is officially implemented. We will do this through detailed analysis of the content, professional development and collaboration to be well prepared for whatever direction the new curriculum takes so we can do our best for students.
We must also remember that this is only half of the new curriculum, work is also underway developing curriculum for Grades 7 to 12. To begin with, we need to ensure the K to 6 curriculum is sound as it lays the foundation for future grades. Alberta Education needs to take lessons learned from the current process to ensure that middle and high school curriculum is the best it can be and reflects the expectations of Albertans.
Whether it is this or past governments, politics seems to influence the process. Albertans must have confidence in the curriculum development process. We feel it would be beneficial for this to be an independent process that engages the best minds and takes a broad perspective on what critical skills and knowledge all students will need to succeed. This in turn will allow Alberta to be the best it can be for years to come. There has to be a way for curriculum to be developed around sound and shared principles.
In the meantime, the Government of Alberta is seeking input on the draft curriculum, and we urge our parents and community to take the time to review and understand the curriculum first and then share their perspectives. Teachers will be providing input from the classroom perspective, however, all perspectives are vital as part of the curriculum review process.
This new curriculum is important as it will impact teaching and learning for years to come. It needs to set students up for success, so now is the opportunity to make sure we get it right for all of our students.
Nicole Buchanan, Board Chair
Chad Erickson, Superintendent of Schools
Red Deer teacher representing Canada for Most Valuable Teacher title – Just 2 more days to vote!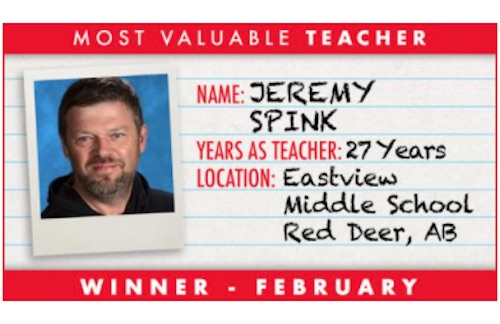 Local teacher in the running for $20,000 technology grant
Eastview's Jeremy Spink the only Canadian vying for the prize
A Red Deer teacher is the only Canadian in the running for a huge prize of $20,000 and the title of 2020/21 NHL/NHLPA Most Valuable Teacher, presented by SAP (Systems, Applications, and Products in Data Processing) and he needs your votes to win!
Jeremy Spink, Teacher at Eastview Middle School, is one of three teachers across North America vying for the technology grant and bragging rights of being named Most Valuable Teacher. If he is successful, Red Deer Public Schools will use the money to support students with technology to help bring Science, Technology, Engineering and Mathematics concepts to life at Eastview Middle School.
The community can help Spink win by voting daily on the Future Goals™ Teacher of the Year website from May 3-7.
Spink won the title for the month of February after competing against dozens of other teachers across North America. Red Deer Public received a $10,000 grant in which Eastview purchased technology for classrooms.
"I didn't really realize the magnitude of the whole program when I was nominated for February. The amount of support I received from our community was amazing – everyone really rallied around this cause. It was amazing on my part and I was touched by the support. It was such a great feeling," said Spink. "To take this to the next level will really be putting Red Deer, Red Deer Public and Eastview Middle School on the map across Canada. To bring our community into the spotlight and show what great things we do in our schools and in our Division would be amazing."
Spink, who has been a teacher at Eastview for more than 20 years, has incorporated the Future Goals™ – Hockey Scholar program into his classroom, which is designed to leverage STEM in hockey to create a fun and memorable learning experience.
"It is a great program and it all ties right into our curricular goals," he said. "I am dedicated to teaching applications for STEM because I know that it not only impacts how healthy and productive students are during this time, but also their well-being and success far beyond the K-12 years."
Eastview Middle School Principal Kevin Robertson said Spink has been a leader in the school's hockey program and worked with other teachers in delivering programming to Grades 6-8.
"In his hockey class, and in all of his classes, he instills a love of learning and particularly a love for the game for all of his hockey class students, through positive interactions and his infectious enthusiasm," said Robertson. "If he were to win the MVT for 2020/2021, we would look at how we could further support technology in our classrooms, whether through more devices, or through other specific technologies for our hockey program and other areas to supplement instruction."
How can the Red Deer community help? By voting for Spink once a day from May 3-7. To vote, visit the Future Goals™ Teacher of the Year website.
"I encourage people to vote because it will help put our community on the map. The other two teachers are from Pittsburgh and Philadelphia, so to have our community of 100,000 people go up against these two huge communities and show our Alberta and Canada pride would be so great!" said Spink.
University status "one of, if not the most singular, strategic economic development" initiative – Council on RDC Polytechnic announcement
Mayor Veer statement on Red Deer College announcement on behalf of Council
"Today, Advanced Education Minister Demertios Nicolaides announced Red Deer College will become a polytechnic institution, as a result of a recent post-secondary review process. The people of Central Alberta have waited 25 years for an answer regarding the future of Red Deer College, with the goal of ensuring the people of Red Deer and Central Alberta have equitable access to options in advanced education.

Red Deer College was expected to receive final approval for university status last spring, but the Provincial Government held back on the final decision until the Province's system review of post-secondary institutions was complete. According to the Government of Alberta, the study was intended to assess how the post-secondary system was meeting current and future needs, review the governance structure, provide comparisons to other post-secondary systems and develop a vision for the future.

While there are some expressed concerns within our community about the change in direction from RDC becoming a university to RDC as a polytechnic institution, including Council's own questions on behalf of Red Deerians expressed to the Government, ultimately I support a path forward that will protect RDC's ability to stay true to its roots in trades, technology and the arts, with the ability to confer degrees for other academic pursuits and fields of study. RDC assures City Council that the polytechnic accomplishes these objectives.
Degree conferring status for RDC is one of, if not the most singular, strategic economic development and community building initiatives we can undertake. For our city and region to fulfill our potential, we need to not only retain our existing population, we need to become a competitive contender in keeping and attracting new population to our city. One of the most promising means of doing so is through the development of a skilled labour force, offering a broader spectrum of career options locally, and attracting population who will stay and strengthen our local economy through their future contributions in various sectors.
Most importantly, building advanced education capacity at RDC ensures students in Red Deer and the region have more equitable access to advanced education services closer to home instead of being forced to relocate to other communities at great financial expense, or even more concerning, not pursue post-secondary education at all as a result of financial or geographic barriers.
I'd like to thank the generations of RDC leadership, faculty, staff, students, Students' Association representatives and our community for your steadfast resolve and your insistence that the people of Red Deer and Central Alberta have equitable access to options in advanced education.
On behalf of Council and community, congratulations to this year's graduates – we are proud of your accomplishments and look forward to supporting you in your future endeavors. Today, we welcome the fact that Red Deer College can finally take a significant step towards its future, and we remain committed to supporting the College, and the interests of the students who will always be RDC's most compelling imperative, during this transition and in the years to come."