Focus in fall should be on getting kids up to speed after covid – Red Deer Public School will not pilot K-6 curriculum
Red Deer Public will not pilot K-6 curriculum
Priority will be on recovery and supporting students
Alberta Education's release of the DRAFT Kindergarten to Grade 6 curriculum has received significant concerns from a range of stakeholders raising issues with the proposed programs of study.
The new curriculum is over 500 pages long with many of the pages containing outcomes and objectives that are sound, providing the knowledge, skills and perspectives that students need. Some of the pages however, have raised issues, some of them significant, particularly on segments of the Social Studies curriculum. We concur with many of those concerns.
Sharing the issues and concerns of many in our community, as well as across the province, The Board of Trustees voted unanimously to not participate in piloting the new curriculum at their April 14, 2021 meeting.
While the development of a new curriculum framework has been over a decade in the making, we need to ensure we take the time needed to get this right. Ultimately, the curriculum belongs to all Albertans and it should reflect the hopes and aspirations we have for our students who are the future of this province. What will students need in an ever changing world…curriculum fills those needs. The content and way many of us learned in the past is not what today's students will need to be prepared for the future. Every student needs to be equipped with the knowledge, skills and attitudes that will enable them to create their future.
Our focus will be on recovery… Given the significant challenges we anticipate with what we hope will be a return to school under 'near normal conditions' in September, Red Deer Public's focus for the 2021/22 school year will be on recovery, as it will be with school divisions across the province. We know there will be learning gaps for many students and our priority needs to be addressing those and getting students back on track. We are also mindful of the social and emotional challenges many students and families have faced during the pandemic, so we need to prioritize mental wellness as well. With competing priorities, including curriculum implementation, we need to focus on our most important work and make the best choice for students. Recovery is our most pressing need and it will be Red Deer Public's priority for next year.
With that in place, seeing both strengths and weaknesses in the draft curriculum, Red Deer Public wants to provide constructive and meaningful input to make the new curriculum better without officially piloting the new curriculum.
Our teachers will play a key role…Work will still take place with our teachers from Kindergarten to Grade 6, as well as division and school leadership, to inform our decisions and provide constructive feedback. That work will take time and will be done through a detailed and authentic look at the curriculum's content as well as how teachers will be able to deliver the outcomes. That process will not involve Red Deer Public students.
Given province-wide concerns with the new curriculum, we encourage Alberta Education to be flexible in piloting the new curriculum and request that they welcome and listen to feedback beyond pilot jurisdictions in order to improve the curriculum. Where we can provide input on elements of the program, Red Deer Public is ready to make meaningful contributions.
During the 2021/22 school year we will still need to engage our teachers in preparing for a new curriculum for when it is officially implemented. We will do this through detailed analysis of the content, professional development and collaboration to be well prepared for whatever direction the new curriculum takes so we can do our best for students.
We must also remember that this is only half of the new curriculum, work is also underway developing curriculum for Grades 7 to 12. To begin with, we need to ensure the K to 6 curriculum is sound as it lays the foundation for future grades. Alberta Education needs to take lessons learned from the current process to ensure that middle and high school curriculum is the best it can be and reflects the expectations of Albertans.
Whether it is this or past governments, politics seems to influence the process. Albertans must have confidence in the curriculum development process. We feel it would be beneficial for this to be an independent process that engages the best minds and takes a broad perspective on what critical skills and knowledge all students will need to succeed. This in turn will allow Alberta to be the best it can be for years to come. There has to be a way for curriculum to be developed around sound and shared principles.
In the meantime, the Government of Alberta is seeking input on the draft curriculum, and we urge our parents and community to take the time to review and understand the curriculum first and then share their perspectives. Teachers will be providing input from the classroom perspective, however, all perspectives are vital as part of the curriculum review process.
This new curriculum is important as it will impact teaching and learning for years to come. It needs to set students up for success, so now is the opportunity to make sure we get it right for all of our students.
Nicole Buchanan, Board Chair
Chad Erickson, Superintendent of Schools
Annual Education Results released by Red Deer Catholic Regional Schools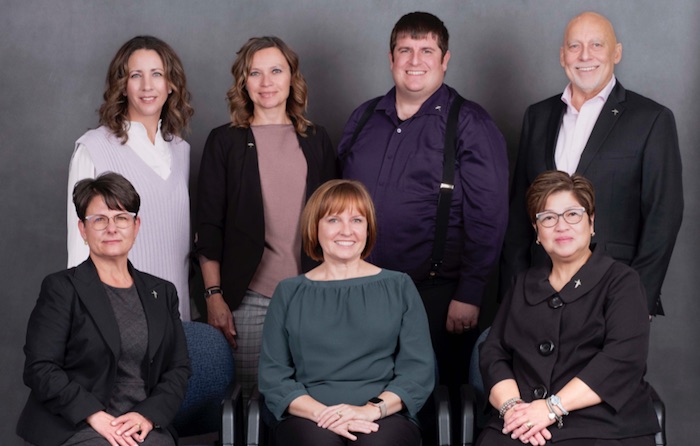 From Red Deer Catholic Regional Schools
Board Meeting Highlights
Annual Education Results Report:
The Associate Superintendent of Curriculum presented the 2021-2022 Annual Education Results Report to the Board of Trustees. RDCRS recognizes that the strong results from the 2021/2022 school year are a result of our staff's significant efforts. Our students' school day begins with the friendly greeting of a bus
driver and continues late into the evening with our staff coaching practices and games, directing a play or musical, or leading youth ministry events. It is this collective teamwork for all our students that makes RDCRS an extraordinary place, and RDCRS has seen this in the feedback from our staff, students, and
parents. RDCRS would like to sincerely thank everyone for their tireless efforts on behalf of our students and their families.
The Board of Trustees approved the Annual Education Results Report for the 2021-2022 school year, as presented. To view the Annual Education Results Report, please click here.
Middle School Program Change Proposal:
The Associate Superintendent of Inclusive Learning presented the Program Change Proposal: Moving Foundations and Blended Programs from St. Francis of Assisi Middle School to St. Lorenzo Ruiz Middle School Report to the Board of Trustees. The proposal outlined a relocation of the Foundations and Blended programs from St. Francis of Assisi Middle School to St. Lorenzo Ruiz Middle School.
The purpose of the relocation is to maximize programming space which will result in optimal learning opportunities for RDCRS students. Another key factor in the relocation is the current high student enrollment at St. Francis of Assisi Middle School as a result of our grandfathering guidelines.
The Board of Trustees approved moving forward with the relocation of the Foundations and Blended Programming at St. Francis of Assisi Middle School to St. Lorenzo Ruiz Middle School, effective for the 2023-2024 school year.
Preparation to Open St. Lorenzo Ruiz Middle School Report:
The Superintendent shared with the Board of Trustees the Preparation to Open St. Lorenzo Ruiz Middle School Report and provided an update of the progress to date. As RDCRS continues to prepare for the Division's new middle school, the Superintendent informed the Board of Trustees that a core team of
educators, transportation department representatives and senior leadership personnel have been assembled to start preparations for St. Lorenzo Ruiz. This team will be undergoing extensive work over the next six months as communication with RDCRS stakeholders is pivotal. The core team met on January 18 and will continue to meet regularly for ongoing discussion, collaboration and preparation.
The Superintendent also highlighted transportation and grandfathering guidelines that are currently in effect for the Division. To view the full Preparation to Open St. Lorenzo Ruiz Middle School Report, please click here.
The next Board Meeting will take place on Tuesday, February 28, 2023 at 5:30 p.m.
Notre Dame Fine Arts Department invites you to see Roald Dahl's Matilda, the Musical!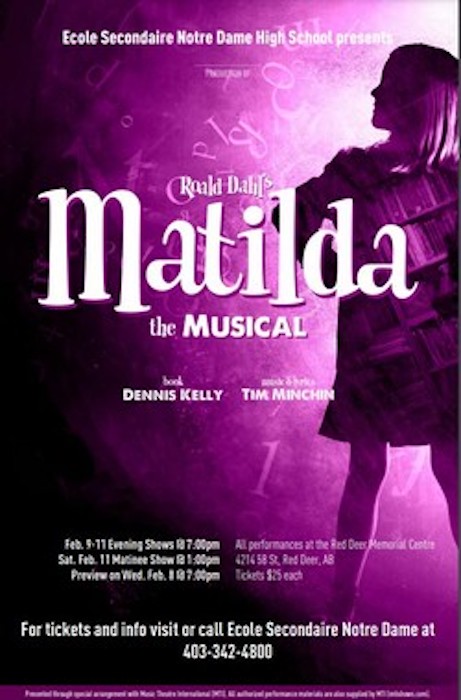 From Red Deer Catholic Regional Schools
Roald Dahl's Matilda, the Musical!
Co-Directed by Jennifer Cocolicchio and Stephanie Layden starring Addy Penney, Jordana Woroniuk, Coryn Tardif, David Jones, and Mikayla Beever.
Please join the Notre Dame Fine Arts students for their interpretation of Matilda.
Inspired by the twisted genius of Roald Dahl, the Tony Award-winning Roald Dahl's Matilda The Musical, from the Royal Shakespeare Company, revels in the anarchy of childhood, the power of imagination and the inspiring story of a girl who dreams of a better life. Book by Dennis Kelly and original songs by Tim Minchin.
Matilda is a little girl with astonishing wit, intelligence and psychokinetic powers. She's unloved by her cruel parents but impresses her schoolteacher, the highly loveable Miss Honey. Over the course of her first term at school, Matilda and Miss Honey have a profound effect on each other's lives, as Miss Honey begins not only to recognize but also appreciate Matilda's extraordinary personality. Matilda's school life isn't completely smooth sailing, however – the school's mean headmistress, Miss Trunchbull, hates children and just loves thinking up new punishments for those who don't abide by her rules. But Matilda has courage and cleverness in equal amounts, and could be the school pupils' saving grace!
Packed with high-energy dance numbers, catchy songs and quick wit, Matilda is a joyous girl power romp. Children and adults alike will be thrilled and delighted by the story of the special little girl with an extraordinary imagination.
The shows take place at Red Deer's Memorial Centre on February 9, 10, & 11 at 7:00pm. There is also a Matinee on February 11 at 1:00pm.
TICKETS ARE $25.00
TICKETS AVAILABLE in advance at Notre Dame's front office, online at https://www.notredamehigh.ca/programs/fine-arts or on the date at the theatre door.
SPECIAL PREVIEW NIGHT on February 8 at 7:00pm – Free for all press representatives and pay what you can for the general public.