Steve Arsenault This Friday and Saturday Night at Fionn MacCool's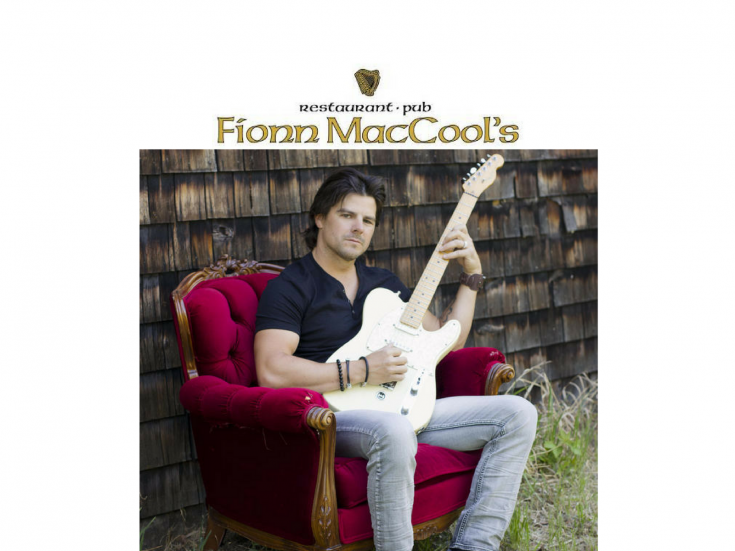 This slideshow requires JavaScript.
Excellent live music this weekend at Fionn's. Check out the Steve Aresenault Band this Friday and Saturday night. He hits the stage at 8 PM. 
Born and raised in P.E.I., Steve grew up listening to country and classic rock. It wasn't till he was seventeen, when he first picked up the guitar. Teaching himself the basic chords and learning how to play songs gave Steve the drive to pursue music. Singing and playing guitar became a huge passion which led Steve to compete in singing competitions all around P.E.I.. Winning various competitions and playing with a local band for a few years, Steve decided to move to Alberta to further his career in 1999. Since then, Steve has played all over Alberta and out of province as an Artist. While pursuing his own career, Steve also played guitar for other country acts such as Duane Steele, George Canyon, Jason Greeley, Drew Gregory and Mackenzie Porter, just to name a few. Currently Steve stays busy playing for artists and doing his own shows. Steve has been recording new music and will be releasing a single very shortly. Support local live music.  Fionn's is a great venue to catch an act like Steve Arsenault. Read Steve's Story.  Listen to Steve's music.
Sunday starting at noon, local mainstay Paeton Cameron hosts a fun and lively open stage.  Bring your voice, bring your instrument, and have some fun with some of the areas finest local players.
Food and drink specials throughout the event starting with Brunch from 11am – 3pm, Mimosas for $4.95, Buy 1 Get 1 for 1/2 off Appetizers, AND most importantly beer; Budweiser and Blindman Sour Sleeves for $4.95 aaall day
Here's a list of daily drink and food specials as well as upcoming live acts.  Simply CLICK HERE to learn more about the excellent acts coming in the next few months.  
*Monday -$4.95 sleeves of Wild Rose Velvet Fog and Shepard Pie $9.99 all day
*Tuesday – Chicken & Fish Tacos $2.95 a Taco, $4.50 shots of Jose Cuervo. $4.95 14oz Sleeve Big Rock Traditional.
*Wednesday – $9.99 1 piece Fish and Chips, $4.95 14oz Sleeve Alexander Keith's and wings starting at 4pm $4.99 basket of 10 & 15 flavours to choose from.
*Thursday – $3.00 off crowd pleaser appetizer platter, $4.95 14oz sleeve- Sleemans Railside
*Friday – $4.95 14oz sleeve Mill Street Organic
*Saturday – Brunch from 11-3, Barking Squirrel $4.95 14oz sleeve
*Sunday – 14oz Sleeve Budweiser $4.95 and brunch from 11-3
Fionn MacCool's is always a top choice for great live music in Red Deer!
Check out the artists taking to the stage over the next several weeks! Shows always starts at 8pm (except for the Sunday Open Stage)
May 5 and 6 Steve Arsenault
May-13 Chuck Rose
May-20 Andrew Scott
May-27 Brad Brewer
Jun-03 Cabots Crossing
Jun-10 Randi Boulton
Jun-17 Andrew Scott
Jun-24 Brad Brewer
Be sure to remember Fionn MacCool's Red Deer for Happy Hour! Monday to Friday, enjoy the following drink specials from 3pm to 6pm…
Beer Sleeves 14oz – $4.95
Pints 20oz – $6.50
Tankards 23oz – $8.00
5oz house red or white wine $4.95
8oz house red or white wine $7.95
*4 for $12 shots all day long ! 1oz
Burt Reynolds, Swedish Berry, Porn Star, Crispy Crunch, Sour Jack, China White, Polar Bear,Banana Jack, Superman/superwoman or Sicilian kiss.
CLICK HERE for more about the fabulous Fionn MacCool's
Prosecutors drop groping case against Kevin Spacey
BOSTON — Prosecutors dropped a case Wednesday accusing Kevin Spacey of groping a young man at a resort island bar in 2016 after the accuser refused to testify about a missing cellphone the defence says contains information supporting the actor's claims of innocence.
Spacey was charged with indecent assault and battery last year in the only criminal case that has been brought against the actor since his career collapsed amid a slew of sexual misconduct allegations. The two-time Oscar winner was among the earliest and biggest names to be ensnared in the #MeToo movement against sexual assault and harassment that swept across the entertainment and other industries.
Spacey denies groping the man, whose mother first went public with the allegations in 2017.
A phone message seeking comment was left with Spacey's lawyer.
The actor's accuser was ordered to take the stand earlier this month after he said he lost the cellphone he used the night of the alleged groping. The defence said it needed the phone to recover deleted text messages it says would help Spacey's case.
The man denied deleting messages or manipulating screenshots of conversations he provided to investigators. But when he was pressed by the defence about whether he knew that altering evidence is a crime, he invoked his Fifth Amendment right against self-incrimination , and the judge said his testimony would be stricken from the record.
The judge then questioned how prosecutors would be able to bring Spacey to trial if the accuser continued to refuse to testify, and prosecutors told the judge they needed time to decide how to proceed.
On Wednesday, Cape and Island District Attorney Michael O'Keefe said in court documents that they were dropping the charge "due to an unavailability of the complaining witness."
Prosecutors said in an emailed statement that they met with the man and his lawyer Sunday and told him that if he wouldn't testify in further proceedings, they couldn't move forward with the case. The man "elected not to waive his right under the Fifth Amendment," prosecutors said.
Prosecutors said they could further pursue the case and grant the accuser immunity but then they would need more than his uncorroborated testimony.
Furthermore, "a grant of immunity compromises the witness to a degree which, in a case where the credibility of the witness is paramount, makes the further prosecution untenable," they said.
Mitchell Garabedian, a lawyer for the accuser, said in email that the man and his family "have shown an enormous amount of courage under difficult circumstances." Garabedian said he had no further comment.
The hearing at which the accuser testified came days after the man abruptly dropped a lawsuit he had just recently filed against the actor that sought damages for "severe and permanent mental distress and emotional injuries." The suit was dismissed "with prejudice," meaning it cannot be refiled.
The man did not receive a settlement to drop the civil case, his mother said. His lawyer said he dropped it because he was emotionally overwhelmed and wanted only "one roller coaster ride at a time" and so chose to focus on the criminal case.
The man's mother, former Boston TV anchor Heather Unruh, alleged in 2017 that Spacey got her son drunk and sexually assaulted him at the Club Car, a bar on Nantucket where the teen worked as a busboy.
The man told police he went over to talk to Spacey after his shift because he wanted to get a picture with the former "House of Cards" star. He said Spacey bought him several drinks and tried to persuade him to come home with him before unzipping the man's pants and groping him for about three minutes.
Unruh's son told police he tried to move Spacey's hands, but the groping continued, and he didn't know what to do because he didn't want to get in trouble for drinking because he was underage. The man said he fled when Spacey went to the bathroom.
Shortly after Spacey was charged, he posted a video on YouTube in the voice of his "House of Cards" character who was killed off after the sexual misconduct allegations emerged, saying "I'm certainly not going to pay the price for the thing I didn't do."
Spacey has faced several other accusations.
His first accuser, actor Anthony Rapp, said Spacey climbed on top of him on a bed when Rapp was 14 and Spacey 26. Spacey said he did not remember such an encounter but apologized if the allegations were true.
The Associated Press does not typically name people who say they are the victims of sexual assault unless they identify themselves publicly. Rapp has; Unruh's son has not.
____
Follow Alanna Durkin Richer at http://www.twitter.com/aedurkinricher
Alanna Durkin Richer, The Associated Press
Man screaming 'You die!' kills at least 23 at anime studio
TOKYO — A man screaming "You die!" burst into an animation production studio in Kyoto, Japan, and set it on fire early Thursday, authorities said, killing 13 people and leaving more than 10 others presumed dead.
The blaze injured another 36 people, some of them critically, Japanese authorities said. Most were workers at Kyoto Animation, known for mega-hit stories featuring high school girls, with places featured in the stories even becoming "pilgrimage sites" for their fans.
The fire started in the three-story building in Japan's ancient capital after the suspect sprayed an unidentified liquid accelerant, Kyoto prefectural police and fire department officials said.
Thirteen were confirmed dead on the first and second floors, Kyoto fire department official Kazuhiro Hayashi said. On the third floor, more than 10 people were found unresponsive, he said. Some of them were found on the stairs, where they apparently collapsed while gasping for air and trying to go out to the roof.
Hayashi says firefighters were still searching inside the building in case anyone else was left behind.
Kyoto police said the suspect was injured and taken to a hospital for treatment. They are investigating the man, who is 41 and not a company employee, on suspicion of arson, police said.
A witness who saw the suspect being approached by police told Japanese networks that the man admitted spreading gasoline and setting a fire with a lighter. She told NHK public television that the man had burns on his arms and legs and that he was angrily complaining that something of his had been "stolen," possibly by the company. NHK footage also showed sharp knives police had collected from the scene, though it was not clear if they belonged to the suspect.
Survivors who saw the attacker said he was not their colleague and that he was screaming "(You) die!" when he dumped the liquid and started the fire, according to Japanese media reports. They said some of the survivors got splashed with the liquid.
Kyoto Animation, better known as KyoAni, was founded in 1981 as an animation and comic book production studio, and its hits include "Lucky Star," "K-On!" and "Haruhi Suzumiya." The company does not have a major presence outside Japan, though it was hired to provide secondary animation work on a 1998 "Pokemon" feature that appeared in U.S. theatres and a "Winnie the Pooh" video.
Footage on Japan's NHK television showed gray smoke billowing from the charred building. Other footage showed windows blown off.
"There was an explosion, then I heard people shouting, some asking for help," a female witness told TBS TV. "Black smoke was rising from windows on upper floors, then there was a man struggling to crawl out of the window."
Witnesses in the neighbourhood said they heard bangs coming from the building, others said they saw people coming out blackened, bleeding, walking barefoot, Kyodo News reported.
Rescue officials set up an orange tent outside the studio building to provide first aid and sort out the injured.
Fire department officials said more than 70 people were in the building at the time of the fire and many of them ran outside.
With at least 23 killed or presumed dead, the fire was the worst mass killing in Japan since a man stabbed and killed 19 people at an assisted living facility in western Tokyo in 2016.
A fire in 2001 in Tokyo's congested Kabukicho entertainment district killed 44 people in its worst known case of arson in modern times. Police never announced an arrest for setting the blaze, though five people were convicted of negligence. In 2008, 16 people died in a blaze at a movie theatre in Osaka, near Kyoto.
___
Follow Mari Yamaguchi on Twitter at https://www.twitter.com/mariyamaguchi
Mari Yamaguchi, The Associated Press