Steve Arsenault This Friday and Saturday Night at Fionn MacCool's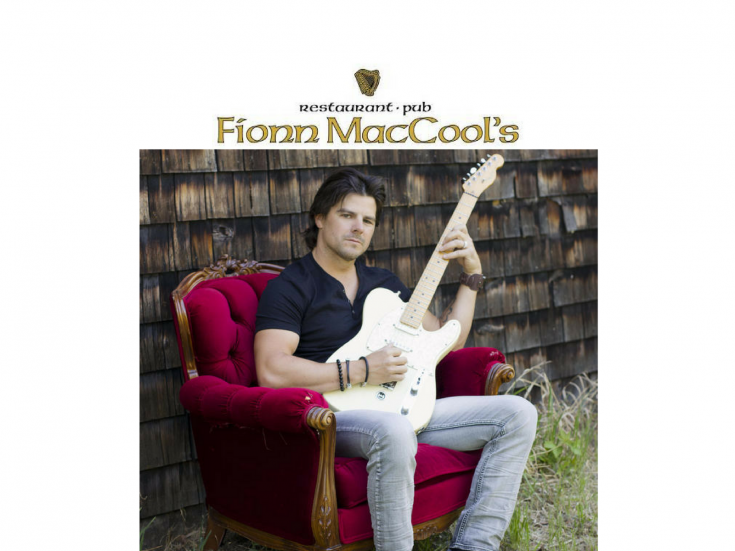 Excellent live music this weekend at Fionn's. Check out the Steve Aresenault Band this Friday and Saturday night. He hits the stage at 8 PM.
Born and raised in P.E.I., Steve grew up listening to country and classic rock. It wasn't till he was seventeen, when he first picked up the guitar. Teaching himself the basic chords and learning how to play songs gave Steve the drive to pursue music. Singing and playing guitar became a huge passion which led Steve to compete in singing competitions all around P.E.I.. Winning various competitions and playing with a local band for a few years, Steve decided to move to Alberta to further his career in 1999. Since then, Steve has played all over Alberta and out of province as an Artist. While pursuing his own career, Steve also played guitar for other country acts such as Duane Steele, George Canyon, Jason Greeley, Drew Gregory and Mackenzie Porter, just to name a few. Currently Steve stays busy playing for artists and doing his own shows. Steve has been recording new music and will be releasing a single very shortly. Support local live music. Fionn's is a great venue to catch an act like Steve Arsenault. Read Steve's Story. Listen to Steve's music.
Sunday starting at noon, local mainstay Paeton Cameron hosts a fun and lively open stage. Bring your voice, bring your instrument, and have some fun with some of the areas finest local players.
Food and drink specials throughout the event starting with Brunch from 11am – 3pm, Mimosas for $4.95, Buy 1 Get 1 for 1/2 off Appetizers, AND most importantly beer; Budweiser and Blindman Sour Sleeves for $4.95 aaall day
Here's a list of daily drink and food specials as well as upcoming live acts. Simply CLICK HERE to learn more about the excellent acts coming in the next few months.
*Monday -$4.95 sleeves of Wild Rose Velvet Fog and Shepard Pie $9.99 all day
*Tuesday – Chicken & Fish Tacos $2.95 a Taco, $4.50 shots of Jose Cuervo. $4.95 14oz Sleeve Big Rock Traditional.
*Wednesday – $9.99 1 piece Fish and Chips, $4.95 14oz Sleeve Alexander Keith's and wings starting at 4pm $4.99 basket of 10 & 15 flavours to choose from.
*Thursday – $3.00 off crowd pleaser appetizer platter, $4.95 14oz sleeve- Sleemans Railside
*Friday – $4.95 14oz sleeve Mill Street Organic
*Saturday – Brunch from 11-3, Barking Squirrel $4.95 14oz sleeve
*Sunday – 14oz Sleeve Budweiser $4.95 and brunch from 11-3
Fionn MacCool's is always a top choice for great live music in Red Deer!
Check out the artists taking to the stage over the next several weeks! Shows always starts at 8pm (except for the Sunday Open Stage)
May 5 and 6 Steve Arsenault
May-13 Chuck Rose
May-20 Andrew Scott
May-27 Brad Brewer
Jun-03 Cabots Crossing
Jun-10 Randi Boulton
Jun-17 Andrew Scott
Jun-24 Brad Brewer
Be sure to remember Fionn MacCool's Red Deer for Happy Hour! Monday to Friday, enjoy the following drink specials from 3pm to 6pm…
Beer Sleeves 14oz – $4.95
Pints 20oz – $6.50
Tankards 23oz – $8.00
5oz house red or white wine $4.95
8oz house red or white wine $7.95
*4 for $12 shots all day long ! 1oz
Burt Reynolds, Swedish Berry, Porn Star, Crispy Crunch, Sour Jack, China White, Polar Bear,Banana Jack, Superman/superwoman or Sicilian kiss.
CLICK HERE for more about the fabulous Fionn MacCool's
Curtain set to open on Lindsay Thurber production, Head Over Heels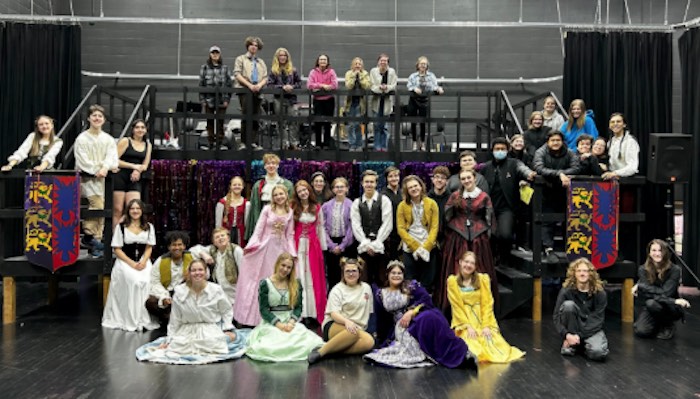 Get ready to laugh, party, witness exciting fight choreography, and groove to the music of The Go-Gos in Lindsay Thurber Comprehensive High School's production of Head Over Heels The Musical, High School Edition. Performances run March 17 – 25 in Studio A at the school.
A mash-up of posh and punk, Head Over Heels is an Elizabethan romp about a royal family that must prevent an oracle's prophecy of doom. In order to save their beloved kingdom of Arcadia, the family embarks on a madcap journey wrought with mistaken identities, prophetic riddles, scandal and self-discovery. Set to the exuberant beats of the 80s pop music of The Go-Gos, Head Over Heels is a heartfelt show where love is celebrated and the beat is divine!
About 50 students from Grades 9-12 are involved in the production. This includes three classes of Musical Theatre, Technical Theatre and Pit Band, who make up the show's actors, production crew, and pit band musicians.
"Head Over Heels is a show that is relatively new," said Tara Koett, Director. "I suspect that not a lot of the audience is familiar with it as it premiered on Broadway in 2018. It is a Renaissance comedy and the dialogue is written in verse. In tandem with this Renaissance comedy, it's also a jukebox musical of the music of The Go-Gos. It's very, very fun and it's a sweet and clever script that captures the modern sensibilities of what a lot of us go through on our journeys to find love."
Koett said one of her favourite aspects of the show is that while with many jukebox musicals, the songs can feel shoehorned in, in Head Over Heels, the songs are placed in the production in a way that feels organic. "For people who don't know The Go-Gos, like many of our high school students before beginning this course, it truly feels like those songs and those lyrics belong in the story or are from the characters themselves, so I think it's really well done for a jukebox musical."
Koett added she encourages students, family and friends as well as the general community to take in the production and see the exceptional skills of the high school students involved.
"This show is so much fun. It's such a beautiful celebration of all different types of love. It has such catchy, high energy music, relatable characters and representation, themes relevant to 2023, and it's a mishmash of posh and punk that is different from what a lot of people associate with musical theatre," she said. "It's a great opportunity for people to be back in live theatre again and to laugh together, maybe even cry together, to take in a beautiful story told with some really incredible music."
To purchase tickets, click here.
List of 2023 Oscar winners
Michelle Yeoh, left, reacts in the audience with excitement as she accepts the award for best performance by an actress in a leading role for "Everything Everywhere All at Once" at the Oscars on Sunday, March 12, 2023, at the Dolby Theatre in Los Angeles. Jamie Lee Curtis, from right, and Ke Huy Quan are seen in the audience. (AP Photo/Chris Pizzello)
By Jake Coyle in Los Angeles
LOS ANGELES (AP) — Oscar winners announced Sunday:
Best picture: "Everything Everywhere All at Once"
Best actress: Michelle Yeoh, "Everything Everywhere All at Once"
Best actor: Brendan Fraser, "The Whale"
Best supporting actor: Ke Huy Quan, "Everything Everywhere All at Once"
Best supporting actress: Jamie Lee Curtis, "Everything Everywhere All at Once"
Original song: "Naatu Naatu" from "RRR"
Film editing: "Everything Everywhere All at Once"
Best director: Daniel Kwan and Daniel Scheinert, "Everything Everywhere All at Once"
Best animated feature: "Guillermo del Toro's Pinocchio"
International feature film: "All Quiet on the Western Front" (Germany)
Documentary feature: "Navalny"
Live action short: "An Irish Goodbye"
Cinematography: James Friend, "All Quiet on the Western Front"
Makeup and hairstyling: "The Whale"
Costume design: "Black Panther: Wakanda Forever"
Documentary short: "The Elephant Whisperers"
Animated short: "The Boy, the Mole, the Fox and the Horse"
Production design: "All Quiet on the Western Front"
Music (original score): Volker Bertelmann, "All Quiet on the Western Front"
Visual Effects: "Avatar: The Way of Water"
Original screenplay: "Everything Everywhere All at Once"
Adapted screenplay: "Women Talking"
Sound: "Top Gun: Maverick"
___
For more on this year's Oscars, visit: https://apnews.com/hub/academy-awards