Face coverings now mandatory in Red Deer for all indoor public spaces and pubic vehicles
From the City of Red Deer
City Council passes temporary mandatory face covering bylaw in Red Deer
Face coverings are temporarily mandatory in Red Deer after City Council approved a bylaw today, mandating face coverings for indoor public places and public vehicles.

The bylaw will officially come into effect on November 30, 2020; however, The City strongly encourages citizens to wear a face covering in accordance with the bylaw starting today.

The decision to proceed with a short-term face covering bylaw came after in-depth discussions on the topic over the past few weeks and during last week's Special City Council Meeting. During this meeting, a number of amendments were considered by City Council, triggering the need for the third reading at today's regular City Council meeting.

"Mandating temporary face coverings in Red Deer is a short-term measure to be responsive to the evolving pandemic in Red Deer and across the province. We know this is a divisive issue in our community, and although the Province has yet to mandate masks across Alberta, City Council believes this temporary measure is critical if we want local case numbers and hospitalization to remain flat," said Mayor Tara Veer. "Through this bylaw, we are putting into action, the recommendations of health officials because the safety, health and wellbeing of all citizens continues to be our number one priority."

At this time, the bylaw has a sunset clause of March 1, 2021, and will expire on this date.

The bylaw mandates all citizens must wear a face covering in indoor public places and public vehicles with the exceptions noted in the bylaw. This includes any place, whether publicly or privately owned, where members of the public have access as of right or by implied invitation.

The bylaw does not apply to several groups including children under nine, those who are disabled, and anyone eating/drinking, or engaging in heavy labour or physical fitness activities. It applies to passengers in public vehicles, like taxis or rides for hire, but not to drivers where there is a barrier installed in the vehicle. Businesses affected by the bylaw are required to display signage.
The fine for not wearing a face covering in a public place is $50.
"This decision is about protecting public health and safety, protecting our health care system, and doing whatever we can to help stabilize the local economy and prevent potential future lockdowns that could result in further business impacts and closures," said Mayor Veer. "We are all feeling the pressures of COVID-19; citizens, businesses and Albertans alike are significantly affected. The City will continue to do everything we can to support our local citizens and businesses by putting measures in place that could minimize the spread of COVID-19."
A mandatory face covering bylaw is just one of the municipal measures being taken to help prevent the spread of COVID-19 in Red Deer. The City also continues to adapt its many operations to be responsive to the changing circumstances, increase communication with citizens and businesses and to continue to seek information and support through the Province of Alberta.
Red Deer is now one of approximately nineteen other Alberta municipalities, including Calgary, Edmonton and Lethbridge, to have a mandatory face covering bylaw in place.
For more information about the new bylaw and other COVID-19 restrictions, please read our Face Coverings in Public Places (Mandatory Mask) Bylaw FAQ (pdf) or visit www.reddeer.ca.
City Council grinding out a solution for the site of a permanent homeless shelter
Council approves Shelter Site Evaluation Matrix
A site criteria evaluation matrix will help guide the site selection process for the future shelter in Red Deer after being approved by City Council today. During Council meetings held on June 24, 27 and July 4, Council worked through multiple exercises to determine five criteria, 22 sub-criteria and the weighting assigned to each – making up the Shelter Site Evaluation Matrix as follows:
SITE CRITERIA
SUB-CRITERIA
POINTS
PERCENTAGES
Ability to acquire site
20
Cost
40%
Zoning
15%
Timing
40%
General
5%
Adequate size
20
Adequate land size (outside/inside)
30%
Can accommodate purpose built/dignified spaces
20%
Can accommodate on-site/integrated services
30%
Future flexible/expansion opportunity
10%
General
10%
Broad community impact
24
Operational and Budgetary Impacts
17%
Alignment with Community Vision (Strategic Plan/Downtown Vision/Vision 2040)
25%
Impact to City Reputation
13%
Economic Impact
25%
Safety Impacts
17%
General
4%
Impacts to surrounding area
26
Impacts to businesses
23%
Impacts to downtown
19%
Impacts to Parks, Trails and Greenspaces
19%
Proximity to Schools
12%
Impacts to Residential Neighbourhoods
23%
General
4%
Access to services & supports
10
Access to transit and transportation
10%
Distance/proximity to supports/services
20%
Foot Traffic Patterns
20%
Enables delivery of 24/7 integrated service
20%
Enables delivery of basic amenities/services
20%
General
10%
Council approves Shelter Site Evaluation Matrix
In the above matrix, the sub-category identified as general under each criteria represents the remaining points allocated to the overarching site criteria.
"The site criteria evaluation matrix approved today will be utilized by administration and City Council to inform decisions about the future site of an integrated shelter in Red Deer," said Lisa Perkins, Acting City Manager. "The process of developing this matrix has been all about our commitment to consider what we heard from the public, honouring the voice of the City Council in the development of the matrix and selecting a site for the future integrated shelter."
Along with the criteria and weighting, Council adopted a resolution outlining conditions upon which City Council developed site criteria for the Shelter Site Evaluation Matrix. Ultimately, the site criteria within the matrix are the right criteria "if" the following are true:
Shelter is for those who need short stay emergency housing. There are other services/facilities along the housing spectrum.
Shelter is one site.
Funding may limit scope.
New services have potential to change outcomes.
The permanent shelter will be a housing focused delivery model [(Per Council resolution Nov – 21) – GOA confirmed Jan 22]
Shelter with wrap around services may not necessarily eliminate the need for those requiring shelter to access external services, to connect with community.
There are innovative alternative delivery/service and systems that need to address the diversity of clients and impact on community.
The shelter will operate 24/7
The shelter will be designed to provide adequate spaces for short time stays that honour the dignity of each person
There is a recognition and advocacy for the ongoing housing (eg. PSH & Affordable Housing) needs.
Council will continue to have discussions with the Provincial Government on future Overdose Prevention Services/Supervised Consumption Services.
A good neighbour policy will be developed.
Community agencies are supportive of an integrated model and willing to work collaboratively towards this.
The shelter would integrate or operate as many related services on site as reasonably possible.
These statements will be utilized to inform City Council's advocacy position around the integrated shelter going forward.
"While the decision in front of City Council in the immediate future pertains specifically to site, we also know there are many conversations to be had with the Province of Alberta about other aspects of shelter including, but not limited to, shelter design, operations and service delivery," said Mayor Ken Johnston. "We look forward to continued collaboration with our provincial colleagues as we work in partnership to ensure a safe place for our vulnerable citizens to access required services on their journey to permanent housing, which is beneficial for the whole community."
In addition to the resolutions about the shelter evaluation matrix criteria, City Council resolved that administration will begin preparing a list of possible sites alongside a commercial realtor with Mayor Johnston and the Deputy Mayor providing Council perspective.
Administration will come back to City Council on July 18 to share an update with City Council about the site selection process.
For more information on the shelter project process, please visit www.reddeer.ca/shelter. Citizens and community partners wanting to receive updates on the shelter project by email can subscribe here.
Dawe pool and gymnasium opening this weekend!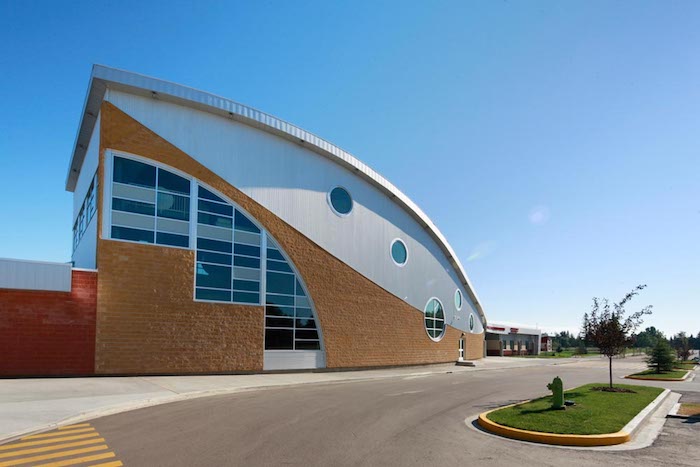 Construction closure at the Dawe ends Sunday
Following an eight-week construction closure, the existing G.H. Dawe Community Centre will re-open on Sunday.
This construction was part of the overall G.H. Dawe Community Centre project, with the full facility expected to open in early 2023. Effective June 26 at 10 a.m., the facility will re-open. Most amenities will be available, including the pool and gymnasium. Drop-in schedules are available here.
Some exciting changes were completed during the closure. A fully accessible change room, a pool deck party room, updated steam room and sauna and a washroom for the pre-school area were added. We're putting the finishing touches on these amenities and they will soon be available for use. We also added new acoustical paneling and an improved air handling system in the pool area. A significant amount of "behind the scenes" work was also completed to provide the required utilities and services for future arenas and fitness spaces.
As we continue to transform our spaces, construction will continue until full project completion in early 2023. We anticipate the impact will be minimal, but please note changes to these amenities:
The Fitness Room will not be available; some larger pieces of existing fitness equipment will be temporarily moved to the "mall area" until the grand opening of our new health and wellness spaces in 2023. Use of this equipment will require a daily admission or monthly pass.
Playing surfaces in the arena will not be available until construction is complete, which is expected to be early 2023.
Here are just some of the changes visitors will see when the facility is complete:
Two NHL standard ice surfaces
Expanded fitness area, with running track and two fitness studios
Outdoor spray park with washroom facilities
Additional north entrance + site access from 67 Street
Additional parking
For more information about the Dawe project and the closure, please visit reddeer.ca/DaweProject.