Emma Holmes and Tyronn King are RDC / Bedford Food Company Athletes of the Week
From RDC Athletics
Emma Holmes – Queens Volleyball Hometown – Red Deer, AB. Bachelor of Kinesiology (2nd year)
Emma Holmes had another excellent performance this past weekend for the RDC Queens Volleyball team against the Lethbridge College Kodiaks. The five-foot-ten outside hitter helped the Queens earn two matches victories on the road, contributing 26 kills, 18 digs, two stuff blocks, two aces and one assist in only eight sets. In Friday's four set victory (21-25, 25-18, 25-15 and 25-13), Holmes totaled 11 kills, 10 digs, one stuff block, one assist and one service ace. The second-year added 15 kills, eight digs, one stuff and one ace, while hitting for 42.4 per cent efficiency in another four set decision (21-25, 25-18, 26-24 and 25-12) on Saturday. Holmes and the Queens have been rolling, winning eight consecutive matches which places the team in second spot in the south. The Bachelor of Kinesiology student ranks third in the league with an average of 3.08 kills per set.
Tyronn King – Kings Basketball Hometown – Toronto, ON. Legal Assistant (4th year)
Six-foot-one Tyronn King was a key contributor in the RDC Kings' two wins against the visiting Briercrest College Clippers this past weekend. Over a pair of games, King totaled 38 points, 14 rebounds, 13 assists and seven steals. In Friday's close 87-85 win, King stacked up 21 points, six rebounds, six steals, five assists, while hitting four-for-four from the free-throw line and eight out of 13 from the field. King, a fourth-year guard, was named the Collegiate Sports Medicine Kings Player-of- the-Game. Then the RDC Legal Assistant student recorded 17 points, eight rebounds, eight assists and one steal, while connecting on eight out of 14 from the field in Saturday's 89-83 victory. King made several clutch shots at critical moments of each game, helping his team improve to 5-3 which places it in a tie for third in the south with the Ambrose University Lions (5-3). The talented student-athlete from Toronto sits in the top 20 in league scoring with an average of 16.4 points per game.
This weekend:
Hockey: RDC Kings & Queens Hockey teams will play the SAIT Trojans in a home- and-home series.
Volleyball: The Kings & Queens Volleyball teams will also compete against the Trojans twice.
Basketball: Both basketball squads will hit the road to take on the Medicine Hat College Rattlers and Briercrest College Clippers.
Curling: The RDC Curling teams will compete at the Alberta Colleges Athletic Conference (ACAC) Fall Regional.
This weekend at the Gary W. Harris Canada Games Centre
Friday
Queens Volleyball | Friday, Nov. 29 | 6:00 p.m. | Gary W. Harris Canada Games Centre
The second place Queens (8-2) will meet the SAIT Trojans (2-9). The RDC Queens have certainly been on a roll, rattling off eight straight match victories. The Trojans have dropped six in a row.
The Queens have many offensive weapons and they rank third among the 14 north and south teams with 11.14 kills per set.
Kings Volleyball | Friday, Nov. 29 | 8:00 p.m. | Gary W. Harris Canada Games Centre
The third place RDC Kings (7-3) will play the top seed SAIT Trojans (9-2). In 10 matches, the Kings have recorded 67 service aces and 79 stuff blocks.
First-year Carter Hills continues to elevate his play and the Bachelor of Education Science student leads the Kings with 2.55 kills per set. Red Deer's Ben Holmes is next with 2.50. Six-foot-eight middle Dillon Gauci has been strong at the net, accumulating 21 stuff blocks which leads his group.
Trojans outside hitter Jarett Noel has been one of SAIT's go-to offensive players. In eight matches, Noel has 85 kills (3.54 kills per set).
Kings Hockey | Friday, Nov. 29 | 7:00 p.m. | Gary W. Harris Canada Games Centre
The second seed RDC Kings (10-1-1-0) will entertain the fourth place SAIT Trojans (6-3-1-2) at home. The Kings' power play ranks second (27.1%) and they have scored three shorthanded goals in 12 games.
Chase Thudium leads the team with 18 points. Impressively, defenceman Tyler Podgorenko is next with 17.
Saturday
Queens Hockey | Saturday, Nov. 30 | 7:00 p.m. | Gary W. Harris Canada Games Centre
The Queens will clash with the Trojans at RDC. The Queens sit in second place in league standings, but have played two less games than the first place MacEwan University Griffins (9-3-0-0).
In 10 games, Camryn Wallan has produced three goals and six assists, placing the Bachelor of Education Elementary student fifth in league points.
For more information on RDC Athletics, the student-athletes and teams, please visit: rdcathletics.ca
RDC Athletics photos are available on Flickr.
Red Deer Minor Hockey is proud to announce our new General Manager Lane Moore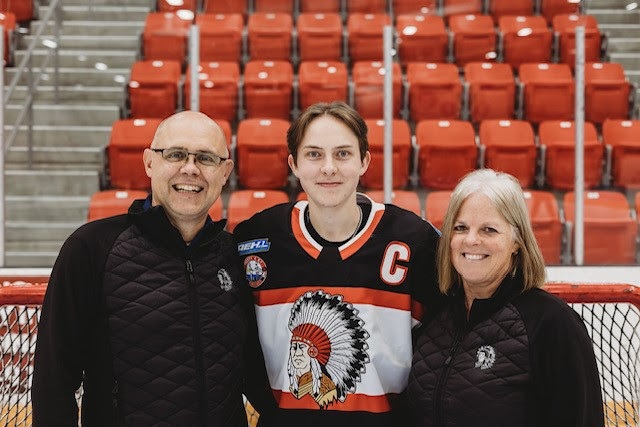 From Red Deer Minor Hockey
The Red Deer Minor Hockey Board of Directors is pleased & honored to announce, after an extensive search, that Lane Moore has accepted the position of General Manager of Red Deer Minor Hockey. Lane will start his new role early in the new year & is very excited about leading our organization into the future as we aim to provide a positive learning and maturing experience for all of our young athletes & coaches in a minor hockey setting.
Lane comes into the role of General Manager with an extensive resume, in both hockey and administration. Lane has led the Bentley school as principal for the last 17 years & was an educator prior to that. On the hockey side, Lane's passion for coaching & engaging with young athletes, dates back to 2002. His most recent involvement as a coach with Red Deer Minor Hockey saw Lane lead the U17AAA North Star Chiefs for 2 seasons (21-22, 22-23). Prior to his work with Red Deer Minor Hockey Lane served as President of Rimbey Minor Hockey for several seasons.
One of Lane's biggest strengths is his ability to create highly effective teams by building a common mission & vision & then executing on those through visionary leadership. These attributes shone through during this General Manager search and we are thrilled for Lane to lead this organization now & into the future as we aim to be one of the premier Minor Hockey Associations in the province.
Lane, his wife Kathleen & their three children Easton, Cooper & Lexi call Red Deer home. His son Cooper is the captain of Red Deer U18AAA Optimist Chiefs & his older son Easton is pursuing his hockey career and post-secondary studies in Massachusetts. Please join us in congratulating Lane Moore as the new General Manager of the Red Deer Minor Hockey Commission, welcome Lane!
Today: Come meet Red Deer's Silver Medalist Rebecca Smith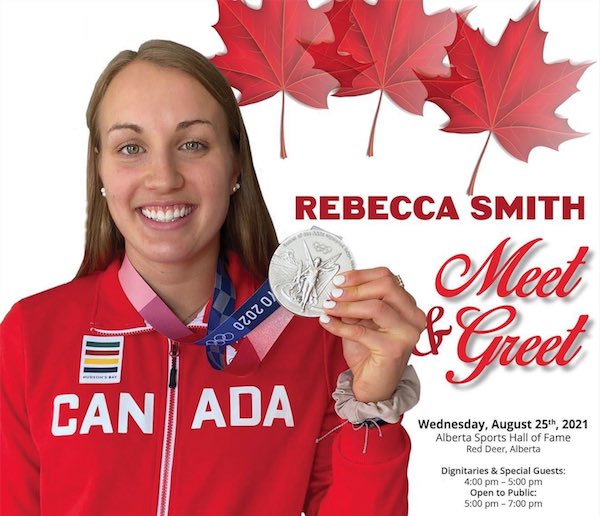 Submitted by Tourism Red Deer
Come celebrate with us and congratulate Red Deer's own Rebecca Smith.
Alberta Sports Hall of Fame and Tourism Red Deer invite you to meet Red Deer's Summer Olympic Silver Medalist Rebecca Smith!
Rebecca was a part of Team Canada's 4 x 100-meter freestyle relay swim team at the 2021 Tokyo Olympics. She'll be here to meet, greet, and show off her hardware.
Where: Alberta Sports Hall of Fame, 102-4200 Highway 2, Red Deer
When: Wednesday, August 25, 5:00 pm – 7:00 pm