Election interference: eye on the ball, please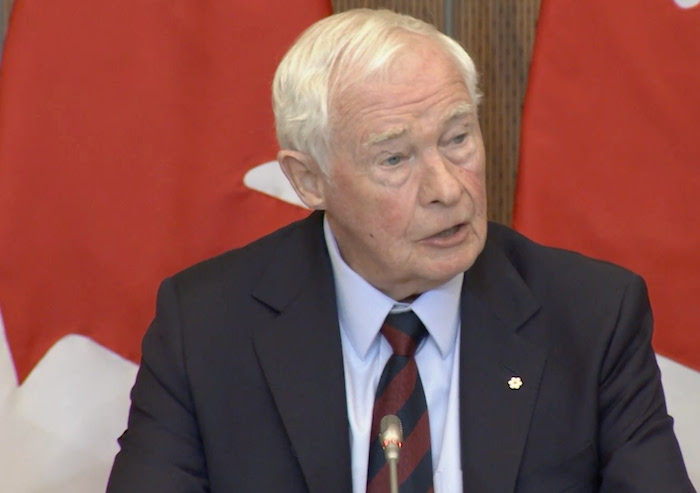 David Johnston, who should be beside the point
People living in Canada are having their democratic rights undermined. Fixing that should be everyone's goal.
Back from vacation, I'm delighted to see nothing has changed. It's David Johnston this and David Johnston that and David Johnston the other. That last link is about how Johnston has hired Navigator, which is reliably identified as a "crisis-communications firm" in stories like this, to help him figure out what to say. To which one possible answer, given the current storm of excrement, is: My God, wouldn't you?
I prefer not to pile onto stories that absolutely everyone else is writing about. Today constitutes a bit of an exception to that policy. I'm working on a bunch of stories on topics that will stray very far abroad from this one. But while those other stories percolate, here are a few thoughts on Canada's response to election interference.
First, we're in the phase of the story where everyone digs in. Johnston has a mandate from the Prime Minister of Canada which extends to October. He plans to keep working until then. I never thought he was right for this job. But nobody should be surprised that, having taken it, he intends to keep doing it.
But, we are told, Parliament has voted to demand that he stand down! Indeed, that's how I'd have voted too. Yet Johnston persists. This too is hardly surprising. Ignoring Parliament is easy enough, and it often feels great, as when Parliament voted to express profound sadness over a cover illustration in a magazine where I used to work. Johnston could have taken Parliament's counsel, but since we are, as I've noted, in the phase of the story where everyone digs in, he's digging in instead.
There is a school of thought that believes this sort of situation must lead straight to a confidence vote and an election. Brother Coyne is that school's headmaster. I'm always in favour of the largest possible number of elections too, especially since I now make a living selling political analysis. I fondly hope the next campaign will be excellent for business. But I seem to recall that the last time Parliament followed its convictions all the way to a forced election, Canadians responded by sending the Parliament-flouters back with reinforcements. I don't know whether that would happen now. But the opposition parties are allowed to make such calculations. No surprise, then, that they too are digging in — but not all the way.
Where does this leave us? First, with a process terribly compromised by lousy design. Justin Trudeau sought to outsource his credibility by subcontracting his judgment. The credibility transfusion was supposed to flow from Johnston to Trudeau. Instead it has gone the other way. The PMO hoped they'd found somebody whose credibility nobody would challenge, because he comes from the sort of precincts that impress them. Now they're stuck insisting that challenging Johnston's fitness or his conclusions is uncouth. The number of Canadians who decline to take etiquette tips from the PMO continues to surprise the PMO.
So far I have discussed all of this in terms of the usual Ottawa obsessions: Parliament, status, tactics, winners and losers. This sort of scorekeeping comforts Ottawa lifers, soothes us because we have been doing it most of our lives.
But there is another audience here.
It is Canadians and permanent residents who live here and experience intimidation all the time. Most are members of diaspora communities, Chinese and other. They have been saying for years that their freedoms of speech and assembly and their right to security of the person — their Charter rights — are being targeted, infringed and impinged by agents of Beijing's thug regime. What Cherie Wong, executive director of the Alliance Canada-Hong Kong, says every time she is asked, is that it's time for action. ACHK's latest report reads a lot like its earlier reports, like the reports from the National Security and Intelligence Committee of Parliamentarians that Trudeau admits he ignored. There's not much new here, just as there would not be much new after Johnston's process, or after a theoretically better process launched by some future government.
So Ottawa's current process obsession, while understandable, is not at all helpful.
The ACHK report includes recommendations that could be implemented before the next election, if parties were less obsessed with using foreign interference to win the next election. The Trudeau government is indeed moving ahead on some elements of ACHK's recommendations, including a foreign-influence registry. That's a fraught process that presents real pitfalls — overreach and stigmatization at one extreme, and at the other, a once-over-lightly framework that would not capture the sort of clandestine activity that's the problem. As indeed the political scientist Stephanie Carvin discusses in the ACHK report. So it's not something to be rushed. But all due dispatch would be welcome.
(For a discussion of the complexities of foreign-influence registries, readers could do worse than to look at the proceedings of a February meeting of a joint committee of both chambers of the Australian Parliament, considering amendments to Australia's own foreign-influence registry six years after it was implemented. The comparison with our own debate does not flatter Canada's Parliament. Australian politics can be raw and tough, and Beijing's influence is, if anything, a more pressing issue there than here. But members from all parties in Australia discuss the issue calmly. They treat witnesses as sources of useful information, not as sticks to beat their political opponents with. I'm not sure how Canada can get there from here, but it's refreshing to be reminded it's possible.)
I suppose what I'm proposing here is a dose of pragmatism informed by a sense that Parliament can be something more than an endless pissing match. I was an early member of the skeptics' club on David Johnston's suitability for this particular task. I don't feel chastened by subsequent events. But that ship has rather spectacularly sailed. Trying to turn the next five months of his work into a bigger fiasco won't help the people living in Canada in fear and worry. Neither will adding another commission with grander pretensions for a report sometime after the next election. The question facing parliamentarians now is to work on solutions instead of trying to win arguments. There'll be plenty of arguments later.
Saskatchewan premier defends plan to use notwithstanding clause for pronoun policy
Saskatchewan Premier Scott Moe holds a news conference during a tour at Lakewood Civic Centre in Saskatoon, Sask., on Friday, Sept. 29, 2023. Moe is defending his decision to recall the legislative assembly early and use the notwithstanding clause to ensure the province's pronoun policy stays in place. THE CANADIAN PRESS/Heywood Yu
Saskatoon
Saskatchewan Premier Scott Moe is defending his decision to recall the legislative assembly early and use the notwithstanding clause to ensure the province's pronoun policy in schools stays in place.
Speaking to reporters in Saskatoon, he said he wants to make it clear the policy will go ahead.
"The policy is paused here today," Moe said Friday.
"What we feel is of paramount importance is to provide clarity to parents, to families and ultimately to school divisions and educators that are in our classrooms across the province. This will provide that clarity.
"We've said for a number of weeks now that there are tools available for the government to ensure this policy is in place moving forward for the next number of months and years."
Moe made the announcement Thursday that he plans to use the notwithstanding clause, shortly after a judge granted an injunction to pause the policy that requires parental consent when children under 16 want to go by different names and pronouns at school.
He had said in a statement that he was extremely dismayed by the injunction, calling it judicial overreach, and suggested the policy has strong support from the majority of Saskatchewan residents and parents.
On Friday, Moe added that he wants to provide clarity as soon as possible to families and school divisions.
"The school divisions, up until yesterday, have informed us they've been working on their implementation plans of this policy," he said.
"What pausing the policy means is for a period of time it will not be mandatory to include the parents in some of these discussions."
The legislative assembly is to be recalled on Oct. 10 to use the notwithstanding clause, a provision that allows governments to override certain Charter rights for up to five years.
This report by The Canadian Press was first published Sept. 29, 2023.
Cyberattacks hit military, Parliament websites as India hacker group targets Canada
The federal government is coping with apparent cyber attacks this week, as a hacker group in India claims it has sowed chaos in Ottawa. Hands type on a keyboard in Vancouver on Wednesday, December, 19, 2012. THE CANADIAN PRESS/Jonathan Hayward
By Dylan Robertson in Ottawa
The federal government is coping with apparent cyberattacks this week, as a hacker group in India claims it has sowed chaos in Ottawa.
The Canadian Armed Forces said that its website became unavailable to mobile users midday Wednesday, but was fixed within a few hours.
The military said the site is separate from other government sites, such as the one used by the Department of Defence and internal military networks. The incident remains under investigation.
"We have no indication of broader impacts to our systems," said a statement from spokeswoman Andrée-Anne Poulin.
Meanwhile, various pages on the House of Commons website continued to load slowly or incompletely on Thursday due to an ongoing attack that officials say started Monday morning.
The Commons administration said it was facing a distributed denial-of-service attack, which is when bots swarm a website with multiple visits and cause it to stop loading properly.
"House of Commons systems responded as planned to protect our network and IT infrastructure. However, some websites may be unresponsive for a short period," spokeswoman Amélie Crosson said in a written statement Thursday morning.
"The House of Commons IT support team, in collaboration with our partners, have implemented mitigating measures and restored services to appropriate service levels. The IT team is still continuously monitoring for such activities."
She added that the Commons administration is helping their Senate colleagues "to provide guidance and support them to restore services."
Elections Canada also experienced roughly an hour-long denial-of-service attack starting around midnight early Wednesday, Ottawa time.
"This website does not host any sensitive data or information. It is separate from our main website, elections.ca, and is hosted by an external service provider. It is in no way connected to the network that supports elections.ca," the agency wrote in a statement.
"Our systems are monitored in real time both internally, and by the Canadian Cyber Security Centre, enabling us to quickly detect any anomalies on our platforms and systems. They are aware of the incident."
That centre is under the umbrella of the Communications Security Establishment, Canada's signals-intelligence agency.
A hacking group named Indian Cyber Force claimed responsibility for the incidents involving the military and Elections Canada, and it appeared to have managed to infiltrate a handful of websites owned by small businesses in Canada.
The group made reference to Prime Minister Justin Trudeau telling Parliament on Sept. 18 that there were "credible allegations" of Indian involvement in the killing of Sikh independence activist Hardeep Singh Nijjar, who had been wanted by India for years and was gunned down in June outside the temple he led.
The hacking group has posted multiple versions of a message riddled with spelling and grammatical errors onto websites of restaurants and medical clinics.
The affected sites show a message on a black background with green digits, similar to the film "The Matrix," as warlike music plays.
The message described Canada as a haven for terrorists — a "heaven hub," it said in butchered English — and similarly insulted Sikh separatists.
It also criticized Trudeau for "throwing something without any prove," or proof.
The group claimed to have attacked Elections Canada and the Ottawa Hospital, though these sites appeared to be operating normally Thursday morning. The Canadian Press has asked those responsible for these web pages to confirm whether they have been affected.
The hacking group also claimed to have taken down the Global Affairs Canada website for travel advisories, but the department insists this hasn't happened, and the group deleted that claim from its account on the social-media application Telegram.
News of the attacks came as questions abounded over Indian officials' level of co-operation with Canadian officials over Trudeau's allegations — and to what extent allies such as the United States were advocating on Canada's behalf.
On Thursday, U.S. Secretary of State Antony Blinken met with India's foreign-affairs minister Subrahmanyam Jaishankar.
Neither of them made mention of the controversy in Canada when they emerged briefly to pose for photos before their meeting began.
During a State Department briefing prior to that meeting, spokesman Matthew Miller refused to speculate on what the secretary would tell Jaishankar directly.
"What I will say, however, is we have consistently engaged with the Indian government on this question and have urged them to co-operate, and that engagement and urging them to co-operate will continue," Miller said.
"We urge them to co-operate with the Canadian investigation."
Miller flatly refused comment when asked about a television interview last week with U.S. ambassador to Canada David Cohen, who confirmed that Canada received intelligence from one of its Five Eyes security partners.
"I am not going to speak to intelligence matters from the podium."
This report by The Canadian Press was first published Sept. 28, 2023.
— With files from James McCarten in Washington, D.C.