The Votes Tell the Story
On this amazing day for hockey fans, especially in Alberta, it's a personal joy to realize two men I have known and appreciated for decades are now members of the Hockey Hall of Fame.
As much satisfaction as supporters are sure to feel for Jarome Iginla and his selection in his first year of HHOF eligibility, the same level of pleasure is sure to be shared by Kevin Lowe, who has waited many years for his combination of steadiness, competitive fire and team intelligence to be recognized at the highest possible of the game both he and Iginla have loved since childhood.
It's a bonus for Edmontonians, and for all in sports, that Ken Holland was welcomed as a builder. He deserves the accolade as much as anyone can and the fact that he achieved most of his front-office success before he was hired as the Edmonton Oilers general manager before the start of last season. It's still a shock to recall how many dedicated Oilers lovers objected in words and in print to the thought that he would be hired after being escorted away from Joe Louis Arena in Detroit.
You want another shock? Iginla came much closer to being potentially a career Oiler than media wretches were allowed to know.
He was drafted 11th overall in 1995. Steve Kelly became a mistaken sixth-overall choice in the same year. He was picked as Number 6 — one spot ahead of Shane Doan despite loud demands for the Oilers to go for Doan with their first pick of the graduate draft.
Barry Fraser, Edmonton's head scout, told me before the draft that Iginla "is going to be a good pick for somebody." He also Iginla as a potential first-rounder, a clear sign that he would become part of the mid-90s Oilers if rival selections made it possible.
Doan, like Lowe, was a productive but not brilliant offensive player. If his character and leadership are taken into account in a future year, he will also become a more promising candidate for Hall of Fame membership.
Dealing with Lowe during the Oilers' Stanley Cup run was always a pleasure. When he sensed a criticism, and if he missed some of the credit headed his team's way, he was likely to be edgy. It was impossible to do a pre-game Sportstalk segment and still find time for a moment to talk. Then I learned that he sharpened his skates very early on game night. That meant he would be available for brief conversation.
Somehow, it evolved that we would speak before the first home game of every series. I still remember the intensity of his preparation.
Iginla's brilliant junior record and his lifelong connection with Edmonton and St. Albert made it obvious that we would meet during the 1995 junior draft countdown. He and several other top prospects were made available for live appearances for about week.
Iginla was not a logical choice to talk: he did not blow his own horn. Others seemed more interested than he was at the thought of speaking for 30 minutes on radio. After about three days, someone asked about giving Jarome some time on the microphone. Said I: "It doesn't look like he's interested" but his supporter suggested that I approach the quiet young man. He agreed to join the chow and was a sensational guest, showing a confident streak that was well-balanced with modesty.
One question was a natural for presentation to any young athlete: "Do you think the NHL will be a good fit for you?" His answer, as I learned gradually over time, was typical for him.

"I know I've got a lot to learn," he said. "I have to improve my skating quite a bit. If I do that, I can probably do all right."
As they say: Now we know the rest of the story.
'Sorry': Crown calls for harsh sentence for Calgary man in multimillion-dollar fraud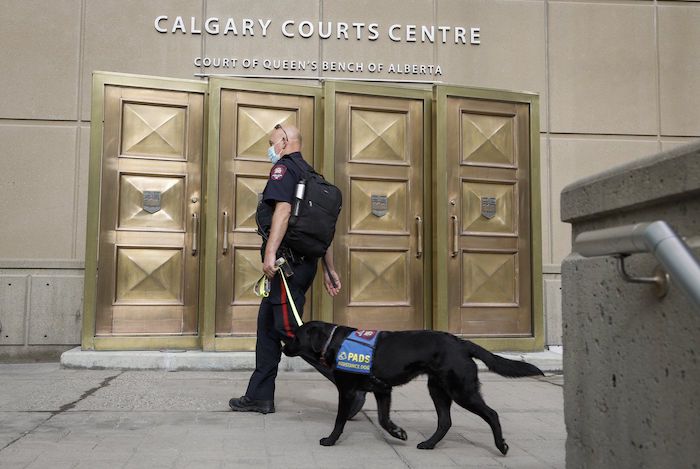 By Bill Graveland in Calgary
The Crown asked for a sentence of 10 to 12 years Wednesday for a Calgary man who bilked clients out of millions of dollars in a Ponzi scheme.
Arnold Breitkreutz, 74, was convicted on June 29 of fraud over $5,000 for what the Crown described as a multimillion-dollar scheme in which investors believed they were putting money into safe first mortgages.
Court heard the money from his company, Base Financial, was instead loaned to an energy industry promoter and used in a risky oil play in Texas that was secured against oil-and-gas leases and equipment.
"The Crown submits that this actually was a trust situation," said Crown prosecutor Shelley Smith, who told court that Breitkreutz was held in "high regard" by many clients after successfully running a mortgage-broker business for years.
Smith said during the period of the offence, between May 1, 2014, and Sept. 30, 2015, investors provided Breitkreutz with more than $21.4 million as a result of his "deceit."
"The scheme was due to collapse at some point, but the fraud persisted for a period of 17 months," she said.
"False contracts were distributed to investors, T5 (investment income tax slips) were also distributed to investors providing a gloss of legality to the scheme. With respect to the large number of victims in this case, 107 individuals were defrauded money."
Smith is also asking that Breitkreutz pay restitution of more than $3.1 million.
The court received 29 victim impact statements. Two of the victims were in court to read them.
William Janman and his wife invested nearly $3 million with Breitkreutz and trusted him so much they would invite him to barbecues and out to dinner.
"We will never in our lifetime recover from this loss. We find ourselves struggling with unmatched loss on a daily basis instead of enjoying the end of our life and retirement," he told the court.
He said he and his wife have experienced guilt, shame, self-blame and depression.
"The nightmare continues."
Another investor, whose identity is protected by a publication ban, said she feels like a fool for ignoring her initial intuition after putting her finances and company at risk.
"Who would have believed that ignoring that niggly feeling would lead to the near collapse of our business and devastating financial impacts to all of our employees," she said.
"Please remember all the victims. I ask that you sentence Arnold Breitkreutz to the fullest extent of the law so he may think of all the lives that he has damaged."
Breitkreutz's lawyer said his client should serve a sentence in the five-to-eight-year range and anything above that would be unfair considering his age.
Cale Ellis-Toddington said the operations of his client were not complex and the well-heeled investors knew what they were getting into.
"It wasn't a matter of trust. You look at the evidence of the investors and they said 'I don't really trust Arnold, but the fact of the matter is I was getting a great return on my investment and that's why I invested,'" he said.
Ellis-Toddington said his client was not motivated by greed but was trying to get his investor's money back. He said his client's level of moral blameworthiness is low.
But Queen's Bench Justice Colin Feasby questioned that argument.
"Is it not an abuse of trust to raise money on both the explicit and implicit representation that you are a mortgage broker dealing in Alberta mortgages and then to bait-and-switch and put that money into a Texas investment?" he asked.
"Another way to look at it is: He was running Ponzi schemes and kept kicking things down the road so he never had to have a day of reckoning."
Breitkreutz, who has been in custody since he was found guilty, offered a brief apology.
"I can feel your loss and for that I'm unbelievably and indescribably sorry. It was not my intention when I accepted your money," he said.
"I put your money in the same place that I put my own. Nonetheless, I feel for you deeply, as much as I can and I'm sorry."
Feasby is to deliver his sentence on Friday.
This report by The Canadian Press was first published Aug. 17, 2022.
Stankoven scores twice, Canada doubles up Swiss 6-3 at world juniors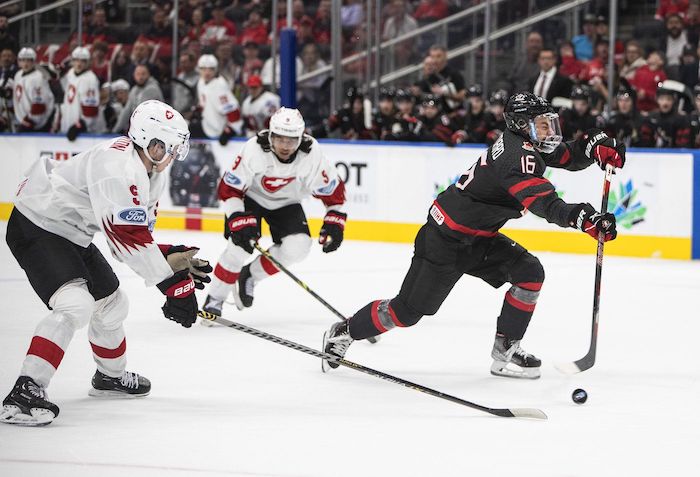 By Gemma Karstens-Smith in Edmonton
Canada's Logan Stankoven is used to putting pucks in the back of the net, but scoring hasn't come easily at the world junior hockey championship.
He buried a pair of chances on Wednesday, though, helping Canada to a 6-3 quarterfinals win over Switzerland.
"It's harder than I thought, for sure," said Stankoven, a Kamloops Blazers forward who was named the Canadian Hockey League's player of the year in June.
"The goals haven't come easy. I've had chances, but not as much as I'd like. Tonight I thought I was able to create a few more chances and the puck was going in the net. So it was a good feeling."
Stankoven also notched an assist, while Tyson Foerster scored and contributed two helpers. Jack Thompson, Nathan Gaucher and Will Cuylle all added goals for Canada (5-0-0) and Ronan Seeley chipped in with a pair of assists.
Attilio Biasca scored twice for Switzerland (1-4-0) and captain Simon Knak also found the back of the net.
After exploding for four goals in the first period, the Canadians struggled at times Wednesday, giving up prime scoring opportunities on sloppy play.
"We definitely didn't want to take these guys lightly but they played really strong and kind of caught us by surprise a little bit," said goalie Dylan Garand, who made 23 saves. "I think we did a good job of sticking with it and finding a way. It wasn't pretty but we're moving on."
The victory means Canada will face Czechia (2-2-1) — the country commonly known as the Czech Republic — in Friday's semifinals.
The other semifinal will pit Sweden (4-1-0) against Finland (4-1-0).
The Czechs gritted out a massive 4-2 upset over the U.S. (4-1-0) in the final quarterfinal game on Wednesday, leaping out to a 3-1 lead midway through the second period and held on for the win.
Jiri Kulich helped out with two assists before scoring into the empty net to dash the hopes of the reigning champion Americans with less than two minutes on the clock.
Jan Mysak, Petr Hauser and Matyas Sapovaliv also had goals for the Czechs, who have not won a medal at the world juniors in 15 years.
Logan Cooley opened the scoring for the U.S. and Carter Mazur briefly brought his team to within one 11:31 into the second.
Czech goalie Tomas Suchanek stopped 19-of-20 shots and Kaidan Mbereko made 15 saves for the Americans.
Switzerland made a late push Wednesday, pulling goalie Kevin Pasche with 3:15 to go in favour of an extra attacker but couldn't make up the two-goal deficit.
Instead, Stankoven scored into the empty net with 69 seconds left on the game clock.
"It's the dreaded quarterfinal game where you're playing a team that has absolutely nothing to lose," Canadian coach Dave Cameron said of the pressure. "And give them credit — they came at us and they made it interesting. But we found a way."
Some sloppy play created trouble for Canada midway through the second period.
Trying to clear the puck from behind the net, Garand sent the puck to Donovan Sebrango along the boards and the defenceman sent the puck up ice.
Biasca picked off the pass and snapped a shot past the Canadian goalie to make it 5-3 at the 7:51 mark.
"Things didn't really go our way some of the game," Seeley said. "We battled back and found a way to win. And that's all that matters."
A pass from Olen Zellweger to Cuylle down low set up Canada's fifth goal. Cuylle sent a sharp-angle shot in off Pasche 4:30 into the second.
The Swiss cut their deficit to 4-2 with just 8.2 seconds left in the opening frame.
Joshua Fahrni sent Biasca the puck from below the goal line and the Halifax Mooseheads' forward blasted a shot in over Garand's shoulder.
Pasche took over the Swiss net late in the first period after starter Noah Patenaude allowed four goals on nine shots.
Patenaude denied Canada's Elliot Desnoyers but the puck got caught under his pad and Gaucher poked it in for his first goal of the tournament 17:01 into the game.
Pasche made 30 saves in relief.
Stankoven gave Canada a 3-1 cushion with a breakaway 14:32 into the first.
The Dallas Stars' prospect picked off a pass at the Swiss bench and sprinted into the offensive zone alone. His initial shot ricocheted off the crossbar, so Stankoven collected the rebound and backhanded it into the open net for good measure.
Seeley's sneaky pass across the slot helped Canada re-take the lead 12:31 into the first. Thompson collected the puck and fired a quick shot pass Patenaude to make it 2-1.
Switzerland's first goal of the night came 2:21 into the game when Brian Zanetti uncorked a rocket from inside the blue line and Knak tipped it in for the equalizer.
Canada opened scoring just 74 seconds earlier when Stankoven sent a crisp pass to Foerster in the faceoff circle and he blasted it in for his third goal of the tournament.
Earlier Wednesday, Emil Andrae scored the game winner as Sweden took a 2-1 victory over Latvia.
Isak Rosen got Sweden on the board 16:44 into the first period and Gustavs Ozolins buried the equalizer for Latvia at the end of the second.
Latvia's Martins Lavins was tossed from the game 89 seconds into the third for a check to the head, but his teammates killed a five-minute major penalty to keep the score at 1-1.
Andrae broke the deadlock 9:49 into the third with a long shot through traffic.
Jesper Wallstedt stopped 12 shots for Sweden (4-1-0) and Bruno Bruveris made 25 saves for Latvia (1-3-1).
Four points from Roby Jarventie led Finland to a 5-2 victory over Germany in another quarterfinal Wednesday.
Jarventie's first goal at 14:48 of the first period gave Finland a 3-1 lead and ended up as the game winner.
After Germany's Bennet Rossmy scored his second goal of the game in the second period to make it 3-2, Jarventie restored Finland's lead 6:22 into the third with Yannick Proske off for hooking.
Roni Hirvonen and Joel Maatta also scored power-play goals as Finland went 4-for-6 with the man advantage. Finland's power-play unit has been lethal throughout the tournament, firing at a 59 per cent clip (13-for-22).
Kasper Simontaival opened scoring for Finland with an even-strength goal 3:37 into the contest.
Leevi Merilainen made 19 saves for Finland (4-1-0) while Florian Bugl stopped 17 shots for Germany (2-3-0).
Canada took silver in the 2021 tournament, which was held at Edmonton's Rogers Place without fans due to COVID-19 restrictions.
POKE CHECKS: Both Canada and Switzerland went 0-for-1 on the power play. … Canadian forward Ridly Greig headed to the locker room midway through the first period with an apparent shoulder injury and did not return. … The groups for the 2023 world juniors have been announced. Canada is in Group A with Sweden, Czechia, Germany and Austria, and will play its preliminary round games in Halifax. The U.S., Finland, Switzerland, Slovakia and Latvia are in Group B and will open the tournament in Moncton.
This report by The Canadian Press was first published April 17, 2022.