The Votes Tell the Story
On this amazing day for hockey fans, especially in Alberta, it's a personal joy to realize two men I have known and appreciated for decades are now members of the Hockey Hall of Fame.
As much satisfaction as supporters are sure to feel for Jarome Iginla and his selection in his first year of HHOF eligibility, the same level of pleasure is sure to be shared by Kevin Lowe, who has waited many years for his combination of steadiness, competitive fire and team intelligence to be recognized at the highest possible of the game both he and Iginla have loved since childhood.
It's a bonus for Edmontonians, and for all in sports, that Ken Holland was welcomed as a builder. He deserves the accolade as much as anyone can and the fact that he achieved most of his front-office success before he was hired as the Edmonton Oilers general manager before the start of last season. It's still a shock to recall how many dedicated Oilers lovers objected in words and in print to the thought that he would be hired after being escorted away from Joe Louis Arena in Detroit.
You want another shock? Iginla came much closer to being potentially a career Oiler than media wretches were allowed to know.
He was drafted 11th overall in 1995. Steve Kelly became a mistaken sixth-overall choice in the same year. He was picked as Number 6 — one spot ahead of Shane Doan despite loud demands for the Oilers to go for Doan with their first pick of the graduate draft.
Barry Fraser, Edmonton's head scout, told me before the draft that Iginla "is going to be a good pick for somebody." He also Iginla as a potential first-rounder, a clear sign that he would become part of the mid-90s Oilers if rival selections made it possible.
Doan, like Lowe, was a productive but not brilliant offensive player. If his character and leadership are taken into account in a future year, he will also become a more promising candidate for Hall of Fame membership.
Dealing with Lowe during the Oilers' Stanley Cup run was always a pleasure. When he sensed a criticism, and if he missed some of the credit headed his team's way, he was likely to be edgy. It was impossible to do a pre-game Sportstalk segment and still find time for a moment to talk. Then I learned that he sharpened his skates very early on game night. That meant he would be available for brief conversation.
Somehow, it evolved that we would speak before the first home game of every series. I still remember the intensity of his preparation.
Iginla's brilliant junior record and his lifelong connection with Edmonton and St. Albert made it obvious that we would meet during the 1995 junior draft countdown. He and several other top prospects were made available for live appearances for about week.
Iginla was not a logical choice to talk: he did not blow his own horn. Others seemed more interested than he was at the thought of speaking for 30 minutes on radio. After about three days, someone asked about giving Jarome some time on the microphone. Said I: "It doesn't look like he's interested" but his supporter suggested that I approach the quiet young man. He agreed to join the chow and was a sensational guest, showing a confident streak that was well-balanced with modesty.
One question was a natural for presentation to any young athlete: "Do you think the NHL will be a good fit for you?" His answer, as I learned gradually over time, was typical for him.

"I know I've got a lot to learn," he said. "I have to improve my skating quite a bit. If I do that, I can probably do all right."
As they say: Now we know the rest of the story.
Canada under pressure to produce more food, protect agricultural land: report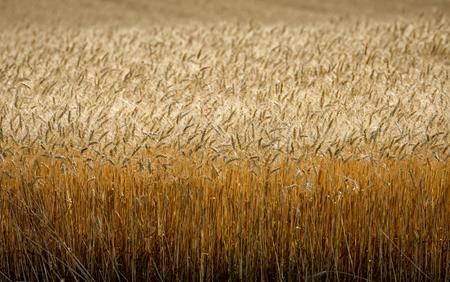 Canada's agricultural land is under increasing pressure to produce more food as demand grows domestically and internationally, while the industry grapples with limited resources and environmental constraints, a new report found.
"We need to grow more food on less land and in a volatile climate," said Tyler McCann, managing director of the Canadian Agri-Food Policy Institute.
The report by the institute released Thursday looks at the pressures on Canada's agricultural land to produce more food while also mitigating and adapting to the effects of climate change, said McCann.
Despite Canada being a big country, it doesn't have as much agricultural land as people might think, said McCann, with the report noting that agricultural land makes up only around seven per cent of the country.
Because of that, we can't take what we do have for granted, he said. "We need to be really thoughtful about how we are using our agricultural land."
In 2020, Canada was the eighth largest country in terms of cropland area, the report said, with that cropland decreasing by seven per cent over the previous two decades.
Canada is a major producer and net exporter of agriculture and agri-food products, the report said, exporting $91 billion in products in 2022, and one of the top 10 exporters of wheat, canola, pulses, pork and beef.
In the coming years, Canada will face increased demand from countries whose populations are growing, the report said.
"With population growth on one side and climate change on the other, Canada will be amongst an increasingly smaller number of countries that is a net exporter," said McCann, noting that Canada's own population is growing, and farmland also needs to be protected against urban sprawl.
The wildfires clouding Canadian skies this week are a "vivid reminder" of the pressure that extreme weather and the changing climate are putting on the agricultural sector, said McCann.
"We need to clearly mitigate … agriculture's impact on climate change. But we also need to make sure agriculture is adapting to climate change's impacts," he said.
One of the ways the world has responded to demand for increased agricultural production over time is to create more agricultural land, in some cases by cutting down forests, said McCann. But that's not a viable option for Canada, which doesn't have a lot of land that can be sustainably converted into farmland — and even if it could, doing so could have a variety of adverse environmental effects, he said.
Some of the practices used to reduce emissions and sequester carbon in agriculture can also improve production output on existing farmland, the report found, such as precision agriculture and no-till practices.
However, intensifying the production of current agricultural land also comes with potential environmental downsides, the report said.
For example, McCann said fertilizer is an important part of sustainable agriculture, but there's a balance to be struck because excessive use of fertilizer can quickly turn food production unsustainable.
"We need to be a lot more thoughtful about the inputs that we're using," he said, adding the same can be said about the use of technology in agriculture and the policies and programs put in place to encourage sustainable intensification of Canadian agriculture.
The report recommends that Canada adopt policies that provide financial incentives and technical assistance to farmers and develop regulatory frameworks promoting sustainable land use, as well as promoting education and awareness campaigns, so that the country can "ensure the long-term sustainability of its agricultural sector while protecting the environment."
This report by The Canadian Press was first published June 8, 2023.
Rosa Saba, The Canadian Press
Lawyer tells Alberta's highest court review board biased in de Grood's case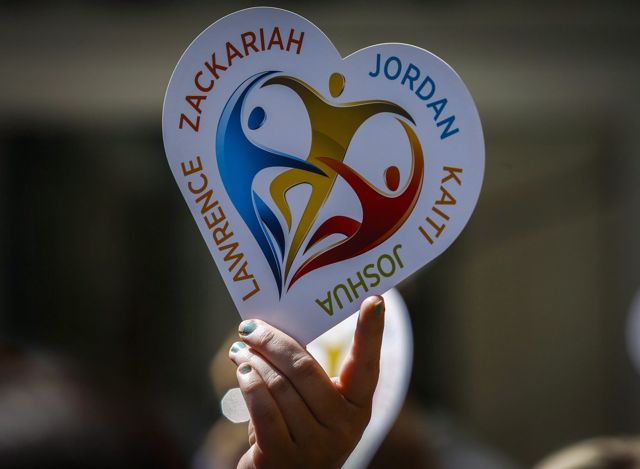 A family member of five slain students holds a heart sign with their names on it following a court decision in Calgary, Alta., Wednesday, May 25, 2016. Alberta's highest court is being asked to overturn a review board decision on the stabbing deaths of five young people at a Calgary house party that confined a man to a supervised Edmonton group home. THE CANADIAN PRESS/Jeff McIntosh
By Ritika Dubey in Edmonton
Alberta's highest court is being asked to overturn a review board decision that confined a man to a supervised Edmonton group home after the stabbing deaths of five young people at a Calgary house party.
The lawyer representing Matthew de Grood argued Wednesday the review board's decision was biased, citing what she described as political interference from Alberta's former justice minister.
"The appellant says, 'I think the conclusion about me is wrong. The board's conclusion is incorrect and not supported by evidence,"' Jacqueline Petrie said before the Alberta Court of Appeal. "He says there's no significant evidence that he's a risk."
De Grood, 31, was found not criminally responsible in 2016 for the killings two years earlier of Zackariah Rathwell, Jordan Segura, Kaitlin Perras, Josh Hunter and Lawrence Hong because he was suffering from schizophrenia at the time. Petrie said de Grood has been stable on medication, is at low risk to reoffend and should be allowed to live with his parents while being monitored under a full warrant.
She argued the review board misunderstood medical evidence during the September 2022 review, which deemed de Grood a significant risk despite the assessment showing improvements. She said the board is supposed to recommend the least onerous disposition compatible with public safety and did not do that for de Grood.
The defence lawyer has said the review had been influenced by former justice minister Doug Schweitzer, who weighed in on de Grood's case in October 2019 after the panel allowed de Grood to transition from institutional care to a supervised group home.
He has been under supervision at a group home. His case is reviewed by the Alberta Review Board yearly to see whether he can transition back into the community while maintaining public safety.
Petrie pointed at de Grood's "exemplary record," and that he has been "compliant to the (medical) treatment team."
"Nobody knew he had schizophrenia (at the time of the stabbings) and needed medication."
Crown prosecutor Matthew Griener said the board considered a conditional discharge but dismissed it, citing a relapse in schizophrenia symptoms in 2021.
Griener said de Grood's relapses were brief and happened at the hospital, providing an early window for medical professionals to intervene.
Justice Kevin Feehan said de Grood may be low-risk, but the consequences of even one relapse could be significant.
Reading from an expert's report, Feehan said: "A low risk to offend doesn't mean the reoffence would not be severe."
Some family members of the victims drove from Calgary for the hearing.
Segura's mother, Patty, said the last nine years have been about de Grood and his rights.
"He should be thankful that he ended up NCR (not criminally responsible) rather than end(ing) with five life sentences for murdering five people," she said. "He should not be appealing."
Hunter's father, Barclay, opposed a potential full release.
"The idea that he wouldn't be monitored for the rest of his life seems to defy logic, it doesn't make any sense," said the father.
Hunter's mother, Kelly, said the family has had "no healing."
"We do this every year, at least once. Now, this is the second appeal," she said. Barclay
Hunter said although there are attempts to reintegrate de Grood into society, he hopes the man is not left on his own with an absolute discharge.
"Regardless of what they say, he killed five people. If that doesn't stand on its own as a risk factor, then I don't know what does."
This report by The Canadian Press was first published June 7, 2023.
—