What's on Tap? – Rediscover Moonshine with Skunkworks Distillery
An exciting new addition to the Calgary Barley Belt might look a little bit different than what regular patrons are used to seeing, or drinking. Skunkworks Distillery, a locally owned and operated micro-distillery, is bringing premium engineered moonshine to the craft beer party!
Originating in 2015 as an after-work-over-drinks project idea, the concept of Skunkworks Distillery was in the works for a few years before it began to take shape with Faye Warrington and Marty Lastiwka at the helm. Skunk Works is an engineering term coined at Lockheed Martin, referring to the Advanced Development Department, which focuses on innovative and unconventional approaches to new science and technology. "Skunk Works is a department that operates outside the mainstream of their company working on weird little side science projects or on new tech stuff," says Faye, "for Marty and I, this is our Skunk Works. This is our science project."
Located on the Barley Belt, southeast Calgary's signature walking distance collection of craft breweries, Skunkworks distills smooth, small batch premium engineered moonshine that is as good over ice as it is in one of their many cocktails. Made from sugar beets refined in Taber, Alberta, Skunkworks offers three unique products: the original Skunkworks Moonshine, Hypersonic and Moonwater. With Skunkworks, Faye and Marty are committed to challenging the mason jar mentality that associates moonshine with a bootleg burn.
"Moonshine is a good way to bring people together. We all have a moonshine story," Marty laughs, "It's something people can always talk about, for better or for worse."
The tasting room, much of which Faye and Marty built themselves, combines industrial space race vibes with a Mad Max steampunk flare that can't be found anywhere else. Sip your Skunktail (Skunkworks cocktail) from a science lab beaker and enjoy some light snacks on a replica plane wing turned coffee table, while listening to live music from the in-house studio.
After countless hours of planning, searching and building, the taproom officially opened in November of 2019. Launching amidst the upheaval of a global pandemic and ensuing economic crash has made Skunkworks an operation well versed in thinking on their feet. "None of the normal rules for growing a business apply right now," says Marty, "So we're just adapting, we're pivoting every day."
Like a number of other breweries and distilleries around the city, Skunkworks transitioned to the production of hand sanitizer to help fill the gap during the height of the pandemic. The public response, according to Marty, was far more than they ever could have anticipated. "Everyone was just so desperate for it," he says, "we were making it just to give away, and suddenly people were lined up around the block for it."
While this wasn't how they exactly envisioned their first few months in operation, it turned out to be a great way for the distillery to begin connecting with the community while helping out people in need. Given the uncertain circumstances and difficulties of the last several months, Faye says the support of the community and other local distilleries has been invaluable.
As things settle down, Faye and Marty are looking forward to being able to host live music again and are even exploring the idea of an outdoor concert on their (dog-friendly!) patio. Above all, the two are excited for the upcoming release of their latest product, a seasonal feature that is like "nothing you've ever tasted!" coming very soon.
To learn more about Skunkworks Distillery and what the Calgary Barley Belt has to offer, visit https://www.skunkworksdistillery.com
Follow Todayville Calgary to learn more about Calgary's unique breweries and distilleries, now featuring exclusive weekly updates from Whats on Tap?
Police looking for these 3 suspects after Super 8 Motel in Innisfail robbed early Monday morning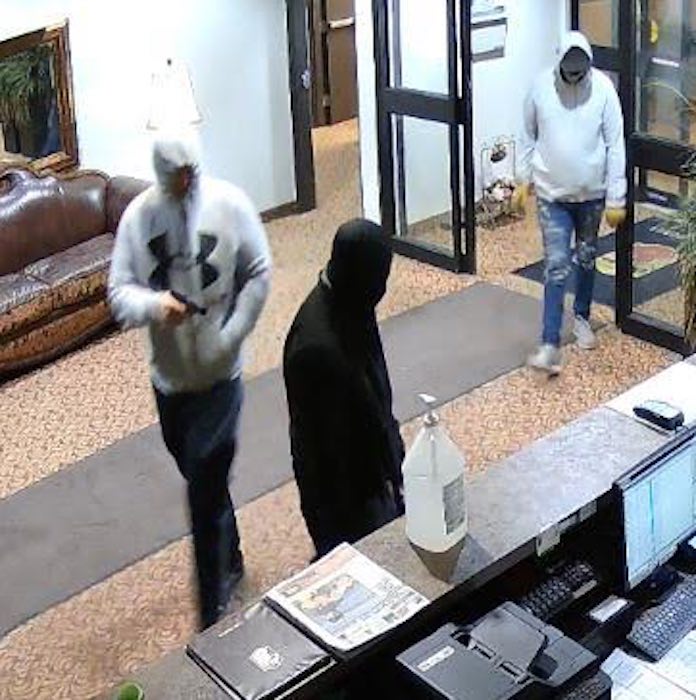 Innisfail RCMP investigate robbery
Innisfail Ala. – On May 29, 2023, at approximately 4:10 a.m., the Super 8 motel in Innisfail was the victim of an armed robbery. Three male suspects entered the hotel, two of which had firearms. Money was demanded from the manager. All three left the motel in a vehicle which is described as:
Chevrolet Dura Max truck
Sliver
Lifted
The suspects are described as:
Suspect #1: Caucasian male, tall and muscular. Wearing jeans and a grey Under Armour hoody. He was carrying a pistol.
Suspect #2: Caucasian male, short. Wearing all black. He was carrying a sawed off shotgun
Suspect #3: Caucasian male tall with a chubby belly. He was wearing a grey hoody, jeans and a black ball hat.
If you have information about this incident, please call the Innisfail RCMP at 403-227-3341 or call your local police. If you want to remain anonymous, you can contact Crime Stoppers by phone at 1-800-222-8477 (TIPS), by internet atwww.tipsubmit.com, or by SMS (check your local Crime Stoppers www.crimestoppers.ab.ca for instructions).
'Tragic accident' blamed for recent death of giraffe at Calgary Zoo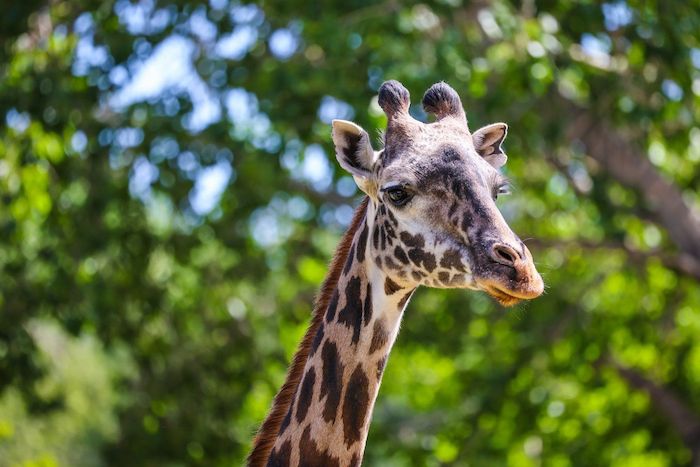 The Wilder Institute/Calgary Zoo says a "tragic accident" led to the recent death of an adult Masai giraffe. A statement from the zoo says the female giraffe named Emara died May 19 after tangling one of her horns on a cable surrounding her enclosure. THE CANADIAN PRESS/HO-Wilder Institute/Calgary Zoo-Sergei Belskey
Calgary
The Calgary Zoo says a "tragic accident" led to the recent death of one of its adult Masai giraffes.
A statement from the zoo says a female giraffe named Emara died May 19 after tangling one of her horns in a cable surrounding her enclosure.
The statement says a necropsy revealed Emara fell against the enclosure fence and died almost instantly of a broken neck.
Emara, who had just turned 12, came to Calgary from the San Diego Zoo in 2016.
The statement says she was a treasured member at the zoo and was known for her cautious yet curious personality and gentle nature.
The zoo says it is checking fencing within its African Savannah Yard enclosure to see if changes are needed to better protect the other giraffes and animals that share the space.
Doug Whiteside, interim associate director of animal care and welfare at the zoo, said Emara was in her prime and was in excellent health when she died.
"Major life changes such as this not only affect our people but can affect our animal residents as well," Whiteside said in the statement Monday.
He said the zoo's remaining giraffes, Nabo and Moshi, are doing well.
Grief counsellors are being made available to Emara's caregivers and other zoo staff.
This report by The Canadian Press was first published May 29, 2023.