WCBL season cancelled ending the Edmonton Prospects run at Re/Max Field
According to a contract held by the city of Edmonton, COVID-19 has ended the life of the Edmonton Prospects at Re/Max Field.
Until members of the Western Canadian Baseball League voted on Wednesday to write off what would have been a 2020 season, the Prospects were in line to play at the field in Edmonton's Saskatchewan River valley until the end of the regular schedule or playoffs.
Now, since there will be no WCBL season, there will be no more Prospects in Edmonton unless a one-year agreement can be devised with other park operators that would bridge a one-year gap and keep his team here 2021. He has spoken often of work to be completed on a complex to be developed in the Spruce Grove-Stony Plain area slightly west of Edmonton in time for the 2022 season, by which time a group headed by Randy Gregg will have control of Re/Max.
"I think it would be mighty ambitious to promise a new park would be functioning in time to start a new season less than a year from right now," Cassidy said in a telephone interview.
The Gregg group won its long-term contract although it has no team at present and has held no meeting with league president Kevin Kvame and other governors about obtaining one. Several involved citizens have advocated that the Prospects and a new team (perhaps the Capitals) ultimately could share playing dates, but Cassidy suggested such an arrangement is unlikely.
"A couple of deals have been presented for us to look at, but they don't work for us," Cassidy said. "We offered a deal to the Gregg group but they didn't accept it, either."
Evidently, those negotiations will continue into the future. In the meantime, all 10 teams face the necessity to operate with a 2021 start as their most optimistic possibility. Entry of a new Sylvan Lake franchise will add to the enthusiasm, as will the promising ownership and participation structure already taking shape for the Brooks Bombers.
"We had all been kind of hoping that we could start our season in a month or so and get maybe 20 home games for each team," Cassidy said. "Always, the July 1 long weekend has been good for our league at the gate." There also had been brief conversation about extending the season into August before starting playoffs – roughly a month later than usual.
"The problem is that every time we got some encouraging news (on lifting lockdown provisions), we got new and discouraging news a day or two later.
"There was not a lot of debate about how we could keep things alive with the information we had, so it was not a hard decision for all of us to make."
President Kvame expressed regret on "a sad day for the WCBl, our 10 teams, 300-plus players and tens of thousands of fans in Alberta-Saskatchewan, adding that operational costs have been expanding as the league improves and shortening the schedule would only add to potential financial stresses. "We are a gate-generated league. We will mourn the loss of the season for a day or two and then we'll get busy on 2021."
The governors' vote to discontinue plans for the coming season was unanimous, he added.
Read more of John's stories here.
Tour "The Abigail" by Sorento Custom Homes – Grand Prize in the 2022 Red Deer Hospital Lottery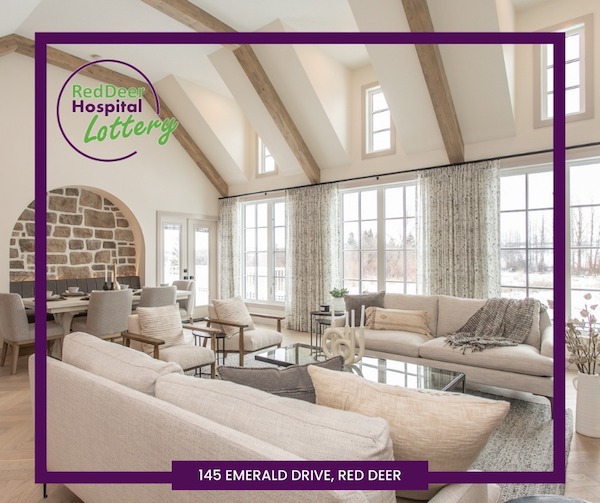 Have you seen it yet? Take a nice long look at the beautiful grand prize dream home!
NEW
TICKET GIFTING
OPTION
Step 1 – Click the GIFT TICKETS NOW! button
Step 2 – Enter the order for tickets and your personal information under buyers details
Step 3 – Click Send as Gift button and enter the giftee name and information
Print off this order form and mail in to the address listed on order form.
You can choose to get your tickets by mail, you will receive them in 3 to 4 week once processed by the lottery office.
You can also choose e-ticket and you will receive your tickets by email the day your order is processed. A valid email address is mandatory for e-ticket.
Mail to:
Red Deer Hospitals Lottery
PO Box 1098 Red Deer AB T4N 6S5
Call 1-877-808-9005 and a representative would be happy to help with your order, our agents are taking calls 7 days a week from 8am to 11pm
MAIN TICKETS
1 for $25 | 5 for $75 | 10 for $125 | 25 FOR $250
ORDER BY PHONE
Call Toll Free: 1.877.808.9005
MEGA BUCKS 50
1 for $10 | 10 for $25 | 25 for $50 | 50 FOR $75
5 winners already in Red Deer Hospital Lottery – Previous Supporters Draw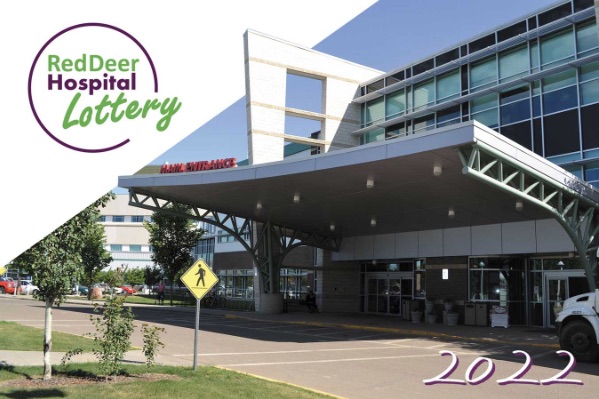 Five lucky people are already glad they purchased a Red Deer Hospital Lottery ticket – and the winning has just begun!
Thank you to Cecile A of Red Deer, Lynda H of Lacombe, Dan & Wendy K of Sylvan Lake, Bobbi & John W of Millet, and Jack W of Stettler who supported our hospital. They each won $1,000 in our Previous Supporter draws.
There are still 115 prizes totaling over $1.1 million to be won!
Our Grand Prize Dream Home package is valued $940,332.00 including furnishings from Urban Barn and $10,000 Dream Home CASH!
Maybe you'll win a 2022 GMC Yukon SLT worth over $81,000.00! Tickets are only $25 each.
There's still more. Buy before May 25th and you could win our EARLY BIRD CASH PRIZE OF $25,000
CHECK OUT OUR GREAT TICKET PACKAGES
$25 EACH | 5 FOR $75 | 10 FOR $125 | 25 FOR $250
Win half of an increasing jackpot of up to $1,000,000.
The jackpot grows with every ticket sold!
1 for $10 • 10 for $25
25 for $50 • 50 for $75
Win half of the current jackpot of:
17 of 83 pieces of equipment have already been funded!
Every ticket purchased will support the Red Deer Regional Hospital Centre with proceeds used to purchase eighty-three pieces of medical equipment for several units.
Since opening a few weeks ago, we've already secured funding for 17 stretchers benefiting 8 different units at our hospital!
CALL RED DEER & AREA OR TOLL FREE
403.340.1878 1.877.808.9005
Red Deer Hospital Lottery
PO Box 1098
Red Deer AB T4N 6S5Lottery Licence 590314 | Mega Bucks 50 Licence 590315
© RED DEER HOSPITAL LOTTERY 2022