The "Streets" are cancelled, Festival to try and go to online performances
Edmonton International Street Performers Festival Adapts to COVID-19 Realities for 2020
EDMONTON- The Board of the Edmonton International Street Performers Festival announced that they cannot proceed with the Festival's July 3-12, 2020 edition in the normal fashion.
With the current COVID–19 pandemic and government regulations banning large gatherings, the many requirements needed to run a safe Festival, and the international nature of the Festival cast, the decision was deemed as necessary.
"We all know this is disappointing news. Now more than ever, we need the fun and laughter StreetFest brings. We are looking at alternate ways to adapt through this challenging time, to continue to connect as a community, and to share the Festival experience."  Board Chair Jill Wright
From videos and photos from past Festivals, to online links to new artist shows; from busker tips and tricks, to Festival-inspired activities to do at home, the StreetFest team will present new ways to share laughter and artistry during this unique summer. More details are to come and will be posted here; EdmontonStreetFest.com
Since its inception in 1984, the Edmonton International Street Performers Festival has brought 10's of thousands of people into the city's core to celebrate the street art form, and to be accessible to a variety of audiences. Said Festival Artistic Producer Shelley Switzer, "One of the aspects that our team plans and prepares for every year is the safety of everyone – artists, staff, volunteers, supporters and partner businesses, our audiences and our entire community.
We take that responsibility very seriously.""Remember, with the technology around us, we can continue to stay home and connect through our phones and computers by bringing the Festival from the street to the screen.  The Festival's committee will do updates on, social media, and they will post more plans as they become available on their website.
The plan in 2020 is to still entertain and make people laugh! "After all, it IS the best medicine," added Switzer
Update: Virtual concert raises more than $40K for Cancer Research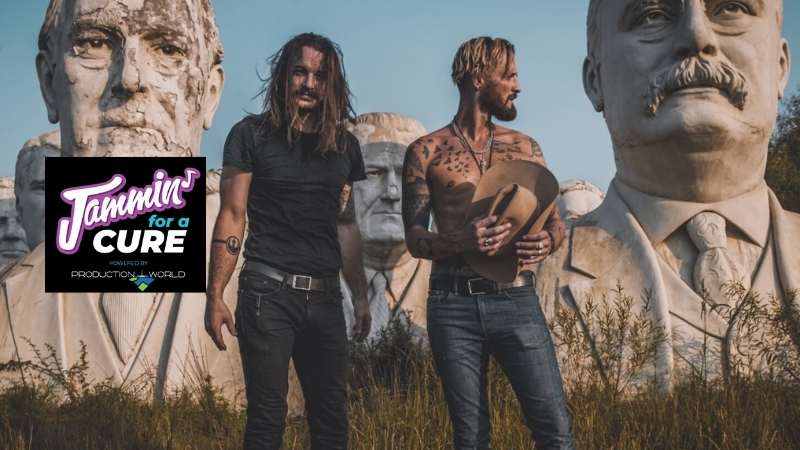 This weekend's Jammin' For a Cure concert raised more the $40,000 for Cancer Research, with funds raised being earmarked for the work of Dr. Michael Chu, a clinician scientist at the Cross Cancer Institute. His research is for a new treatment known as Chimeric antigen receptor (CAR) T-cell therapy.
The 18 hour live performance was a great event.  If you missed it, we have the links right here for you.
Friday:  Click here 
Saturday: Click here.
If you missed the show on the weekend, check it whenever you wish, and share it. The concert featured some really good performance from local, regional, national, and international artists.  A highlight for me was El Niven and the Alibi. After doing some crazy tours, one from Tijuana to La Paz, performing fully amplified street concerts, and another from Edmonton to New York, across to L.A. and back to Edmonton.  More than 400 shows over 3 years hones your skill, and this trio has a ton of skill.
Here's a video they recently released called Likker.   If you like the thoughts of a mash up between a 6'5″ Freddie Mercury, Frank Zappa, Commander Cody, and then you put an old worn telecaster in this volatile combination of a man's hands, and say to him, go out and do something magical, and maybe just a bit crazy, then El Niven should appeal to you. Click here to learn more about El Niven and the Alibi.
Original story from March 26, 2021
I think we can all agree that few of us have been touched more by cancer than any other disease. One of the organizations trying to make a difference is the Cure Cancer Foundation, founded by a group of volunteers with a desire to more directly fund research and treatment programs.
And, what better way to raise money than with live music. Let's face, it's been an awful year without clubs and bars open, and no concerts and festivals. So maybe take a break from Netflix this weekend and take some time and catch some amazing talent, many of whom you've listened to in your favourite venue over the years. Many have been very busy creating new work during this last year and I'm sure you'll hear some excellent new music throughout the weekend. In fact, here's something recent from Brett Kissell.
Jammin' For a Cure is a live concert event taking place over 18 hours, starting tonight at 6 PM when Alberta's own Brett Kissel kicks off a night of great music with artists that include Clayton Bellamy, Martin Kerr, and Jesse Roads.  (The full list of talent and the schedule is below).
Saturday, the music begins at noon with Confounded Dials.  Some excellent solo artists and bands will perform throughout the day, including Josh Sahunta, Dahlia and the Villains, Stephanie Harpe Experience, Maria Dunn, Stevon Kayla, and John Hewitt.
Alfie Zappacosta kicks of the evening slate of acts Saturday night at 6 PM followed by artists like Hailey Benedict, Bardic Form, Amy Metcalfe, Kesara Kimo and guest Evrlove, and runs right through to 11:40 PM with Canadian Coldwater Revival closing the show.
I have been invited to appear on this bill as well and I'm pretty pumped to strap on a guitar and perform on Saturday at 3:40 PM for a 20 minute set. Having lost my mom to ovarian cancer in 1994, I do what I can to help.
And a big shout out to Jon Beckett and his talented, experienced team at Edmonton's Production World for making all of this possible.
Remember these are free concerts.
Here's the link for Friday (tonight).
Here is the link for Saturday.
Friday Line up
6-6:40 PM Brett Kissel
7-7:40 PM FKB
7:40-8 PM Olivia Rose
8-8:40 PM Clayton Bellamy
8:40-9 PM Stevon and Kayla Artis
9-9:40 PM Martin Kerr
10-10:40 PM Jesse Roads
11-11:40 PM Guitarface
Saturday starting at noon
12-12:40 PM Confounded Dials
12:40-1 PM Tracy Lynn Byrne
1-1:40 PM Josh Sahunta
1:40-2 PM Brenda Dirk
2-2:40 PM Dahlia and the Villains
2:40-3 PM Kaylee Caura-Lee
3-3:40 PM Kane Incognito
3:40-4 PM Lloyd Lewis
4-4:40 PM Stephanie Harpe Experience
4:40-5 PM Maria Dunn
5-5:40 PM Stevon Kayla and the Heavenly Band
5:40-6 PM John Hewitt
6-6:40 PM Alfie Zappacosta
6:40-7 PM Hailey Benedict
7-7:40 PM Bardic Form
7:40-8 PM Amy Metcalfe
8-8:40 PM El Niven and the Alibi
8:40-9 PM Darrell Barr
9-9:40 PM Kesaro and Guest Artist Evrlove
9:40-10 PM Danny Floyd Cole
10-10:40 PM Jusjrdn and DJ Kwake
10:40-11 PM Mightberea
11-11:40 PM Canadian Coldwater Revival
The whole purpose is to raise money.  Here's the link to make a donation right now.
As well, there's a host of great silent auction items you can bid on, from autographed jerseys to signed guitars. Click here to get started.
About Cure Cancer Foundation
Cancer doesn't stop. No matter what's going on in the world, Cancer is always there, hurting those we love. Jammin' For A Cure will be raising money for Dr. Michael Chu, a clinician scientist at the Cross Cancer Institute, who is leading the charge with a new treatment known as Chimeric antigen receptor (CAR) T-cell therapy.
This therapy turbocharges the immune system to create killer immune cells that can wipe out cancers. This alters the patient's own cells to be a new "barcode reader" and find the hiding cancer cells. This treatment is predicted to make the most significant difference in blood cancers such as multiple myeloma, leukemia, and lymphoma patients, even those with multiply relapsed cancers.
We want to help fund great research like this to help Albertans, and people everywhere, receive the treatment they need. Your support will provide hope to people who would otherwise die of their cancer – despite all the best-known treatments. You are giving people a better chance of a cancer-free outcome and more time with their families, friends, and loved ones.
Todayville is very happy to support this event. Click here to read more stories on Todayville.
Pulitzer Prize-winning author Larry McMurtry dies at 84
DALLAS — Larry McMurtry, the prolific and popular author who took readers back to the old American West in his Pulitzer Prize-winning "Lonesome Dove" and returned them to modern-day landscapes in works such as his emotional tale of a mother-daughter relationship in "Terms of Endearment," has died. He was 84.
His death was confirmed Friday by a spokesman for his publisher, Liveright. Further details were not immediately available.
McMurtry, who had in his later years split his time between his small Texas hometown of Archer City and Tucson, Arizona, wrote almost 50 books, including novels, biographies and essay collections. He simultaneously worked as a bookseller and screenwriter, co-writing the Oscar-winning script for the movie "Brokeback Mountain."
Several of McMurtry's books became feature films, including the Oscar-winners "The Last Picture Show" and "Terms of Endearment." His epic 1986 Pulitzer winner "Lonesome Dove," about a cattle drive from Texas across the Great Plains during the 1870s, was made into a popular television miniseries that starred Robert Duvall.
"'Lonesome Dove' was an effort to kind of demythologize the myth of the Old West," McMurtry told The Associated Press in a 2014 interview. But, he added, "They're going to twist it into something romantic no matter what you do."
"The Last Picture Show," his third novel, became a classic with its coming-of-age story set in a small Texas town. He and director Peter Bogdanovich were nominated for an Academy Award for their script for the movie, filmed in Archer City, located about 140 miles northwest of Dallas.
McMurtry was born on June 3, 1936, into a family of ranchers. McMurtry attended what is now the University of North Texas in Denton and Rice University in Houston and was member of Stanford University's Stegner writing fellowship.
He wrote his first novel, "Horseman, Pass by," at the age of 25 in 1961. It was made into the movie "Hud" starring Paul Newman that came out two years later.
McMurtry opened his first used and rare bookstore in 1971 in Washington, D.C., and later opened other stores in Houston, Dallas and Tucson.
In the mid-1980s, lured by cheap real estate, he opened his Booked Up store in Archer City. Eventually, the store in Archer City was the only one remaining. He downsized the store — both in volume and storefronts — in an effort dubbed The Last Book Sale, but retained about 200,000 volumes.
He had about 28,000 books in his nearby home in Archer City. "I'm very attached to the books. I need them. I need to be among them," he told The AP in 2014.
McMurtry's writing collaboration with Diana Ossana began after she helped him get out of a slump following quadruple bypass heart surgery in 1991. They won the Academy Award for their screenplay for the 2005 movie "Brokeback Mountain," based on an Annie Proulx short story about two cowboys who fall in love.
He told the Associated Press in 1994 that his life throughout the 1980s had been peripatetic — travelling between his bookstores across the country and a home in Los Angeles. Then the surgery forced him to stop moving. "It just so happened that I stopped at Diana's kitchen table," he said.
The two, both divorced, had met at a Tucson catfish restaurant and struck up a friendship. After the surgery, McMurtry spent his time sleeping in Ossana's guest room, writing "Streets of Laredo" on a typewriter in her kitchen, or staring out the window.
She helped edit "Streets of Laredo" and then began encouraging him to accept screenwriting offers. "I was getting lots of offers then from the movies. I was very popular, but I didn't feel confident. I'd had real serious heart problems. I got a lot of offers and I think that she just got tired of me turning them down," he said.
When the offer came in for a script on the Depression-era bank robber Pretty Boy Floyd, Ossana and McMurtry tackled it together and then wrote the novel "Pretty Boy Floyd." After that they collaborated on more than 40 screenplays.
He married Josephine Ballard in 1959 and three years later, the couple had a son, singer-songwriter James McMurtry. In 1966, they divorced. In 2011, he got married for a second time: to Faye Kesey, the widow of longtime friend Ken Kesey, author of "One Flew Over the Cuckoo's Nest." They held their marriage ceremony in the Archer City bookstore.
Don Graham, a professor of English and American literature at the University of Texas in Austin, said in a 2014 interview with the AP that McMurtry is "pre-eminently a storyteller." "He's a great creator of characters and dialogue. That's one of the reasons he's had so much success in Hollywood," Graham said.
___
AP National Writer Hillel Italie contributed to this report from New York City.
Jamie Stengle, The Associated Press