Police warn public after recent distraction style thefts targeting seniors
The Edmonton Police Service is alerting the public following recent reports of distraction style jewelry thefts that appear to be targeting seniors.
On Thursday, March 7, 2019, an 86-year-old female was in the parking lot of a business in the area of 124 Avenue and 153 Street when she was reportedly approached by an unknown male and female in a black Dodge Durango. While speaking to the complainant, the female suspect reportedly placed fake gold rings on the woman's fingers and a fake gold necklace around her neck, removing the wedding ring and necklace that she was wearing in the process. The suspects then allegedly drove away.
On Sunday, March 10, 2019, a similar incident reportedly took place in the parking lot of a grocery store in the area of 173 Street and Stony Plain Road. A 75-year-old male reported that while attempting to exit his vehicle he was blocked by an unknown female. The female then reportedly placed fake gold jewelry on his hands and wrists, removed his gold watch and quickly left the parking lot with an unknown male in a black SUV.
Investigators believe the two incidents in west Edmonton are linked and may involve the same suspects. In each incident the suspects are described as an adult male and female with a dark skin tone, dark hair and heavy accents that may be Eastern European or Middle Eastern. The female was also described as wearing a full length dress and a head scarf and both suspects reportedly drove rental vehicles that officers believe they may be switching regularly.
Detectives continue to actively investigate these incidents and believe the suspects are likely travelling across Alberta committing similar thefts. As a result, officers are concerned there may be additional complainants in Edmonton and are encouraging them to come forward.
Photos of the fake jewelry used by the suspects are included below.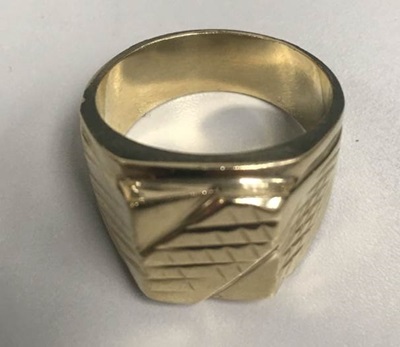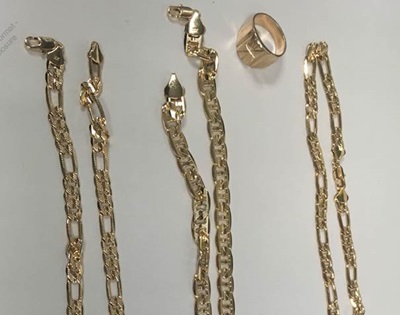 Police are also warning the public, in particular seniors, to be aware of their surroundings when in parking lots and to be extra vigilant if approached by strangers who are trying to give away or sell something. Citizens are advised to look around when approaching theirs vehicles and, if they notice suspicious individuals approaching, change direction and proceed to the nearest public area.
Anyone who believes they may have been victimized is asked to contact the EPS at 780-423-4567 or #377 from a mobile phone. Anonymous information can also be submitted to Crime Stoppers at 1-800-222-8477 or online at www.p3tips.com/250.
BBC documentary to feature Greta Thunberg's interview with Mikisew Cree First Nation
from Mikisew Crew First Nation
Climate Activist Greta Thunberg interviews Mikisew Cree First Nation as part of a BBC documentary set to air in the coming weeks.
October 20, 2018 – Fort McMurray-AB – ​Greta Thunberg spent Saturday with the Mikisew Cree First Nation filming along the shores of Gregoire Lake, near Fort McMurray, AB. Her interviews focused on environmental concerns regarding oil sands development and climate change.
Chief Archie Waquan presented a gift to the 16 year old activist and said, "We are honoured to join forces with a dynamic young person leading the way in protecting our planet from the climate crisis. We can all learn from today's youth and their dedication to preserving our environment for future generations."
Mikisew is the largest First Nation in the area and is a champion for environmental protection in the region. Mikisew was integral in the creation of a 161-880-hectare conservation park. Kitaskino-Nuwenene Wildland Park is preserved for traditional activities for use by Indigenous Peoples and also protects biodiversity and species at risk. Three Nations Energy is a company in cooperation with government, industry, Metis and AFCN. The project is about to commence phase 2, in the country's largest off-grid solar project. It will generate the same amount of fuel produced by 800,000 litres of diesel and is expected to be operational by 2020. The Mikisew Cree also monitors harm to the heart of Mikisew homelands with a community based monitoring program. The group of guardians observe water quantity and quality, changes to ice and snow, and fish and wildlife health.
Melody Lepine, Director of Government and Industry Relations added, "Working with Miss Thunberg and the BBC is a major opportunity for the Mikisew Cree First Nation to share with the world how climate change is exacerbating environmental impacts in our region."
Open letter to Canadians opposing Canadian pipelines and oilsands
Demian Newman is President of  Newman Sales and Marketing Inc. based in Calgary. 
Dear fellow Canadians,
I'm writing this as an open letter to every Canadian who has protested the Canadian oil and gas industry. I'm writing this to ask – what if you win? What if you succeed and completely shut down Canada's oil and gas industry? What happens next?
Obviously, if you've ever marched, protested or argued against Canadian pipelines or Oilsands, you must believe that you are financially insulated from the hundreds of billions this industry puts into the Canadian economy. Or you are OK with the crushing blow to the Canadian economy, because your heartfelt belief is that the Canadian oil and gas industry is so environmentally bad for the planet.
These are the people I desperately want to have a conversation with.
I write this letter, not as a Calgarian, Albertan, or even as a Canadian. But I write this as a human being. A human being with two young children, and one who doesn't go a day without being concerned about how we're leaving this planet.
So, let's say that all the anti-Canadian pipeline and oilsands campaigns finally crippled this industry, to a point it can't rebound. Which feels like a real possibility these days. But what is not just a possibility, but a reality, is that Canadians without their own oil and gas industry would still consume the same amount of energy.
And as Canadians continue to consume 1.5 million barrels of oil per day, the amount we need to import from foreign countries would rise from the current 56%, to 100%. And as completely confused as I already am that we currently import 850,000+ barrels of oil per day, while having the 4th largest reserves in the world. I have absolutely no idea how anyone can think importing an additional 650,000 barrels a day is better for Canada or the environment?
Let's start with where it's coming from, with Canada importing 61% from the US, 12% from Saudi Arabia, 6% from Azerbaijan, 5% from Norway, and 4% from Nigeria. I'm going to skip past each of these countries environmental, safety, employee and human rights track records, as there's no point defacing them when Canada's oil and gas industry is the world leader in all of these. And I'll expand on this later, but I thought for arguments sake, we can pretend all these countries have the same standards as Canada.
How could it possibly be more environmentally positive to drill oil in the Middle East, pipeline it to their ports, tanker it 10,000+kms across the ocean, and then deliver it to Canada? Remembering that we have it right here.
So, you've won, and there's no more of what you believe is "dirty oil". And now we're importing an additional 650,000 barrels a day into Canada. Let's not forget, that the 5% of the world's oil production which Canada currently produces daily, would need to be replaced, or prices would inflate and everyone across the globe would have to pay more at the pumps. And more for the 1,000's of items manufactured from oil.
But don't worry about the extra cost, as no other country has an anti oil industry campaign against them, that has stopped or slowed them down like Canada has. And with technology getting better every day, Canada's 5% worldwide production amounts will be easily replaced.
And let's go full circle to the Canadian's protesting new Canadian pipeline projects. If we eliminate our own industry, and we're importing 650,000 extra barrels of oil daily, we'll have no other choice but to build new pipelines and facilities to bring this additional oil from the US pipelines and foreign tankers.
So, wouldn't that be an ironic punch in the face. Where Canadians protesting Canadian owned and operated pipelines, end up shutting down all the investment it takes to move Canadian resources through Canadian pipelines. Just so we are forced to build pipelines and facilities to move more foreign oil into Canada.
And I mentioned that we'd pretend all countries have the same environmental requirements and standards when exploring and developing their natural resources. But it isn't even close.
You can Google articles with examples of Canada's environmental standards in this industry, versus any other country. But instead, do yourself a favour and ask someone who's worked in Canada's oilpatch, and around the world. Every one of them has countless stories of horrendous environmental issues abroad, which haven't been allowed in Canada in 30+years (or ever).
So, let's look at what Canada's environmental standards are for this industry. And by that, I mean you should go look it up. Don't take my word for it, but find some reputable publications and factual documents, and not someone's rambling blog.
Look it up, and please let me know if I'm wrong. Because as much as I needed to write this letter, to get a few things off my chest. I also wrote it, as I believe everyone needs to do better at having a conversation about climate change, the environment, and our responsibility to all do better.
So, I welcome the opposing opinion, as I don't know why this topic has become a name calling divisive shouting match, where no one will listen to the other side.
But while I have you here, I did want to throw out a couple specific projects, and how protesting them doesn't make any environmental sense to me. One is Energy East, and the other is BC LNG. The first one is dead, but my fingers are crossed that it can be revived. The second is still approved, for now.
If you look at a map of Canadian pipelines, there is no major pipeline going from Alberta to the east coast of Canada. This means that almost every drop of gas in every vehicle east of Winnipeg is from refined foreign oil. The amount of oil that would've travelled on the Energy East pipeline is almost the same amount of oil that we import from Saudi Arabia every day (roughly 100,000 barrels a day).
But what if we didn't protest Energy East, and instead told the Premier of Quebec that he cannot block a national pipeline. Eastern Canadians would've paid (at a minimum) $10-$15 less per barrel than they are currently paying for Canadian oil versus foreign oil. But there was also the billions (not millions, but billions) in revenue that each province would receive from this pipeline running oil through their province.
And I know we're focusing on the environment, and not the financial benefits of Canada's oil and gas industry. But, the trick with clean energy and technology, is that it takes money to develop and get to market. So I could be wrong, but I'm almost certain that not one oil company would've been upset if Quebec hadn't killed this pipeline, but instead, took their multi billions a year in revenue from it, and invested all of it into new clean energy technology.
Another thing I encourage you to Google, is the amount of new clean energy technology that has been developed by, and for, Canada's oil and gas industry.
So, Energy East would've taken the amount of Canadian oil, which they are already buying from foreign countries, while generating a ton of money for Canada/Canadians. And then that money could've been invested into renewable green energy development. But, Climate Change is a world wide problem, not just a Canadian one. So, as crazy as this might sound, I do believe that BC building facilities to ship Canadian liquid natural gas (LNG) to the world, could have an incredibly positive carbon emissions net benefit.
Currently, China alone has over 700 super coal plants. Just one of them emitting almost as much CO2 as the entire Canadian Oilsands (this is easy to look up). So, what if we could help China get their energy from Natural Gas instead of Coal, as it's WAY better for the environment. (Side note – also look up Natural Gas and its carbon footprint, as I find very few people realize that it has been unfairly lumped in as a dirty fossil fuel).
And very quickly, I would like to address how we got here in the first place. Why is the perception of Canada's oil and gas industry so bad across the rest of Canada?
The industry really must start by looking inward, as it has done a very poor job of promoting itself and the strides it's made over the years. And it can still improve. As can all of us individually.
Because who outside of the industry knows that the Oilsands greenhouse gas emissions have dropped 29% since 2000. Or that a barrel of oil sent from the Oilsands to a refinery on the US Golf Coast has a smaller carbon foot print than a barrel of oil traveling from an oil well in California (it's small difference, but it's still better).
And to understand why it's tough for this industry to promote itself – it is Canadian after all, which explains a lot about its uncomfortable feelings towards self-promotion. And I've met a ton of extremely intelligent and thoughtful engineers, geologists, accountants, and tradespeople in this industry, but I've never met a Public Relations person – and if there is one, they are very underfunded.
Who is not underfunded, are the groups who make an extraordinary amount of money from Canada not being able to get its natural resources to other customers (the US is our biggest customer at 99%, which is a percentage no business can survive with). And you can't blame these people for making money off Canada's inability to build pipelines. But, how they've done it, by spending hundreds of millions on PR campaigns to smear Canada's industry, and pitting us against each other, is beyond is infuriating.
If you only look up one item, please do some research on how openly organizations have been about making donations in the name of the environment, which only target one country's oil industry. This has made a lot of headlines lately, but I've read national Canadian media articles investigating this as far back as 2010.
In conclusion, I would like to point out that I tried my best to use as few statistics as possible, as I've seen arguments get derailed with debates on stats. As if the $80 million that Canada losses every day due to no pipeline capacity, is any different if its $40 million or $100 million. It's a lot of millions, that have turned into billions. And it's costing hundreds of thousands of good hardworking Canadians financial hardship.
And if it saves the environment, and the planet, then there certainly is an argument for it. But if it's not helping at all, and potentially harming the planet. Then everyone needs to get educated on all the facts and start to talk to each other about a real solution. And get our industries, politicians, and every Canadian on board with a solution that works.
And please, please, please, don't take your information from this subject off some rogue website, that's for or against my stance. Take the time to get your facts from vetted and fact checked publications.
No one should get their facts from a nameless person shouting on the internet. So, my name is Demian Newman, and the two kids I'm leaving this planet to are Olivia and Liam. And both of them need to grow up in a country which is thriving as a world leader, both economically and environmentally – as anything less would be un-Canadian.
Sincerely,
Demian Newman
p.s. If you don't have time to look up information on everything I've mentioned above. Here are a few links:
This first one is on personal energy use and personal accountability. Fun fact: If each of us does a better job to minimize our individual carbon footprint, the industries selling it won't need to produce as much. Scary fact: literally every economist has said we will use more energy each and every year. This article does a good job expanding on that.
https://www.c2cjournal.ca/2018/12/03/we-have-met-the-carbon-enemy-and-he-is-us/
https://www.nrcan.gc.ca/energy/oil-sands/18091
http://www.ethicaloil.org/news/myth-busting-are-greenhouse-gas-emissions-from-the-oilsands-ruining-the-atmosphere/
https://www.aboutpipelines.com/en/blog/what-you-know-about-pipelines-and-the-environment-might-be-wrong/?utm_campaign=CEPA_Social&utm_content=1542042327&utm_medium=social&utm_source=facebook,linkedin
https://ipolitics.ca/2014/07/18/how-clean-is-our-dirty-oil-youd-be-surprised/
http://www.stockhouse.com/opinion/independent-reports/2018/04/02/following-big-us-money-behind-canadian-pipeline-protests
Newman Sales and Marketing Inc is a full service sales and marketing firm representing 

independently owned and operated oilfield service companies. 
Originally published January 2019
If you enjoyed this story, you might also like this story from Sheldon Gron.  Click the image below: