Police warn public after recent distraction style thefts targeting seniors
The Edmonton Police Service is alerting the public following recent reports of distraction style jewelry thefts that appear to be targeting seniors.
On Thursday, March 7, 2019, an 86-year-old female was in the parking lot of a business in the area of 124 Avenue and 153 Street when she was reportedly approached by an unknown male and female in a black Dodge Durango. While speaking to the complainant, the female suspect reportedly placed fake gold rings on the woman's fingers and a fake gold necklace around her neck, removing the wedding ring and necklace that she was wearing in the process. The suspects then allegedly drove away.
On Sunday, March 10, 2019, a similar incident reportedly took place in the parking lot of a grocery store in the area of 173 Street and Stony Plain Road. A 75-year-old male reported that while attempting to exit his vehicle he was blocked by an unknown female. The female then reportedly placed fake gold jewelry on his hands and wrists, removed his gold watch and quickly left the parking lot with an unknown male in a black SUV.
Investigators believe the two incidents in west Edmonton are linked and may involve the same suspects. In each incident the suspects are described as an adult male and female with a dark skin tone, dark hair and heavy accents that may be Eastern European or Middle Eastern. The female was also described as wearing a full length dress and a head scarf and both suspects reportedly drove rental vehicles that officers believe they may be switching regularly.
Detectives continue to actively investigate these incidents and believe the suspects are likely travelling across Alberta committing similar thefts. As a result, officers are concerned there may be additional complainants in Edmonton and are encouraging them to come forward.
Photos of the fake jewelry used by the suspects are included below.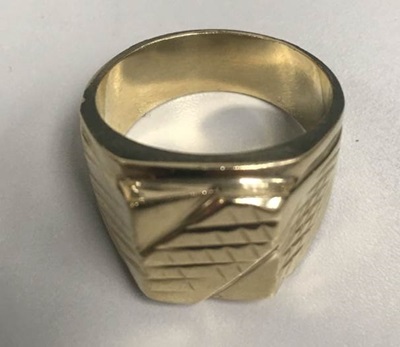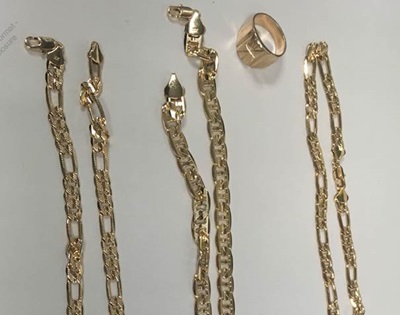 Police are also warning the public, in particular seniors, to be aware of their surroundings when in parking lots and to be extra vigilant if approached by strangers who are trying to give away or sell something. Citizens are advised to look around when approaching theirs vehicles and, if they notice suspicious individuals approaching, change direction and proceed to the nearest public area.
Anyone who believes they may have been victimized is asked to contact the EPS at 780-423-4567 or #377 from a mobile phone. Anonymous information can also be submitted to Crime Stoppers at 1-800-222-8477 or online at www.p3tips.com/250.
Gran Tierra Energy: 2Q Earnings Snapshot
CALGARY, Alberta (AP) _ Gran Tierra Energy Inc. (GTE) on Tuesday reported a second-quarter loss of $370.6 million, after reporting a profit in the same period a year earlier.
On a per-share basis, the Calgary, Alberta-based company said it had a loss of $1.01. Earnings, adjusted for asset impairment costs, came to 8 cents per share.
The oil and natural gas company posted revenue of $33.8 million in the period.
The company's shares closed at 32 cents. A year ago, they were trading at $1.48.
_____
This story was generated by Automated Insights (http://automatedinsights.com/ap) using data from Zacks Investment Research. Access a Zacks stock report on GTE at https://www.zacks.com/ap/GTE
The Associated Press
Vancouver Canucks tame Minnesota Wild 4-3 to even qualifying series
EDMONTON — J.T. Miller's goal and assist led the Vancouver Canucks in a 4-3 win over the Minnesota Wild on Tuesday, evening their qualifying series at one win apiece.
Tanner Pearson, Brock Boeser and Bo Horvat also scored for the Canucks, with Jacob Markstrom turning in a 32-save performance for the win.
Kevin Fiala had two goals and Luke Kunin scored the other for Minnesota. Wild starter Alex Stalock made 24 stops in the loss.
Game 3 is Thursday when lower-seeded Minnesota will be the home team for the first time in the series.
Defenceman Matt Dumba continued to raise his right fist on the Wild's bench through the pre-game anthems to bring attention to racism and social injustice.
Standing behind Dumba, teammate Jonas Brodin put his hand on Dumba's shoulder in support Tuesday.
Vancouver moved the puck with more authority than they did in a 3-0 loss to open the series Sunday.
The Canucks ranked 20th out of 24 teams in combined playoff game experience (480) coming into the post-season. Minnesota (609) ranked 16th.
Forwards Jake Virtanen and Loui Eriksson replaced Tyler Toffoli and Adam Gaudette in Vancouver's lineup for Game 2.
Minnesota was scoreless on six power-play chances, while Vancouver went 1-for-7.
Canucks winger Antoine Roussel took a deflection in the head that drew blood five minutes into the third period.
Fiala scored at 17:32 and with eight seconds remaining in the game, beating Markstom with high wrist shots in both cases.
Minnesota took consecutive minors midway through the third.
Horvat made good on one, getting his stick on a Quinn Hughes ice-skimming shot from the point to beat Stalock's glove at 6:22.
Vancouver was up 3-1 by 8:42 of the second. Boeser swatted in an Elias Pettersson rebound that Stalock couldn't control.
Markstrom stoning an all-alone Eric Staal in the slot preserved Vancouver's 2-1 lead early in the second period.
Miller scored Vancouver's second goal on a solo effort at 3:04.
He skated the puck out of Minnesota's zone, dragged the puck back and beat Stalock top corner with a quick release from inside the top of the face-off circle.
Kunin scored shorthanded with 2:44 left in the opening period to draw the Wild even. Zach Parise dealt Kunin the puck from the far boards and Kunin beat Markstrom with a wrist shot.
Kunin was fined US$1,000 for unsportsmanlike conduct in Game 1. He'd delivered a whack to the leg of Vancouver's Micheal Ferland from the Wild's bench.
Kunin was retaliating for Ferland spearing seated teammate Ryan Hartman seated on the bench. Ferland was fined $5,000.
Pearson scored on Vancouver's first shot of the game just 24 seconds after puck drop.
He made the most of a beneficial bounce off the boards by corralling the puck and snapping past Stalock's glove from the top of the face-off circle.
This report by The Canadian Press was first published on August 4, 2020.
Donna Spencer, The Canadian Press