Looking for a Resilient Career for the Future? Keep an Eye Out for the Lighthouse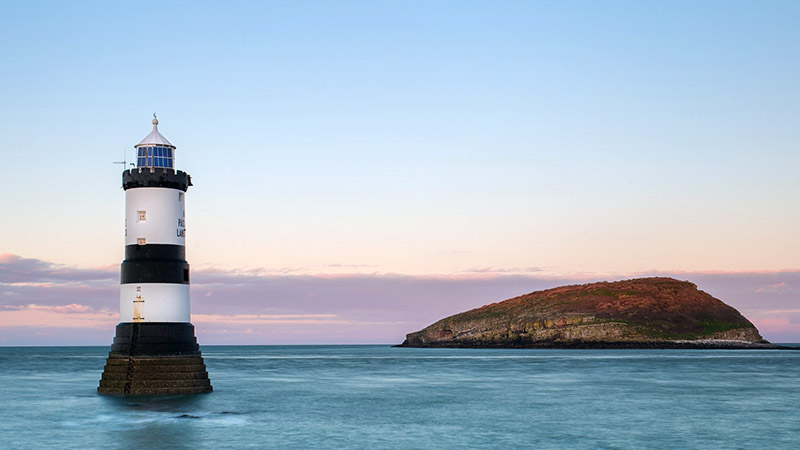 If we consider that the future of work will include a multitude of digital practices, it is up to us as employees and employers to embrace this shift with readiness and education. More familiar than not, the skills we learn through our years in education are a base, from which we hope to secure a position that falls in the same realm as our studies. The challenge is that even with curriculum updates and youth programs, the study of ever-changing digital education continues to be a challenge for both teachers and students.
We as a society are moving into a gig-heavy economy, with individuals packing more onto their certification rosters in the hopes of diversifying their resume's. For those who may want to keep the pace over the next decade, two key categories within education shine through – data science and web development. 
The importance of these skills may seem only attributable to certain industries, however, if we consider the more intensive labour positions, how data is perceived and understood is immensely important. If you are a mid-career worker, someone looking to renew their digital education or one to pursue alternative career paths that carry real promise, these skills may prove to be some of the most sought after in the near future. 
To no surprise that the end of year report by Payscale shows the two "hottest jobs" fall in the data category, reflected by the "The Future of Jobs Report 2020" by the World Economic Forum. This report shows a progressive estimate for skills that will be in demand up to 2025 and beyond. 
This is all great knowledge to have on hand, but where can similar skills be learnt without investing in a multi-year university degree? 
One Canadian company has tangible options.
Lighthouse Labs
Lighthouse Labs is a Canadian company founded in 2013 by its CEO Jeremy Shaki. They specialize in educational programs and boot camps in the fields of web development and data science. Their team has created intuitive learning programs attainable for all walks of life who carry a 'growth mindset' into their personal development. 
They offer full-time and part-time courses for their multiple bootcamps, with available mentorship from experienced professionals in both fields. The results from their 2019 Student Outcomes Report available on their website. A year from January 2019, 504 students enrolled in their bootcamps, 458 graduated and 324 gained employment post bootcamp.  Out of the 329 graduates who completed a job-seeking cycle within 180 days post-bootcamp, 95% of that group accepted employment. These numbers are incredible in comparison to the investment required for a new career avenue in 2021.
In March of 2020, we experienced a mass transition to digital communications in our daily and work lives due to the pandemic. For some, the integration of conference calls, internal team applications and a pressing focus on data was simple to grasp, but not for all. 
In light of some of these challenges, Lighthouse Labs has implemented and collaborated with multiple organizations to offer "Impact Initiatives". Created to offer hyper-focused ways of educating groups of Canadians to enhance their digital literacy.
In collaboration with Kids Code Jeunesse, a non-profit organization focused on digitally-focused educational programs for youth, with funding from the Government of Canada created the Code Create Teach initiative. This partnership had 2,703 teachers experience a one-day introductory workshop on coding and computational thinking. The objective was to offer teachers additional tools they can bring into their classrooms to enhance their student's grasp of digital technologies.
There are multiple ongoing initiatives with Lighthouse Labs and other organizations that are available to view on their website. Another that stood out is the "Accelerating Possibilities Project" in partnership with Woodgreen Community Services. Created to offer mid-career workers an opportunity to learn new skills in web development, data science and customer service. Now more than ever, these types of initiatives have the opportunity to benefit the lives of countless Canadians. 
As noted in various media outlets over recent years, there is an outcry for traditional industry workers to keep pace with the digital revolution with training and support. This is one opportunity where Lighthouse Labs and other educational programs can offer a real avenue to a new career. 
It should be noted that parallel to the closing of office spaces, restrictions on multi-person worksites and the mass layoffs in some of the more traditional industries, these skills offer the opportunity to both begin a new career path with an educated support system, and to re-evaluate what new skills could bring more value to your current position and your company's future.
Scholarship Funding
Lighthouse Labs has a strong sense of supporting their community and has recently announced a new scholarship fund in response to the difficult economic and societal conditions our country has faced due to the pandemic. After a high interest in their March 2020 scholarship round, they announced another $500,000 scholarship fund for those in need. You may be eligible for up to $5,000 in support for a full-time bootcamp and $750 for part-time programs if you've been laid off, had your hours reduced, or are out of school because of the pandemic. For interested individuals, download their financial guide for more information. 
If you would like to learn more about Lighthouse Labs, their support for our communities and the various boot camps they offer, check out their website. All of their material has been digitized and has opened up their reach to anywhere in Canada, check out their blog to learn more about their platform for online tech education. Their team has created a wide variety of reading material to help interested parties learn more prior to an application. These skills are here to stay, the more we integrate with data and web development, the more employers will be headhunting for the right candidate – which truly could be you.
For more stories, visit Todayville Calgary
My European Favourites – Day Trip From Amsterdam
The Netherlands is a great place to visit either as a main destination or as a stopover for a couple of days. I have always enjoyed flying KLM and use them often for our many groups travelling throughout Europe. Amsterdam's Schiphol Airport is an east hub to fly into from North America, and I like the airport layout over other big and busy European airports.
Amsterdam itself has many interesting places to visit and explore. The city is full of history, great architecture, canals, bridges, museums, great shopping, cyclists, interesting cafes, the Anne Frank House, the Heineken Brewery, and yes, the notorious red light district. Not many people venture outside the city during a stopover, but one of our favourite day trips is from Amsterdam. We always try to do it on a Wednesday, so we catch the Edam cheese market show.
Zaanse Schans
Our twenty minute early morning trip to Zaandam starts after a good breakfast at our centrally located hotel in Amsterdam. On the way, you can enjoy the beautiful Dutch countryside including dikes and plots of land reclaimed from the water, called polders. Starting in the late 16th century, the Zaandam and the Zaan river area were important wood milling regions during the "Dutch Golden Age" with thousands of saw windmills. In the 19th century, the area became a leader of the "Industrial Age" in the Netherlands.
Starting in 1961, the Zaanse Schans was turned into an open air museum with windmills and buildings from the 18th and 19th centuries. Various wooden houses, barns, shops, warehouses and windmills were transported here starting in 1961. The buildings along with traditional farmsteads, paths, ditches and fields depict how village life was like during that prosperous time.
When we arrive at the Zaanse Schans parking lot, you will undoubtably smell chocolate from the nearby cacao processing factories. Entrance to the Zaansee Schans is free, but some of the workshops and windmills located throughout the grounds are museums and require an entrance fee. You can purchase a ticket to have access to all the museums.
One of the first buildings you will see on arrival is the Kooijman Souvenirs & Clogs Wooden Shoe Workshop. Here you can see a wooden clog machine demonstration. Afterwards, wander throughout the site checking out the bakery, fisherman's house, weavers house, clock house, merchant house, cheese house, pewter house, pancake house and see how vats and barrels are made at the cooperage. With a little breeze, you can see the sails of the windmills slowly turning while the inner workings churn away. The windmills saw wood or mill oil, flower, spices or pigments to dye cloth. Some windmills allow visitors to climb up to the deck via narrow stairs for a nice view of the river and the area.
The Zaans Museum, located by the parking area, opened in 1998, and contains clothing and artifacts from the area. At its Verkade Experience you can see original chocolate and biscuit factory machines from the early 20th century at work. The museum also has a café and shop.
Edam
Another short 20 minute drive, and we reach Edam, which is famous for its cheese market that started in1520. Edam cheese is round with a flattened top and bottom and is coated with a red paraffin wax which allowed it to age well and not spoil on long voyages. Its unique taste plus the lack of spoilage made it extremely attractive for exporting throughout the world. The market was closed in 1922 when cheese began to be made in factories rather than by local farms.
At the original market, farmers would bring their cheese using horse drawn cart or by boat. Once they arrived, the cheese carriers, who wore different colored hats depending on which cheese guild they belonged to, would load the product onto wooden barrows. Once the barrow was loaded, the carriers placed carry straps over their shoulders and walked the precious cargo to the cheese tasters. The tasters would drill a core sample from the cheese and based on the exterior wax, smell, taste and other factors began to bargain the price with the seller using a series of shouts and hand claps. When the price was settled the cheese was taken to the weighing house to determine the final amount to be paid.
Every Wednesday in the summer from 10:30 to 12:30, the town re-enacts the hustle, and bustle of the market at the Jan van Nieuwenhuizen Square. The colorful market includes many family members, including children, wearing traditional costumes, dresses and clogs plus kiosks selling cheese. Throughout the performance, horse carts and boats arrive, cheese carriers scurry at a comical pace and bargain shouts and hand slaps can be heard. So visitors understand everything that is happening, there is a person on a microphone explaining the entire process. It's quite interesting and fun to witness.
Smoked Eels
Next, we will travel from Edam to the seaside fishing village of Volendam to visit a local smokehouse that was founded in 1856.  Smoked eels at one time were an important staple food in the Netherlands but recently a drop in the eel population and the resulting price increase has made it a delicacy. Today, the 5th and 6th generations of the Smits' family keep their family's secret fish smoking process and traditions alive. The smoked eel is their specialty and during the eel fishing season the entire family is involved in the cutting, gouging, skinning, digging and filleting of the eels. The Paviljoen Smit-Bokkum offers private tours of the smokehouse to introduce people to the traditional eel fishing, processing and smoking activities. In addition to eel, they smoke salmon, dorado and sea bass using pine wood. The eel is delicious and at their restaurant you can try various local dishes. The location also has a shop and a small Palingsound (eel sound) Museum dedicated to Volendam's unique and famous pop music.
Volendam
Volendam, once a simple catholic fishing village, is now Holland's best-known seaside town and is visited by millions annually. The Volendam Catholic fishermen had their own typical costumes and dialect. The town's boardwalk, once home to fishermen's wooden shacks, is now adorned with colorful wooden houses, tourist shops, cafes and restaurants. As you walk through the town and its shops, you will see locals wearing the traditional clothing. If you explore the village's narrow lanes in the old neighborhoods, you can still see some of the old fishermens' houses.
There used to be hundreds of vessels at one time when Volendam's fishing fleet had access to the North Sea, but after closing its access, the harbour contains only a few fishing vessels doing fresh water fishing on Markermeer lake. Nowadays, leisure boats and the ferries that go to the nearby island of Marken occupy the majority of the harbour space.
Some restaurants offer tasty local seafood dishes and cool drinks on patios overlooking the harbour. For a quick lunch, food stands and take away restaurants sell kibbeling (battered and fried fish nuggets), herring, shrimp and of course smoked eel.
A visit to the Volendams Museum provides an interesting look into the town's history, costumes, traditions and art. If you have time, you may consider taking the Volendam Marken Express boat to Marken.
Cheese Farm
On the way back to Amsterdam, and a short distance from Volendam, we will stop at the Henri Willig Jacob's Hoeve cheese farm. The staff wear traditional clothing, and they give a short introduction and demonstration of the cheese making process. The number of cow goat and sheep cheese varieties is quite overwhelming but very interesting to sample. Some flavours you might encounter include truffle, cumin, pesto, red chili pepper, coconut, pepper, rosemary and garlic. They are all for sale in various sizes along with other Dutch souvenirs and foods. You can also see the cows in their new stable especially designed for the organic farm's herd of Jerseys.
It is only twenty minutes back to Amsterdam and as you enjoy the countryside you can decide on what great restaurant you will go to tonight. I think an authentic Indonesian "rijsttafel" or rice table would be a great way to end the day. The rice table was brought back to the Netherlands from the Dutch East Indies where it was created by the Dutch as a festive way to showcase their colony's diverse and multi-ethnic Indonesian cuisine. The rice is accompanied by a multitude of small meat, vegetarian and condiment dishes that may include spring rolls, satay meat skewers, curries, fish, boiled eggs, spicy sauces, peanut sauces, vegetables, and fried bananas. It is great for sampling different tastes and for sharing. You can find Indonesian fast food and restaurants throughout Amsterdam, but a place like Tujuh Maret or Ron Gastrobar Indonesia offering a rice table is definitely something you should experience.
Explore Europe With Us
Azorcan Global Sport, School and Sightseeing Tours have taken thousands to Europe on their custom group tours since 1994. Visit azorcan.net to see all our custom tour possibilities for your group of 26 or more. Individuals can join our "open" signature sport, sightseeing and sport fan tours including our popular Canada hockey fan tours to the World Juniors. At azorcan.net/media you can read our newsletters and listen to our podcasts.
Images compliments of Paul Almeida and Azorcan Tours.
Thea's Story – Supporting mentorship programs in need to prevent isolation
Thea's Story – Supporting mentorship programs in need to prevent isolation
When schools closed due to COVID-19, it wasn't just education that was affected. School-based programs such as mentorship had to find new ways of supporting kids like Thea.
United Way worked rapidly with our partners to identify the needs of the most vulnerable and rallied the community to provide supports such as virtual mentorship for students in need to prevent isolation. Because supporters do local good, kids like Thea can grow and thrive.
Help make a difference in your community today by visiting myunitedway.ca/donate-united-way.