Immersive technologies are the future, so how do they benefit industry?
These are exciting times. For those who may be unaware of the advancement of this incredible immersive technology over recent years, you may be surprised by the abundance of benefits virtual reality(VR) and augmented reality(AR) can offer to a wide range of industries. In addition to entertainment and gaming, immersive technologies offer the opportunity to benefit industries such as oil and gas, cleantech, education, manufacturing, agriculture, retail, real estate and many more.
Consider this, when learning new processes or training for a specific position, creating an immersive learning program could advance cognition, engagement and retention of vital information over what could be learned through traditional programs. While we may be still some time away from this being the norm, it is hard to ignore the forward-thinking work going on in this industry.
Vizworx is a Calgary based tech company specializing in multiple advanced technologies. While they are one of the great teams at the forefront of this imaginative world of immersive technology, their core mission for all of their clients is simple – they solve problems.
Focusing on key areas, the Vizworx team is well versed in VR, AR, mixed reality(MR), artificial intelligence (AI), internet of things (IoT), geospatial data mapping, biometric evaluation, and custom visualization solutions to name a few. Thankful for the opportunity to discuss this topic with Jeff LaFrenz, CEO of Vizworx and of their subsidiary Panoptica.
Proud winner of multiple awards over recent years such as the Cross Sectoral Company Success Award from ConvergX in 2020, Outstanding Achievement in Applied Technology by ASTech and The Innovation Award by PTAC in 2019, to name a few. Recently, Jeff was a recipient of the University of Calgary 2020 Alumni Service Award.
– "What is physical and virtual becomes a blurry line at some point in the future" –
Challenging as it is to condense, the incredible applications this immersive technology can have for industrial processes. While this topic could be extrapolated into each individual sector, the overall benefits are still being uncovered as this technology continues to evolve. However, it is important to explore the narrative of what it can offer today.
Infrastructure planning
This can be construed in two ways.
The first. Real estate may integrate immersive technologies at a higher capacity than other industries in the near future. We are aware of 360-degree walking tours, however, imagine having the ability to use a VR headset to be fully immersed in what could be your new home, where you interact with space on a true scale. Moving forward, the experience may prove to be the key to innovating the buying or renting process.
As noted in Engineering.com back in 2016, we now have the ability to walk through a home virtually before any construction begins. If we consider the long term financial risk we all face with building a new home, mitigating any misconstrued requests and ensuring the model is true to the physical, benefits both the future homeowner and project managers. The same can be said for all parties involved in the construction of condo units, including pre-sale to consumers.
The second, industrial facility production.
While it can be difficult to summarize the process included in planning, pre-production, regulations and geo-mapping that goes into the production of infrastructure. With the use of this technology, a large scale project could be first explored through a VR model to engage with what could be the post-production facility, mitigating the risks of inefficient mapping, overhead and problematic regulations.
In theory, creating a virtual tour and geospatial map of an upcoming project could allow for tours, audits and restructuring before production. Mitigating the risk of inefficient planning, saving time and ensuring that the final production model will be cost-effective. With the level of cognition that is possible, we could see a re-evaluation of the process of industrial construction pursued as this technology continues to enhance the user experience.
This type of solution is catered to by the subsidiary of Vizworx called Panoptica. This arm of the company specializes in creating immersive engineering review models. If we consider the complexity of certain infrastructure requirements for facilities such as power generation or waste management, the ability to review models, assess ventilation and inform engineers who may have concerns regarding certain functionalities, can allow for a far more streamlined process.
With the amount of capital required for certain industrial facilities, Jeff offers his insight into how Panoptica, or similar review model technology could offer a major advantage when visiting the pre-production stage of an infrastructure review or build.
"One of the challenges every industrial space is running into is data overload. Typically from a human perspective, a lot of what we do is to come from a human perspective of how you present the data to dramatically impact how people understand what it is as well as how they are going to make decisions." – Jeff LaFrenz, CEO
Foreign Investment / Remote Tours
Evidently, this pandemic continues to confuse and re-calibrate plans to interact with others around the world. As flight schedules continue to be disrupted and to be monitored during a fortnight quarantine post-arrival in a foreign country. Now more than ever, the opportunity to create a virtual demonstration of an early-stage start-up mitigates confusion in regards to travel plans but also lowers overhead for foreign investors to travel to that location for an in-person demonstration.
"Humans by law have a biological spatial understanding, these technologies leverage that ability to present information that is spatially oriented. I could present you with a rendering of a building, and that would be hard for you to understand, or I could drop you into that building in virtual or augmented reality where you can walk around it and you would get it right away" – Jeff LaFrenz, CEO
One bright light in the ecosystem of innovative technology in the energy space is Eavor Technologies, a closed loop geothermal technology company that has been continuously disrupting the space. With a major push around the world for clean baseload energy that is both dispatchable and scalable, Eavor is a global front runner. Recently featured in Rolling Stone for their new "Harmony" video and insight from their team.
Due to the major disruption in flight schedules, Eavor Technologies created a virtual walking tour of their "Eavor Lite" facility, which is their proof of concept stage site located in Rocky Mountain House, Alberta. To think of the pandemic no longer allowing any convenience for international travel let alone group tours. This solution created an intuitive immersive experience where you as the visitor can walk around and access panels throughout, where their team offers deeper insight into their technology. It can be toured through the Oculus Quest and also through a desktop or smartphone, found here.
Operational Training
Cognition and retention of information vary both on the human and technical level. Traditional methods of training employees consist of the use of company assets, written or video material and in some cases exams. While these methods are still widely used today, there is the argument for a declining level of engagement with this type of information and the increase of online activity, thus leading to a lower level of retention.
The solution could very well lie in this immersive technology. There is little data available on the segmented levels of cognition and retention in traditional vs immersive training, however, it is important to note that a high majority of us learn by doing, exactly what an immersive experience offers without the use of expensive equipment that could be better served.
Panoptica contains a suite of tools that leverage mixed reality technologies. Teams can collaborate digitally from anywhere individually as they view models in a true 1:1 scale. By creating a 3D model that can be evaluated, allows for any inefficiencies to become apparent in the design process, thus mitigating time and overhead.
Safety and Emergency Training
One example is training for airline pilots, where they are subject to an immersive training course that will uncover all circumstances where an emergency may arise. Being a passenger on countless flights, I am even glad this technology exists.
Immersive training is not new. Cited from the National Institute for Occupational Safety and Health in Pittsburgh back in 2006, countries such as Germany, Australia and the US came together to explore the benefits to the mining industry. 14 different countries came together to discuss how VR can be employed in the future or research, development and safety training.
While this was years ago, it is a reminder that this technology has been around for some time. As time and education move forward, the quality of the image rendering, functionality and reduction of cost continues to benefit the end-user.
As mentioned, Panoptica can create a 1:1 ratio 3D review model. In addition to playing a major role in planning, safety training programs are an essential part of any industrial process. When you consider the assets and time allocated from senior employees, the cost increases in such a way where those assets and staff could be put to more cost-effective work. The cost of producing an immersive training program that can be utilized from anywhere is minuscule in comparison.
"If you look at the future of where these immersive technologies are going, price points are coming down significantly, and the capabilities are going up significantly. We are going to have this blended environment where employees could walk around an industrial facility and look at a boiler, overlaid on that physical world is all the data and digital information required. What is physical and virtual becomes kind of a blurry line at some point in the future. That is where we want to be, seamless engagement with our environment between physical and virtual worlds." Jeff LaFrenz, CEO
We are only scratching the surface here, there is still much to uncover in the world of immersive technology in this tech revolution. We can look forward to things such as retail shopping from the comfort of your living room where you can try items on virtually, or even where engineering students will avail of an immersive learning program that could advance cognition and retention to a point where innovation reaches far beyond our wildest aspirations.
I recommend visiting the Vizworx and Panoptica websites. Check out their blog on Medium and be sure to give them a follow on Twitter to stay up to date on any developments in the future.
For more stories, please visit Todayville Calgary
Food inflation in Canada shows signs of easing, but grocery prices to remain high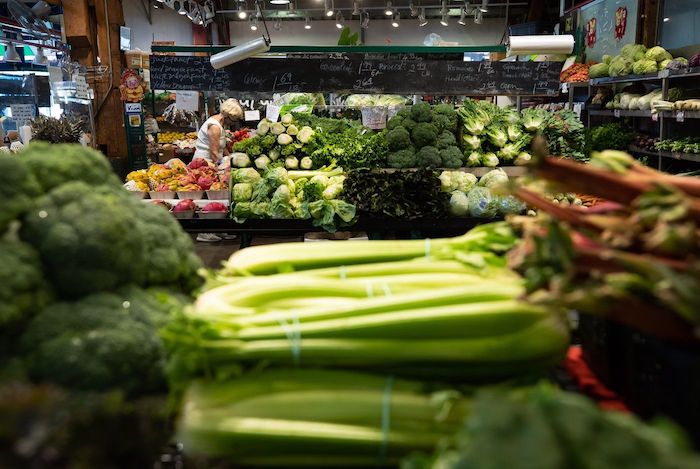 A woman shops for produce in Vancouver, on Wednesday, July 20, 2022. Food inflation appears to be easing in Canada but experts say consumers shouldn't expect lower prices at the grocery store. THE CANADIAN PRESS/Darryl Dyck
Food inflation appears to be easing in Canada, but experts say shoppers shouldn't expect lower prices at the grocery store.
Statistics Canada says the cost of groceries in February rose 10.6 per cent compared with a year before, down from an 11.4 per cent year-over-year increase in January.
Yet a falling food inflation rate doesn't mean the price of food is coming down.
Instead, it means prices are rising less quickly, signalling the worst of the era of grocery price hikes could be behind us.
Sylvain Charlebois, director of the Agri-Food Analytics Lab at Dalhousie University, says the food inflation rate is expected to continue to cool throughout the spring and into summer.
But he says Canadians may still experience sticker shock at the grocery store as some food prices are still significantly higher than a year ago.
This report by The Canadian Press was first published March 21, 2023.
Alberta moves to force oilpatch to pay owed taxes above 'threshold' amount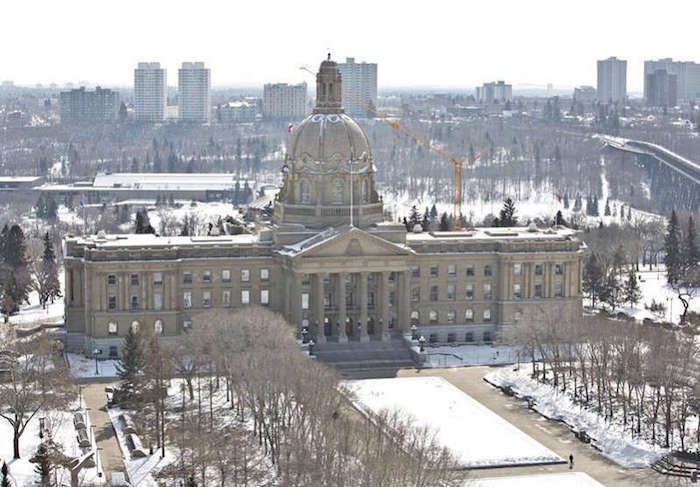 The Alberta government says it's moving to force oilpatch companies to make good on their unpaid municipal taxes.
Energy Minister Peter Guthrie says he's issued an order that blocks companies from acquiring or transferring licences on wells or other assets if their unpaid taxes exceed a threshold amount.
That threshold is yet to be determined and will be set by the Alberta Energy Regulator and Alberta Municipal Affairs.
Alberta Energy says in a release that once the threshold has been established, companies that don't meet it will be targeted for collection.
Rural Municipalities Alberta has said energy companies owe the municipal districts in which they operate a total of $268 million.
Paul McLauchlin of the group says the order will help reduce the unpaid tax burden on its members.
This report by The Canadian Press was first published March 20, 2023.
The Canadian Press