Holiday Mental Health – It's Okay if it's not the Most Wonderful Time of the Year
The stores are stocking up on red and green everything, the shelves are lined with ornaments and dancing reindeer and you can't ignore it even if you want to – the holiday season is nearly here.
For many, Christmas means celebrations, decorations, rum and eggnog and time with family. From sledding and snow days to hanging the lights and putting up the tree, there are lots of things to love about the holiday season.
However, for others, there are lots of reasons why it might not be the most wonderful time of the year, and that's okay too.
While the claim that suicide rates spike during the holiday season has been repeatedly misused and ultimately disproven as the "holiday suicide myth" (1), the holiday blues are a very real phenomenon. In the midst of the celebratory season, feelings of anxiety, isolation, depression and grief can be overwhelming, particularly when combined with additional stressors such as strained personal relationships and financial uncertainty. Not everyone is looking forward to Christmas, and in the midst of the 2020 global COVID-19 pandemic, which has left many people without employment and unable to travel, the emotional toll of this holiday season promises to be increasingly complex.
The Canadian Mental Health Association (CMHA), Alberta Division released a statement regarding coping with the holidays during these unusual and uncertain times.
"The pandemic has disrupted many yearly holiday traditions and has increased collective anxieties and social isolation. As we look for alternative ways to spread joy and take part in new ways of celebrating the holidays, Albertans must focus on their mental health during an already busy and often overwhelming season."
According to the CMHA, these are some simple but useful ways to maintain your mental health during the holidays.
Focus on what you can control. Like the food you eat, the time you have a shower or the media you consume.
Anxiety is normal. During times of crisis it is normal to feel increased anxiety. Acknowledge those feelings are valid.
Limit your consumption of media. Allow yourself time to focus on activities you enjoy instead. Reading, listening to music or meditating are all great ways to de-stress when you are unable to attend regular holiday festivities.
Remain connected to your body. Exercising regularly, getting outside, eating well and resting will support positive mental health.
Be open with your support system. Identify supportive people you can connect with if you begin to feel overwhelmed or lonely.
Reach out for help. If you or a loved one needs help, call 211 (Alberta only) or the Mental Health Help Line at 1-877-303-2642.
As the holidays arrive amid the fog of the ongoing global pandemic, remember – it's okay to feel confused, frightened, and uncertain of the future. You are not alone, and there are always resources available to help you and your loved ones through these complicated times. Be gentle with yourself and others, ask for help if you need it, and above all, be kind.
For more stories, visit Todayville Calgary.
Battle of Alberta starts with a bang as Flames down Oilers 9-6 to open playoff series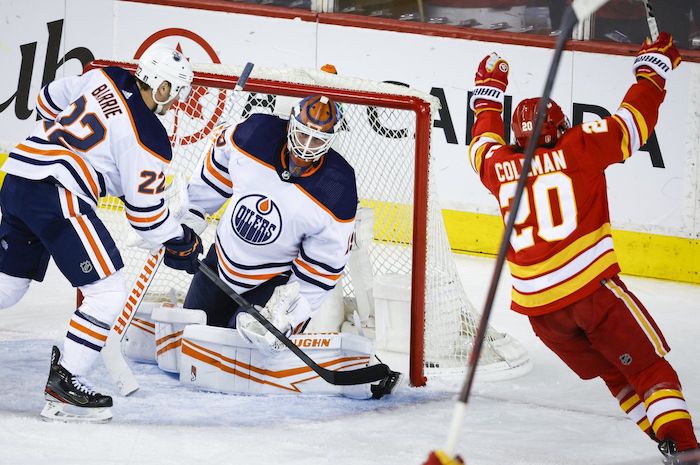 By Donna Spencer in Calgary
Matthew Tkachuk scored a hat trick for the Calgary Flames in Wednesday's 9-6 win over the Edmonton Oilers to open their playoff series.
The NHL's first playoff Battle of Alberta in 31 years compensated for its long absence with an abundance of goals in Game 1.
Blake Coleman scored twice for the Flames. Rasmus Andersson and Andrew Mangiapane each had a goal and two assists.
Elias Lindholm and Brett Ritchie also scored for Calgary while goaltender Jacob Markstrom stopped 22 shots for the win.
Zach Hyman scored twice for Edmonton. Connor McDavid produced his fourth straight multi-point game in the playoffs with a goal and three assists.
Edmonton's captain leads the league's post-season points race with five goals and 13 assists.
Leon Draisaitl had a goal and two assists and Kailer Yamamoto and Evan Bouchard also scored for the Oilers.
Edmonton starter Mike Smith was pulled in the first period after allowing three Calgary goals on 10 shots. Mikko Koskinen made 32 saves in relief.
The winner of the best-of-seven series advances to the Western Conference final.
Game 2 is Friday at the Saddledome before the series heads to Edmonton for Sunday's Game 3 and Tuesday's Game 4.
Teams that take a 1-0 lead in a best-of-seven series hold a series record of 503-232 (.684), according to NHL statisticians.
In a matchup of potent offences, the question ahead of the series was which team could keep the puck on its sticks and spend more time in the offensive zone.
Calgary dominated that department early. The Flames scored twice in a 25-second span in the first minute and led 3-0 by 6:05 when Smith was replaced by Koskinen.
Calgary's two goals in the opening 51 seconds was the fastest two goals to start an NHL playoff game, and electrified a sea of red dotted with Oiler orange and blue at the Scotiabank Saddledome.
The Oilers would not go quietly, however.
The Flames had survived a goaltender-dominated, grinding series with the Dallas Stars in the first round.
Wednesday's Game 1 was, by contrast, an open-ice track meet of mediocre goaltending. The Flames held a 40-18 edge in shots after two periods, but led 6-5 heading into the third.
Edmonton's Yamamoto briefly tied the game at 1:28 putting McDavid's rebound over Markstrom's outstretched pad.
Andersson regained the lead for Calgary at 2:57. Mangiapane from behind the net fed the all-alone defenceman whose wrist shot beat Koskinen's glove.
Tkachuk gave the Flames a two-goal lead at 8:55 with his second of the night. He snared a Draisaitl turnover at the blue line and beat Koskinen five-hole on a breakaway.
Tkachuk scored into an empty net to complete his hat trick. Hats rained down onto the Saddledome ice and chants of "we want 10" goals soon followed.
Draisaitl pulled the visitors within a goal at 19:21 of the second period when he beat Markstrom far side on an odd-man rush with McDavid.
Hyman scored at 9:38 and 14:06 of the second period. He circled out from behind the net and whipped the puck by Markstrom's glove for his second.
Hyman skated the puck into Calgary's end, stopped and got a shot away between defenceman Michael Stone's legs that deflected off Markstrom and into the top corner for his first.
Tkachuk batted in a rebound for a power-play goal at 8:24 after Bouchard converted a McDavid pass at 7:10. McDavid spun off of Dillon Dube to get a cross-ice pass away to Bouchard.
Zack Kassian's roughing penalty after Bouchard's goal gave Calgary the man-advantage for Tkachuk's goal.
Coleman struck 45 seconds into the second period and again at 6:10 for a 5-1 Flames lead.
He redirected a Noah Hanifin shot for his second goal and put a rebound over a prone Koskinen during a scramble around the crease for his first.
McDavid glided in front of the net and patiently waited for Markstrom to commit before tucking the puck between the goalie's pads at 7:41 of the first period.
Ritchie scored his first career playoff goal at 6:05. He knocked Edmonton's Evander Kane off the puck at the Oilers' blue line, reached to collect the loose puck and got a shot away under Smith's arm.
From behind the net, Backlund dished to an undefended Mangiapane in the slot for the latter to beat Smith from close range 51 seconds after opening puck drop.
Lindholm converted Calgary's first shot of the game into a goal 26 seconds after opening faceoff. He settled a bouncing puck off a cross-ice dish from Rasmus Andersson and swept it far side over Smith's glove.
The Flames were minus top shutdown defenceman Chris Tanev a second straight playoff game. He was injured in Game 6 of Calgary's first-round series against Dallas.
Tanev skated in both Tuesday's practice and in Wednesday's morning skate, but did not dress for Game 1.
Notes: With his 94th career playoff win as a head coach, Darryl Sutter joined Pat Quinn ranked No. 6 all-time . . . With three assists in Game 1, Johnny Gaudreau joined Jarome Iginla and Martin Gelinas (2004) among Flames to carry a six-game point streak in the playoffs . . . McDavid was the first Oiler to score a goal in four straight post-season games since Michael Peca and Shawn Horcoff in 2006 . . . The red lot fan zone adjacent to the Saddledome was closed Wednesday because of high winds . . . Game 1 was the highest scoring playoff game involving Calgary and Edmonton surpassing the previous high of 12 goals scored in Game 3 of the 1983 Smythe Division final.
This report by The Canadian Press was first published May 18, 2022.
This is what Jason Kenney said as he stepped down as Premier of Alberta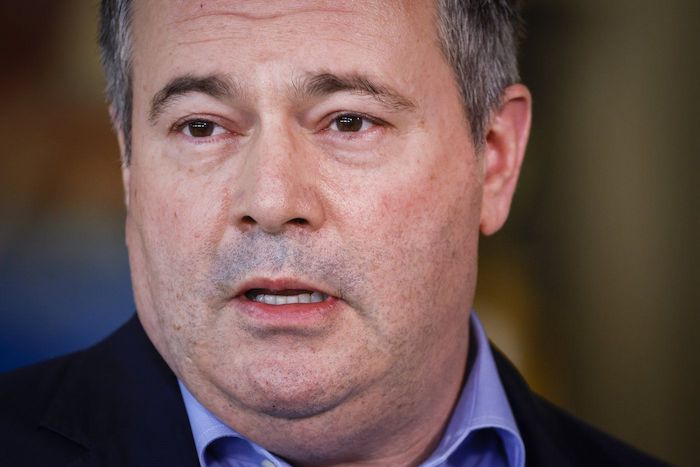 Premier Jason Kenney's address starts at the 10 minute mark and only lasts for 4 minutes.