History of Red Deer's Second Courthouse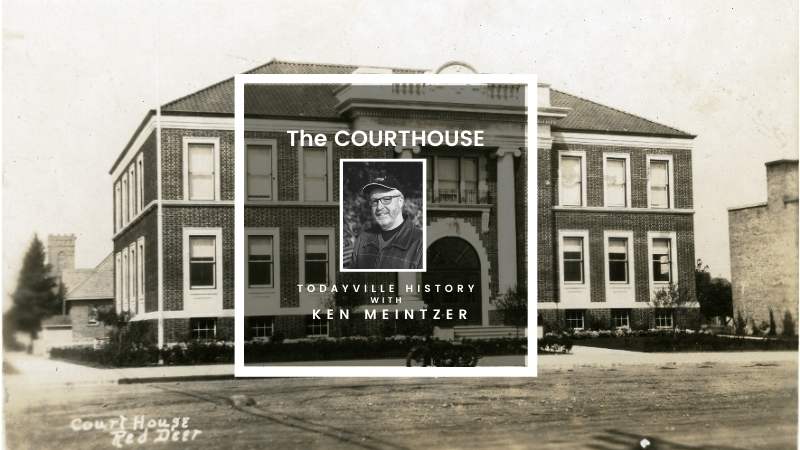 It has been witness to a great many events and stories in the 90 years it has stood on the corner of Ross Street and 49th Avenue in Red Deer.
As the solidly constructed anchor for both provincial and the Court of Queens Bench for 52 years, this sturdy structure has also been a sanctuary for artists, the setting for movie productions and most recently home to numerous professional offices. It also was the backdrop for the last murder trial in Alberta which saw the defendant sentenced and hanged under capital punishment in the province.
This readily recognizable icon celebrated the anniversary of its official opening earlier this month and is showing no signs of retiring any time soon.
This was the second courthouse for the steadily expanding central Alberta city. The earlier one had opened in 1916 after having been converted from a coverall factory. Talk about being adaptive and creative!
Construction of the "new" courthouse was significant for many reasons. The Great Depression was in full swing so this project provided a much-needed injection of both money and jobs into the community along with a sense of pride that such a fine building would bring to the region.
This would be the last courthouse built in the province until the 1950s, the final version  of a series of Alberta courthouses built in the classical revival style. Both Wetaskiwin and Medicine Hat received similar structures during this era.
Testament to the quality of the design and materials used in construction of the building is the fact that it remains steadfast after more than 8 decades of use.
Constructed using hot riveted steel beams, brick and mortar, then graced with pillars shaped from the legendary Lyndall Limestone from Manitoba, this grand historical resource will stand for a great many more years to come.
In the spirit of the type of practicality and resourcefulness often seen during the depression, heating for the building would be provided by a boiler built in 1912 and  repurposed from a ship!
It was converted from coal burning to natural gas in 1949 and has since been replaced by modern, efficient boilers yet it still remains in the building as evidence of a different era.
Every building of a certain vintage usually carries a story or two about otherworldly spirits or energies. Why not the old Courthouse? It was thought that the ghost of Robert Raymond Cook inhabited the building.
On one particular evening, the caretaker for the courthouse was heading into the boiler room to grab some tools. When he flicked on the lights, they popped briefly and went dark. Despite this, the caretaker walked alongside the boiler in the direction of his tools when suddenly he was slapped in the face by an unexpected soft force! Was it the apparition of the hanged murderer?
When he had regained his composure a time later, the caretaker investigated the boiler room once more to discover the source of the slap in the dark. A frightened pigeon had flown up in his face when startled in the boiler room!
This magnificent building was the home of the judicial branch of the province for the Red Deer region from 1931 to 1983 when its replacement was constructed just down Ross Street to the east.
The courthouse was the venue for a great many legal tales over the years but probably none more famous than the 1959 murder trial for 21 year old Robert Raymond Cook of Stettler, AB who was accused of murdering all 7 members of his family in a most violent manner.
His trial began on November 30th, 1959 and Cook was found guilty and sentenced to hang for his crimes. His defense appealed the conviction and a second trial was held in Edmonton but his conviction was upheld on June 20th, 1960.
On November 14, 1960, Robert Raymond Cook was hanged. His death sentence was the last ever carried out in the province of Alberta.
Numerous books were written about this trial as the murders captivated and horrified the population who followed the course of the investigation and trials.
Even a dramatic play was created, called "The End of the Rope", reenacting this historic trial which was developed and was even staged in the actual courtroom where the all too real drama actually took place all those years ago.
In 1983, the  building was sold to the city of Red Deer for a dollar and turned into the Old Courthouse Community Arts Centre. The grand structure housed painters and potters among numerous artistic pursuits for 18 years
The old courthouse has seen real life dramas and reenactments of legal dramas including being the location for filming  scenes from the TV Movie, "While Justice Sleeps" starring Cybil Shepherd in 1994.
Even a dramatic one-man play was created by Aaron Coates called "The End of the Rope" in 2003, re-enacting this historic trial. It was developed and staged in the actual courtroom where the all too real drama actually took place all those years ago. Cook's lawyer, David MacNaughton even answered questions from the crowd after the performance.
The old courthouse made its most recent transformation in 2001 when it was purchased by Jim Dixon and Dick McDonell.
The new owners invested close to a quarter of a million dollars in upgrading the building including installation of new boilers, restored doors, energy efficient windows and new flooring  throughout. 1930s era lighting was sourced to replace fluorescent fixtures, giving the rejuvenated structure a proper historical feel.
Today this 90-year-old icon of downtown Red Deer proudly carries on as the home to numerous professional organizations from lawyers to architects and with its new owners and numerous upgrades, this beautiful structure should be proudly welcoming people to downtown for a great many more years to come.
Red Deer's old courthouse sits as the centrepiece of Red Deer's historic downtown and is celebrating its 90th birthday. Come spend some time downtown. Visit the city's unique Ghost Collection, many of which are within a few blocks of the Old Courthouse.  For more information on leasing opportunities in this beautiful building, please email Davin Kemshead or phone 403-318-6479.  
Home renovation savings prove elusive as wood prices at record highs
CALGARY — Canadian consumers have many ways to save money on home renovations despite a pandemic-driven surge in demand that has jolted lumber and construction panel prices to all-time highs.
However, such advice usually falls on deaf ears, experts say.
Instead, customers are doubling down, switching to more expensive materials as the cost difference with wood shrinks, adding extra elements to their projects and pre-ordering lumber to lock in price and ensure supply.
"If their plan was to build a pressure-treated deck in their backyard, then a lot of people are now saying, 'You know what? For about the same price, I can get a hardwood deck or a composite deck or a heat-treated lumber deck,'" said Brad Swanson of Swanson's Home Hardware Building Centre in Kitchener, Ont., a family owned operation since 1982.
"They're a little bit more (expensive) but they're within people's budgets. If they're going to spend $5,000 on a pressure-treated deck and a composite deck is only $5,500, or maybe $6,000, they're thinking, 'That's not a bad investment.'"
Customers are starting to have "almost a hoarding mentality," Swanson said, adding many are ordering lumber months ahead of construction.
As home prices in many markets rise, renovations are being seen as a smart way to use pandemic-era savings from missed vacations or skipped events to enhance and preserve the value of the family's largest asset, he added.
Two-by-four wooden studs used in framing walls are 40 per cent more expensive compared to a month ago and three times as high as a year ago, said Allan Janzen, manager of the Windsor Plywood store in northeast Calgary.
A 12-foot-long, two-by-six-inch pressure-treated wooden board for a deck costs about $27 now, up from about $12 a year ago, he said, while his most popular composite decking board is about $44, up only slightly from last year.
"When you're comparing one board to another board, $12 versus $44, that's a $32 spread. Today, the spread is much lower (about $17)," he said, noting that many consumers are opting to spend a little more for the look and feel of composite decking, as well as its low maintenance needs compared with wood.
The rise in the price of wooden studs has made the price of steel studs, mostly used in commercial buildings, more attractive for homeowners, said Ben Hildebrandt, one of the principal researchers with the Green Building Technologies department at the Southern Alberta Institute of Technology in Calgary.
When eight-foot wooden studs were $3 or $4 each, steel studs seemed uncompetitively pricey at $6.50, he said. Now that wooden studs are around $8.50, steel makes more sense.
When Hildebrandt built a garage last summer, he paid about $15 for each sheet of oriented strandboard or OSB, he said. Now, with OSB at $53 a sheet, more builders are considering using alternatives such as exterior fibreglass-based panels that sell for about $26 a sheet.
The use of recycled material is another money-saving option that also has environmental benefits, he added, although finding and preparing the materials for reuse adds uncertainty and labour cost.
"We do see lots of people looking for those items now that it's even more expensive to get them brand new," said Gui de Souza Rocha, operations manager for Habitat for Humanity's ReStore in Regina, Sask.
"All of our items, either used or gently used, are in good condition and we price them accordingly. You'll always be saving money coming to the ReStore."
He said he's seeing an increase in customers looking for recycled building components and materials, which are usually sold for half or less of the retail price, but there's also been a decrease in donated material, possibly because builders are being more cautious about worksite waste.
The current level of consumer demand for renovations amid surging prices is "completely unprecedented," says Ralph Oswald, 61, who recently sold his Winnipeg business, Oswald Construction Ltd., after more than 40 years in the renovation industry, but still works there as a senior manager.
He said his 13 employees are very busy. In fact, this could be the most active year ever for the business.
There are lots of ways to save money on the large-scale home renovations or additions his company takes on, some contracted for $150,000, $200,000 or more, said Oswald.
"The costs of your finishes, your fixtures, your flooring, those sorts of things. You could choose to downgrade your expectations a little bit. I mean, there are $400 toilets and $800 toilets," he said.
Some clients are ordering items from online sites such as Amazon or Wayfair to save money, he said.
But most are swallowing the extra cost and sticking with the plans they've made, said Oswald. Some projects were conceived before COVID-19 existed and have been awaiting final designs and permits for over a year.
He added it's almost impossible to completely mitigate the higher cost of wood, short of cancelling or dramatically scaling back the project.
"I can buy a cheaper toilet but I've got to use the right two-by-fours and two-by-sixes and sheeting and joists. You can't cheat on that."
This report by The Canadian Press was first published May 6, 2021.
Dan Healing, The Canadian Press
Three Canadian teams to play in women's hockey Dream Gap Tour in Calgary
CALGARY — Canada's top players in women's hockey will finally get to play real games later this month in Calgary.
The Professional Women's Hockey Players' Association (PWHPA) is holding Canada's first Dream Gap Tour event in over a year May 24-30 at a Calgary venue yet to be announced.
Sixty players from the PWHPA's three Canadian hubs in Toronto, Montreal and Calgary will play to determine the Canadian Secret Cup champion.
Secret, which announced a $1-million sponsorship of the PWHPA earlier this year, and the NHL's Calgary Flames are the financial partners in the event.
Similar COVID-19 quarantine and testing protocols established by Hockey Canada for the world junior men's hockey championship and national women's and para hockey camps in Alberta will be incorporated.
Alberta tightened restrictions this week in the face of rising COVID cases, but Alberta Health has approved plans for the women's tournament, PWHPA operations consultant Jayna Hefford said. 
"They believe the protocols, the quote-unquote bubble that's been put in place, will secure the safety of our group and Albertans," the Hockey Hall of Famer told The Canadian Press. "There will be no interaction with the public."
While the PWHPA's Calgary plans were in the works before Nova Scotia's premier pulled the plug on this month's women's world championship, the Dream Gap Tour now offers an oasis in what's been a pandemic hockey desert for the majority of players in the national women's team pool.
The last real games many of them played came in a PWHPA tournament March 6-8, 2020 in Arizona. The last PWHPA event in Canada was Jan. 11-12, 2020 in Toronto.
The PWHPA's American chapter has played a handful of games in the United States in recent weeks, although a two-day tournament in St. Louis was postponed from early April to May 16-17.
Canada's mandatory 14-day quarantine upon return from outside the country kept Canadian players from participating in the U.S. games.
Stricter health regulations across Canada also made skating together in groups impossible at times and planning actual games in the country a non-starter.
"It's been so challenging," Hefford said. "We had to try to encourage our players to be patient early on in the season, and even in early 2021 we continued to reiterate we would only host events if we could feel really comfortable about the safety of everyone involved."
The PWHPA, which includes Canadian and U.S. national team players, rose from the ashes of the Canadian Women's Hockey League that folded in 2019. 
The goal of the roughly 150 players is a sustainable league that offers the competitive supports and training environments the male pros get, and wages that allow them to be professional athletes.
They've so far refused to join the six-team National Women's Hockey League, which recently announced a doubling of each team's salary cap to US$300,000 for next season. The Toronto Six is the lone Canadian club in that league.
The PWHPA held a series of Dream Gap Tour tournaments and events across North America in 2019-20 before the global pandemic brought the sporting world to its knees.
The pandemic continued to impede women's hockey internationally and domestically.
The women's world championship in Nova Scotia was cancelled a second straight year, although Hockey Canada is committed to hosting the tournament in August in a location yet to be named.
January's world under-18 women's championship in Sweden was called off, while a men's under-20 champion was crowned in Edmonton that month.
The men's world under-18 championship in Texas concludes Thursday. The men's world championship is scheduled to open in just over two weeks on May 21 in Riga, Latvia.
The NHL, men's minor pro leagues and major junior's Western Hockey League and Quebec Major Junior Hockey League all operated in some form this winter.
Calgary's Scotiabank, Toronto's Sonnet and Montreal's Bauer squaring off for a trophy and prize money can help revive the visibility of women's hockey in Canada, Hefford said.
"We represent the players and we want to see them out there," she stated.
"We have partners that have been so loyal and committed, so helpful in this process to move this forward, get the women back on the ice. 
"It seems like men's hockey has gone on and we continue to hit these hurdles. 
"I hope this is a great opportunity for the women to play, but also for people to see the best of women's hockey on the ice again."
This report by The Canadian Press was first published May 6, 2021.
Donna Spencer, The Canadian Press