History, Controversy & Indigenous Involvement – Death of Keystone XL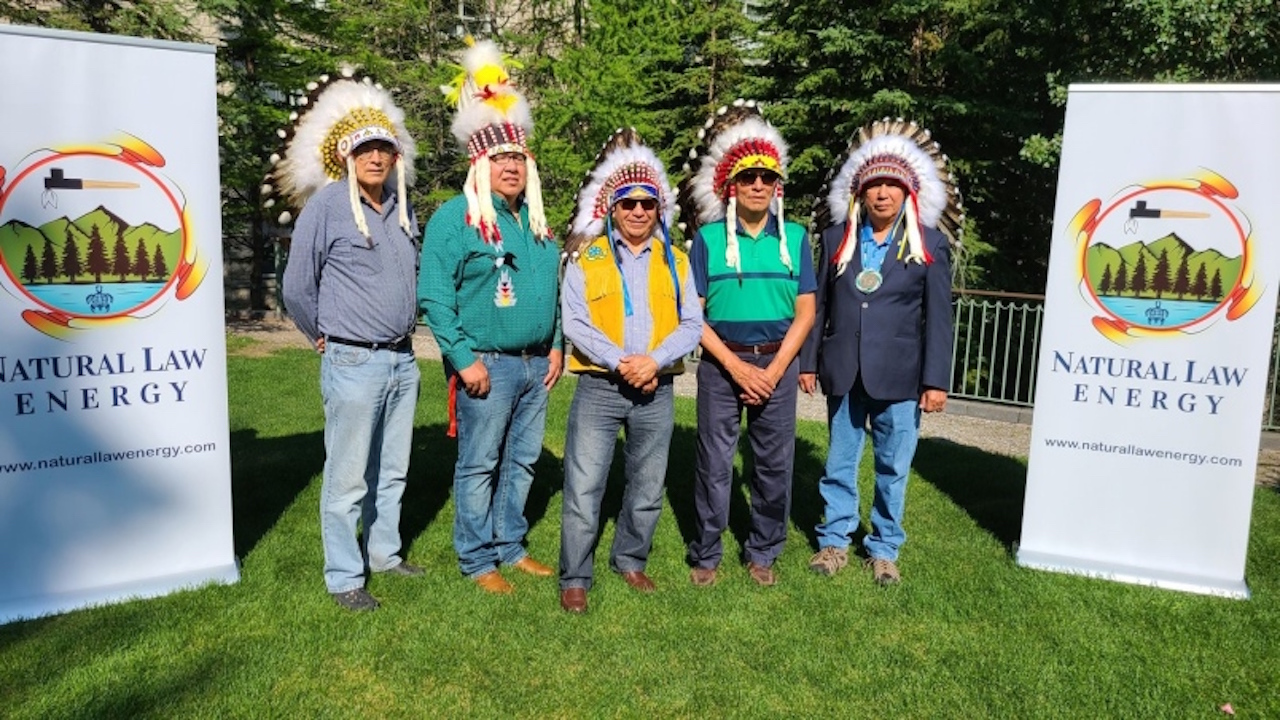 For many, few stories have been as captivating and as frustrating as that of the stop-and-start Keystone XL pipeline project, which appears to officially be reaching its end following the inauguration of President Joe Biden on Wednesday, January 20, 2021.
The Keystone XL pipeline extension was originally proposed by TC Energy in 2008 as the 4th phase of the existing Keystone Pipeline System, which traverses Canada and the United States. The 1,947 km pipeline would run from Hardisty, Alberta, to Steele City, Nebraska, dramatically increasing the transportation capacity of Alberta crude oil to 830,000 barrels per day.
The National Energy Board first approved the Keystone XL application in March 2010, with a number of conditions in place to protect environmental and landowner interests.

Opposition towards the project developed quickly, largely on the basis of environmental concerns. Environmental assessments released by the U.S. State Department, which established the pipeline would have "limited environmental impact", were met with public backlash and mass protests.
In 2011, the State Department required TC Energy (then TransCanada) to reroute the pipeline around an "ecologically sensitive" area in Nebraska, to which TC Energy agreed.
In January 2012, President Barack Obama rejected the Keystone XL, but invited TC to submit another application, which was done in May 2012.
Following another 3 years of legislative debate, protest and controversial back and forth, Obama vetoed the bill to build the Keystone XL on February 24, 2015.
On November 6, 2015, the Obama Administration once again rejected TC Energy's application to build the Keystone XL pipeline.
In this context, tensions continued to rise, as massive amounts of money and potential jobs hung in the balance with no end in sight. In 2016, Republican presidential candidate Donald Trump included the Keystone XL in his campaign, vowing to approve it if elected as President of the United States.
Following his election in November 2016, President Trump signed an executive order approving the Keystone XL pipeline, along with an order requiring American pipelines be built with American steel.
In late 2018, the pipeline's construction was delayed once again by a U.S. federal judge, citing environmental impact.
Construction resumed in April 2020, following a pledge from Alberta Premier Jason Kenney to invest CAD$1.5 billion in the project in March 2020. Outrage from environmental and Indigenous groups continued in the wake of the announcement.
In May 2020, then-presumed presidential nominee Joe Biden shared plans to shutdown the Keystone XL as a part of his campaign. (1)
It is January 2021, and Biden has indeed followed through on his claim to scrap the pipeline. To the outrage of many Albertans and their fellow Canadians, one of Biden's first executive orders as President of the United States, just hours after his inauguration, was to revoke TC Energy's permit for the Keystone XL.
As of December 2020, more than 150 kilometres of pipeline had already been installed. According to Financial Post, the cancellation leaves behind approximately 48,000 tons of steel.
Biden's decision has served to deepen the division between pro and anti-pipeline groups, including the opposing positions expressed by a number of Canadian Indigenous groups.
Over the course of the past decade, Indigenous opposition to the pipeline has been well documented through a series of protests and petitions, featuring countless Canadians who rallied in support of First Nations groups, environmental concerns and land rights.
In 2016, Donald Trump's renewed approval of the pipeline was met with equally renewed opposition by those groups determined to halt the project once and for all. "The fight to kill the Keystone XL pipeline begins anew," said Dallas Goldtooth, lead organizer for the Indigenous Environmental Network in 2017, "and Donald Trump should expect far greater resistance than ever before."
On the other side of this opposition, the historic formation of the Natural Law Energy coalition came as a shock to many. Natural Law Energy (NLE) is a coalition of First Nations groups who expressed their support for the Keystone XL pipeline by pursuing investment opportunities with TC Energy. Little Pine First Nation, Louis Bull Tribe, Nekaneet Cree First Nation, Ermineskin Cree Nation and Akamihk Montana Cree First Nation came together to form the coalition with the ambition of providing First Nations groups with financial resources and opportunities.
For Chief Alvin Francis of Nekaneet First Nation in Saskatchewan, the pipeline presented an opportunity to secure funding for indigenous communities and aid indigenous youth in their schooling or business endeavors for years to come. "It's about making life better for all of our youth," he told the Globe and Mail in November 2020.
Just as Indigenous anti-pipeline groups celebrate the latest development, Biden's executive order to cancel the pipeline once again has been met with disappointment from members of the NLE and its supporters.
Recent developments over the multi-billion dollar Keystone XL have also led to heated discussions between the Kenney Administration and Canadian Prime Minister Justin Trudeau. Kenney's response to the Canadian Federal Government as well as the Biden Administration was one of absolute disappointment and anger, as Alberta's oil and gas industry sustained another massive hit. He went as far as to call upon Trudeau to impose economic sanctions on the United States.
While many have echoed Kenney's sentiments regarding the cancellation of the pipeline and the Biden Administrations early treatment of Canada and the province of Alberta, others have identified this development as an opportunity for Alberta to diversify. Under the current economic circumstances, can Alberta overcome the loss of the Keystone XL? Should Alberta focus on diversifying? Given the ongoing global shift towards renewable energy technology, can we afford not to?
For more stories, visit Todayville Calgary.
'A crisis': Calgary charity seeks one-month homes for Ukrainian refugees after influx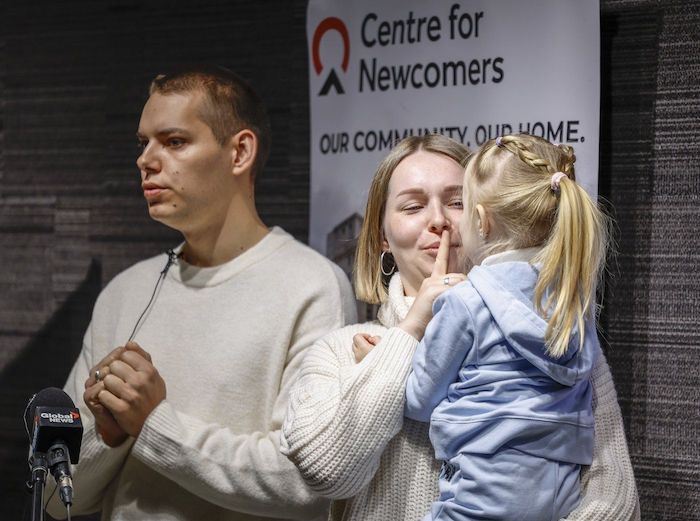 Ukrainian evacuees Dmytro Syrman, left, his wife, Anastasiia, centre, and their four-year-old daughter Varvara attend a news conference highlighting the need for temporary housing in Calgary on Wednesday, March 29, 2023. THE CANADIAN PRESS/Jeff McIntosh
By Bill Graveland in Calgary
After six months under Russian occupation, Dmytro Syrman and his family decided to flee Ukraine for a safer life abroad and are now in Calgary.
The family lived in Dniprorudne, a mining city of 17,000 in southern Ukraine. Syrman worked as a human resources manager at an iron factory.
In August, Syrman, his wife, Anastasiia, and four-year-old daughter Varvara embarked on a six-day, 3,000-kilometre drive to Poland.
"On the 24 of February, when the Russian army attacked Ukraine and occupied our city in March 2022, we lost everything," Syrman said Wednesday.
He said they began planning their escape when they realized Russian soldiers weren't leaving their city.
"We started all of this because we were scared for Varvara," he said. "When Russian bombs were falling near our city it was really scary."
Their home is still under Russian occupation.
For the past year the family stayed in Poland, sent in their paperwork to come to Canada, and two weeks ago arrived in Calgary.
They're now staying with a host family for a month while they look for long-term accommodation and to find jobs.
"We are here and starting a new life. We can't believe about people who don't know us and many helped us. We're really shocked," Syrman said.
The Syrmans were helped by Calgary's Centre for Newcomers, which started a campaign to find 100 hosts for Ukrainian families or individuals for a month while they find housing of their own.
Kelly Ernst, chief program officer with the centre, said there has been a flood of Ukrainians trying to take advantage of a federal program that allows them to temporarily resettle in Canada.
The Canada-Ukraine Authorization for Emergency Travel program has been extended until July and Ernst said he expects people will continue to flee the war-torn country.
"We're in a desperate, dire need at the moment for host homes to try to accommodate the evacuees coming from Ukraine. It's reaching the proportions of being a crisis moment," said Ernst.
He said people arriving elsewhere in Canada are migrating to Calgary because the rents are lower than in larger cities such as Toronto and Vancouver.
Ernst said approximately 450 people have been arriving in Calgary every week from Ukraine and his organization has helped people staying nights in the airport, off the street and at homeless shelters.
Natalia Shem, who is the manager of housing for the Ukrainian evacuees, said it's difficult for the newcomers to find somewhere to live before arriving.
"It's almost impossible to find long-term rent being outside of Canada and people who come here need one month of stay," Shem said. "It's an average time a family can find long-term rent, job and settle down here in Canada."
This report by The Canadian Press was first published March 29, 2023.
Budget measures unlikely enough to spur major carbon capture investments: Experts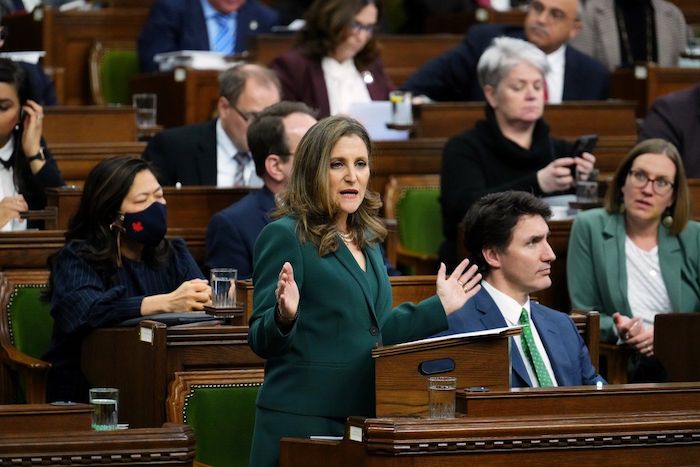 Deputy Prime Minister and Minister of Finance Chrystia Freeland delivers the federal budget in the House of Commons on Parliament Hill in Ottawa, Tuesday, March 28, 2023. Industry watchers say Tuesday's federal budget likely won't be enough to convince Canadian oil and gas companies to pull the trigger on expensive, emissions-reducing carbon capture and storage projects. THE CANADIAN PRESS/Sean Kilpatrick
By Amanda Stephenson in Calgary
A question mark continues to hang over the future of carbon capture and storage projects in Canada, in spite of a pledge in Tuesday's federal budget to deliver more investment certainty for major emissions-reducing projects.
"Look, we have set some very aggressive climate targets in Canada. You can't kick the can down the road," said carbon capture advocate James Millar, arguing that's exactly what the federal government did Tuesday when it provided no additional details around its previously stated intention to reduce the risk of investing in pricey emissions-reduction projects by essentially guaranteeing the future price of carbon.
"The difference comes down to investment certainty in the U.S., versus the promise of investment certainty in Canada."
As president and CEO of the International CCS (carbon capture and storage) Knowledge Centre, a non-profit organization based in Regina, Millar had been closely watching Tuesday's budget in hopes of obtaining more federal support for the expensive technology that can be used to trap harmful greenhouse gas emissions from industrial processes and store them safely underground.
Heavy emitters — in particular, the oil and gas sector — have identified carbon capture and storage technology as key to helping the sector meet its emissions reduction targets and have been looking for government incentives akin to what is being offered south of the border, where the U.S. Inflation Reduction Act promises to pay companies a guaranteed US$85 price for each tonne of injected carbon.
While Canada has already announced an investment tax credit that will help to offset some of the up-front capital costs of carbon capture projects, companies have so far been hesitant to pull the trigger and go ahead with proposed large-scale projects.
The Pathways Alliance, for example, a consortium of oilsands companies, has proposed building a $16.5-billion carbon capture and storage transportation line to combat emissions from existing oilsands infrastructure in northern Alberta.
But the group has not yet made a final investment decision, saying it needs to know its project will be competitive with those in the U.S. before proceeding.
One thing the oil and gas sector has said will help with that is some kind of mechanism that would reduce the risk to companies that the federal price on carbon could be lowered or eliminated. If a new government were to be elected and remove or change Canada's carbon pricing system, investing in expensive carbon-reducing technology could suddenly become uneconomical.
On Tuesday, the federal government reiterated that it intends to create such a mechanism through a so-called carbon contracts for difference system — but disappointed many who were hoping for details. Instead, the government announced it plans to begin consultations around the development of such a program.
Millar said while he doesn't doubt the government's good intentions, companies that have proposed large-scale projects need to get moving now if they have any hope of meeting Canada's goal to reduce this country's overall emissions by 40 per cent below 2005 levels by 2030 looms.
"We're already in 2023, we're seven years out. The consultations that were announced yesterday will take months," he said. "I think it will take at least a year because it's going to take time to set up the process."
The Pathways Alliance itself took a diplomatic tone Tuesday, issuing a statement after the tabling of the budget saying it was "encouraged" by the signal that more policy certainty is coming, and adding it looks forward to a "better understanding" of the government's intentions.
But Greg Pardy of RBC Capital said in a research note that in spite of some enhancements to the previously announced investment tax credit, budgetary support for carbon capture and storage was "somewhat limited — perhaps even disappointing."
"In our view, Canada's federal government needs to shift into much higher gear when it comes to incentivizing decarbonization investment if it is to achieve its bold climate change ambitions," Pardy said.
A report from BMO Capital Markets published just before the release of Tuesday's budget said Canada's policy framework for large-scale deployment of carbon capture and storage disadvantages producers here compared to the U.S., "despite claims to the contrary from some proponents of the environmental lobby."
Environmentalists have been critical of any additional federal support for carbon capture, calling it akin to a subsidy for oil and gas companies that enables them to increase production when the world should be scaling down fossil fuel usage.
But the BMO report said carbon capture is an essential part of the energy transition, and without offering improved incentives to keep up with the U.S., Canada risks not meeting its 2030 emissions reduction targets.
"Canada's market-based carbon price systems are much too uncertain to act as 'incentive' for industry to invest in major decarbonization projects," the BMO report stated.
"Emitters need financial supports that are tangible and recognized by financial institutions to underwrite bank financing."
This report by The Canadian Press was first published March 29, 2023.