Edmonton Police warn public to be aware and vigilant after a series of violent carjackings
The Edmonton Police Service is issuing a warning to citizens to be vigilant of their surroundings following a series of recent carjackings in southeast Edmonton.
On Monday, March 4, 2019, at approximately 7:30 p.m., Southeast Division officers responded to the report of a carjacking that took place in the parking lot of a business in the area of 23 Avenue and 24 Street. It was reported to police that an adult female was exiting her vehicle in the parking lot when she was approached by two male suspects who demanded the keys to her black 2016 Toyota Rav4. The suspects then allegedly choked the female and threatened her with a knife. After receiving the keys, one of the suspects reportedly fled in the female's Rav4 while the other fled in a black/blue truck or SUV. The female complainant was not injured.
Earlier today, Tuesday, March 5, 2019, police received reports of two additional carjackings in southeast Edmonton involving suspects of a similar description:
At approximately 12:55 a.m., an adult male had just parked his white 2013 GMC Acadia on the road in the area of 85 Street and 7 Avenue SW when he was reportedly approached by two males in a black SUV seeking assistance finding an address. The two males then allegedly exited their vehicle and demanded the complainant's vehicle keys. When the keys were not provided, an altercation reportedly took place and the male complaint suffered minor injuries. The men then allegedly fled the area in the black SUV.
At approximately 12:55 p.m., an adult female was reportedly loading items into her red 2019 Kia Sportage in a parking lot in the area of 70 Street and Stanton Dr. SW when she was approached by two males in a black SUV who demanded her vehicle keys. After providing the keys, one of the males allegedly assaulted her and both fled the area with her vehicle and the black SUV. The female complainant suffered minor injuries as a result.
Investigators believe that all three carjackings are linked and may involve the same suspects. In each incident the suspects were described as males between the ages of 25 and 35, approximately 5'6" to 5'11" in height, with medium skin tone and an average build. One of the suspects was described as having facial scruff.
Officers also believe the suspects may be driving one of the two vehicles stolen (pictured below) and encourage anyone who sees these vehicles or the suspects to not approach them and immediately call police.
Black 2016 Toyota Rav4
AB license # BVW 0059
Red 2019 Kia Sportage (stock photo)
AB license # M58038
Detectives continue to actively investigate these incidents and are warning motorists to be aware of their surroundings, in particular when entering and exiting their parked vehicles. Drivers are also advised to look around when approaching their vehicles and, if they notice suspicious activity, change their direction and proceed to a public area. Parking in well-lit, public areas, locking their doors immediately after entering and exiting their vehicles and keeping their doors locked while driving is recommended.
If approached by an unknown person who demands vehicle keys, drivers are advised to always comply and call police as soon as it is safe to do so.
Anyone with information about these crimes is asked to contact the EPS at 780-423-4567 or #377 from a mobile phone. Anonymous information can also be submitted to Crime Stoppers at 1-800-222-8477 or online at www.p3tips.com/250.
RCMP 'gutted' by death of Const. Rick O'Brien, 51, shot in B.C.: deputy commissioner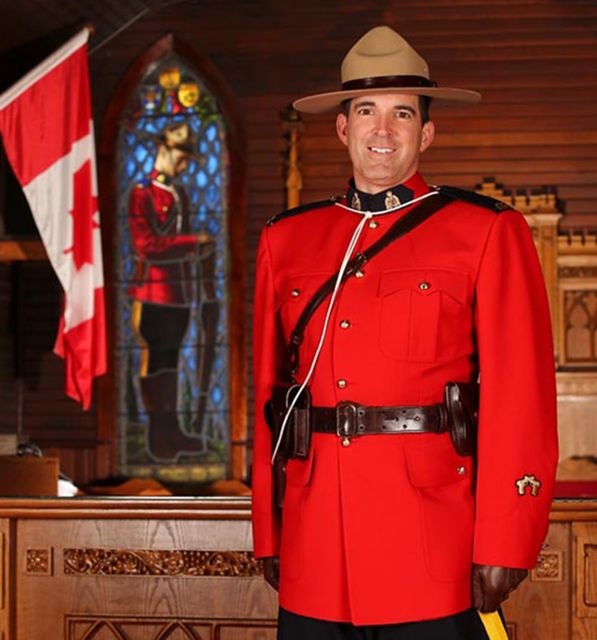 RCMP Const. Rick O'Brien poses in this undated RCMP handout photo. The 51-year-old officer was shot and killed and two other officers were injured while executing a search warrant in Coquitlam, B.C., on Friday, Sept. 22, 2023, while a suspect was shot and is in hospital with non-life-threatening injuries. THE CANADIAN PRESS/HO, RCMP
By Nono Shen in Coquitlam
The death of another Mountie in British Columbia less than a year after the last killing "enrages" the lead officer in the province.
RCMP Deputy Commissioner Dwayne McDonald said Const. Rick O'Brien, 51, was shot dead and two other officers were injured on Friday as they tried to execute a search warrant in Coquitlam, B.C.
A suspect in his 20s was also shot and is in hospital with non-life-threatening injuries.
O'Brien, who had a wife and children, was decorated for bravery in the rescue of victims during a home invasion within months of joining the RCMP in 2016.
"This is an extremely difficult and tragic day for our members," McDonald said Friday. "Const. O'Brien led by example. He had a great sense of humour. He was well respected by his peers and he was loved in his community."
He said O'Brien was part of a team from Ridge Meadows RCMP that had been serving a search warrant at a home in the neighbouring community of Coquitlam.
McDonald said O'Brien died at the scene. One injured officer is in hospital with non-life-threatening injuries, he said, while the other suffered minor injuries and was discharged.
While McDonald didn't reveal details about the investigation, he said it was a long-term probe.
A procession of RCMP vehicles led an ambulance carrying O'Brien's body from Coquitlam to Abbotsford later Friday.
O'Brien's death comes just 11 months after the death of RCMP Const. Shaelyn Yang, who was stabbed to death while accompanying a Burnaby, B.C., city worker to a homeless campsite.
McDonald said the past year had been a tragic one for police departments across Canada.
"It hurts. It really hurts. I'm outraged," he said. "To see police officers across this country killed trying to protect their communities enrages me."
Policing was a second career for O'Brien, who worked with at-risk youth before joining the RCMP. His entire career was spent at the Ridge Meadows detachment.
Supt. Wendy Mehat, the officer in charge of Ridge Meadows, said speaking about the impact of O'Brien's death was the most difficult moment of her career.
"Rick's contribution to his work, and his fellow team members at this detachment was immeasurable. Rick loved visiting schools and helping students, doing presentations, supporting our detachment (with) food drives and sport events," she said.
"He was truly exceptional, a hard worker and a good human being. His death is senseless and heartbreaking." Mehat said.
McDonald said O'Brien's death seemed to speak to an issue he and his colleagues across the country have been talking about.
"Perhaps painting police in a certain light … sometimes seems to encourage people to resist authority and disrespect the profession of policing and, quite honestly, fight the police," he said.
"I'm not commenting on this particular instance. But I will say that this is a stark reminder that the police are here to help you."
The Independent Investigations Office said in a statement that the officers went to a home in the Metro Vancouver city on Friday.
"While there, the attending officers became engaged in an altercation with a man which resulted in multiple officers being injured and the man being shot," the statement said.
"Emergency Health Services transported all injured to hospital, but one of the officers who was shot succumbed to their injuries."
Carley Hodges, a witness in the busy area of city, described a chaotic scene, with an officer receiving CPR as he was put in an ambulance, another officer with a wound on his leg and a tourniquet above it, and a man in handcuffs.
Hodges said there were "tons of police cars, ambulances and fire trucks coming in."
Mehat said O'Brien's death was "senseless and heartbreaking."
"He simply went to work today, and he was killed, doing his duty and keeping his community safe. The hours, weeks and months ahead will be difficult to our communities and Maple Ridge, Pitt Meadows, Coquitlam and across the country."
B.C. Solicitor General Mike Farnworth said he was shocked and saddened to learn of O'Brien's death.
"All three officers are shining examples of the extraordinary individuals who chose to take on the challenging mantle of protecting the public.
"I have spoken to the local mayors, and we all agree that the death of an officer is a stark reminder of the dangers police face to keep us safe. They put their lives on the line every day to fulfil their oath to protect our communities."
Prime Minister Justin Trudeau sent his condolences to O'Brien's family, friends and colleagues on social media.
"And to the officers who were injured: I'm wishing you a fast and full recovery."
This report by The Canadian Press was first published Sept. 22, 2023.
This is a corrected story. A previous version said police were trying to serve an arrest warrant.
Police arrest two more people following killing of eight-year-old girl in Alberta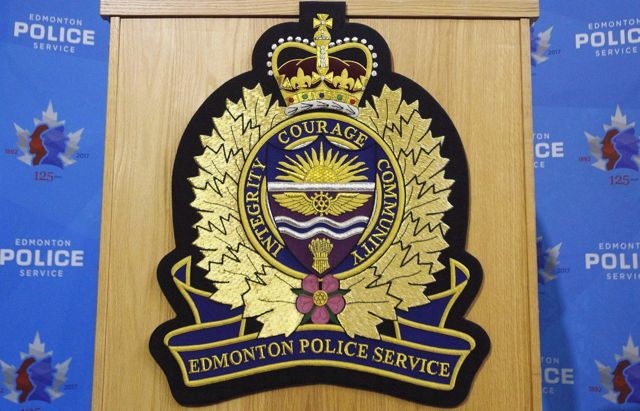 An Edmonton Police Service logo is shown at a press conference in Edmonton, Oct. 2, 2017. Police in Edmonton have charged two more people following the killing of an eight-year-old girl whose remains were found on a First Nation south of the provincial capital in April. THE CANADIAN PRESS/Jason Franson
Edmonton
Police in Edmonton have charged two more people following the killing of an eight-year-old girl whose remains were found on a First Nation south of the provincial capital.
Officers responded on April 24 to a welfare call about the girl at an Edmonton home but were unable to locate her.
Her remains were discovered five days later on the Samson Cree Nation in Maskwacis.
Shayden Lightning, who is 21, and Raighne Stoney, who is 36, have been charged with being an accessory to murder and causing an indignity to a body.
Three others were initially charged in the case.
Police are not releasing the names of two of the accused in order to protect the identities of other children related to the victim, whose identity is under a publication ban.
A 27-year-old woman faces a charge of first-degree murder and a 25-year-old man faces charges of being an accessory to murder and causing an indignity to a body.
Edward Nievera, 67, was charged with being an accessory to murder and causing an indignity to a body.
Edmonton police Staff Sgt. Colin Leathem said in a release Friday that the recent arrests will be the last in the case and that the investigation has concluded.
"We want to thank the RCMP in Maskwacis and Wetaskiwin for their assistance with this investigation," he said. "Needless to say, this was an exceptionally distressing investigation to work on, and they went above and beyond in helping to facilitate these final arrests and bring this file to conclusion.
"While nothing can change the horror of what occurred, we hope (the arrests) can provide some measure of justice to those who knew and loved this little girl."
This report by The Canadian Press was first published Sept. 22, 2023.