Edmonton passes new State of Local Emergency Order; tough rules all vehicle for hire operations
For the safety of everyone in Edmonton using ride sharing and vehicle for hire operators the city has passed an order under the State of Local Emergency tough new rules to help limit risks of exposure to COVID-19.
Under the order, effective immediately, all taxis, limousines, private transportation providers, shuttle service providers; as well as all ride sharing services such as Uber, Tapp and all others operating vehicles for hire, must adhere to these new restrictions.
No more than one passenger per vehicle; except if:
additional passengers are members of the same household, individuals in a close personal relationship, or a required caregiver; or
the size and capacity of the vehicle allows for 2 metres between each passenger and the driver (e.g. shuttle bus);
No passengers are permitted in the front passenger seat(s)
While driving and/or operating as a vehicle for hire service, cleaning and disinfecting supplies must be kept in the front passenger seat in plain view and used for cleaning of vehicles after each trip.
Door handles (interior and exterior), window controls, door locks, passenger seating area, seat belts and buckles, must be cleaned after each fare and with disinfecting cleaning products and substances. Payment devices must be cleaned after each use.
Drivers should take appropriate care (e.g. Personal Protective Equipment) when providing physical support to passengers.
Any vehicle that provides service to a passenger who is demonstrating COVID-19 symptoms, including cough, fever, shortness of breath, runny nose, or sore throat, or who otherwise indicates that they are at risk of having COVID-19, must be immediately removed from service and thoroughly sanitized.
These requirements and restrictions are now in place till further notice.
The City of Edmonton promises to work with the vehicle for hire industry to communicate these changes. For any drivers not following this directive, enforcement teams will be deployed to help ensure adherence to the new regulations.
The vehicle for hire industry has been deemed an essential service and these new requirements ensure they can continue to operate in a manner that is safe for both drivers and passengers.
Stars and RCMP chopper combine to rescue fallen ice climber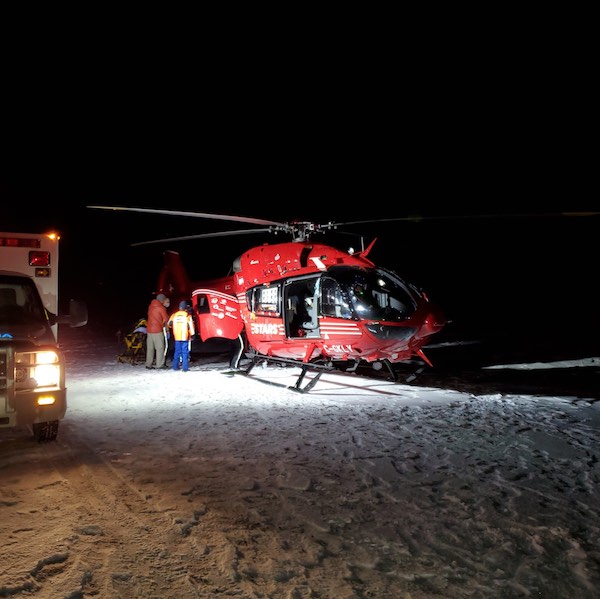 From Alberta RCMP media relations
Rocky Mountain House RCMP assist in ice climber rescue
On Jan. 15, 2021 at approximately 2:30 p.m., Rocky Mountain House RCMP received a dispatch of a fallen ice climber who was in need of medical assistance. A SOS beacon was received locating the fallen ice climber at the south end of Abraham Lake. Reports indicate the climber fell approximately 12 meters.
RCMP, EMS, Search and Rescue (SAR), STARS air ambulance and Alstrom Helicopters assisted in the rescue. The 28 year old injured male was long line rescued from his location by Alstrom Helicopters, with the assistance of Rocky Mountain House SAR. STARS was waiting nearby and further transported the injured male to a Calgary hospital.
The rescued male suffered serious but non life threatening injuries as a result of his fall.
Everyone who assisted in this rescue should be commended for their professional, swift and incredible work. Well done!
Oilers place goalie Mike Smith on long-term injured reserve
EDMONTON — The Edmonton Oilers have placed goaltender Mike Smith on long-term injury reserve, and have re-assigned Olivier Rodrigue to the club's taxi squad, pending quarantine protocols. 
Edmonton announced both transaction on Friday, but did not elaborate on Smith's injury.
Smith was supposed to start Thursday's game at home against the Vancouver Canucks but was declared inactive, forcing Mikko Koskinen into back-to-back starts. 
Smith and Koskinen were expected to split duties in the Oilers net this season. Edmonton re-signed the 38-year-old Smith to a one-year contract in the off-season. 
Rodrigue had been with the Graz99ers of the Austrian National League.
The 20-year-old Rodrigue was drafted 62nd overall by Edmonton in 2018.
This report by The Canadian Press was first published January 15, 2021.
The Canadian Press