Business Spotlight: Capturing Life's Most Memorable Moments
Vannessa Brown is a professional birth, motherhood and family photographer specializing in the documentation of life's "unplanned, unposed, and unexpected moments." From a child opening its eyes for the very first time, to a father holding his wife and new baby beside the birthing pool, to a toddler gently cradling their new sibling on their lap, Vannessa is passionate about capturing the beautiful and fleeting moments of birth and life. 
With an academic background in engineering, Vannessa began to explore photography when she was pregnant with her son, and it was her research on birthing that inspired her interest in birth photography. Based in Edmonton, Alberta, Vannessa Brown Photography was officially launched in 2011, and after photographing her first birth in May 2012, Vannessa never looked back. 
As a photographer, each experience brings with it its own unique demands – for periods of up to 5 weeks, she has to be available at a moments notice, and it can take up to 50 hours to properly document a single birthing experience.

Photo Credit: Vannessa Brown Photography 
In the last 8 years, she has documented nearly 100 births in hospitals all across Edmonton, in birthing centres, operating rooms and midwifery clinics, as well as home births in bedrooms, bathrooms and living rooms. "It is an honor," she says, "I am so grateful and thankful to the families who trust me to be a part of these life-changing events." 
Much of her focus and creative approach has been informed by her own experience as a mother of two. From the moment of the actual birth, to the weeks and months after bringing a new child home, it is easy for special memories and moments to get lost among busy schedules and exhaustion. "You think as a mom, you'll always remember, but you don't," she says, "it breaks my heart that I don't remember all of the little things." 
According to Vannessa, it is common for clients to be on the fence regarding birth photography. However, having been on both sides of the camera herself, as both the photographer and the photographed, "It is worth it," she states simply, "these are details that are unique to each family's journey. They are priceless." 
In addition to birth photography, the packages offered by Vannessa Brown Photography include the Family Documentary Session, the Motherhood Session and the Family Mini Session, all specifically designed to capture life as it is. With a focus on real personalities and authentic family dynamics, Vannessa captures the moments you never knew you didn't want to forget. Sessions can take place in your home or on location at a favorite local restaurant, park, or play area, creating real and lasting memories beyond the classic "Sunday best" family portraits. 
To learn more about birth, motherhood and family photography by Vannessa Brown Photography, visit https://www.vannessabrown.com.  
For more stories, visit Todayville Calgary.
Stars and RCMP chopper combine to rescue fallen ice climber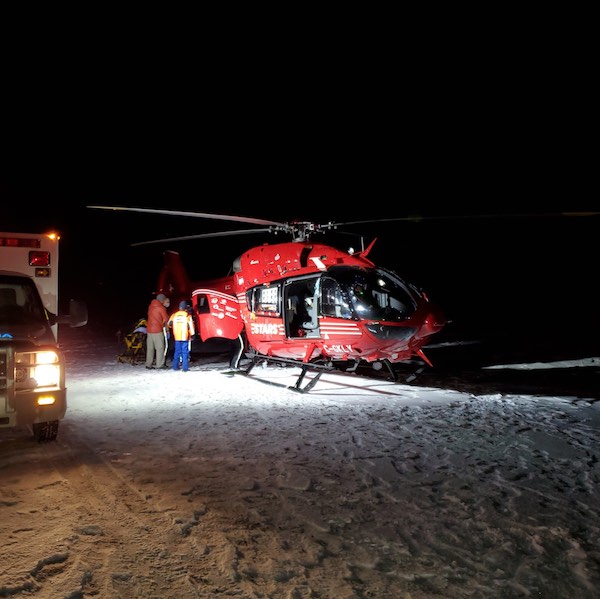 From Alberta RCMP media relations
Rocky Mountain House RCMP assist in ice climber rescue
On Jan. 15, 2021 at approximately 2:30 p.m., Rocky Mountain House RCMP received a dispatch of a fallen ice climber who was in need of medical assistance. A SOS beacon was received locating the fallen ice climber at the south end of Abraham Lake. Reports indicate the climber fell approximately 12 meters.
RCMP, EMS, Search and Rescue (SAR), STARS air ambulance and Alstrom Helicopters assisted in the rescue. The 28 year old injured male was long line rescued from his location by Alstrom Helicopters, with the assistance of Rocky Mountain House SAR. STARS was waiting nearby and further transported the injured male to a Calgary hospital.
The rescued male suffered serious but non life threatening injuries as a result of his fall.
Everyone who assisted in this rescue should be commended for their professional, swift and incredible work. Well done!
Oilers place goalie Mike Smith on long-term injured reserve
EDMONTON — The Edmonton Oilers have placed goaltender Mike Smith on long-term injury reserve, and have re-assigned Olivier Rodrigue to the club's taxi squad, pending quarantine protocols. 
Edmonton announced both transaction on Friday, but did not elaborate on Smith's injury.
Smith was supposed to start Thursday's game at home against the Vancouver Canucks but was declared inactive, forcing Mikko Koskinen into back-to-back starts. 
Smith and Koskinen were expected to split duties in the Oilers net this season. Edmonton re-signed the 38-year-old Smith to a one-year contract in the off-season. 
Rodrigue had been with the Graz99ers of the Austrian National League.
The 20-year-old Rodrigue was drafted 62nd overall by Edmonton in 2018.
This report by The Canadian Press was first published January 15, 2021.
The Canadian Press