Keep your eyes on the road – delayed 'spring' highway cleanup takes place this Saturday
Volunteers cleaning up Alberta highways
September 16, 2020
The annual highway cleanup, which usually occurs in the spring but was postponed due to the COVID-19 pandemic, will take place on Saturday, Sept. 19.
Between 7 a.m. and 5 p.m. on Sept. 19, volunteers wearing bright orange safety vests will be collecting trash along Alberta highways to raise funds for community organizations.
Motorists are advised to watch for the volunteers, slow down, obey signs and use caution when passing cleanup crews.
The organizations, which include 4-H clubs, Scouts, Girl Guides, schools, church organizations and other non-profit groups, earn $100 per kilometre cleaned.
Quick facts
Volunteers must be nine years old or older to participate.
They must take part in a safety training program and be under adult supervision.
Last year, the Alberta government contributed about $1.28 million to 740 volunteer organizations involved in the highway cleanup.
More than 18,000 volunteers collected more than 56,000 bags of garbage while cleaning up more than 13,700 kilometres of Alberta roads.
This is not just another protest – Freedom Convoy is heading to Ottawa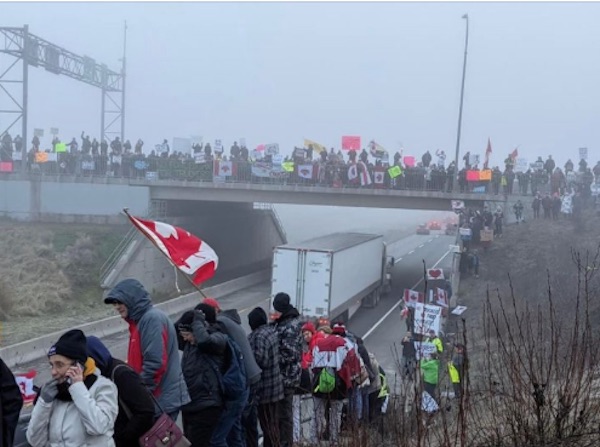 Millions of Canadians are wondering exactly what is happening on the highways leading to Ottawa. An overwhelming amount of traffic is forming, not only on the highways, but also in social media, and on websites dedicated to the "Freedom Convoy".
It appears the federal government's decision to implement a vaccine mandate for truckers has hit a nerve with Canadians opposed to the mandating of vaccines to treat covid. What started out as a cross country rally by truckers aiming to make a statement in Ottawa has exploded into a national and international phenomenon as people from around the world are turning their eyes to Canada to see more and more of the videos, posts, news articles, and podcasts focussing on opposition to mandating health restrictions.
Images of flag-waving Canadians lining up on overpasses to cheer on the truckers which started to trickle out on the weekend, are now flooding the internet. Videos of trucks blowing their horns at intersections and overpasses are being heard in homes across the country and increasingly around the world.
Just what do all these protestors want? One explanation comes from the
GoFundMe page
set up to help support the expenses truckers and supporters are encountering on their trip to Ottawa. That fundraiser easily blew through its initial goal of $3,000,000.00 on Monday morning. The message from fundraiser organizer Tamara Lich begins with these comments:
To our Fellow Canadians, the time for political over reach is over. Our current government is implementing rules and mandates that are destroying the foundation of our businesses, industries and livelihoods. Canadians have been integral to the fabric of humanity in many ways that have shaped the planet.
We are a peaceful country that has helped protect nations across the globe from tyrannical governments who oppressed their people, and now it seems it is happening here. We are taking our fight to the doorsteps of our Federal Government and demanding that they cease all mandates against its people. Small businesses are being destroyed, homes are being destroyed, and people are being mistreated and denied fundamental necessities to survive. It's our duty as Canadians to put an end to this mandates. It is imperative that this happens because if we don't our country will no longer be the country we have come to love. We are doing this for our future Generations and to regain our lives back.
As of Monday morning, a facebook page called
Convoy To Ottawa 2022
is already closing in on 400,000 followers. The group is quickly becoming a favourite place for supporters to share their photos, videos and supportive messages.
Here's a sample of posts and videos streaming in from across the county beginning with videos from the west coast and the east coast posted on Sunday. The beginning stages of this convoy seem to show there's already a groundswell of support. It the momentum continues throughout this week as the convoy approached Ottawa, this may culminate in something Canadians have never seen before.
From a facebook post by Jon Lively
The number of trucks and light vehicles slow rolling out of the east and west coast's today is astonishing. And the turnouts to wave them off were incredible.
I'll admit, I live in a constant state of skepticism to avoid disappointment. But what I'm seeing today sends chills down my spine and brings tears to my eyes. It feels very real.
Regardless of what happens in Ottawa next week, this movement has me feeling a little prouder to be Canadian. I needed that in a bad way. I think we're all feeling that.
I had people message me today who were in the various reception parties in BC and Alberta and they said it was very emotional. Many tears were shed. I understand why.
This is the most encouraging thing any of us in Canada have seen in two years. The love and unity is palpable.
Thank you to everyone involved. Behind you all the way
.
Sunday morning in Vancouver
Sunday morning outside Vancouver
Sunday morning at Abbotsford, BC. Amazing turn out In Abby this morning! Video from Shari Decker
Freedom Convoy to Ottawa coming through Langley, BC, at the crack of dawn on Jan 23, 2022. Video from Jacob Lequijt
Highway 2 North Lacombe overpass just after 10 PM Sunday night
Joining the convoy from Aluc, New Brunswick on Sunday afternoon. Video from 91.9 The Bend
A message from Ontario police Constable Erin Howard representing "Police On Guard"
From Acheson, Alberta (West Edmonton)
Leaving Calgary Monday morning.
Offensive lineman Zack Williams re-signs with Calgary Stampeders
CALGARY — The Calgary Stampeders have re-signed Canadian offensive lineman Zack Williams.
Williams, who was set to become a free agent next month, played all 14 games with the Stamps last season, including 13 starts at left guard.
"I'm thankful to the Stampeders organization for this opportunity and I'm looking forward to the season," Williams, a third-round draft pick out of Manitoba in 2019, said in a statement. "I believe we have the players and coaches in place to be a serious contender for the Grey Cup."
He is the fifth veteran offensive lineman to sign with the Stampeders this off-season, joining a group that includes holdovers Julian Good-Jones, Sean McEwen and Ryan Sceviour as well as the returning Derek Dennis, who had two previous stints in Calgary. Dennis suited up for the Edmonton Elks last year.
This report by The Canadian Press was first published Jan. 24, 2022.
The Canadian Press