Behind the Violence, Looting & Vandalism During the Black Lives Matter Riots
Image Credit: Michael Tracey
It has been just over 2 months since the death of George Floyd in the streets of Minneapolis, Minnesota, at the hands of 3 police officers in broad daylight, ignited a global conversation on police brutality. The significant outrage invoked by this tragedy has manifested across the globe in the form of mass protests under the banner of Black Lives Matter. While a significant number of protests have been peaceful presentations of solidarity and collective calls for change, a number of cities throughout the United States and across the world have been devastated by violent riots, vandalism and looting. The response of the media and general public to these instances of violence, which have left a number of people dead, have dramatically deepened the ideological divide surrounding the already controversial issues of systematic racism and police brutality.
One side of the argument is highlighted by an opinion piece written by Robin D. G. Kelley, an American history professor, published in the New York Times titled "What Kind of Society Values Property Over Black Lives?". This article argues the media's focus on looting as a part of the riots is a way to deflect from the central issue. "The police keep killing us with impunity," says Kelley, "Instead, once the burning and looting start, the media often shifts to the futility of "violence" as a legitimate path to justice."
Similarly, an InStyle piece by Jacqueline Schneider states, "If you're more concerned about looted storefronts than the brutal loss of life that spurred these protests, please re-evaluate." The article goes on to highlight certain leading fashion brands, such Marc Jacobs and Coach, have come out in support of the protests despite the material losses sustained by their brands as a result of the looting and destruction. Marc Jacobs published an Instagram post featuring the vandalism of a Los Angeles branch location with the simple caption, "A life cannot be replaced. Black Lives Matter."
A number of other works with a similar sentiment have emerged over the last two months, many of which make reference to the work of Martin Luther King Jr. While King is largely known for his unwavering commitment to non-violence in the face of oppression, he "recognized violent political rebellions … as the organic response to racial oppression and structural violence" (1).
""Alienated from society and knowing that this society cherishes property above people, [the looter] is shocking it by abusing property rights," he said. The real provocateur of the riots, he argued, was white supremacy." (2)

Therefore, many of the arguments that do not denounce looting as a part of the riots lean on this ideological argument along with the notion that the destruction of property should not be discussed alongside the loss of human life.
On the opposite side of this controversial debate, journalist Michael Tracey presents an investigative report featuring first-hand stories from shop owners and locals in small US cities that have received minimal coverage throughout the riots. In something of a post-apocalyptic Purge-esque collection, Michael Tracey's interviews showcase the current quality of life in places like Atlantic City, Fort Wayne, Green Bay, Olympia and more. The impact of the riots in these areas has been the significant destruction of small businesses and housing projects, burnt buildings and cars, shattered glass and windows barricaded with plywood, oftentimes featuring bullet holes.

Photo Credit: Michael Tracey
According to Tracey, who spent six weeks travelling the US collecting testimonies and documenting the unfolding implications of the ongoing riots, "…The primary victims – meaning those who feared for their safety, suffered severe material losses, and whose lives were upended – are themselves minorities, and were targeted by activist whites."
Tracey shares the stories, fears and opinions of a number of minority locals and shop owners who struggle to make sense of the looting. Victims of the riots highlight the lack of available emergency responders during the crises, adding to the level of fear and helplessness being experienced. In one video, Tracy interviews a local resident, who "recalls being told during the riots that there would be no fire or police service available and people needed to fend for themselves."
A number of boarded up storefronts, many of which will likely never open again, feature signage with the phrase "Black-owned business". Tracey believes this is both a statement of pride as well as a plea to be left alone by rioters, "Does the ubiquity of these types of signs, in which owners declare their ethnic or racial status, seem healthy to you?" he asks.

Photo Credit: Micheal Tracey
These disparate opinions position looting and violent rioting as an inevitable response to minority oppression and injustice, while highlighting the logical inconsistency that occurs as a number of those being victimized are themselves, minorities. While this debate continues to unfold, the chaos remains ongoing across the United States, where many protests have continued to take violent turns and the death toll continues to rise.
For more stories, visit Todayville Calgary.
Lawyer tells Alberta's highest court review board biased in de Grood's case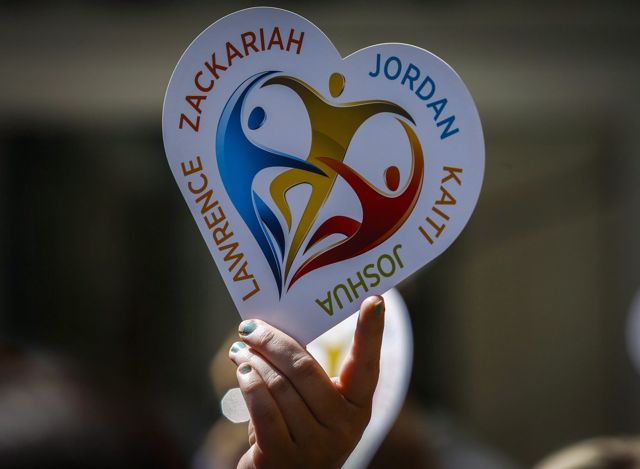 A family member of five slain students holds a heart sign with their names on it following a court decision in Calgary, Alta., Wednesday, May 25, 2016. Alberta's highest court is being asked to overturn a review board decision on the stabbing deaths of five young people at a Calgary house party that confined a man to a supervised Edmonton group home. THE CANADIAN PRESS/Jeff McIntosh
By Ritika Dubey in Edmonton
Alberta's highest court is being asked to overturn a review board decision that confined a man to a supervised Edmonton group home after the stabbing deaths of five young people at a Calgary house party.
The lawyer representing Matthew de Grood argued Wednesday the review board's decision was biased, citing what she described as political interference from Alberta's former justice minister.
"The appellant says, 'I think the conclusion about me is wrong. The board's conclusion is incorrect and not supported by evidence,"' Jacqueline Petrie said before the Alberta Court of Appeal. "He says there's no significant evidence that he's a risk."
De Grood, 31, was found not criminally responsible in 2016 for the killings two years earlier of Zackariah Rathwell, Jordan Segura, Kaitlin Perras, Josh Hunter and Lawrence Hong because he was suffering from schizophrenia at the time. Petrie said de Grood has been stable on medication, is at low risk to reoffend and should be allowed to live with his parents while being monitored under a full warrant.
She argued the review board misunderstood medical evidence during the September 2022 review, which deemed de Grood a significant risk despite the assessment showing improvements. She said the board is supposed to recommend the least onerous disposition compatible with public safety and did not do that for de Grood.
The defence lawyer has said the review had been influenced by former justice minister Doug Schweitzer, who weighed in on de Grood's case in October 2019 after the panel allowed de Grood to transition from institutional care to a supervised group home.
He has been under supervision at a group home. His case is reviewed by the Alberta Review Board yearly to see whether he can transition back into the community while maintaining public safety.
Petrie pointed at de Grood's "exemplary record," and that he has been "compliant to the (medical) treatment team."
"Nobody knew he had schizophrenia (at the time of the stabbings) and needed medication."
Crown prosecutor Matthew Griener said the board considered a conditional discharge but dismissed it, citing a relapse in schizophrenia symptoms in 2021.
Griener said de Grood's relapses were brief and happened at the hospital, providing an early window for medical professionals to intervene.
Justice Kevin Feehan said de Grood may be low-risk, but the consequences of even one relapse could be significant.
Reading from an expert's report, Feehan said: "A low risk to offend doesn't mean the reoffence would not be severe."
Some family members of the victims drove from Calgary for the hearing.
Segura's mother, Patty, said the last nine years have been about de Grood and his rights.
"He should be thankful that he ended up NCR (not criminally responsible) rather than end(ing) with five life sentences for murdering five people," she said. "He should not be appealing."
Hunter's father, Barclay, opposed a potential full release.
"The idea that he wouldn't be monitored for the rest of his life seems to defy logic, it doesn't make any sense," said the father.
Hunter's mother, Kelly, said the family has had "no healing."
"We do this every year, at least once. Now, this is the second appeal," she said. Barclay
Hunter said although there are attempts to reintegrate de Grood into society, he hopes the man is not left on his own with an absolute discharge.
"Regardless of what they say, he killed five people. If that doesn't stand on its own as a risk factor, then I don't know what does."
This report by The Canadian Press was first published June 7, 2023.
—
City official says Calgary Flames arena deal to include a 35-year commitment to stay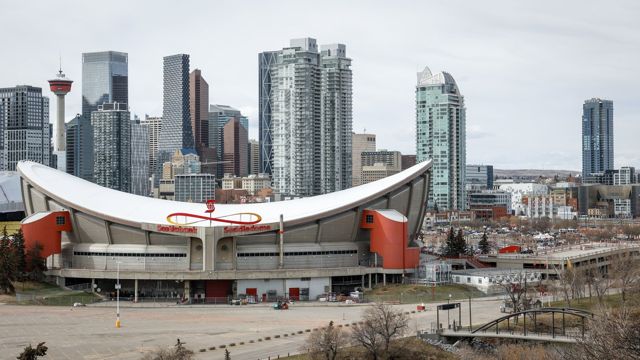 The Scotiabank Saddledome is shown with Calgary's downtown area in the background on Tuesday, April 25, 2023. A city official says a $1.2-billion deal to replace Calgary's aging Saddledome with a new NHL arena would come with a 35-year lease that includes a commitment from the owners of the Calgary Flames to stay in the city. THE CANADIAN PRESS/Jeff McIntosh
Calgary
A city official says a $1.2-billion deal to replace Calgary's aging Saddledome with a new National Hockey League arena would come with a 35-year lease that includes a commitment from the owners of the Calgary Flames to stay in the city.
The City of Calgary, Alberta government, Calgary Sports and Entertainment Corp., and Calgary Stampede reached an agreement in principle in late April.
City council's event centre committee met this morning and asked administration some of the questions that have come up since the deal was announced.
Coun. Andre Chabot says there are concerns from some Calgarians that the lease could be terminated.
Calgary's general manager of infrastructure services, Michael Thompson, says the city has a commitment from Calgary Sports and Entertainment Corp. that it would stay in the city for the 35-year term of the lease.
No one from the company could immediately be reached for comment.
CSEC owns the Flames in the National Hockey League, the Wranglers in the American Hockey League, the Hitmen in the Western Hockey League and the National Lacrosse League's Roughnecks.
The $1.2-billion price tag for the event centre project includes $800 million for the new arena, as well as parking, transit improvements, a new community rink and an enclosed plaza.
The Alberta government is not contributing directly to the arena, but has said it plans to fund up to $300 million on public transit and road improvements, site utilities, reclamation and other supportive infrastructure.
The province would also contribute $30 million to cover half the cost of the 1,000-seat community rink if the deal is approved by provincial cabinet and the Treasury Board before the end of summer.
This report by The Canadian Press was first published June 5, 2023.