ASIRT report released on incident which left Const. Dan Woodall dead
On June 8, 2015, pursuant to section 46.1 of the Police Act, the Alberta Serious Incident Response Team (ASIRT) was directed to investigate the circumstances surrounding the death of Norman Walter Raddatz following an incident involving the Edmonton Police Service (EPS) and the attempted execution of an arrest warrant that resulted in the death of one officer, Const. Daniel Woodall, and the serious injury of another officer.
When a person dies in the custody of police, ASIRT might be directed to investigate whether police conduct caused or contributed to the death of a person, and if so, whether the police conduct was lawful. In cases such as this, when police have surrounded a residence with the intent to apprehend someone inside, that is considered an "in custody" event as the subject is contained and his or her movements are controlled such that he or she is not free to exit the residence and leave the area. That was the situation on June 8, 2015 with Norman Raddatz.
At the time of this incident, Raddatz was 42 years old, divorced and living alone in his house in the west end of Edmonton. He had no criminal record but for a single conviction in 1991 for an impaired driving-related offence. He had continuing disputes with bylaw enforcement regarding the parking of a recreational vehicle and the maintenance of his property, and had six convictions for bylaw offences in the preceding three months.
In April 2015, EPS received a complaint from an Edmonton man that Raddatz had been posting anti-Semitic comments and hate-filled messages online. The complainant and Raddatz had been friends but the relationship deteriorated in 2012 after Raddatz found out that the complainant was Jewish and also as a result of a dispute over money. The complainant feared for his safety, particularly if Raddatz had been drinking.
In addition to the online activity in relation to the complainant, Raddatz also frequently conveyed anti-banking institution and anti-bylaw enforcement/government messages.
After an investigation, police felt there was sufficient evidence to charge Raddatz with criminal harassment in relation to the continued online messaging. An outstanding warrant for a bylaw offence was also located. On June 8, 2015, EPS officers went to Raddatz's home to place him under arrest.
They arrived on scene and knocked on the door of the home. Raddatz came to the front door but refused to open it to speak with police. EPS members identified themselves as police officers and advised Raddatz that they were there for a serious matter and would like to speak with him. They advised him that they needed to speak with him, that he was going to be placed under arrest for criminal harassment but that they were going to release him on a document called a Promise to Appear, meaning that it was not their intention to hold him in custody. Raddatz refused to open the door, prompting officers to tell Raddatz that they would get a warrant to enter and arrest him, if necessary. Raddatz responded, "Go get a warrant, I'm not opening the door." At the time, Raddatz appeared sober and calm — albeit uncooperative.
Although it took a little over one hour, the involved officers ultimately obtained the necessary warrant to enter the home to make the arrest.
During the time that the warrant was being obtained, Raddatz was speaking with the officers and observed through windows to be walking throughout the residence. His behaviour didn't raise any concerns at the time and Raddatz didn't make any threatening comments that suggested he would become violent. Raddatz told officers to leave his property until they had a warrant.
Once officers obtained the warrant, they went to a window and showed Raddatz the actual document, in the hope that he would surrender without the necessity of a forcible entry into the home. There was a conversation about the warrant as Raddatz could not see where it referred to criminal harassment and the document was explained to him. Raddatz chose not to open the door and/or surrender, even after being advised that police would forcibly enter the home if he did not comply. He replied with an expletive, "This is _____," and walked away, out of view, immediately before the officers proceeded to attempt entry.
Four officers were standing at the front door when they tried entering the home using a battering ram. The door was struck three times and almost contemporaneous with the third strike, Raddatz fired shots through the front door, striking two of the four officers. Both officers were wearing their police-issued body armour. One officer sustained a single gunshot wound to the lower torso while the second officer, Const. Dan Woodall, sustained fatal injuries as a result of multiple gunshot wounds. Raddatz continued to fire at officers positioned outside the residence for an extended period of time. Many of those shots penetrated nearby vehicles and residences.
Not a single shot was fired by any member of the Edmonton Police Service. This was confirmed by all the evidence, including that of civilian witnesses in the area. At no time did any of the officers have a safe opportunity to do so, as they never actually saw Raddatz again after their conversation with him through the window.
During the ensuing standoff, Raddatz continued to fire shots from his residence. After some time, smoke was seen coming from inside the home. It became apparent that a fire had started within the home. Officers had no way of knowing where Raddatz was within the home, making it impossible to ensure safe entry to secure him without unreasonable risk to the lives and safety of others. Officers and firefighters were left with the only option to wait. Given Raddatz's continuing unrestrained, uncontrolled and unpredictable shooting from inside the home, it was not possible for firefighters to even approach to try to control or put out the fire without placing themselves at imminent risk of death or serious bodily harm.
In these circumstances, the fire ultimately consumed the entire home without police and first responders having any idea of Raddatz's location, or what had taken place inside the residence.The residence was safely entered the next day by Edmonton Fire personnel, police and ASIRT investigators who were on scene.
Once entry was made, evidence of a homemade bomb was located in what was believed to have been a front closet. The remains of a dog were found in the kitchen area. The dog had been shot. Raddatz's remains were recovered in an area of the house that was believed to have been a bedroom. Parts of multiple firearms that survived the fire were located within the residence, including one found in close proximity to where the remains were located.
An autopsy conducted by the Office of the Chief Medical Examiner determined that Raddatz died of a self-inflicted gunshot wound to his head. Additionally, the autopsy found no soot in his airway, which would suggest that he died prior to fire overtaking the area he was in and, as such, the fire played no role in his death.
Examining the conduct of the involved police officers, it is beyond question that all the officers were lawfully placed and engaged in the lawful execution of their duties. Having obtained the warrant, they had the lawful authority to enter the home and arrest Raddatz. Nothing they did in their attempt to do so exceeded their lawful authority or was unreasonable. There is no evidence or even reasonable suspicion to believe that the officers did anything wrong that day that caused or contributed to the death of Raddatz.
Words will never fully express the magnitude of the tragedy on this day and the countless lives that were impacted and changed. ASIRT extends its condolences to the Raddatz family, as Norman Raddatz's actions were his own, not those of his family members, who were among those left devastated by his actions.
Our sincere condolences are also extended to the family of Const. Daniel Woodall in their senseless and unimaginable loss of a husband, father and son. They have shown considerable grace and strength throughout this time. Our hearts go out to all the involved officers that day and their families during this unspeakably horrific event and its aftermath, the Edmonton Police Service as a whole, and to the Alberta policing community. This case is a stark reminder of the potential risks law enforcement face everyday as they work to keep our communities safe.
OPEC+ weighs large oil cutback to boost sagging prices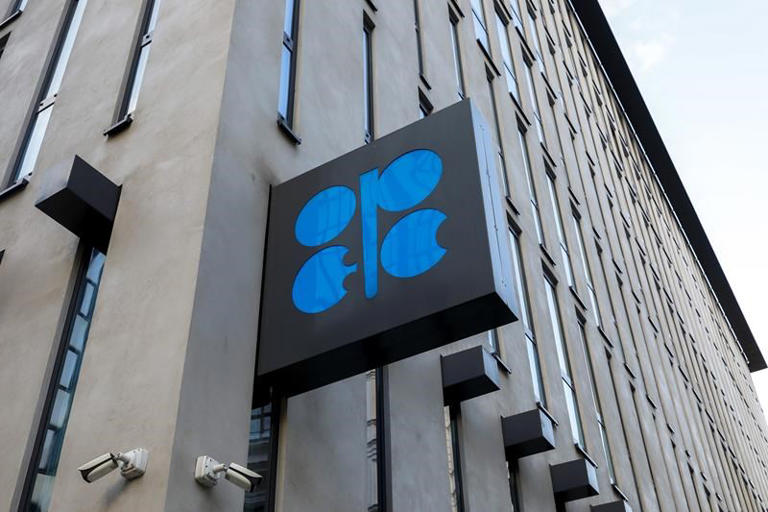 FRANKFURT, Germany (AP) — The OPEC+ alliance of oil-exporting countries on Wednesday will debate a potentially large cut in the amount of crude it ships to the global economy — a move that could help Russia weather a looming European ban on oil imports and raise gasoline prices for U.S. drivers just ahead of national midterm elections.
Energy ministers from the OPEC cartel, whose leading member is Saudi Arabia, and allied non-members including Russia are meeting in person at the group's Vienna headquarters for the first time since early 2020 at the start of the COVID-19 pandemic. Russian Deputy Prime Minister Alexander Novak, who has been sanctioned by the U.S., was attending the meeting in Austria's capital.
A production cut could benefit Russia by establishing higher prices ahead of a European Union ban on most Russian oil imports, a sanction over the invasion of Ukraine that takes effect at the end of the year, analysts at Commerzbank say.
Russia "will need to find new buyers for its oil when the EU embargo comes into force in early December and will presumably have to make further price concessions to do so," the analysts wrote in a note. "Higher prices beforehand — boosted by production cuts elsewhere — would therefore doubtless be very welcome."
Moscow also faces a separate push by the U.S. and the other Group of Seven wealthy democracies to impose a price cap on Russian oil by Dec. 5. The EU agreed Wednesday on new sanctions that are expected to include a price cap on Russian oil, an EU official said.
Oil prices surged this summer as markets worried about the loss of Russian supplies from sanctions over the war in Ukraine, but they slipped as fears about recessions in major economies and China's COVID-19 restrictions weighed on demand for crude.
The fall in oil prices has been a boon to U.S. drivers, who saw lower gasoline prices at the pump before costs recently started ticking up, and for U.S. President Joe Biden as his Democratic Party gears up for congressional elections next month.
It's unclear how much impact a production cut would have on oil prices — and thus gasoline prices — because members are already unable to meet the quotas set by OPEC+. Yet Saudi Arabia may be unwilling to strain its relationship with Russia even if the world's largest oil exporter had any reservations about cutbacks and has recently has drawn leaders from Biden to German Chancellor Olaf Scholz to talk about energy supplies.
The Commerzbank analysts said a small trim would likely see oil prices fall further, while the group would need to remove at least 500,000 barrels day from the market to bolster prices.
Such a production cut "would undoubtedly signal to the market the determination and resolve of the cartel to support oil prices," said UniCredit economist Edoardo Campanella. But supply would drop by less than announced.
"If the group cuts target production by 1 million barrels per day, actual output would likely drop by about 550,000 barrels per day — as countries like Russia or Nigeria that are producing below quota would see their formal target decline but remaining above what they can currently produce," Campanella said.
At its last meeting in September, the group reduced the amount of oil it produces by 100,000 barrels a day in October. That token cut didn't do much to boost lower oil prices, but it put markets on notice that OPEC+ was willing to act if prices kept falling.
International benchmark Brent has sagged as low as $84 in recent days after spending most of the summer months over $100 per barrel. U.S. oil prices fell below $80 per barrel Friday. Ahead of the meeting, U.S. crude traded at $86.38 and Brent at $91.66.
The White House declined to comment before OPEC leaders made a final decision on oil production, but press secretary Karine Jean-Pierre told reporters Tuesday that the U.S. would not extend releases from its strategic reserve to increase global supplies.
"We're not considering new releases," Jean-Pierre said.
Biden has tried to receive credit for gasoline prices falling from their average June peak of $5.02 — with administration officials highlighting a late March announcement that a million barrels a day would be released from the strategic reserve for six months. High inflation is a fundamental drag on Biden's approval and has dampened Democrats' chances in the midterm elections.
Gasoline prices recently turned up because of refinery outages in California and Ohio, and vary widely, from over $6 per gallon in California to under $3 in some parts of Texas and the Gulf Coast, according to motoring club federation AAA. The national average of $3.80 is up slightly but down from a record high on June 14.
One major factor weighing on oil prices has been fears of recessions in places like the U.S. and Europe and slowdowns due to China's strict COVID-19 measures.
Higher inflation is sapping consumer purchasing power, while central banks are raising interest rates to cool off overheating prices, a step that could slow economic growth. Oil prices at their summer highs, and higher natural gas prices boosted by Russian cutbacks to Europe, helped fuel inflation.
___
Associated Press reporter Josh Boak contributed from Washington.
David Mchugh, The Associated Press
CP NewsAlert: Hockey Quebec has 'lost confidence' in Hockey Canada; withholding funds
Hockey Quebec says it has lost confidence in Hockey Canada and will not transfer funds to the national organization.
The provincial federation confirmed to The Canadian Press that its board of directors adopted a motion Tuesday night saying it does not believe Hockey Canada's current structure can change hockey culture.
The resolution was first reported by La Presse.
More coming.
The Canadian Press