With the world's population soaring to 10 billion people, Robert Saik explores how farmers "might" be able to feed everyone
Earth's population will be close to 10 billion people by 2050. So consider this line from Robert Saik's "FOOD 5.0″…
"In order to feed the world, we have to grow 10,000 years' worth of food in the next 30 years, which means farmers worldwide must increase their food production by 60 to 70%."
If that doesn't wake you up… probably nothing can. How will farmers do it? Even with today's technology this it going to take an overwhelming international effort to avoid a mass-starvation.
His first book, "The Agriculture Manifesto – Ten Key Drivers That Will Shape Agriculture in the Next Decade" was a 2014 Best of Amazon Books and this TEDx Talk "Will Agriculture be Allowed to Feed 9 Billion People?" has been viewed over 150,000 times.
In a time where more and more people (in the first world) are demanding to know where their food is coming from and how food is being produced, "FOOD 5.0 How We Feed The Future" should be required reading.
Robert Saik in the Author Hour Podcast:
"Food 5.0, How We Feed the Future was written for an urban audience, more so than a farming audience. My mental image of who I wrote the book for was a 33-year-old mom in a city with some kids who is working and raising her kids."
"We live in a time now where all the technologies are smashing together–they are converging on the farm to reshape the farm in ways that urban people just simply do not understand. It is happening at a breakneck pace and farms are far more sophisticated, far more advanced than people realize."
" you're going to realize and learn a lot about food production and a lot about marketing."
In FOOD 5.0 How We Feed The Future, Robert Saik examines "how technology convergence is reshaping the farm and the consumer".
Robert has been hailed as an agriculture futurist with unparalleled insight into where the industry is headed. He's worked with a variety of agriculturalists from Nigeria's Minister of Agriculture to Bill Gates.
He is the CEO of DOT Farm Solutions, which supports farmers adopting autonomous robotics in broad acre agriculture. He's also the founder of AG Viser Pro, a platform that Uber-izes knowledge and wisdom, enabling farmers to instantaneously connect with agriculture experts worldwide.
Robert is a passionate keynote speaker and is executive producer of the Know Ideas Media a science based multi-media company addressing issues such as GMO's and their use in food production. (Know Ideas Media is a partner in Todayville.com/Agriculture)
He serves on several Boards, is an advisor to Olds College, is a member of the A100 (Alberta Tech Entrepreneur Network), a student of Strategic Coach and Singularity University and a member of Abundance 360. As a partner in Perigro Venture Partners he participates in early stage technology investments.
He been recognized for agriculture leadership by the Alberta Institute of Agrologists (Provincial Distinguished Agrologist of the Year) and in 2016 was awarded Canadian Agri-Marketer of the Year by the Canadian Agri-Marketing Association.
Here's a story produced by Todayville on Robert's visit to Seattle to brief Bill Gates.
Nature Conservancy of Canada releases action plan to protect Prairie grasslands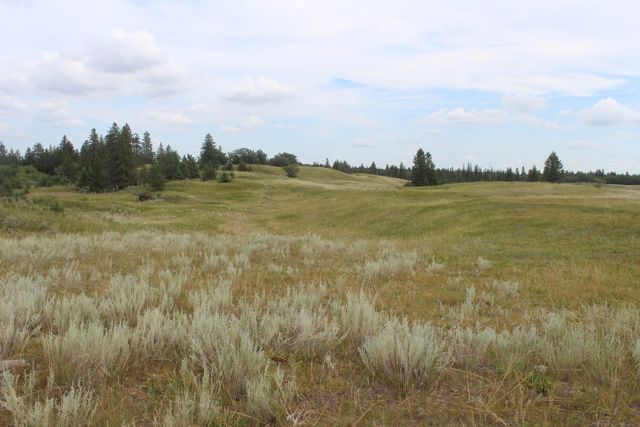 Grasslands are shown in a Nature Conservancy of Canada handout photo. The Nature Conservancy of Canada has announced a plan to protect Prairie grasslands, considered one of the most endangered and least protected ecosystems in the country. THE CANADIAN PRESS/HO-Nature Conservancy of Canada
By Colette Derworiz in Calgary
The Nature Conservancy of Canada has announced a plan to protect iconic Prairie grasslands, considered one of the most endangered and least protected ecosystems in the country.
The plan aims to raise $500 million by 2030 to conserve more than 5,000 square kilometres — about six times the size of Calgary — in Alberta, Saskatchewan and Manitoba.
"What we're trying to do is accelerate the rate of conservation in the Prairie Provinces, specifically in the grasslands," Jeremy Hogan, the non-profit organization's director of prairie grassland conservation, said in an interview.
"They are Canada's most endangered ecosystem. There's only about 18 per cent left of the Great Plains Prairie grasslands in Canada and we continue to lose about (600 square kilometres) a year."
Grasslands, he said, are often converted to fields for growing crops or taken over by expanding cities and towns.
But he calls them an "unsung hero" for the environment.
"They provide a lot of what we call ecosystem services," he said. "So, they provide a lot of benefit to everyday Canadians' lives, even if you don't live or work in the grasslands."
They store and filter water, preventing both floods and droughts. They improve water quality. They keep soil in place, because of extensive root networks, so there's less erosion along lakes and rivers.
Hogan said grasslands also are important for reducing the effects of climate change.
"The carbon storage in grasslands is incredible and it's all stored securely underground," he said. "So, when you get these kinds of fires like the ones that are happening in Alberta right now, carbon stored in the grasslands isn't threatened by those fires like carbon stored in forests."
Across Alberta, wildfires have already scorched more than 10,000 square kilometres of forest this year.
Horgan said grasslands can also be an economic benefit for local communities and are essential to food security.
"A lot of the grasslands that are intact today are working ranches," he said. "So, the grasslands are operated as cattle operations. As long as the cattle are grazed sustainably, it's actually a mutually beneficial relationship.
"It requires a little bit of disturbance from grazing animals to maintain range health … and then on the flip side of that is a healthy sustainable grazing operation leads to more nutritious forage for cattle. So, it's actually a win-win for ranchers and the environment."
Duane Thompson, chairman of the environment committee with the Canadian Cattle Association, said in a statement that farmers and ranchers are proud of their role in managing and protecting the at-risk ecosystems. They are often involved in nature conservancy projects to protect grasslands.
Outside of Waterton Lakes National Park in southern Alberta, a 16.5 square kilometre property known as The Yarrow has been conserved after a $6.9-million fundraising campaign. It features grasslands, wetlands, creeks, mixed forests and includes 27 wildlife species.
The organization now wants to protect grasslands in the Cypress Uplands Natural Area in southwestern Saskatchewan. They rise more than 600 metres, the highest elevation east of the Canadian Rockies, and are home to pronghorn, deer, elk and cougars. The area also has the highest diversity of birds, including burrowing owl, common nighthawk and ferruginous hawk, in that province.
East of Brandon, the nature conservancy has also secured its largest-ever conservation agreement in Manitoba. The 21 Farms project, which is 4.5 square kilometres, boasts mixed-grass prairie, as well as sandhill prairie and sandhill forest, and is home to the Sprague's pipit and a large Sharp-tail grouse lek.
"That's one of the cool points about the Prairie grasslands," said Hogan. "It's not just this one block of grass. It's very, very diverse west to east and changes with different topography and soil type."
The action plan, he said, hopes to raise money to continue protecting those types of areas across all three provinces before they disappear.
"It's not too late to act, but we're getting there," said Hogan. "The fact that there is only 18 per cent left is a very real and dangerous thing to grasslands. Once you reach a certain point, there's no going back.
"What is left is worth protecting and it's worth protecting urgently."
This report by The Canadian Press was first published June 5, 2023.
Canada saw decline in fresh fruit, vegetable availability in 2022: StatCan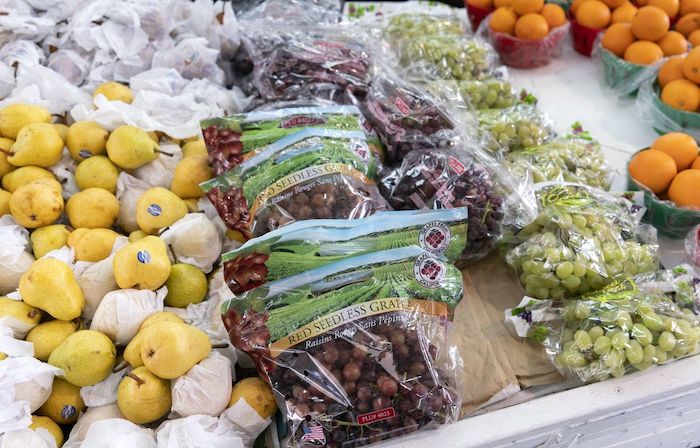 Statistics Canada says fewer fresh fruits and vegetables were available to Canadians in 2022, due to factors such as ongoing supply chain issues, labour shortages and price increases. Assorted fruit is shown at a market in Montreal on Thursday, June 13, 2019. THE CANADIAN PRESS/Paul Chiasson
Statistics Canada says fewer fresh fruits and vegetables were available to Canadians in 2022, due to factors such as ongoing supply chain issues, labour shortages and price increases.
StatCan says the amount of available fresh fruit declined by more than five per cent in 2022 from the previous year, to 72.9 kilograms per person.
Even though there was a 12.7 per cent increase in domestic fruit production, it was not enough to keep up with an increase in exports and a decrease in imports, the agency says in a report released today.
The availability of fresh vegetables — excluding potatoes — was 64.7 kilograms per person in 2022, a decrease of nearly six per cent from 2021.
Just like with fruits, Canada's vegetable production increases in 2022 were not enough to keep up with a rise in exports and a drop in imports, StatCan says.
The agency says some Canadian food industry sectors experienced record production in 2022, but also exported more food internationally than the previous year.
It says the entire industry was affected by pandemic-related supply chain issues, such as shipping delays and shortages of labour and products.
StatCan also cites price increases as one of the factors. Extreme weather, the war in Ukraine and energy costs severely impacted global food prices last year.
Food inflation was stubbornly high in Canada in 2022, outpacing overall inflation. Grocery prices were up 9.8 per cent in 2022 compared with 2021, the fastest pace since 1981.
StatCan's latest report says the amount of milk available to Canadians also decreased by nearly four per cent in 2022, compared to the previous year.
StatCan says that was mainly caused by a drop in production of one per cent milk and two per cent milk.
In contrast, red meat availability increased by 4.3 per cent in 2022, led by beef as cattle slaughter increased from the previous year. The amount of poultry available to Canadians increased by 1.5 per cent.
This report by The Canadian Press was first published May 31, 2023.