Dozens of young Red Deer students wrap up their BEST SUMMER EVER next week
It's hard to believe!
– how fast the days have come and gone…and each one has been special and amazing
– the significant progress and growth shown by our students …the increase in skills,motivation and interest have been incredible
– that with summer holidays about to really begin for these kids,they are sad that Reading College is coming to an end…they truly are going to miss the 'best summer ever!'
– the response from parents on the impact Reading College has had on their children…we have received fantastic feedback on the value of the program
– the incredible support from our supporters that makes it all possible…that commitment is as strong as ever and we are grateful
Backstage Tour
Did you know the RDCArts Centre was built to look like a grain elevator on the prairies? Have you ever wondered what happens behind the scenes during a production? We found out all sorts of cool things when Finn took us on a tour of the lighting and sound booth,the props and costume room,and the trap room.
Hogwarts Magic
All of the students received an invitation to Hogwarts School of Witchcraft and Wizardry! In the afternoon Miss Mawer created a fizzing potion that revealed a colour telling them which Hogwarts house they are in! Each student then created a mysterious juice and recorded how it looked, smelled and tasted.
Mindfulness
Miss Ortman read us a story titled I Am Peace by Susan Verde. We learned a little bit about why it is important for us to take time to be present and mindful,as it helps us pay attention better, stay calmer, and feel happier. We practiced mindfulness with our breathing buddies and participated in some mindful stretching to help us feel ready to take on our afternoons! Then, we created I Am Peace collages using magazine images. We chose images that make us feel happy and peaceful, and remind us to stay present.
Bethany Collegeside Gardens
Our Seuss groups had the opportunity to perform for the seniors on Wednesday or Friday. The students worked hard on their reading performances and were thrilled to have such an appreciative audience. Perhaps best of all was the time after the performances when our students got a chance to chat with the seniors. It was heartwarming to see the great conversations that went on!
A Foundation for All Learning
Radical Readers
Students are continuing to practice the strategies they learn in class from our CAFE. This week we focused on stretching out our words and fluency. Radical Readers do more than read the words on the page,they read the words using expression and they pay attention to punctuation. A fun thing to do one weekend with your library card is to go to the library and look at a series by an author. (Fancy Nancy, Pete the Cat, Clifford, Biscuit, Arthur and Franklin are a few favourites.) In Radical Readers our CAFE menu is growing and the students are really zeroing in on what strategies work for them to develop into a better reader. We are loving the progress we are seeing and we are singing their praises to everyone! You are truly Radical Readers!
Awesome Authors
Students continue to write in their Morning Message booklets and look forward to the prompts that are displayed on the board, as they enter each morning. It is amazing to see the progress that they have made in their printing, sentence structure and expansion of ideas. After reading parts of the book The Best Part of Me and discussing how each of us is unique, the students then wrote about their own best part. They also did a quick melon art project to complete this activity and wrote all about why they are one in a melon (really meaning, I'm One in a Million). We have a few more writing projects to complete. One will be centred around how to blow a bubble with bubblegum. After blowing a bubble, or attempting to, the students will write the steps involved in this process. The students have been writing their observations, as their grass heads continue to grow! We will be wrapping up their grass heads project, recording final measurements and even giving their grass heads stylish haircuts!!
Word Wizards
Each day we begin at the front of our classroom to read, create rhyming families, unscramble a sentence or sing-along while reading the lyrics of a popular song. It's just another way to motivate, while reinforcing our sight and sound vocabulary and improving reading fluency. Learning those essential sight words and becoming more skilled at sounding out unknown words, also motivates students to read through our Dr. Seuss library. Our small group phonics lessons are designed to target the needs of each child, concentrating on mastery of all consonants, vowels and letter combinations to be able to tackle writing and reading at grade level. This takes practice, exposure and more practice. Daily reading and writing will help your child to recognize when their spelling just doesn't look correct, as in toob / tube, kwit / quit, or mayk /make. Sounding out words is much like eating a footlong sub. It's done in chunks, not all in one bite, as in the word trans-form-er. It is important for your child to sound out words aloud, not silently. Have your child read in everyday settings, like road signs and aisle markers at the store, or have them write the shopping list as you dictate. Words are everywhere, and if your child feels that they have the power to read and write anything, they'll be on their way to success!
The Value Of Reading College
Like so many things, it's hard place a value on Reading College.
Truth be told, if we had to charge for the program it would likely be in the neighbourhood of $2000 for each child. We know that's not practical so we rely on the generous support of our community.
This program started eight years ago because of the incredible support of the Optimist Club of Red Deer. This is one of their favourite projects and they are continue to be incredibly valuable partners.
Red Deer College provides all of their facilities at no cost. Not only do they make the space available, they expose our kids to future possibilities and hope they will become future students.
Prairie Bus Lines and Chartwells Food give us incredible deals so that we can get students to and from school and make sure they have great food.
Going into its fourth year, the local owners of Tim Hortons have made us their charity of choice for the SMILE Cookie campaign… be sure to buy those cookies in September.
INSPIRING KIDS TO READ
Both local community leaders, the Chapman and Turple families have a established endowments supporting Reading College.
TURPLE FAMILY FUND
As you can see, many other donors have stepped up to the plate and for each one of them, we are grateful.
ELIZABETH WILSON
ROSEMARY CONGDON
DON & CATHY GUKERT
PETER & KATHY LACEY
ARUN MISHRA
GERI THOMPSON
However, even more valuable, we are creating better futures for students. Each one will have greater potential to graduate from high school. They go into grade three more confident in their abilities to read and write. Let's be honest, they're having the best summer ever – we are creating great memories for each child! Throughout the 21 days of Reading College when you see them try so hard and achieve success, it's worth the smiles on their faces. And best yet, come graduation day, when they throw those caps in the air celebrating their success and achievements with family and friends, you truly understand how valuable Reading College is.
For all those who make Reading College possible, we couldn't be more grateful!
Bruce Buruma,
Executive Director
The Foundation for Red Deer Public Schools
Chamber partners with the Outreach Centre to launch Red Deer branded clothing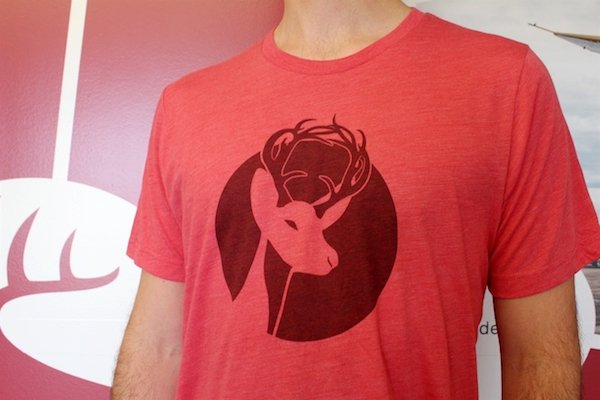 News Release from The Red Deer & District Chamber of Commerce
The Red Deer & District Chamber of Commerce is excited to announce the release of a series of Red Deer branded t-shirts and ball caps with two dollars from each hat and three dollars from each t-shirt going to support the Outreach Centre Adopt-A-Family program. For the month of December, the Chamber will also be matching these proceeds.
Last year the Chamber ran a design contest inviting entries from community members. Winners were then determined by an independent judging panel comprised of local artists. The Chamber then worked with a local apparel company to develop the clothing.
"There has always been an incredible amount of pride in our community and we regularly receive inquiries from groups looking for Red Deer branded clothing and accessories. The designs really embody the character and essence of our city and we're thrilled to give Red Deerians an opportunity to show their love in a stylish and comfortable way all while supporting a great cause." Reg Warkentin, Red Deer & District Chamber of Commerce.
"The proceeds from this imitative will go towards The Outreach Centre's Adopt-A-Family program. For over 20 years sponsors in the community and The Outreach Centre have shared the spirit of Christmas with families in Central Alberta by providing gifts under the tree, special treats and a holiday meal to share. This program provides assistance throughout the year to families when they are most in need. With a focus on the Christmas season, it focuses on single parent families who are struggling and require extra help to provide for their family." Myles Peake, Director of Fund Development, The Outreach Centre.
The Outreach Centre helps people address domestic violence, suicide, homelessness and overcome the effects of poverty through effective partnerships, education and programming.
The clothing is available in limited quantities and sizes at the Chamber office or through the website at www.reddeerchamber.com/store. You can also follow the Chamber on social media for a chance to win the apparel.
The Red Deer & District Chamber of Commerce is a non-partisan, collaborative leader in building a vibrant community and fosters an environment where businesses can lead, be innovative, sustainable, and grow.
The Lending Cupboard staff announces hours for the holiday season
Red Deer, Alberta – Dec. 3, 2021 – In order to make sure that clients can pick up any needed medical equipment prior to the Christmas season, staff at The Lending Cupboard would like to announce hours of operation for over the holidays.
"This year, we at The Lending Cupboard really feel that it's important to allow our staff to spend time with their families over the holiday season. Because of that, and because Christmas falls over a weekend, we've decided that we will be closed between Christmas and New Year's this year," said Dawna Morey, executive director.
"Because of that, we want residents to be prepared so that if they are going to have surgeries, they can come in and see us before we leave on the 24th of December at 2 p.m.," she said.
The Lending Cupboard will re-open for regular hours on Jan. 3rd.
Morey did emphasize that even with the holiday hours, there is no need for anyone to be concerned about accessing equipment in the event of an emergency.
"We all have emergencies in our lives, and in the case of emergencies people can still call us, and those calls will be monitored for emergencies only," she said, adding they can call the regular office number of 403-356-1678.
"In those cases, we will be here to provide equipment."
For inquiries, please feel free to reach out to us.
Dawna Morey – Executive Director
Phone: 403-356-1678 ext. 202
Email: [email protected]