Downtown Business Spotlight: Sacks Thrift Ave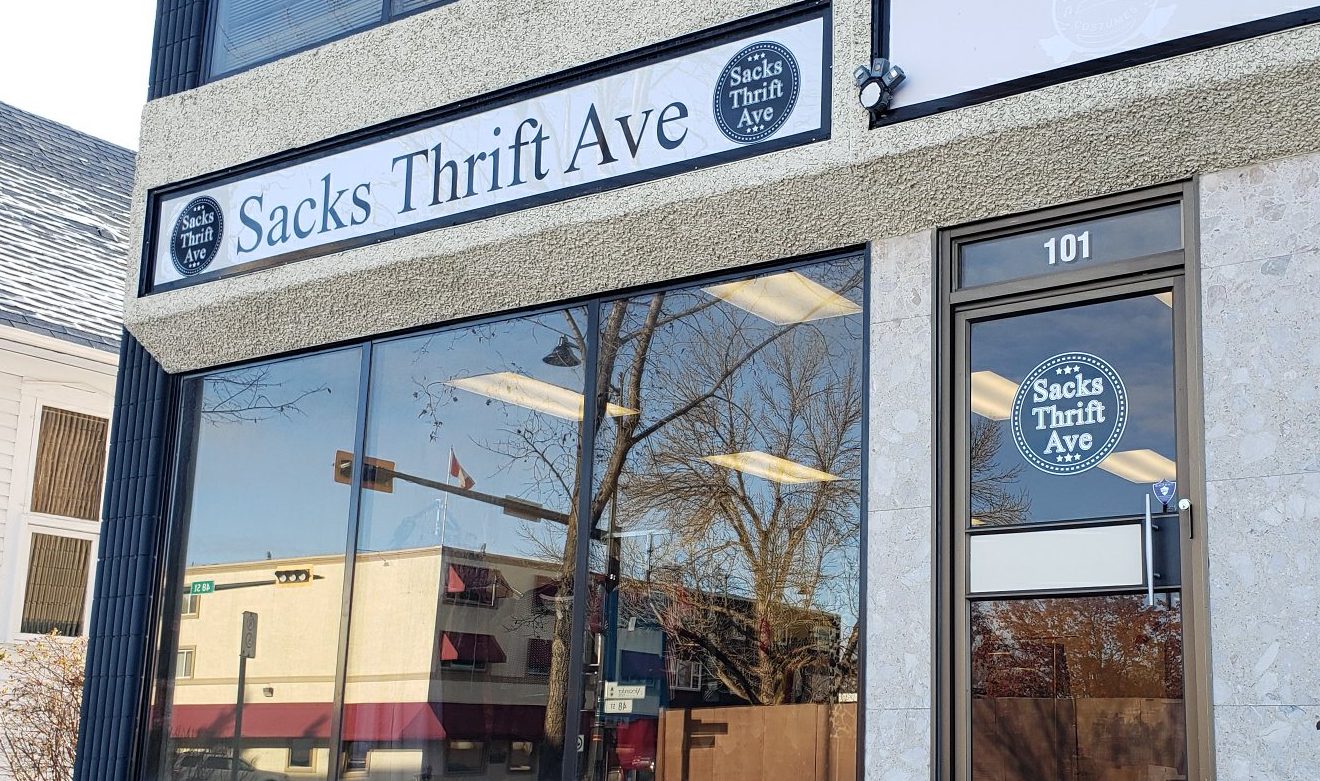 This week's Business Spotlight shines on Sacks Thrift Ave! This charity thrift store is located at #101 4805 48 Street. We spoke with Vincent to learn more about sustainable fashion and the Vinyl Record renaissance!
What is your business?
We're a vintage store that specializes in vinyl predominantly, but also clothing. But, it's probably best to start with the history of how this all started! I'm actually part of the ownership group of the building [Mid City Plaza]. Like a lot of Downtown buildings, we had a lot of vacancy. My past is in real estate, so I actually put together the group to invest in this building—but it hadn't been going well. When we lost Sagit Aries Costumes when she retired, the place was vacant for a while, and I decided to open a charitable thrift store here—because we do have Charities in the building—to support them and create a tenant for ourselves! We started off as a thrift store, with some mixed results. But, from the old Sound House that used to be located Downtown we got a whole bunch of left-over records, so we had this vinyl wall and we kind of found that was a big chunk of our sales. When we closed down for four months at the start of the pandemic, I went and sourced a whole bunch of records. And immediately, when we reopened, sales jumped up! People started coming in for curated records. That became a big push for the business and now that's our biggest seller here. We have the best, largest selection of Vinyl in Central Alberta. As we continued to succeed, we now support Central Alberta Brain Injury society as well as Canadian Mental Health, but we're hoping we can support more charities as we grow.
When did your business open?
It will be two years in October.
What makes your business unique?
Well, another thing I should bring up is, hopefully, in the next few weeks we will be opening our rage room! I think we have that all ironed out and should be opening that up shortly. When we were a thrift store, we got all this stuff donated that we never sold. You go ask any thrift store—they've got tons of stuff that they'll never sell. It's a pity that exists, but we're finding a purpose for it!
What are some products/services that you offer?
We still have some of the typical thrift up front, but in January we made the switch to a curated thrift and vintage. It's a big draw, especially to our younger clientele. They just recognize that this is more environmentally friendly. The clothing industry is the #2 polluter in the world and clothes are made so cheaply now that they just fall apart—versus the old stuff that is forty years old that stands the test of time. Young people just love this stuff because they know it's going to last.
So, there's band merch, patches, we do bring in some new band merch as well. And the records. There's so much investment in nostalgic things going on, like Pokémon cards. People want to invest in things they love, and you can't get that with MP3's and on-demand music apps. People aren't actively listening, whereas, with a record you are purposefully listening and experiencing an album. I've been doing my research and there is so much that gets lost from the music when it's on an MP3 or an app. Specifically, when they take a song and make it into an MP3 they are removing some of background music in order to make the file smaller.  Studies have shown that when listening to records there is a bigger dopamine release than when listening to MP3's. That's why people keep coming back to records; to hear the music how it was meant to be—it's such a massive dopamine hit!
Why did you choose Downtown Red Deer as the location for your business?
Well, I already owned in Downtown, but the truth is what we need is more people living Downtown, more business Downtown—it has to be a destination. The city, of course, has to encourage it to be a destination and then we all prosper. So basically, someone's got to do it!
What do you think makes Downtown vibrant?
I'm finally seeing progress! The mural campaign [Meet the Street] was great, we hoped to be a part of that, maybe next year. But seeing the Ross Street Patio, seeing the scooters, it just kind of encourages things. I'm not sure what exactly makes it vibrant right now—but it's starting. We couldn't have the festivals this year, there's so much we couldn't do and yet this is the first time in a long time I feel like we're turning a corner. There's so much more that can be done. It's just tough under these circumstances to say what makes it vibrant, any one specific thing. There's some really good things, and there appears to be good things coming.
I love Downtown Red Deer because… 
Well, I love it because it is turning the corner, at long last. Ross Street Patio, Little Gaetz—we've got these streets that are becoming that charming little thing that every Downtown needs, and now it's about expanding on it and making more spaces in the Downtown worth checking out and then having the programs, like live music, in other corners of the Downtown. That will come with time, and we hope to do some of that here once this is all done!
Check out Sacks Thrift Ave for band merch and great records! Follow them for updates:
Instagram: https://www.instagram.com/sacks_thriftaverd/
Facebook: https://www.facebook.com/sacksthriftaverd/
Check back next week for another business spotlight! If you would like to see your Downtown business spotlighted, please contact us at 403-340-8696 or [email protected].
Downtown Business Spotlight: Pizza 73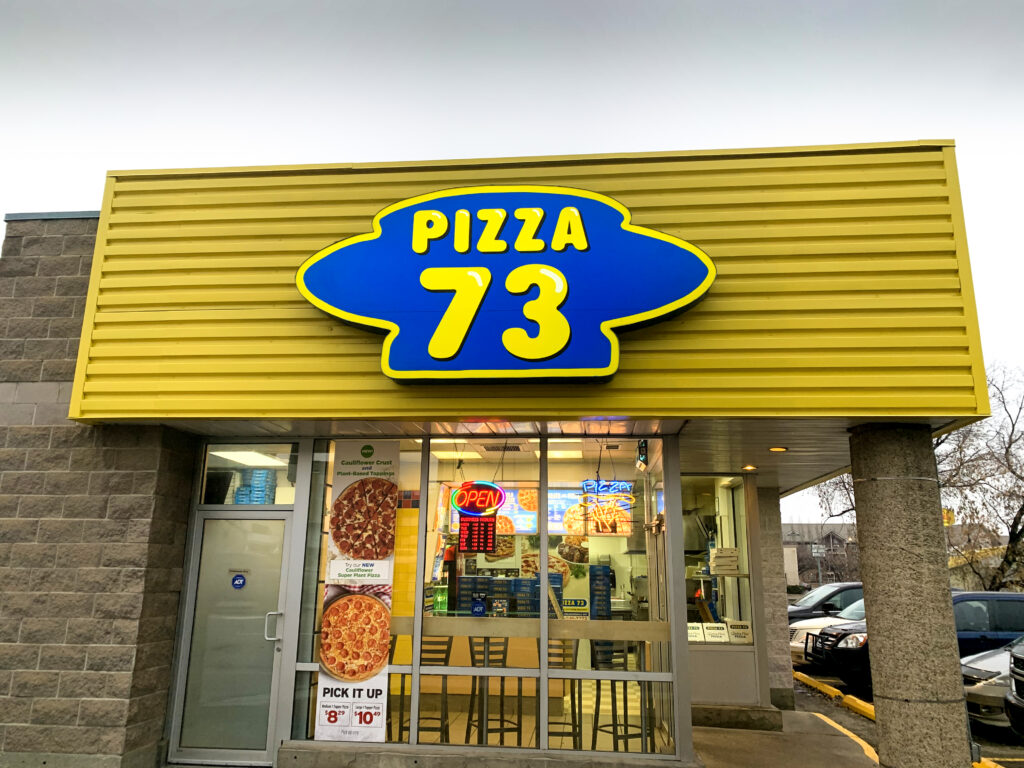 This week's Business Spotlight shines on Pizza 73! This Downtown restaurant is located at 4912 43 street.
What is your business?
Pizza 73.
When did your business open?
Pizza 73 Downtown opened over 30 years ago at the beginning of 1990. 
What makes your business unique?
Our customer service sets us apart from others. We know how important it is to provide a safe and clean environment, especially now, and great customer service for the incredible people of Red Deer. We want to ensure the most reliable and safe delivery of our quality pizza and more!  
What are some products/services that you offer?
We're most famous for our pizza and wings which have innovative flavours, and are high quality products made with the utmost safety and care. In addition we have great sides like our curly fries, or for those with a sweet tooth; check out our funnel cake sticks. We are also proud to offer an array of products for those with dietary restrictions including Gluten Free and Vegan. 
Why did you choose Downtown Red Deer as the location for your business?
When we joined the downtown in 1990, we wanted to be centrally located to make it easy for delivery to the people of Red Deer, but also in the center where we could connect with the fantastic businesses of downtown. 
What do you think makes Downtown vibrant?
Through this hard time, the innovations, the energy and the engagement of the local community and businesses have kept the Downtown vibrant this past year. It's been incredible to see how everyone has pulled together and worked hard to support local businesses. 
I love Downtown Red Deer because… 
In addition to having the best pizza place in town, it's the local business owners whose resilience is inspiring and the phenomenal people that support the community and the local businesses Downtown. 
Call Pizza 73 for your next pizza night! Follow them for updates:
Downtown Business Spotlight: Paris Aesthetic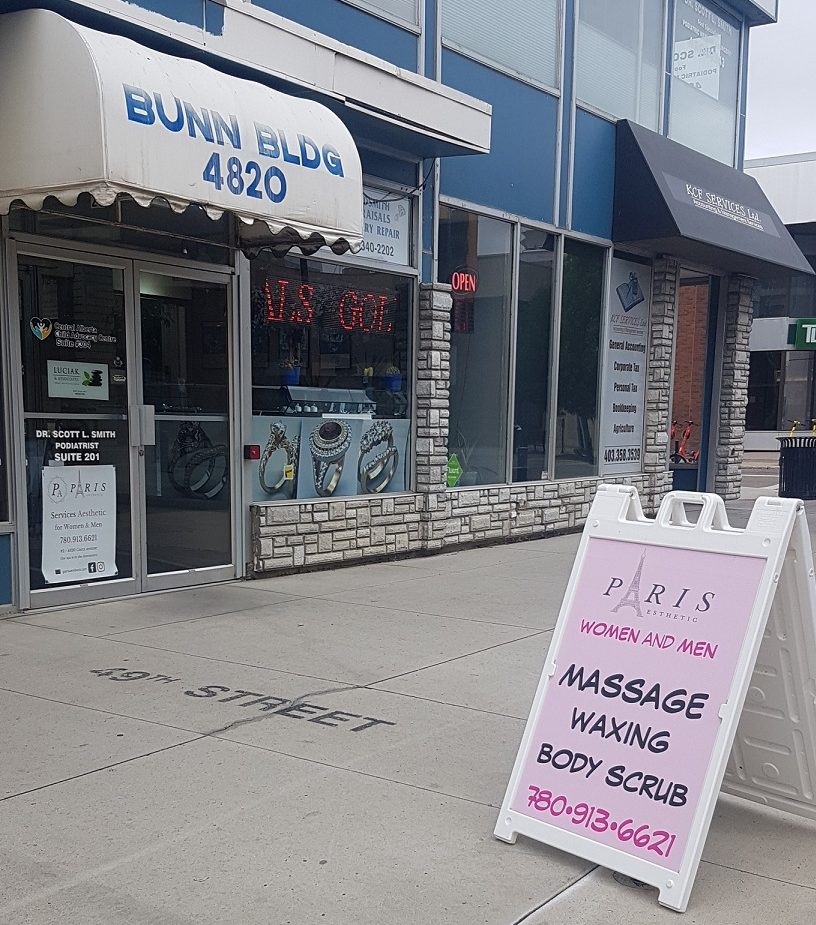 This week's Business Spotlight shines on Paris Aesthetic! This unique spa is located at #2, 4820 Gaetz Ave. We spoke with Nathalie and Charley to learn more!
What is your business?

Nathalie: My business [Paris Aesthetic] is a spa and I am a beautician.
When did your business open?
Nathalie: September 1st, 2020.
What makes your business unique?
Nathalie: We are a quiet, intimate and discreet space open to women but also to men. We actually see more men than women!
Charley: We should also add that Nathalie took all her training in France. That is something very unique about her!
What are some products/services that you offer?
Nathalie: Waxing, body-scrub, pedicure and massage therapy.
Charley: I am a fully registered massage therapist. I do lots of fire-cupping, and my disciplines are mostly deep-tissue massage and therapeutic, but I do relaxation and even Lomi Lomi, which is a Hawaiian relaxation massage. I direct bill for absolutely everybody I can find, and the price is the same for relaxation or therapeutic. Everything is included – if you want stones, if you want cups – and we're open every weekend till 9!
Why did you choose Downtown Red Deer as the location for your business?

Nathalie: The busy road attracts more customers.
What do you think makes Downtown vibrant?

Nathalie: The old, historic buildings, the decoration and the Patio on Ross Street.
Charley: Christmas time when they have everything out, the extra lights and street lights they put up, they're so pretty.
Finish this sentence: I love Downtown because…
Nathalie: …of the cafe's and night-life.
Visit Paris Aesthetic for you next spa day! Follow them for updates:
Facebook: https://www.facebook.com/parisaestheticreddeer
Website: https://parisaesthetic.net/