Danger Man: Putting A Target On Pierre Poilievre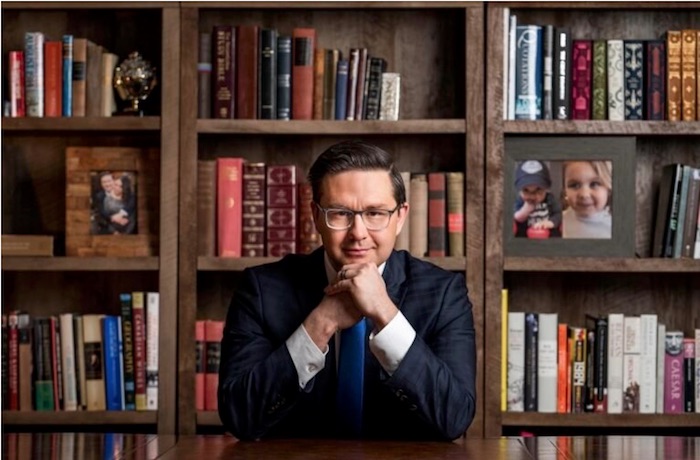 Sign up today for Not The Public Broadcaster newsletters. Hot takes/ cool slants on sports and current affairs. Have the latest columns delivered to your mail box. Tell your friends to join, too. Always provocative, always independent.
"If Pierre Poilievre was really serious about shaking up Ottawa, he could send a clear message by staying out of Stornoway," he said. "This is about living the high life and getting the taxpayer to pay for it."— NDP MP Charlie Angus in the Globe& Mail
It's been a tough couple of weeks for the Trudeau Media Party. First they watched in horror as their Elizabeth May pet project— known to its friends as the Green Party— collapsed in ignominy. Despite best attempts to escalate a Facebook page into a force worthy of inclusion in leaders' debates, the party president says the Greenies are a dead parrot.
Then, after a carefully curated campaign to portray Pierre Poilievre as the Nosferatu of the National Capital the Ottawa MP wiped out his rivals to win the leadership of the Conservative party of Canada. Despite dire warnings of a Northern Trump, Poilievre won a commanding 68 percent of the votes (330 out of 338 of the districts) sweeping every constituency but the Press Club on Parliament Hill.
To make it worse, when Poilievre ascended the podium for his acceptance, he delivered a speech he'd found in Erin O'Toole's desk drawer. Instead of "shutter the CBC" and "fire the governor of the Bank of Canada" it was all "people can't afford to live these days" and "Quebec can do whatever the hell it wants". Okay, he did put in a line about people wanting a government that could run a passport office. But that was about all the snark.
The CBC, CTV and Global panels, having prepared a Spanish Inquisition for Poilievre, were gobsmacked. "He seemed like a nice guy" was the stunned tone of the punditry. "Hope nobody noticed we blew this one" was another take. No worries, At Issue, no one outside the 613 has noticed you since Peter Mansbridge went off into Podcast Land.
Perhaps their only consolation is that Siri still cannot recognize Poilievre's name when prompted. So they still have that going for them.
But it's a phony peace. Already the Trump extremist comparisons are being levelled: "You don't have to squint too hard to see the parallels between former U.S. president Donald Trump and newly crowned Conservative Party of Canada Leader Pierre Poilievre, writes columnist @maxfawcett @NatObserver"
The Establishment knows why Poilievre got such a plurality and why young people in polling are favouring the Conservatives over the Fresh Prince of Rideau. The support for the nerdish guy reflects a population that sees the failure of institutions like Healthcare, the Bank of Canada and, yes, the passport office and has decided we have a crisis in management.
And the Family Compact can't have that. Too many people are in on the hustle. Too many cottages in the Outaouais, too many sinecures in the Senate, too many trust funds are riding on keeping a guy like Poilievre away from the free-lunch codes. That's why, within days, Global TV reporter David Akin was disrupting Poilievre's speech and the prime minister was pitching story lines for distribution to the purchased media.
While it should be an easy thing to make a non-person in a One Media state like Canada, Trudeau is still desperately trying to close the information loop. To keep his slappies cozy in the womb of Wokeness while placing Poilievre and the Conservatives beyond the Pale. To make PP a friend to the far right and semi-fascists. Said Trudeau of Poilievr. "Fighting against life-saving vaccines is not responsible leadership. Opposing the pandemic supports that saved jobs and helped families is not responsible leadership."
That means completing the taming of compliant media, business, arts and culture. Making conservatism a bad joke told at the Junos. Pursuing a climate policy that makes the government, not the market, the energy industry. Making Poilievre a strident pro-life advocate.
With as many as three years left till Trudeau must call an election— Jagmeet Singh, god willing— there is ample time to complete the de-personing of Poilievre and anyone who supports him. The Alberta Sovereignty cause will accelerate the movement to paint opponents as wild-eyed monsters unfit for civilized conversation.
If needs be, the PM can always resurrect the Emergency Measures Act to round up political foes. Having debased the standard his father established in 1970, Trudeau can easily paint Western radicals and Poilievre Trumpists as a threat to the state.
If you laugh at the notion of rounding up political enemies you haven't been paying attention to Joe Biden's putsch in the U.S. Aided by the Rob Reiners and Stephen Colberts he has closed his information loop for supporters. It is now possible to live within the bosom of Biden Land and consider any unbelievers to be "semi-fascist" enemies of the state. And have media endorse it wholeheartedly.
In the weeks since raiding the bedrooms of Baron and Melania Trump in search of the nuclear codes, Biden's FBI is now paying friendly visits on anyone who's expressed support for the former president, taking their cell phones and warning them of future recriminations. Not people involved in the 06/01 riot in Congress. No, people who have been ID'd online as having unpalatable opinions.
The concept of Biden using the FBI and DOJ to have his predecessor— and possible 2024 challenger— indicted before the November midterms is a distinct possibility. To those heavy breathing inside the information loop who've seen the failures of Russiagate, two impeachments, tax investigations and more all come up short, this is not an infringement of the First Amendment. It's proof they root for the good guys.
Trudeau is banking on the same sentiment as he looks to make Poilievre into the Ceaucescu of the Capital.
Bruce Dowbiggin @dowbboy is the editor of Not The Public Broadcaster (http://www.notthepublicbroadcaster.com). A two-time winner of the Gemini Award as Canada's top television sports broadcaster, he's a regular contributor to Sirius XM Canada Talks Ch. 167. Inexact Science: The Six Most Compelling Draft YearsIn NHL History, , his new book with his son Evan, was voted the eighth best professional hockey book of by bookauthority.org . His 2004 book Money Players was voted seventh best, and is available via http://brucedowbigginbooks.ca/book-personalaccount.aspx
Concussed: The NFL Needs Its Head Read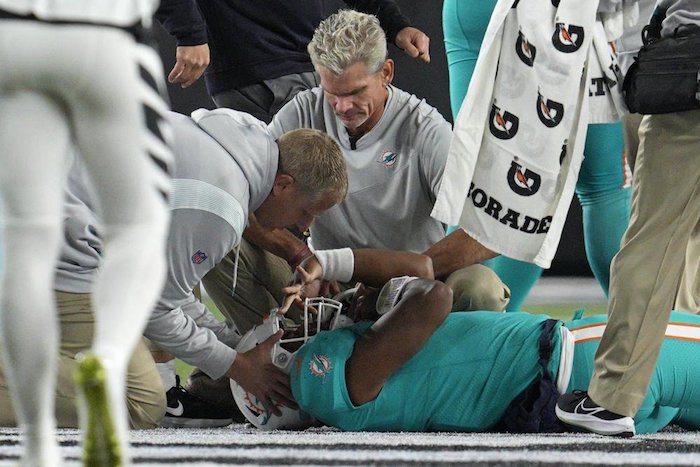 Sign up today for Not The Public Broadcaster newsletters. Hot takes/ cool slants on sports and current affairs. Have the latest columns delivered to your mail box. Tell your friends to join, too. Always provocative, always independent. https://share.hsforms.com/16edbhhC3TTKg6jAaRyP7rActsj5
In 2014 Tipping Point author Malcolm Gladwell commented that, within 25 years, the NFL might become a renegade sport outside the mainstream of culture. "We will go to a middle position where we will disclose the risks and essentially dare people to play …," Gladwell repeated in the recent film United State of Football "That's what the Army does. So we leave the Army for kids who have no other options, for whom the risks are acceptable.
"That's what football is going to become. It's going to become the Army. That's a very, very different situation. That's a ghettoized sport, not a mainstream American sport." Many derided Gladwell at the time, but events this past week have leant credence to his theory.
Perhaps it's the hangover from being lied to about The Science of Covid-19 by the mahatmas of healthcare. But if the NFL medics were hoping the public would give them the benefit of the doubt about their treatment of the gruesome Tua Tagovailoa head injury the past ten days they are sadly mistaken.
For a league that has pounded its chest about its attempts to lessen the danger from head hits, the farce that followed Tagovailoa's injury the past week is a cruel deception. Whatever the facts eventually reveal (the NFL says it's investigating) the PR failure of a system designed to protect employees is irreversible.
Former All Pro and now NBC broadcaster Rodney Harrison summed up the players' reaction to the Tua episode. ""Please take care of yourself. Don't depend on the NFL. Don't depend on anybody. If something's wrong with your head, report it." – @Rodney_Harrison
Tagovailoa exhibited concussion symptoms after hitting his head late in the first half of Miami's Week 3 game against Buffalo. He staggered and weaved before being helped off the field and into the dressing room. He was soon cleared by a team physician and an unaffiliated neurotrauma consultant to return in the second half as Miami beat the favoured Bills. Tagovailoa and the team later said his legs were wobbly because of a back injury.
Dolphins head coach Mike McDaniel said that he was comfortable with his team's processes regarding Tagovailoa's health and clearance to return to play so quickly. "He was evaluated and then cleared by several layers of medical professionals, who – I don't pretend to be one – but those people, the collection of them, cleared him of any head injury whatsoever. He had a back and ankle issue." The team said it was good with sending Tagovailoa to play in Cincinnati. again on Thursday, just four days later.
Bad idea. After the Dophins QB rolled out on a play, 340-pound Bengals defensive tackle Josh Tupou slammed Tagovailoa backward into the turf. In the classic sign of concussion, Tagovailoa's hands froze in an upright position while his fingers splayed awkwardly as he lay still on the ground. After a long delay he was taken away on a stretcher and sent to a local hospital. He was later released from the hospital and flew home with the Dolphins hours later.
The tsunami of outrage from media, fans and players quickly destroyed the NFL's cultivated narrative of a proper protocol. So a scapegoat had to found. Accordingly, the neuro-trauma consultant who let Tagovailoa back into the Bills game in Miami was fired by the NFLPA after it was discovered that the doctor has made 'several mistakes' in his evaluation.
Sure. You go with that. Baltimore head coach John Harbaugh— for one— was not buying., "I couldn't believe what I saw," Harbaugh said about Thursday night's re-injury. "I couldn't believe what I saw last Sunday. It was astonishing to see. I've been coaching for 40 years — college and the NFL — and I've never seen anything like it before."
Players present day and retired chimed in. Chris Long: "Now IF protocol wasn't followed & I'm a coach or executive who greenlit him playing 4 days after a head injury… I have no idea how you're focused on the game… shit is going to get real." Patriots star DB Adrian Phillips: "Dude should not have been playing tonight."
Shannon Sharp: "That's a serious injury . Tua shouldn't have been out there with Sunday Thursday turn around. Sometimes players need protecting from themselves. Dolphins failed Tua"
Ben Watson: "I know what I saw and Tua was concussed last week. The fact that he was able to return to play is everything that's wrong with the game so many of us love. A full investigation is forthcoming. Praying for this young man right now. This is awful to witness."
What even lay people now understand is that one brain injury makes a person more vulnerable to another injury— especially in a short period of time. Meaning the NFL needed to be extra diligent with Tagavailoa. They failed. Now no one can say when— or if— Tagavailoa will return to playing.
While attention is focussed on the NFL's shortcomings it needs to be pointed out that the NHL continues its own nonsense over brain injuries. Knowing what is known now the league still allows fit, powerful players to punch each other in the head over… no one is sure. If Don Cherry were still the measuring stick he'd say it's about honour.
NHL commissioner Gary "The Good Doctor" Bettman somehow can say that the link between punching a man in the head and brain trauma is still unproven. He seems unaware that protecting the NHL's sluggo past may make him popular with his owners, but sponsors and fans are no longer with him.
They are eventually going to follow Gladwell's advice and avoid a lucrative sport that employs only those who have nothing to lose.
Bruce Dowbiggin @dowbboy is the editor of Not The Public Broadcaster (http://www.notthepublicbroadcaster.com). A two-time winner of the Gemini Award as Canada's top television sports broadcaster, he's a regular contributor to Sirius XM Canada Talks Ch. 167. Inexact Science: The Six Most Compelling Draft YearsIn NHL History, , his new book with his son Evan, was voted the eighth best professional hockey book of by bookauthority.org . His 2004 book Money Players was voted seventh best, and is available via http://brucedowbigginbooks.ca/book-personalaccount.aspx
Green On Outside/ Red On Inside: The Great EV Leap Forward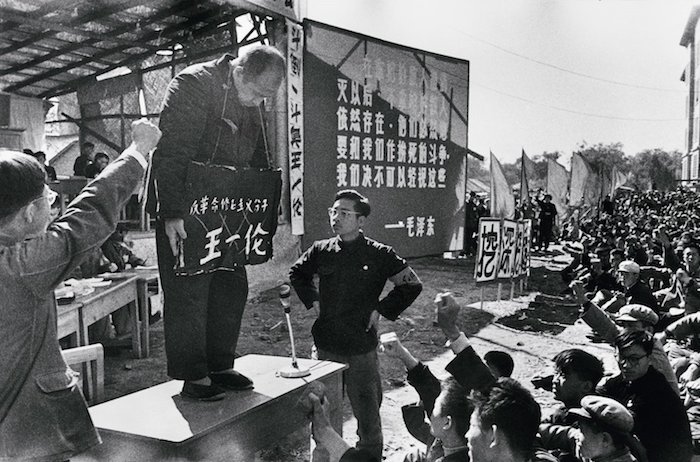 Sign up today for Not The Public Broadcaster newsletters. Hot takes/ cool slants on sports and current affairs. Have the latest columns delivered to your mail box. Tell your friends to join, too. Always provocative, always independent.
"We just did something about climate change for the first time in decades. That's why we have to win this as that hurricane bears down on Florida. We have to win in the midterms."— Minnesota Senator Army Klobuchar
A few years ago here at Usual Suspects we began posting black-and-white pictures of the Red Guard waving Mao's Little Red Book and show trials of capitalist roaders in the mid-60s. It was a jest at the Rob Reiner wing of the Left. The point being that, "Boy, won't these people look dumb in a few years when sanity prevails?"
Take a Great EV Leap Forward to the present day, and the Red Guard photos look less like satire and more like Amy Klobuchar on climate change. Organizations and people once regarded as sane have jumped the tiburon of fashionable narcissism. All the while calling everyone to their right the daughter of Mussolini (Italy's Meloni) follower of Hitler (Hungary's Urban) or a Trump disciple (Canada's Poilievre).
It's been astonishing to watch these liberals and their further-left friends like Reiner and Sarah Silverman still have no idea what happened in 2016. They think Trump led America astray. But #OrangeManBad never had a political philosophy. He just borrowed the issues from his base that mainstream GOP grandees ignored. That gave him the presidency. He followed them, not vice versa.
This seems too much for the Klobuchars to unpack. And so they have gone in search of issues that can be used to punish the 75 million or so who voted for the New York hotelier in 2020. Covid-19 served as a tasty entrée, but now it's a devolved into the disappointing dinner of boosters and bribery.
So the Klobuchar wing has revved up a Climate Change doctrine that promises no resolution for 50 years— but does offer a convenient cudgel with which to pound non-believers today. Proof of their conviction that we are entering a climate blast furnace always lies, in the words of Little Orphan Annie, only a day away.
Witness CNN's true believer Don Lemon's closed-minded haranguing an official from NOAA about Hurricane Ian. It must be climate change!!
NOAA Guy: "I don't think you can link to climate change to any one event …"
LEMON: "Listen, I grew up there. And these storms are intensifying…"
As Lemon shows, the chief media weapon to leveraging climate catastrophe "is surprise… surprise and fear… fear and surprise… Our two weapons are fear and surprise… and ruthless efficiency…. Our three weapons are fear, and surprise, and ruthless efficiency… and an almost fanatical devotion to Climate… ."
Or, as Komrade Klobuchar believes, if we can just drive electric cars the pending hurricane threatening Florida's Gold Coast will turn into a gentle off-shore breeze. There's not a moment to waste. Forget that Hurricane Ian is just South Florida's sixth major storm in the last 57 years versus 16 in the previous 50 years before that. Klobuchar knows best.
So the greens in government have harnessed the population to aggressive agendas. "The European Union is set to cut greenhouse-gas emissions by at least 55% by 2030, and the Biden administration promises to "achieve a 50-52 percent reduction from 2005 levels in economy-wide net greenhouse gas pollution in 2030."
In Canada, our plucky prime minister is not to be outdone. Canada's target is to cut emissions by 2030 to no more than 60 per cent of what they were in 2005. No more fossil-fuelled cars by 2035.
Of course the whole thing is a boat that won't float. Germany's green revolution is in tatters courtesy of Vladimir Putin and renewables that don't renew. Some have noticed. Louisiana congressman Clay Higgins summed up the fantasy fuel agenda when he quizzed Green zealot Raya Salter in a hearing.
"Everything you have, your clothes, your glasses, the car you got here on, your phone, the table you're sitting at, the chair, the carpet under your feet — everything you've got is petrochemical products. What would you do with that? Tell the world."
"If I had that power in the world — actually I don't need that power," Salter responded. "Because what I would do is ask you sir, from Louisiana, to search, to search… search your heart and ask your God what you are doing to the Black and poor people in Louisiana."
Higgins was then pummelled by professional scold Alexandra Occasio Cortez for embarrassing Salter. "Men who treat women like that in public, I fear how they treat them in private." How petro products might be replaced was never answered. That matters little to the Klobuchar Clan. If only we go faster then momentum will carry them over the threshold to a new age.
Which brings us back to why today's zealots want to imitate the China of the Red Guard. When Mao grew impatient with China's inability to become the world's leader in steel production in the late 1950s he mobilized The Great Leap Forward. China's resources would be totally diverted to making steel— even in the back yards of peasants.
The outcome? Writes Helen Raleigh in @WSJ: "The combination of lies, failed experiments, absence of labor and violent requisition practices led to famine. From 1959 through 1961, an estimated 30 million to 40 million Chinese people died from hunger." Mao then purged the leadership that had failed his pipe dream. More millions died. China retreated from the world.
It's worth noting that during those tragic times future Canadian PM Pierre Trudeau wandered China with his friend Jacques Hébert. He was given rare access in exchange for Potemkin approvals of Mao's genius. "The experience of that superb strategist Mao Tse-Tung," gushed Trudeau Sr. "might lead us to conclude that in a vast and heterogeneous country, the possibility of establishing socialist strongholds in certain regions is the very best thing."
Needless to say, the Trudeau apple hasn't fallen far from the tree on China or orchestrated disaster. Green power has no bigger booster than Justin. "One of the essential lessons from China's Great Leap Forward is that catastrophic failures inevitably follow from politicians' insistence on ignoring reason, logic, truth and economics," writes Raleigh. "Europe's current energy crisis, California's continuing power outages and Sri Lanka's food shortages are all warning signs."
Signs that Justin and Klobuchar have dismissed as conspiracies of right-wing nut cases.
Bruce Dowbiggin @dowbboy is the editor of Not The Public Broadcaster (http://www.notthepublicbroadcaster.com). A two-time winner of the Gemini Award as Canada's top television sports broadcaster, he's a regular contributor to Sirius XM Canada Talks Ch. 167. Inexact Science: The Six Most Compelling Draft YearsIn NHL History, , his new book with his son Evan, was voted the eighth best professional hockey book of by bookauthority.org . His 2004 book Money Players was voted seventh best, and is available via http://brucedowbigginbooks.ca/book-personalaccount.aspx