CTV: Thanks For Everything, Lisa. Not Really. Just Leave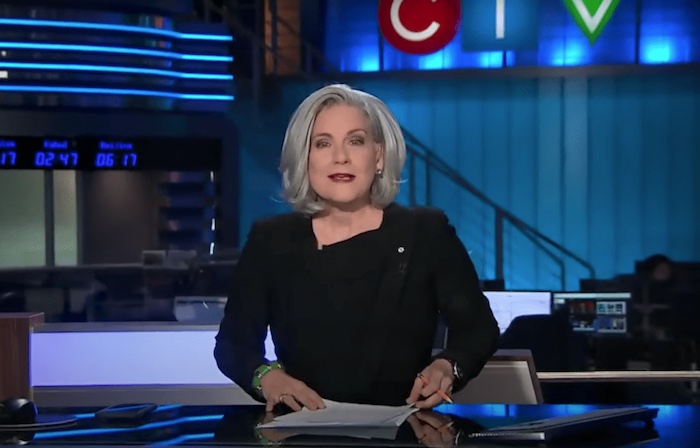 Sign up today for Not The Public Broadcaster newsletters. Hot takes/ cool slants on sports and current affairs. Have the latest columns delivered to your mail box. Tell your friends to join, too. Always provocative, always independent.
In 2015, actress Amy Schumer did a skit that lampooned women aging in Hollywood. In it Schumer comes upon Julia Louis-Dreyfus, Patricia Arquette and Tina Fey having a picnic in the woods. Schumer discovers that they're celebrating Louis-Deyfus' last day as a "f-able" actress in Hollywood.
It's that momentous occasion when Hollywood decides "you're not believably f–kable anymore," explains Louis-Dreyfus. "You know how Sally Field was Tom Hanks' love interest in Punchline, and then, like 20 minutes later, she was his mom in Forrest Gump?" Fey says. Signs of being "un-f-able" any longer are arriving on-set to find that your wardrobe is just a bunch of long sweaters. Or — the clincher — auditioning for Mrs. Claus.
Lisa LaFlamme knows that feeling. She got the long sweaters six weeks ago. The award-winning 58-year-old went from the top news reader at CTV News to "the woman who preceded Omar Sachedina" in about 20 minutes. Worse, the CTV heavy thinkers informed her to keep it under her hat for about six weeks.
No Lloyd Robertson adios. No Craig Oliver long goodbye. Just, don't let the studio door hit you on the way out. Nice. As double standards go this was a brutal.
Rumours abound as to why the CTV News chiefs and their Bell bosses made the move against the highly rated bingo caller. Likely they looked at demographics. Saw Lisa was boffo with Boomers, but Gen X and Millennials didn't know her from Sally Field. Then she let her hair go grey. Worse, she was an unrepentantly white birthing person.
Bell is headed more in the direction of black TSN sportscaster Kayla Grey, who turns to social media to confess she's "fearful" reporting stories about this week's World Men's Junior Hockey Championships. Kayla's worried doing her job objectively will bring her scorn . "I feel icky and gross," she laments, her heart breaking with each "he shoots, he scores" she's forced to utter. You can't make this stuff up.
So hellllo, Omar. Who may not be well known beyond family and friends, but at least he's not white, icky or gross. And so CTV went ESG to fix a problem they don't have. The Globe & Mail reported that "CTV National News ratings have fallen slightly this year on a month-over-month basis, from numbers consistently over one million viewers from January through March, to average minute audiences above 900,000 throughout April, and above 800,000 from May through early August." But they crush CBC.
Cruel firings are not unknown in broadcasting. Anyone in the business long enough has a horror story about a frog-march with the box of possessions at 9:30 A.M.— escorted by security. It was just thought that someone with LaFlamme's pedigree would at least get a consolation prize and a lunch. Guess not.
It was also believed that, being a good liberal woman, LaFlamme had also built up enough Woke credits to avoid the Paths of Glory ending. But as we wrote after the death of Ruth Bader Ginsburg in September of 2020, white liberal women are discovering that all their loyalty to Justin Trudeau and Hillary Clinton has only bought them a bitter cup of regret and dissatisfaction.
"How did this dissatisfaction occur? The second wave of feminists made common cause with the diversity left-wing, meaning victimhood first, last and always. So the movement went from the joys of bra-burning, sexual freedom and a hedonistic script to the tedious chore of finding oppression in every corner of their personal and professional lives. (See: Anita Hill)
They found disappointment in men's cavalier response to their new sexual liberation— epitomized by Donald Trump's "grab them by the pussy" and Bill Clinton's libertine hooks-ups. Available women found themselves disposable women in the free-for-all of sexual freedom. In changing the standard sexual permission from No to Yes, it told men that a woman now had to explain why she was not obliging when sex was in the offing.
Free abortion meant no lingering responsibility for men. If you believe Christine Blasey Ford, it left women broken 30 years later. As Erica Jong defined it— the zipless fuck.
Author Heather Mac Donald describes in her book The Diversity Delusion how women have now, in response, retreated from the hedonistic Sex In The City of the 1970s and 80s to Victorian standards for ceding sexual permission to men. "Liberated" feminists are now assigning men all the responsibility— and hence blame— for any sexual encounters gone wrong. "So get drunk, spend the night with a stranger, have a relationship end badly— none of it is the fault of the "modern" woman.," writes Mac Donald.
That abdication of women's responsibility, says author Camille Paglia, extends to the politics of the office. "What troubles me about the 'hostile workplace' category of sexual harassment policy is that women are being returned to their former status of delicate flowers who must be protected from assault by male lechers." writes Paglia. "Women infantilize themselves when they cede responsibility for sexual encounters to men or after-the-fact grievance committees".
Worse, having joined Team Victim, women have discovered that while they may gain equality with men, they have been placed miles behind other grievance groups in the Woke hit parade. While a women must, in Hillary Clinton's words, always be believed in any "he said/ she said", this blanket exemption does not apply when a white women is in conflict with many other political flavours of the day. In the wrong equation even devoted feminists can find themselves accused of white privilege or cultural appropriation.
And, if you're a conservative woman, you're placed at the back on virtually every pecking order in the political sphere. So, as Justice Ruth Bader Ginsburg's accomplishments are lionized it will be measured against the impact on women who've allowed the radical wing of feminism to make them more like Margaret Atwood's Handmaid's Tale than Helen Reddy's I Am Woman."
So far, 4.3 million people watched LaFlamme's online goodbye. Maybe that will bring her comfort— even if it doesn't bring back her job.
Bruce Dowbiggin @dowbboy is the editor of Not The Public Broadcaster (http://www.notthepublicbroadcaster.com). A two-time winner of the Gemini Award as Canada's top television sports broadcaster, he's a regular contributor to Sirius XM Canada Talks Ch. 167. Inexact Science: The Six Most Compelling Draft YearsIn NHL History, , his new book with his son Evan, was voted the eighth best professional hockey book of by bookauthority.org . His 2004 book Money Players was voted seventh best, and is available via http://brucedowbigginbooks.ca/book-personalaccount.aspx
Losing His Timing This Late In His Career: Send In The Clown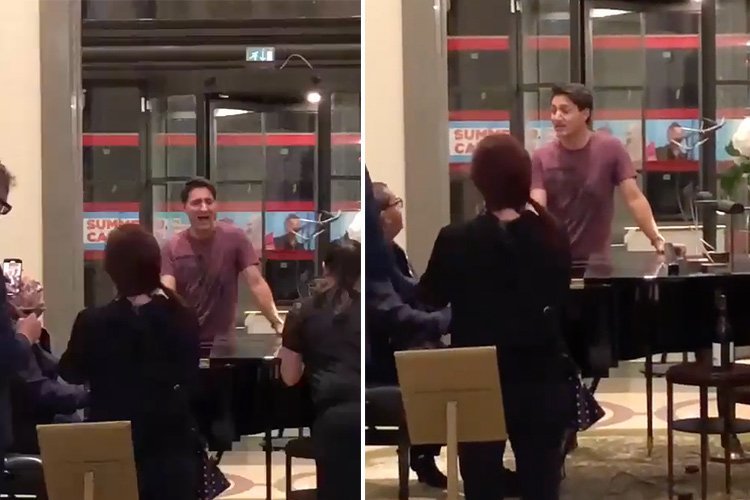 Sign up today for Not The Public Broadcaster newsletters. Hot takes/ cool slants on sports and current affairs. Have the latest columns delivered to your mail box. Tell your friends to join, too. Always provocative, always independent. https://share.hsforms.com/16edbhhC3TTKg6jAaRyP7rActsj5
"Although your baby/ May be/ Keen on a stage career/ How can I make it clear/ That this is not a good idea." Noel Coward
The latest theatre of the absurd from Canada's prime minister Justin Trudeau has received mixed reviews. For reasons best known to himself and his circle of advisors, Trudeau thought it might be a swell idea on the eve of Queen Elizabeth's funeral to go the lobby bar in his swank 5-star London hotel for some kick-ass karaoke and first-growth Bordeaux.
In keeping with his reputation as failed thespian Trudeau imagined that belting out Bohemian Rhapsody for an audience in the lobby bar would be a suitable tribute to the rock band Queen. And, by extension, Queen Elizabeth II who was, at that moment, about 40 hours from being entombed at Windsor Castle. Did he know he'd be filmed in this Canada's Got No Talent? Debatable.
The reaction was not. Many Canadians, to use Trudeau's own expression, did not experience it the same way as the PM and his jolly choristers. Disrespectful would probably be the best word to describe the leader of a Commonwealth nation making a prat of himself yet again in the performing arts. (Remind me, where was NZ PM Jacinta Ardern performing the same night? Did Jamaican PM Andrew Holness have a gig?)
If the urge of ululate was so strong, could he not have restricted his Freddy Mercury tribute to a private room, far from prying eyes? Did any of his advisors hint that, after his Bollywood and Ali Baba disasters, maybe going small might be a better tack? Or at least wait till after the solemn ceremony? So far, no one is talking.
But there were those supporting the erstwhile boy soprano. "@jake_naylor Yup, the Queen would have been real upset about the Prime Minister of Canada, who she called "extraordinary" to meet, playfully singing a song from a band — founded by Brian May, Commander of the Most Excellent Order of the British Empire — that played her Platinum Jubilee Party."
Others said that, in the spirit of a good old Irish wake, it should be all singing and dancing and reminiscing about meetings with Her Majesty and the Corgis on official business. After all, funerals are sad events. Why make them more sad? Raise your voice in praise of a life well lived.
Well, yes. And no. First, the insult was not to the dead Queen. It was to her grieving family. Second, there can be little doubt that the period of mourning, ended by the state funeral, was a throwback to an earlier time, say the 19th century, when the passing of a regent called for maximum dirge and decorum. To those, like us, captivated by the pomp and ceremony of mounted Life Guards, admirals in full garb and princes by the bushel, the funeral march to Windsor was evocative and splendid.
A suitable tribute to a woman who'd bridged the gap between the stoic Windsors (née Battenburgs) and the age of social media. If it's possible to have made that vast transition with dignity and purpose, Queen Elizabeth did. She withstood the righteous anger of the Irish, Africans and Asians who were trampled by her nation's Empire— and pacified much, but not all, the hate.
And so we saw the stricken faces of King Charles III and his subjects at their loss. Prince Andrew's shame at having not lived up to his mother's example as he romped with the execrable Jeffrey Epstein. Princess Anne, always passed over, yet more capable than her siblings, conducting herself with dignity. Meghan— enough said.
It was as heavy as it can get. So maybe, like the PM, those who advocate for a ceilidh have the right idea. Many put it in their wills that no sadness should be tolerated when they pass on. Prop Her Majesty up in the corner, then drink and dance till the dawn. Have a party. Why so sad?
Or maybe we are meant to mourn. That we need to mourn. Having seen the range of options with our own deceased parents and now our friends, grieving is a natural state. Joined with family and friends it girds us for what is to come in our own lives. Anglican minister Matt Kennedy offered on Twitter why it might be best to take this contemplative route.
"15h I've presided over funerals in which families, trying to honor the wishes of their departed loved ones, have wanted to bring in balloons, play rock and roll, tell wild stories about the deceased's youth…all in the effort to run from grief and mourning and solemnity.
But the human soul yearns to mourn in the face of death. It must be done. It cannot be avoided or suppressed. Death is the great enemy that divorces body from soul, the union we all know in the depths of our being that should never have been torn apart… No one needs to conjure up new words or songs or things to say. Words have been given to us, and acts, and ceremonies, and hymns that allow us to grieve and yet not as those who have no hope.
If you have been moved by the queen's funeral, that is because the queen in her wisdom loved her family and people well. She gave herself to the ancient ceremonies knowing these would be salve for the hearts of those who loved her and give glory and honor to her Lord."
Ironically, Justin came to prominence at his father's funeral, weeping openly beside Pierre's casket. His grief bonded him to many Canadians. Now, however, he's decided that warbling, "Galileo, Galileo" in a London bar is more suitable. His choice. But we liked the young Trudeau's decision better.
Bruce Dowbiggin @dowbboy is the editor of Not The Public Broadcaster (http://www.notthepublicbroadcaster.com). A two-time winner of the Gemini Award as Canada's top television sports broadcaster, he's a regular contributor to Sirius XM Canada Talks Ch. 167. Inexact Science: The Six Most Compelling Draft YearsIn NHL History, , his new book with his son Evan, was voted the eighth best professional hockey book of by bookauthority.org . His 2004 book Money Players was voted seventh best, and is available via http://brucedowbigginbooks.ca/book-personalaccount.aspx
Captain, My Captain: Lost In Translation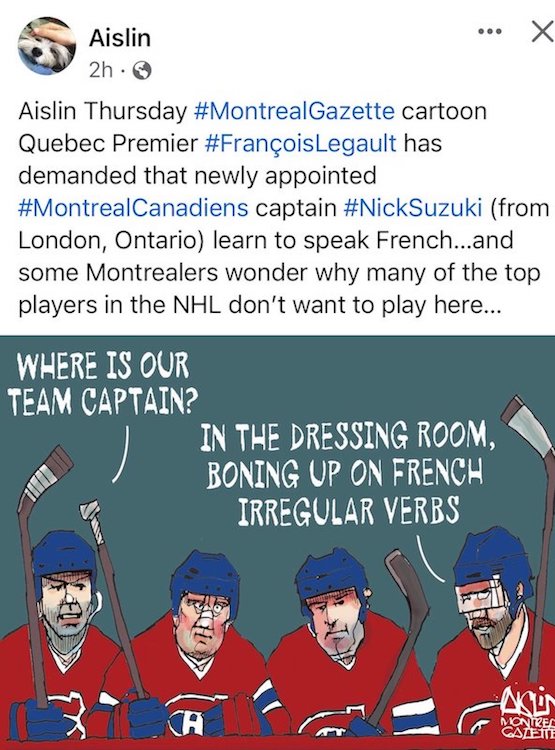 Sign up today for Not The Public Broadcaster newsletters. Hot takes/ cool slants on sports and current affairs. Have the latest columns delivered to your mail box. Tell your friends to join, too. Always provocative, always independent.
The Quebec government loves culture regulations the way the Kardashians love publicity. So Bill 69, the latest attempt to shelter the febrile French culture in the province, is heaven sent. (Oops, we used religious symbols.) The latest power grab—announced before the current provincial election— is Bill 96 which would essentially make French the only language needed to work in the province.
In essence, firms will have to show why their employees need to be able to speak English. This being Quebec, there will be a vast bureaucracy to monitor the law. Michel Leblanc, president and CEO of the Montreal Chamber of Commerce told CBC, "Are we heading toward a situation where, at any moment, a company will find itself in court because of the use of French or English [at work]?"
Alex Winnicki, co-owner of Satay Brothers, a Singaporean restaurant in Saint-Henri told CBC, "I can't believe that this is on anybody's priority list right now. To hire a French-speaking person in every job in Quebec, I think, is going to make our job market a lot less attractive for a lot of people."
But jobs have always been subordinate to the cultural struggle in modern Quebec. And, if we can judge by the economic prowess of the PM, few of the province's deep thinker spend much time on monetary policy either.
Any Anglos truly bothered by this sort of language enforcement left Quebec long ago for more tolerant language climes. The remainder now huddle in the vain hope that, for the first time since the 1970s, the tongue troopers will say, "That's enough." In other words, they're hoping for a pony for Xmas.
In the midst of this, the current premier of Quebec, François Legault, has resurrected another sacred Quebec aspiration. Legault had demanded that Nick Suzuki, the new captain of the Montreal Canadiens, learn French. Suzuki is from London, Ontario, so it's a two-fer for nationalists. You get to pander to your base while flailing a unilingual Ontarian for insensitivity in the same move. It's an old stunt to whip up the sovereigntists and make the captaincy of the Habs a poisoned chalice. (Oops, another religious allusion there.)
Previously this demand that Habs captains speak French was used to flail Finn Saku Koivu in 2007. Koivu had just waged a heroic battle against cancer while contributing to a paediatric unit at a children's hospital. No matter. Where was the French? Harassed by the nationalist press on why he didn't speak French, Koivu admitted "In an ideal world, I should also speak French. But I'm not perfect in that sense."
That wasn't enough, of course. It was pointed out that Bob Gainey, a star Canadiens player and then GM, had learned to speak French. Of course, he also let future VPOTUS Kamala Harris (then living in Montreal with her mother) babysit his kids, so no one is perfect. Koivu eventually cobbled together a few sentences en français which he delivered in a suitably penitential voice. Guess what? For a segment of the bleu/blanc/ rouge zealots it still wasn't enough. "Faire un effort! (Try harder!)"
Defenestrating Koivu was a particularly petty and noxious episode which underlined why many players— including French Canadians— want no part of the Quebec market. It's hard enough to survive the seven-month grind of an NHL season with its injuries and travel. But satisfying the never-ending cultural charade of Quebec is above any player's pay grade.
As Suzuki is about to discover. When the story of his unilingualism hit this week even some Anglos were lamenting, "Shouldn't he be able to talk to the fan base in their native tongue? Isn't it disrespectful to snub them?" It doesn't seem to have sunk in that the PR department of the Habs is already charged with communications in both languages.
Suzuki's job is to lead by scoring goals and preventing others from scoring. In most cities that's a huge responsibility. In Montreal's chattering class it's considered a sideline. The real Stanley Cup is nattering on in two languages to please the suits at UQAM or in Le Devoir.
As for Bill 69, it's the sort of red meat that used to energize people outside Quebec into protecting the sacred dream of bilingualism. In the past Justin Trudeau's Daddy believed that everyone should be served in his own language across the nation. Now? His son thinks Canada has dozens of languages and 32 pronouns. So he's not saying squat.
But the rest of Canadians are now officially bored with the 1990s language narratives that almost tore the nation apart. They see that, with the Family Compact running Canada, Quebec drives its own boat, and heaven help you if you want to ship your products through the province. Even firebrand Pierre Poilievre in his CPC acceptance speech signalled his unwillingness to confront Quebec.
Many, like a former bank vice-president— and Quebec native— we spoke to recently have morphed from defending unity to saying "let Quebec go its own way". They point to the absurdities of the equalization system— Quebec's hydro revenue is not counted under the system while the West's energy is— and shrug their shoulders. They seem to be staying "Let's make a deal to let them go".
If only it were that simple. But for those who can't fathom Danielle Smith's Alberta Sovereignty project currently being proposed (and reviled) in Eastern Canada, this might be a window into understanding why so many outside La Belle Province are no longer willing to bear the cross (oops, yet another religious symbol) of two peoples' alienation from each other.
Let Quebec play its interior culture games. Let the West have the Canada back that the Trudeaus père et fils have defiled. It could be a workable friendship.
Bruce Dowbiggin @dowbboy is the editor of Not The Public Broadcaster (http://www.notthepublicbroadcaster.com). A two-time winner of the Gemini Award as Canada's top television sports broadcaster, he's a regular contributor to Sirius XM Canada Talks Ch. 167. Inexact Science: The Six Most Compelling Draft YearsIn NHL History, , his new book with his son Evan, was voted the eighth best professional hockey book of by bookauthority.org . His 2004 book Money Players was voted seventh best, and is available via http://brucedowbigginbooks.ca/book-personalaccount.aspx