Construction of a new Interchange at Gaetz and Highway 2 is now underway
Red Deer's South entrance at Gaetz Avenue and Highway 2 is getting a complete makeover.   Alberta Transportation will spend roughly $80 million dollars, building a new overpass to improve safety, traffic flow and access to businesses in Gasoline Alley.  Construction is expected to last at least  two years.
Motorists will have to get used to ongoing traffic closures and detours.  Among them, drivers will be diverted to the Highway 2A (Taylor Drive) interchange via 19 Street in order to access Highway 2 southbound.  Temporary traffic signals will be installed at the Highway 2A (Taylor Drive) interchange ramp to provide access to Highway 2 southbound.  The former Gaetz Avenue overpass has been permanently closed.   Crews will construct a new Gaetz Avenue bridge which will meet with a newly aligned stretch of Highway 2.
During the month of October, traffic on Taylor Drive, under the existing Highway 2 bridges, will be reduced to one lane in each direction during off-peak times to allow workers access to the median. Two lanes will be maintained in each direction during peak times with minor delays expected.
Government officials say the new interchange will eventually accommodate increased traffic volumes on Highway 2 by providing for three lanes in each direction. The project will also include the removal of three bridge structures, construction of five new bridge structures, reconfiguration of ramps and intersections, realignment of Highway 2, expansion to six lanes between 32 Street and Mackenzie Drive, the construction of new collector-distributor roads and a new roundabout at the entrance to Gasoline Alley.
The interchange system is designed to separate high speed highway traffic from low speed local traffic. This will be accomplished with the construction of a new collector-distributor road system which will include a one-way road on each side of the highway that will run parallel to the QE2.
Access to businesses on both sides of Gasoline Alley during construction will be maintained via McKenzie Road and Lantern Street (from Highway 2). Once complete, a new collector-distributor road system (similar to a service road) will allow drivers to access Gasoline Alley via Gaetz Avenue, Taylor Drive and Highway 2.
As for pedestrians, there is currently no access to Gasoline Alley from the City of Red Deer but once the project is finished, there will be a path along Taylor Drive, under Highway 2. The connecting trail systems are under the jurisdiction of the City of Red Deer and Red Deer County.
Two animations have been produced to show how the new traffic corridors will look when they open in 2018.  The first shows how the new interchange will look for northbound traffic heading into Red Deer.  The second animation shows how the area will look for southbound traffic heading south toward Gasoline Alley.
Why some Infectious Disease experts say COVID-19 will soon be behind us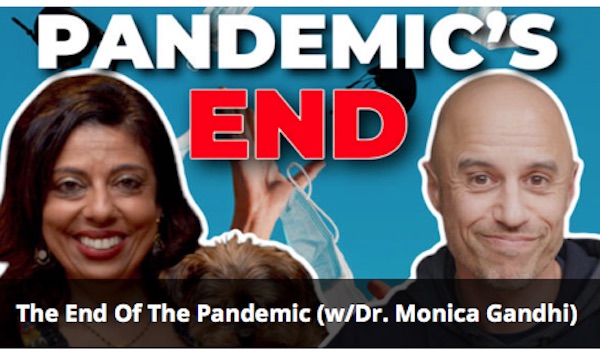 The common belief seems to be the COVID19 pandemic is going to be with us at least until the end of this year and possibly well into 2022.  But some infectious disease experts are making much more aggressive predictions.  In fact Dr. Monica Gandhi (bio below) is already beaming with joy over the data pouring in showing the vaccines spreading throughout the world are working incredibly well.  Enjoy this interview.  It will absolutely help you feel better about the state of our battle against COVID-19.
A UCSF (University of California, San Francisco) infectious disease doctor is convinced this pandemic is ending, and sooner than you think…here's why.
Dr. Monica Gandhi is a professor of medicine at UCSF and here are our other episodes together.
And here's her latest study in the Lancet.
An excerpt from the following video: "So we have tons of PhD epidemiologists who are painting gloom and doom pictures everywhere. Well, you know, first it was this. And then, you know, okay, now we have a vaccine but you know what, the variants are coming. So we're probably gonna have to wear seven masks and stay shut down. And by the way, don't even think about opening schools. Why are you thinking about opening schools? Oh, by the way it's your bad behavior that caused all this death, and so we're gonna shame you. And on top of that, it's never gonna get better. So expect 2023, before we get back to a semblance of what will be a new normal, which will be we'll all be in bubbles. So get those guys out of the picture and go with actual physicians who touch patients. What's your thinking right now? Where are we in this mess?
Dr. Gandhi:  We are just facing like complete dawn of hope and light and love. Like it's gonna be so great. It is getting so great. So what happened, right? Like March 11th was the day that the WHO declared this a worldwide pandemic. November 9th, we got the first press release from the first vaccine. Phase three clinical trial, that fast. And then we've had seven phase three clinical trials. So we have seven vaccines in circulation around the globe that work. And they work exactly using the same protein in different ways using that protein, and they work beautifully, and they all work beautifully against preventing what even made us notice on January 31st, 2019 or December 31st, 2019 that something terrible was happening, which is severe disease. They all work almost 100% to prevent… 100% for hospitalizations. And then like in the 90s to prevent you not even feeling well at home. So they're amazing."
The interviewer is Dr. Zubin Damania.   Trained at Stanford and the University of California, San Francisco, Dr. Damania is the founder of Turntable Health, an innovative primary care clinic and model for Health 3.0.  He produces videos and live shows under the pseudonym "ZDoggMD" which have collected nearly a billion views.
Click play to watch.
Toronto Raptors' game against Chicago postponed due to COVID-19 cases
NEW YORK — Tonight's Toronto Raptors game against Chicago has been postponed due to COVID-19 health and safety protocols.
A statement from the NBA says that because of positive test results and ongoing contract tracing, the Raptors don't have the league-required eight available players.
The Raptors were missing head coach Nick Nurse, five members of his staff and star forward Pascal Siakam for Friday's win over Houston.
This is the first game the Raptors have had rescheduled due to COVID-19.
They had mostly managed to avoid the global pandemic, as one of just four teams in the NBA who hadn't had a game postponed until now.
Due to Canada's border regulations around COVID-19, and health and safety measures in Toronto, the Raptors are playing their home games out of Amalie Arena in Tampa, Fla.
Assistant Sergio Scariolo coached Friday's 122-111 win over Houston  
This report by The Canadian Press was first published Feb. 28, 2021.
The Canadian Press