Conference inspires local Indigenous youth to become future leaders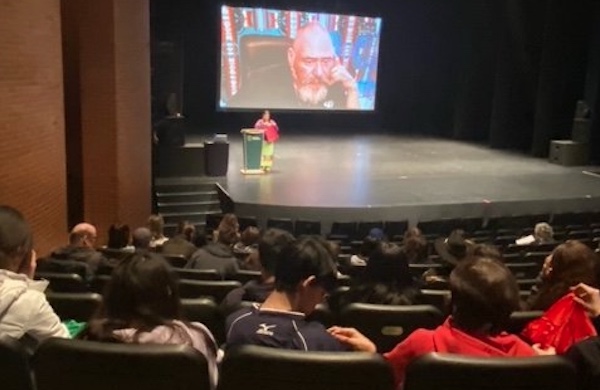 More than one hundred Indigenous youth from Red Deer Public Schools and Red Deer Catholic Regional Schools took part in a conference that allowed them to learn, connect, and be inspired by Indigenous leaders in their community.
The Inspiring Success Youth Conference, sponsored by We Matters, took place on May 10 at Red Deer Polytechnic.
Grade 8 students from across both school divisions had the opportunity to meet new friends who they will attend high school with, reconnect with peers in their current school, and build a deeper sense of strength, belonging, identity, and pride in their Indigenous heritage.
"We were very excited to bring this opportunity to Indigenous youth in Grade 8," said Hayley Christen, Learning Services Coordinator with Red Deer Public Schools. "It was an excellent opportunity for them to meet new friends and connect with other Indigenous youth in Central Alberta. We wanted the young people to know they are not alone and we also hope the connections they make today will carry forward when they go on to high school. This was a fun, engaging, and meaningful day for all the youth involved!"
Throughout the day, youth were able to participate in 10 different sessions that included topics on goal setting, student success, resilience, Reconciliation, and Indigenous games, along with the opportunity to hear the personal journeys of several Indigenous mentors and leaders.
"This conference has been a beautiful event for the students to witness firsthand the success of other Indigenous people in the local community and come together to connect with Indigenous Grade 8 students," said Selena Frizzley, Coordinator of Indigenous Education Services with Red Deer Catholic Regional Schools. "We had students attend from Rocky Mountain House, Olds, Innisfail and Red Deer. Students left feeling empowered and hopeful after gaining traditional teachings from Elders and Knowledge Keepers."
"We were thrilled to collaborate with Red Deer Public and Catholic School Divisions, in conjunction with several community groups, to host central Alberta Indigenous youth for Inspiring Success Youth Conference at Red Deer Polytechnic," said Kylie Thomas, Red Deer Polytechnic Vice President, Academic and Provost. "We are extremely proud of the leadership roles that RDP Indigenous learners, including keynote speaker Logan Beauchamp, and Polytechnic staff assumed throughout the planning and delivery of this impactful conference. The collective efforts from all partners has helped to inspire Indigenous youth both in and out of the classroom."
"This conference was a way to introduce Indigenous youth to positive role models from their own community. It was also a great way to introduce these youth to more aspects of our cultures, something that a lot of Indigenous youth feel disconnected from," said Logan Beauchamp, Ambassador of Hope with We Matters. "As well, we were able to highlight some resources and organizations that are doing great things in our community that these youth can access. Most importantly, this conference was hopefully able to help these youth create their own definition of success and help them envision and plan how they can get there"
Red Deer Polytechnic Athletics refreshes brand for 2022/2023 season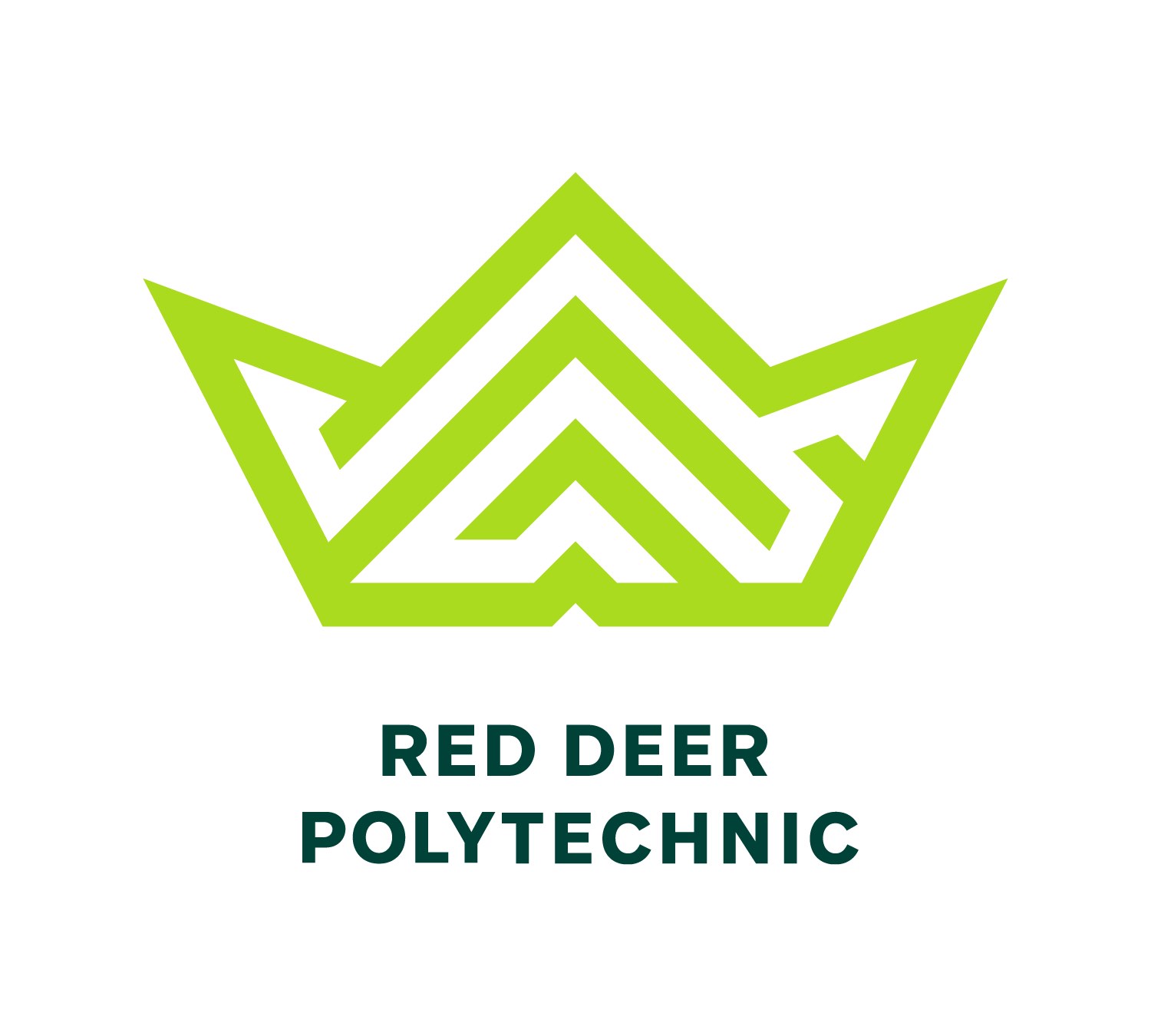 Updated logo honours the past and embraces the future
The Red Deer Polytechnic Kings and Queens will have a familiar, but modern look as they enter the 2022/2023 Alberta Colleges Athletic Conference (ACAC) season. Feedback from two virtual Red Deer Polytechnic Athletics Engagement Sessions, along with responses from a public online survey during Winter 2022 Term were used to help shape the creation of the updated logo, which remains a Crown.
"Our student-athletes, coaches, donors, sponsors, alumni, Athletics stakeholders, and central Albertans expressed their affinity for the Kings and Queens to continue wearing the Crown as a way of honouring the legacy of excellence within Red Deer Polytechnic Athletics," says Jim Brinkhurst, Interim President, Red Deer Polytechnic. "With a history of 25 national titles and 182 ACAC gold medals from individual student-athletes and teams, Red Deer Polytechnic Athletics has cemented itself as a premier program in the ACAC and across the nation, and the Crown has become an identifiable symbol of that success."
Over the years, the brands of the institution and Athletics have been updated, including different logos and colour schemes.
"The new Red Deer Polytechnic brand was unveiled on October 1, 2021, and this included a new logo," says Kristine Plastow, Dean of Students. "As a result of the changes, the brands of the Polytechnic and Red Deer Polytechnic Athletics were not aligned, so we engaged with stakeholders to better connect the two. With the bold and modern features of the updated Crown, along with the single green colour, the relationship between the two brands is now strongly correlated."
The refreshed Red Deer Polytechnic Athletics brand will be visible on campus and on new uniforms when the Kings and Queens compete in the 2022/2023 season.
"We are very excited for the 15 Red Deer Polytechnic Athletics teams to proudly showcase the modern visual identity this year, as they train, compete and volunteer in the community," says Randy Stewart, Manager, Athletics and Student Life. "The Kings and Queens will have a unique and recognizable look as they continually strive for excellence in all facets of being a student-athlete at Red Deer Polytechnic. We are very proud of our student-athletes, and we can't wait for the new season to begin in front of our donors, supporters, alumni, and fans in central Alberta."
Valedictorian Message from Gateway Christian School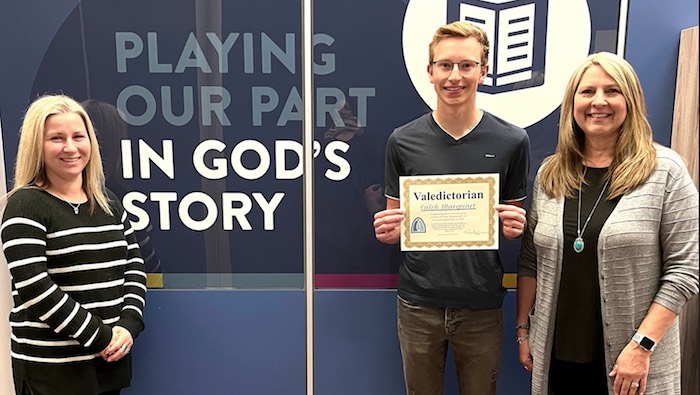 Gateway Valedictorian thankful for close knit school community
Having grown up in the Gateway Christian School community since Kindergarten, Caleb Marquart, has been named Valedictorian for the Class of 2022.
"It's an honour to be named Valedictorian," he said, adding the recognition is a testament to his hard work and dedication over his high school career. "It's always been a goal of mine to do the best that I can."
As Caleb looks back on his high school career, there are many moments he will remember.
"Some of the highlights for me were some of the events that we had at Gateway. When I was in Grade 9 we had Chill Fest and the Student Council planned a 12 hour event – that was the first real moment in high school when I realized the community at Gateway is very special," he said. "We also do worship together as a school, and we have an opportunity to collaborate with younger students through the Buddy Program, which is really cool."
He added the Buddy Program is a mentorship program within Gateway and includes students in older and younger grades being paired up and spending time together. This year, Grade 12 students were paired up with students in Grade 5. "Having that buddy experience and being able to connect and be a mentor for them is really great and definitely a highlight," he said. "Having a buddy gives you perspective of what it is like to go through school and just connect with them. It's not stressful and you can just share your experiences."
Something unique to Gateway high school students is that they attend Gateway for their core classes, and Lindsay Thurber Comprehensive High School for their options. They are fondly known as 'Gurber' students. For Caleb, this has been a great experience.
"I like the fact of being at a bigger school like Thurber because there are a lot of opportunities with options and sports," he said. "But then I also enjoy the smaller community that Gateway offers. It is a perfect balance."
As for his speech to his classmates on graduation day, Caleb said he plans to talk about the value of the community that Gateway offers. "Every person in my graduating class has really contributed to that experience," he said. "When you're in a bigger school there is a chance that you are graduating with people that you may not really know. I've had the opportunity to have a full conversation with every single one of my classmates. I want to highlight that relationship between us in the Gateway community."
This fall, Caleb will head to Red Deer Polytechnic in the Bachelor of Engineering program. He will eventually transfer to the University of Alberta.
Geannette Lehman, Principal at Gateway Christian School, said Caleb's honour is well deserved.
"Caleb is a caring and compassionate young man, who is well respected among his classmates and peers. He has a natural ability to make others feel accepted, and is conscientious to not leave others out," she said. "Caleb's diligent work ethic and humble demeanor make him a worthy recipient of the honour of being Gateway's 2022 Valedictorian! We are incredibly proud of Caleb and wish him all the best!"
Gateway will hold their graduation ceremonies on June 28 at New Life Fellowship Christian Reformed Church.