Community safety order bars Red Deer man for 5 years!
From Red Deer RCMP
Red Deer RCMP and SCAN partner to improve community safety
 Red Deer RCMP are tackling nuisance properties in Red Deer through a collaborative approach between the RCMP's Crime Reduction Team (CRT) and the Safer Communities and Neighbourhoods (SCAN) unit of the Alberta Sheriffs.
Recently, a problem property and its tenant were the focus of this joint initiative. On Jan. 14, 2021, CRT executed a search warrant at a property in the Grandview neighbourhood. During the search, RCMP located modified firearms, ammunition and drugs. As a result, the resident was charged on 14 counts.
The home had been the source of many complaints from neighbouring residents. Based on the outcome of the search warrant and evidence gathered during its own investigation, SCAN was able to procure a community safety order. Granted on Feb. 26, 2021, the order bars the occupant from accessing the property for five years.
"This exemplifies how our two entities work together to stop criminal activity and improve community safety," says Superintendent Gerald Grobmeier, Red Deer RCMP. "By working together to share information, we enforce the criminal code and SCAN enforces civil legislation. Ultimately, we achieve very positive outcomes for the neighbourhood."
"When criminals endanger the safety and well-being of law-abiding Albertans, we must use every tool at our disposal to put a stop to it. This case is a good example of how police and the Alberta Sheriffs can work together to stop criminal activity. Thank you to the SCAN unit and police investigators whose combined efforts will allow residents of this community to take back their neighbourhood and go about their daily lives without fear," says Kaycee Madu, Minister of Justice and Solicitor General.
The Red Deer RCMP will continue to work closely with SCAN to address other problem residences in the community, with an additional three nuisance properties currently on their radar.
As a result of the search warrant on Jan. 14, Adam Bogusky, 36, of Red Deer faces 14 charges, including:
Possession of a firearm (x7)
Possession of loaded firearm (x2)
Possession of a controlled substance (x2)
Weapons trafficking
Possession of a weapon
Ammunition related charge
Possession of Identify documents
Bogusky was released and is scheduled to appear in Red Deer Provincial Court on April 1, 2021.
Red Deer bike enthusiast finds his expensive rides on Kijiji, RCMP make arrest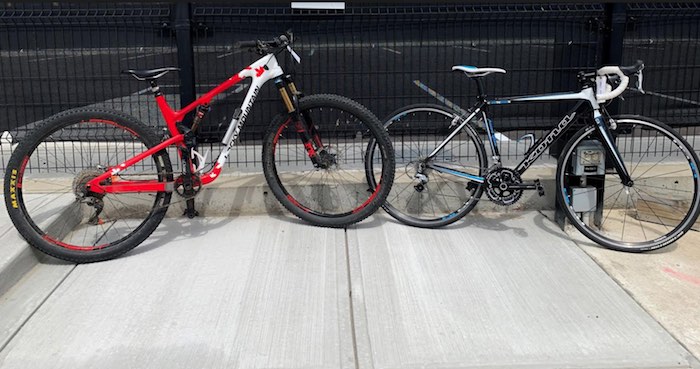 News release from Red Deer RCMP
Red Deer RCMP return stolen property to owner
Red Deer RCMP reunited an owner with their valuable property after a successful joint detachment effort to recover two stolen bicycles worth approximately $7,000 dollars.
On May 12, Red Deer RCMP were contacted by police at the Wainwright detachment regarding two bicycles posted on Kijiji for sale in the Red Deer area. The owner of the bicycles had been keeping a watchful eye out on classifieds websites for his property, when he discovered the ads and called his local police department.
The owner was able to provide police with a list of identifying marks to confirm their ownership of the bicycles in the ad. Red Deer RCMP conducted an investigation that led them to a residence in Oriole Park. At this residence, officers observed a man leaving with one of the bicycles. Officers intercepted and arrested the suspect. The second bike was later seized from the residence in Oriole Park.
The stolen property was returned to the owner, and the suspect, Brody Kaus, 31, of Red Deer was charged with Trafficking in Property Obtained by Crime over $5,000, as well as a charged with Operation of a Motor Vehicle while Prohibited. Kraus is scheduled to appear at Red Deer Provincial Court on June 29, 2021.
There are steps you can take to protect yourself and help police return a stolen bicycle. Record the make, model, and serial number of the bicycle, as well as take photos. Owners are also encouraged to register their bike at the 529 Garage online bike registry. Additionally, a coded, tamper-resistant shield decal can be purchased. To register a bicycle on 529 Garage, visit www.project529.com/reddeer
RCMP looking for suspect in weapons investigation after disturbance at Sylvan Lake Beach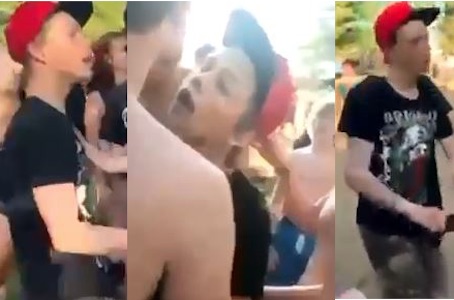 Sylvan Lake RCMP Investigate Weapons Offences
On June 2, 2021 at approximately 8 p.m., members of the Sylvan Lake RCMP detachment responded to numerous 911 calls regarding a large disturbance involving firearms and knives in the pier area of Sylvan Lake Beach
Approximately 200 people were in close proximity to the event, and the investigation has identified a smaller group and a person of interest.  Sylvan Lake RCMP are seeking the assistance of the public in identifying the subject of interest in the photographs.  The subject is described as follows:
Caucasian male
Slim build
Wearing red high top shoes with black laces,
Camouflage pants,
Red ball cap with flat brim
Black t-shirt with a masked skull logo.
Should you have any information regarding the subject of interest, please contact the Sylvan Lake RCMP Detachment directly at 403-858-7200 or via e-mail at [email protected] or CrimeStoppers at 1-800-222-TIPS (8477).