Colton Boushie's death was tragic and affected many families including Gerald Stanley's family.
Colton Boushie's life was taken from him on August 9, 2016 and at the same time Gerald Stanley's world was turned upside down.
I was not there and I do not know all the details. I do know that a group outing turned tragic and a family's life has been negatively affected permanently.
Colton Boushie's death may have been the result of poor policing, over protection of property, overreaction, fear, hysteria or frustration from increasing rural crime.
Gerald Stanley may have been fearful, over-protective and overwhelmed by the unexpected events, I do not know. I do know that he was found not guilty by a jury of his peers. I still want to believe that one is innocent until proven guilty.
The system may be flawed, but Gerald Stanley did not create the system. We did. Colton Boushie's death was unnecessary and the system may of let him down. It may have been in the courtroom, but I sense it let him down before August 9, 2016.
It may have been simply bravado, alcohol, stress, fear, a clash of cultures, events escalating out of control, to a tragic end but at least 2 families are suffering because of it.
Can we fix the system? No we can't. We will try and we will push the pendulum too far in the other direction and we will celebrate until reality kicks in.
Remember Women's Lib? I was around in the sixties and lived through women's rights issues very similar to what is happening in today's news. The racism issues flare up on regular basis and the populace takes note, complains gets promises, compromises and missteps. Then after a period of time, with another group in a different place it happens again.
We can't fix the system but we can adapt to the times of today but it will be broken again tomorrow.
Colton Boushie's death was unnecessary and he will be mourned and I hope we can find solutions to prevent it from happening to someone else.
Gerald Stanley, whether guilty or innocent of a crime, will continue to be punished in the court of public opinion and that too needs fixing. Can we fix it? No we can't.
The most rational of people can be irrational, caught up in the moment, go with the flow, be one with the crowd, then they feel remorse. We need to be rational now if we can find any way to fix this without going too far.
Can we be rational? I hope so.
Hockey Tolerance Is A Two-Way Street, Not A One-Way Road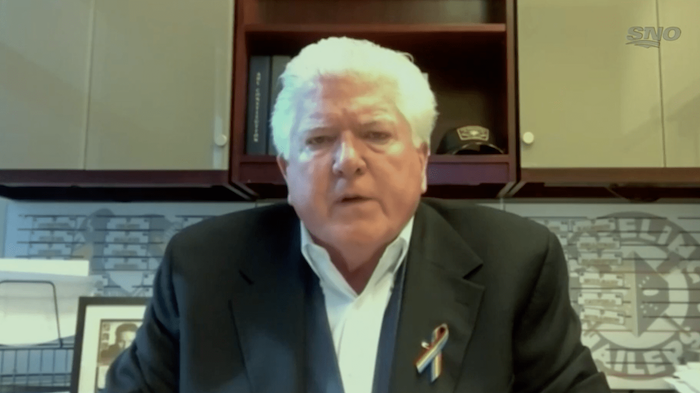 The problem with liberal tolerance in Canada is that it's not particularly liberal and it's certainly not tolerant. For instance, the "everyone must wear an LGBTQ-2 jersey" controversy we highlighted last week. The reverberations from goalie James Reimer declining to wear a San Jose Sharks rainbow jersey have continued all week.
It seems to have escaped many people's tolerance that refusing to march in a parade does not mean you hate the people in the parade. It is to say that you have a different opinion. One your employer can't compel you to abandon. An opinion guaranteed to you by generations of free speech and religious freedom.
It is why we have halal and kosher foods. Live and let live. But the hysteria is not stopping with Reimer. The radical blood hounds have tracked down new targets to mount on their gibbet of 100 percent conformity to Woke causes.
The latest NHLers caught up in this fundamental failure to communicate are the Staal brothers in Florida who followed Reimer's path to say that they haven't and won't wear symbols with which they disagree. Immediately the SJW sports media attacked them. When they said they wouldn't Pride jerseys it was shown by the gotchas ' that they had worn subtle LGBTQ jerseys in the past. As if this makes them hypocrites.
My friend Mark Hebscher asked if the NHL should suspend them. Really? What would Mark say if Edmonton's Zach Hyman, a Jew, declined to wear Muslim symbols on an Islamic Pride night? Would Mark demand Hyman be suspended?
What would he say if secular players in the league declined to wear the cross on their jersey for a Christian appreciation night? Should they be punished as haters? What if a pro sports team has a Mormon appreciation night. Does refusing to wear an LDS badge make people haters?
Of course these examples are moot. There are no progressive DEI laurels for creating political trip wires over Muslims or secularists to advance Woke influence. The only targets that matter here are conservative whites. Sports teams these days would only entertain the most provocative causes to create "a crisis that shouldn't go to waste" (in the words of Saul Alinsky in his Rules for Radicals).
So Brian Burke was imported by Rogers Hockey Night in Canada on Saturday to further whip the herd into 100-percent compliance on Pride jerseys— and to push Rogers corporate bonafides as a Woke organization. Burke has become a fervent LGBTQ-2 spokesman since his son Brendan came out (and was tragically killed in a car crash). Good on him as a parent.
But he's also a high-profile NHL figure, who was, in a major way, responsible for perpetuating the "boys-only" culture in the sport when he handled NHL discipline. He was his usual truculent self on HNIC as he conflated free speech with prejudice. He saw no room for tolerance on anything but the Pride agenda, insisting against all evidence that wearing the Pride jersey isn't a political statement. "I was born and raised a Catholic, I don't see any conflict between my religious beliefs and my ability to say to the LGBTQ+ community 'you're welcome here."
That's not what he's saying, but play along. Host Ron Maclean— with whom we have had our disagreements in the past— did his job, gamely asking why wasn't there a middle ground between hating and enforced 100 percent compliance to the cause? Burke shooed him away.
Naturally, radical social-media trolls pounced, asking for Maclean's scalp for doing his job. There can be no exceptions! Reason is not a long suit for these Maoist shills. They want to be in Pol Pot's Cambodia while their fellow citizens would prefer to remain in what used to be Canada before Justin Trudeau turned it into a postmodern state that stands for everything— and nothing.
The point that needs debate on HNIC is whether a few rich hockey players, who make so much money that they don't have to give a flip, are going to make the league more inclusive by wearing a Pride jersey for one night. Likely not.
As we've contended over decades, the key to acceptance of gays in hockey will be the coming-out of a prominent NHL star(s). They are out there. It wasn't high rhetoric from Brooklyn Dodgers GM Branch Rickey that changed the colour line in baseball. It was Jackie Robinson's forbearance. It wasn't slogans that slowly changed the skin colour of golf. It was Tiger Woods' utter dominance.
It was also the hyper-macho world that Brian Burke nurtured through the years before his son came out — not colourful jerseys— that has repressed gay participation in the NHL. The weeding-out of gay youth in the development process comes from the grass roots. (To his credit a penitent Burke now owns some of this.)
While it is commendable that Burke now supports his son's memory, flailing Christians for refusing to wear Pride jerseys is not the way to achieve understanding. Worshipping symbols is a divisive, not a unifying action that plays into the hands of forces Burke clearly does not acknowledge or understand. Radicals who use terms like white settler and cis-gender-entitlement to baffle the vulnerable. And who will discard him when he's no longer of use to them.
Those would be the people who applaud the current PM and his caucus for having equal numbers of women in their ranks— the same PM who fired his prominent female/ indigenous justice minister for insubordination when the RCMP dug too deep. And the same "feminist" women MPs who stood by silently as Trudeau publicly destroyed one of their own to save himself from RCMP scrutiny. Those are the cowards who back the destruction of free speech.
Churchill was prescient about appeasing today's virtue warriors when he long ago said that appeasers "are like people who feed the crocodile in hopes that the crocodile eats them last." Chomp.Chomp. Their day is coming.
Sign up today for Not The Public Broadcaster newsletters. Hot takes/ cool slants on sports and current affairs. Have the latest columns delivered to your mail box. Tell your friends to join, too. Always provocative, always independent. https://share.hsforms.com/16edbhhC3TTKg6jAaRyP7rActsj5
Bruce Dowbiggin @dowbboy is the editor of Not The Public Broadcaster A two-time winner of the Gemini Award as Canada's top television sports broadcaster, he's a regular contributor to Sirius XM Canada Talks Ch. 167. Inexact Science: The Six Most Compelling Draft Years In NHL History, his new book with his son Evan, was voted the seventh-best professional hockey book of all time by bookauthority.org . His 2004 book Money Players was voted sixth best on the same list, and is available via http://brucedowbigginbooks.ca/book-personalaccount.aspx
Pop Quiz: You Know You're A Woke Punchline When…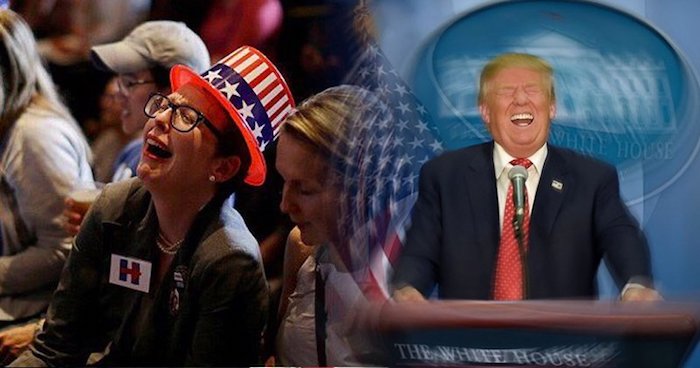 "Do unto others as you would have them do unto you." They can be powerful words to live by. Live-and-let-live has underpinned much of the Judeo/Christian tradition. It also informs many of the world's other religions. For secular people the sentiment works just as well.
If you want to be loved and respected then you must extend love and respect in equal measures to those of whom you're not all that fond. It is both a brake on hubris and an inspiration to our "better angels". While that balance has been observed more in the breach than in the commission at times, live-and-let-live nonetheless still provides a path to mutual co-existence.
There was a time when that balance guided society. Or, as they like to say, the Good Old Days. Now, the needle monitoring live-and-let-live swings like a Hillary Clinton polygraph. If you're with safe-space generation, no micro aggression is too small, no affront to LGBTQ-2 too slight to put off national calamity, no enemy too small to squash.
Woke causes replace empathy in the daily conversation. Why? Journalist Michael Shellenberger says apocalyptic behaviour "provides psychological comfort to secular Western people who have gradually abandoned traditional religions. For over a century, sociologists and psychologists have documented rising rates of depression and anxiety… Is it a coincidence that the people who said Western civilization was unsustainable are making it so?"
Not everyone has succumbed. How can you tell? In the spirit of comedian Jeff Foxworthy's "You might be as redneck if…" here is your guide to discovering if you have become a Woke punchline.
If you've forgiven Japan and Germany for the atrocities they inflicted on the world in the 1940s but you can't get past Sir John A. Macdonald putting the railway through the land of the Sioux, Blackfoot and Lakota… you might be a Woke punchline.
If you are concerned about world over-population but you're nagging your kids about when they will make you grandparents… you might be a Woke punchline.
If you're so sensitive about killing animals for food that you go extreme vegan but then attend a Pro-Choice rally in a T-shirt bragging about how many abortions you've had…you might be a Woke punchline.
If you're in favour of Trudeau's aggressive immigration policy but then your kids say they can't afford to buy a home in a large Canadian centre… you might be a Woke punchline.
If you try to convince friends at a dinner party that Trudeau's Carbon Tax really does fight global warming but your monthly hydro bill triples… you might be a Woke punchline.
If you think Trudeau family friends are the best people to investigate him ignoring CSIS warnings about China but you think Pierre Polievre is a little too cozy with the international forces of Qanon… you might be a Woke punchline.
If you believe Doug Ford is trying to dismantle free healthcare but then act indignant with the boys at beer-league hockey that you can't get your knee fixed for over two years… you might be a Woke punchline.
If you think Stephen Colbert is still funny, but think that Bill Maher is now sounding like a January 6 insurrectionist… you might be a Woke punchline.
If you think banning Muslim and Sikh symbols is racist but Quebec doing the same is their cultural right… you might be a Woke punchline.
If you think the B.C. government will cure drug addiction by giving addicts a cozy place to shoot up but you tell people at work that you can't go downtown anymore for all the junkies blocking the Starbucks entrance… you might be a Woke punchline.
If you firmly believe the prime minister is trying to keep a lid on inflation but you protest that Galen Weston is gouging you on food prices… you might be a Woke punchline.
If you donate to Save The Children but then buy a $350 pair of running shoes made by children in Asian sweatshops… … you might be a Woke punchline.
If you think career criminal George Floyd is a martyr but Egerton Ryerson is a genocidal racist… you might be a Woke punchline.
If you think today's academic standards aren't what they once were but then you go to school to berate the teacher for not communicating the curriculum properly to your indulged child… you might be a Woke punchline.
If you get to the bottom of this column without recognizing yourself in any of these contradictions… you might be a Woke punchline.
Sign up today for Not The Public Broadcaster newsletters. Hot takes/ cool slants on sports and current affairs. Have the latest columns delivered to your mail box. Tell your friends to join, too. Always provocative, always independent. https://share.hsforms.com/16edbhhC3TTKg6jAaRyP7rActsj5
Bruce Dowbiggin @dowbboy is the editor of Not The Public Broadcaster A two-time winner of the Gemini Award as Canada's top television sports broadcaster, he's a regular contributor to Sirius XM Canada Talks Ch. 167. Inexact Science: The Six Most Compelling Draft Years In NHL History, his new book with his son Evan, was voted the seventh-best professional hockey book of all time by bookauthority.org . His 2004 book Money Players was voted sixth best on the same list, and is available via http://brucedowbigginbooks.ca/book-personalaccount.aspx