City RCMP Detachment closed to public. City Hall restricted
From the City of Red Deer
Improving online and telephone customer service in support of social distancing recommendations
A shift to online and telephone customer service will take place with The City of Red Deer limiting public access to its facilities, such as Civic Yards, City Hall and Red Deer RCMP. This is being done in the effort to strengthen Alberta Health guidelines for social distancing.

While the risk to residents remains low, we are taking steps to protect staff and the public to prevent community spread.

"We encourage citizens to visit us online or call the Call Centre before coming to City Hall to do business," said Tara Shand, Public Information Officer. "While City Hall does remain open for critical business, we are limiting public access as a means to protect the health and safety of our employees, customers and citizens."

Effective tomorrow, The City's Civic Yards facility (located at 7721 40 Avenue) and City departments located within Professional Building, including Human Resources, Corporate Services and Community Services (located at 4808 50 Street) will close to the public. The City's Land and Economic Development office (located at 5000 51 Avenue) will also be closed to the public.

City Hall will remain open at this time, however, public access to City Hall will be limited to the main floor only. Residents are encouraged to do business with The City online or by phone as much as possible. Online services can be accessed online through www.reddeer.ca/mycity. Cemetery services, Waste Management Facility, and Sorenson Station Transit customer service remains open to the public. Transit continues to operate, with enhanced cleaning services, however dedicated school bus services are not running.

Also starting tomorrow, Wednesday, March 18, the following changes take effect at the downtown RCMP detachment:
The front counter at the downtown Red Deer RCMP detachment is closed to the public.
Red Deer RCMP is accepting all reports (vehicle collisions, information related to investigations as well as reports of crimes and suspicious activity) from the public through email or telephone.

To make a report to Red Deer RCMP call 403-343-5575 or email [email protected]. Non-emergency reports can be made between 8 a.m. until 10 p.m. seven days a week.
In an emergency, or to report a crime in progress, call 9-1-1.
When calling 9-1-1, tell the operator if you are experiencing cold or flu like symptoms.

Non-essential fingerprinting and criminal record checks are cancelled at this time.
Red Deer RCMP has also enhanced cleaning within its detachments and all staff are taking extra precautions to prevent the spread of COVID-19 through wearing protective equipment such as gloves and increasing use of hand sanitizer.
"The safety and security of the public has always and will continue to be the top priority for Red Deer RCMP, which is why we are increasing our online and telephone customer service options," said Gerald Grobmeier, Officer in Charge. "During these unprecedented times, we remain steadfast in our duty to serve and protect the citizens of Red Deer and are ready to respond to any potential situation while also continuing with high-quality around the clock policing services that citizens expect."
"Our community has banded together through these difficult and challenging times," said City Manager Allan Seabrooke. "We know the new additional restrictions announced today have significant impacts on our residents and their lives, and we thank everyone for their support of one another."
The City is also mobilizing around our response to vulnerable populations, housing and social needs. Today, the Province announced funding to flow through Family and Community Support Services as well as Community Based Organization.
We encourage all citizens to follow the recommendations of Alberta Health Services. For the latest information on COVID-19 visit alberta.ca/covid19 and the latest on how City services are impacted visit reddeer.ca/covid19. Please call the Call Centre, open 8 a.m. until 8 p.m. with questions at 403.342.8111.
Council boosting budget for Downtown Business Association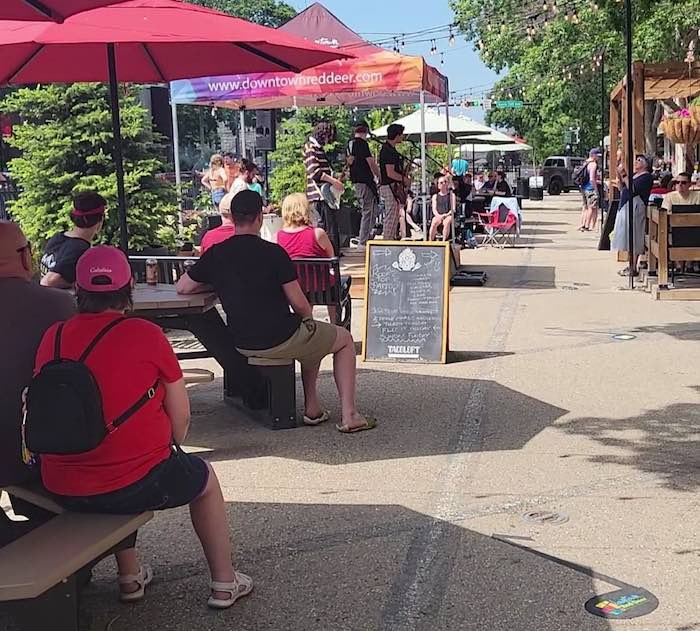 Council approves 2024 DBA budget, increased investment in events
The Downtown Business Association is investing more time, money and energy into downtown events following City Council approving its 2024 budget. During the presentation today, DBA Executive Director, Amanda Gould and Board Chair, Brandon Bouchard outlined the organization's plans for the upcoming year to continue to work towards creating a busier downtown that intends to result to increased support for businesses within the Business Improvement Area (BIA).

"The DBA remains steadfast in its objective to build on the growth seen in 2023. The collaboration between The City of Red and the DBA is at all time high and with the pending actions set to be delivered through the Downtown Activation Playbook, I know there are many great things to come that will support our business community and create the thriving downtown we all want to experience," said Amanda Gould, DBA Executive Director.

"Today Council demonstrated their commitment to their strategic priorities with the support shown to the DBA through unanimous support of the 2024 budget. This mighty Association continues to do great work on a shoestring budget and the 2024 Board of Directors are keen to lend their expertise and entrepreneurial skills to benefit the downtown in its entirety."
Brandon Bouchard, DBA Board Chair

The DBA's budget is partially funded through the BIA tax levy, which is collected by The City of Red Deer. Each year, the DBA presents its proposed budget to Council for their consideration. When reviewing the budget, Council considers alignment between the DBA's downtown priorities and City's community priorities.

"DBA has constantly hit far above its weight in our downtown, I can't think of a more supportive messenger of promotion than the team at the DBA, it's so encouraging to see this strong support for our downtown," said Mayor Ken Johnston. "I'm encouraged by the leadership and direction of the DBA and look forward to what they have in store for 2024. They continually bring positive initiatives to the downtown even with the constraint on finances."

The DBA's total approved budget for 2024 is $775,160, with $277,725 funded through the BIA with the remaining amount funded through items such as grants and contracts. The BIA portion for 2024 is an increase of five per cent from 2023.

The Downtown Business Association has been operating in Red Deer for more than 30 years, serving approximately 350 business owners in the Downtown area. Through partnerships and leadership in advocacy and promotion, the DBA is the catalyst for a vibrant and prosperous downtown that is the place to live, work, play and do business.
Annexation allows City of Red Deer to build new "Gasoline Alley" commercial district along QE2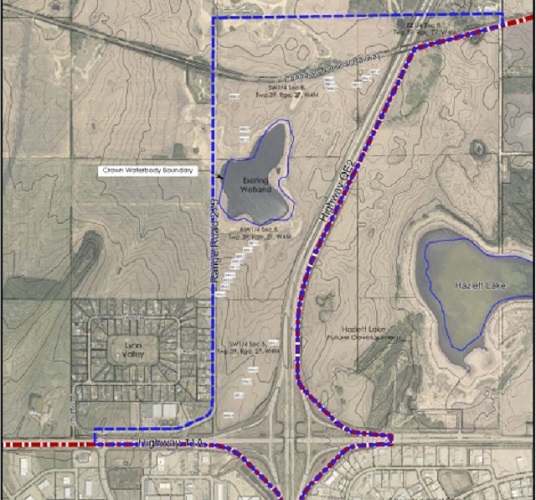 Annexation with Red Deer County approved
This week, The City received approval from Cabinet that the annexation for land north of the Queen's Industrial Business Park and west of Highway QEII from Red Deer County was approved."Our City Council is thrilled with the Government of Alberta's green light on this annexation. This pivotal move sets the stage for Red Deer's next 30 years, transforming our northwestern gateway. Leveraging Highway QEII for commercial expansion will redefine Red Deer's economic landscape. We extend our heartfelt appreciation to Red Deer County for their collaboration and to the local landowners for their invaluable contributions to these fruitful discussions," said Mayor Johnston.On June 22, 2021, Council gave direction to administration to prepare a Notice of Intent to Annex for this area of land. This annexation, encompassing approximately 216 hectares, addressed The City's deficiency in highway fronting commercial land. On February 14, 2022, Red Deer City Council passed a resolution endorsing a Notice of Intent to Annex, therefore supporting for the proposed annexation and directing administration to begin the formal annexation process.

Following that, the application was prepared for the annexation of approximately 216 hectares of land from Red Deer County. Based on landowner consultation, the proposed annexation area was altered from the Notice of Intent to Annex Land to include the entirety of one of the landowners' parcels.

Then in April of this year, the annexation was moved to the next step, when both Red Deer City Council and Red Deer County Council passed a resolution endorsing The City to submit an Annexation Application and Negotiations Report to the Land and Property Rights Tribunal. A Land and Property Rights Tribunal hearing was held on June 20, which allows the Tribunal to receive information and evidence from interested parties. After considering the submissions from all parties, the Tribunal made an annexation recommendation to the Minister of Municipal Affairs for the decision to be made.

Now that the annexation was successfully approved by the province, area structure plans will be prepared and adopted by bylaw, by Red Deer City Council. These annexed lands are intended to be developed as a regional commercial development along Highway 2, providing The City with a significant economic development opportunity.

"Securing this annexation approval has been a great success, thanks to all the collaborative partnerships involved. As we move forward, we're enthusiastic about the potential economic boost this annexation will bring, especially in addressing our shortage of commercial land along the highways," said David Girardin, Major Projects Planner.

Annexation is used by municipalities to realign jurisdictional boundaries to ensure a sufficient land supply for long-term development. The Intermunicipal Development Plan (IDP) between The City and Red Deer County provides guidance for all annexations.

To learn more information about this annexation are encouraged to visit www.reddeer.ca/annexation.