City of Red Deer will give you a free ride to ensure you vote!
From the City of Red Deer
Free transit on federal election day
To help improve accessibility for voters in the upcoming federal election, The City of Red Deer is offering free transit service on election day, Monday, October 21, 2019. The free ridership will be in effect for the conventional Red Deer Transit system for the entire service day, not just during polling hours.
"We want to help as many people get to the polls as possible," said Red Deer Transit Manager George Penny. "Thousands of people rely on Red Deer Transit every day to help them get around the city, and if we can eliminate one of the barriers that might keep someone from being able to vote, we want to do that."
The free transit program will be in effect on all fixed routes between 6:15 a.m. and 11:15 p.m on October 21. It does not apply to Bolt Regional Transit, 2A Regional Transit or Action Bus.
Red Deer Transit routes and schedules are available online at www.reddeer.ca/transit.
For information on polling locations and candidates, visit the Elections Canada website at www.elections.ca.
Red Deer is Canada's most active community. Celebrate with free activities at the Collicutt Centre!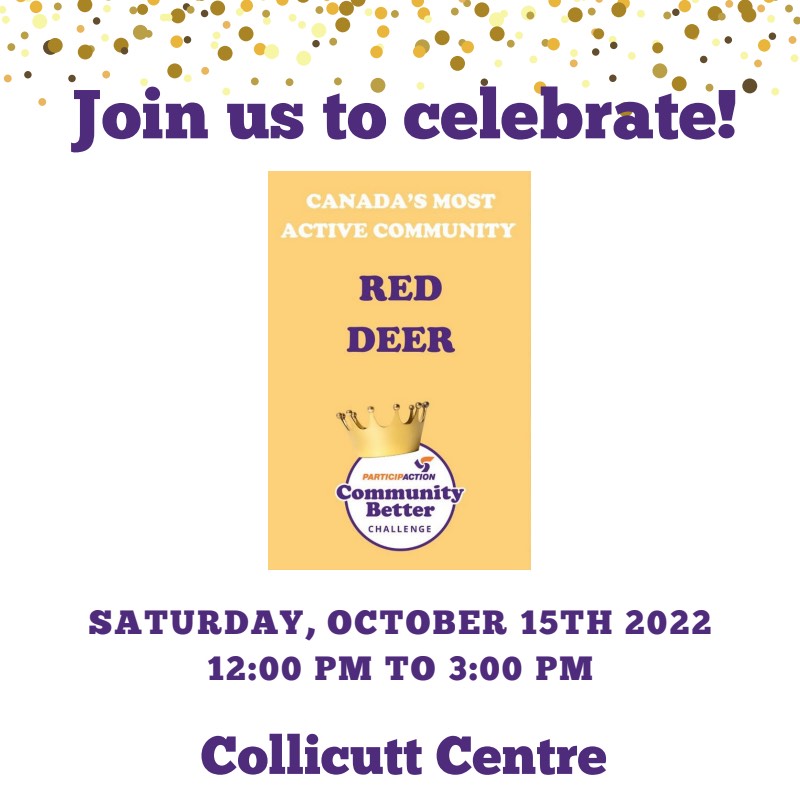 News release from the Red Deer Primary Care Network
Residents are invited to celebrate Red Deer winning the Community Better ParticipACTION Challenge and the title of the "Most Active Community" in Canada.
October 15, 2022, Collicutt Centre
In June, Red Deer Residents participated in the ParticipACTION Community Better Challenge.
This challenge saw our citizens and community organizations tracking over 19 million minutes of physical activity. We had over 700 community members and 35 community organizations showing a total of 153,010 people participating in organized community events and tracking their activity on the ParticipACTION app or website.
This support by our community helped Red Deer WIN the title of Canada's Most Active Community. Along with the title we received the $100,000 grand prize to be put back into our community to stay active and healthy.
As recognition and to thank everyone for their efforts and celebrate this victory, we welcome all Red Deer citizens to join us at that the Collicutt Centre on October 15th, 2022, from 12:00- 3:00pm.
There will be a warm welcome address by Mayor Johnston between 12:00-12:15pm followed by FREE Swimming, Skating and activities in the Field House for everyone to participate in. There will also be the opportunity to connect with community organizations showcasing their services on mainstreet in the Collicutt.
City still working out details of homeless shelter site with Province of Alberta
City and Province of Alberta continue discussion about potential site for future shelter in Red Deer
A future shelter site for Red Deer continues to be a priority for the Province of Alberta and City of Red Deer following a meeting between Mayor Johnston, members of City Council and Provincial Ministers in Calgary on Tuesday.

While The City had hoped to be in a position to release its recommended site today, further considerations pertaining to the recommended site are being jointly explored by the Province and City to ensure its suitability prior to publicly disclosing any information about a potential site.

"We know our community has been patiently waiting for us to identify the potential future shelter site in our city; this is a big decision, and we must ensure that we are making the best decision possible for our community – and that we are making that decision in good faith and partnership with our provincial colleagues," said Mayor Johnston. "We are continuing to move forward with our provincial partners, and we want to have a decision for our community very soon."

The narrowing of potential sites comes on the heels of an extensive site selection process that initially included 96 sites. The selection process also involved intensive public participation with more than 820 participants engaging with The City about the project. These participants included residents, businesses, social agencies, and people with lived or living experience of homelessness.

"I am proud to be working closely with the City of Red Deer to ensure that we are aligned on a shelter model and location that is best for Red Deer. We will continue to work closely together in collaboration to improve the support we offer homeless people in Red Deer and make the community safer as a whole," said Jason Luan, Minister of Community and Social Services

"Alberta's government remains committed to providing $7 million in capital funding to support the Red Deer integrated emergency shelter. We will continue to plan and work with community partners and the city to address the need for a larger, more functional space to meet demand. Our shared objective is to ensure Red Deer residents in need have access to a safe, accessible overnight shelter," said Josephine Pon, Minister of Seniors and Housing

"Selecting the right site for Red Deer requires pragmatic innovation that meets our joint vision for an integrated shelter in our community, and we will continue to work alongside the province, social support agencies and citizens throughout the entire process to re-envision the future shelter as a place that provides the support our vulnerable population requires on their journey to being housed," said Johnston.

During a closed meeting on September 12, 2022, Red Deer City Council selected a potential site for the future shelter; upon presenting the site to the province as part of the site selection process, it was identified that further analysis is needed prior to public disclosure of the site.

As more information is publicly available, it will be shared through The City's website at www.reddeer.ca/shelter.