City of Red Deer loosens voting restrictions for October municipal election due to covid
News release from the City of Red Deer
Vote Anywhere in the 2021 Election
Red Deer voters will be able to vote at any station across the City, both during Advanced Vote days and on Election Day in the 2021 Election.

The City of Red Deer is making changes to its election format in 2021 to increase accessibility and convenience for voters, and to ensure voting stations are safe for voters, staff and the general public, regardless of the state of the pandemic.

At the election, Red Deer voters will vote for one Mayor, eight Councillors, and either Public or Catholic School Trustees. Rather than dedicated neighbourhood voting stations, voters will be able to vote at any one of eight voting stations on Election Day, or one of three voting stations on any one of thirteen Advanced Vote days.

"Our Election planning typically starts about 18 months ahead of the Election, and at that time we were in the midst of the pandemic," said Returning Officer Samantha Rodwell. "Recognizing the changing public health restrictions and the need to ensure space for physical distancing, we knew our traditional voting stations in smaller centres would not be feasible."

Advanced Voting will be open for 13 days from October 4 to 16. On those days, voters can attend any one of three voting stations from 10 a.m. to 8 p.m.:
Parkland Mall: 6359 50 Avenue
Baymont by Wyndham Red Deer: 4311 49 Avenue
Westerner Park: 4847A 19 Street
In addition, voters can choose to attend any one of eight voting stations open from 10 a.m. to 8 p.m. on Election Day, October 18:
Northside Community Centre (YMCA): 6391 76 Street
Radisson Hotel Red Deer: 6500 67 Street
Parkland Mall: 6359 50 Avenue
Joseph High School: 110, 2700 67 Street
Baymont by Wyndham Red Deer: 4311 49 Avenue
Cambridge Red Deer Hotel & Conference Centre: 3310 50 Avenue
Collicutt Centre: 3031 30 Avenue
Westerner Park: 4847A 19 Street
"Voters will have 39 opportunities to participate in the Advanced Vote and eight opportunities to vote on Election Day," said Rodwell. "With voting stations being held at larger centres, and the increased number of opportunities, we are not only confident voters and staff will feel safe and secure, but we are also hopeful we will see an increase in voter turnout."
Enhanced public safety measures will be in place to ensure safety of voters and staff: voting stations will have dedicated entrances and exits, enhanced cleaning and sanitization procedures will be in place, and stations will be laid out to allow for proper physical distancing. Any potential masking requirements will be determined based upon public health guidelines and local bylaws in place at the time of the Election.
"In addition to allowing voters to vote at any station, we're also providing more information to voters so they can make an informed decision," said Rodwell. "Enhanced candidate profiles are already available on our website, offering more information about candidates, their priorities, and links to their personal platforms. Come Advanced Vote and Election days, we will also have a map with real-time updates about wait times at voting stations so voters can decide which station will work best for them."
Nominations opened on January 1 and, as of June 15, 23 candidates have submitted their nomination papers for positions of Mayor, Councillor or School Board Trustee. The City will continue to accept nomination forms until September 20, 2021 at 12:00 noon.
Both the City of Red Deer and the City of Lethbridge are amending their election operations in 2021 to allow eligible voters to select their voting station and allow for enhanced safety measures during the pandemic.
Information about Red Deer's 2021 Election, including a voting station map, a list of current candidates and their submitted profiles, is available online at elections.reddeer.ca.
For more information, please contact:
Corporate Communications
The City of Red Deer
Red Deer is Canada's most active community. Celebrate with free activities at the Collicutt Centre!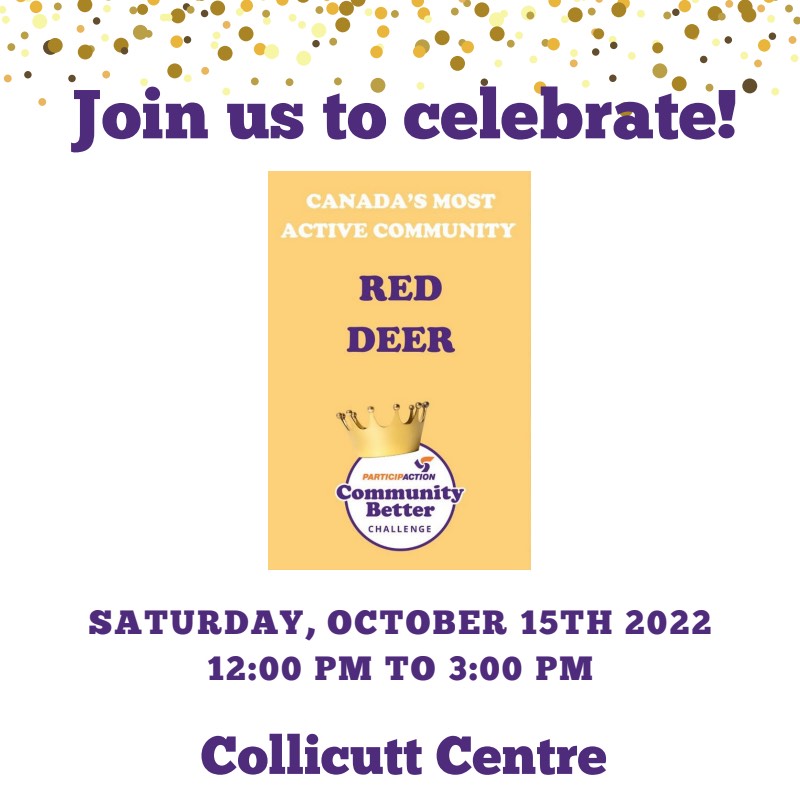 News release from the Red Deer Primary Care Network
Residents are invited to celebrate Red Deer winning the Community Better ParticipACTION Challenge and the title of the "Most Active Community" in Canada.
October 15, 2022, Collicutt Centre
In June, Red Deer Residents participated in the ParticipACTION Community Better Challenge.
This challenge saw our citizens and community organizations tracking over 19 million minutes of physical activity. We had over 700 community members and 35 community organizations showing a total of 153,010 people participating in organized community events and tracking their activity on the ParticipACTION app or website.
This support by our community helped Red Deer WIN the title of Canada's Most Active Community. Along with the title we received the $100,000 grand prize to be put back into our community to stay active and healthy.
As recognition and to thank everyone for their efforts and celebrate this victory, we welcome all Red Deer citizens to join us at that the Collicutt Centre on October 15th, 2022, from 12:00- 3:00pm.
There will be a warm welcome address by Mayor Johnston between 12:00-12:15pm followed by FREE Swimming, Skating and activities in the Field House for everyone to participate in. There will also be the opportunity to connect with community organizations showcasing their services on mainstreet in the Collicutt.
City still working out details of homeless shelter site with Province of Alberta
City and Province of Alberta continue discussion about potential site for future shelter in Red Deer
A future shelter site for Red Deer continues to be a priority for the Province of Alberta and City of Red Deer following a meeting between Mayor Johnston, members of City Council and Provincial Ministers in Calgary on Tuesday.

While The City had hoped to be in a position to release its recommended site today, further considerations pertaining to the recommended site are being jointly explored by the Province and City to ensure its suitability prior to publicly disclosing any information about a potential site.

"We know our community has been patiently waiting for us to identify the potential future shelter site in our city; this is a big decision, and we must ensure that we are making the best decision possible for our community – and that we are making that decision in good faith and partnership with our provincial colleagues," said Mayor Johnston. "We are continuing to move forward with our provincial partners, and we want to have a decision for our community very soon."

The narrowing of potential sites comes on the heels of an extensive site selection process that initially included 96 sites. The selection process also involved intensive public participation with more than 820 participants engaging with The City about the project. These participants included residents, businesses, social agencies, and people with lived or living experience of homelessness.

"I am proud to be working closely with the City of Red Deer to ensure that we are aligned on a shelter model and location that is best for Red Deer. We will continue to work closely together in collaboration to improve the support we offer homeless people in Red Deer and make the community safer as a whole," said Jason Luan, Minister of Community and Social Services

"Alberta's government remains committed to providing $7 million in capital funding to support the Red Deer integrated emergency shelter. We will continue to plan and work with community partners and the city to address the need for a larger, more functional space to meet demand. Our shared objective is to ensure Red Deer residents in need have access to a safe, accessible overnight shelter," said Josephine Pon, Minister of Seniors and Housing

"Selecting the right site for Red Deer requires pragmatic innovation that meets our joint vision for an integrated shelter in our community, and we will continue to work alongside the province, social support agencies and citizens throughout the entire process to re-envision the future shelter as a place that provides the support our vulnerable population requires on their journey to being housed," said Johnston.

During a closed meeting on September 12, 2022, Red Deer City Council selected a potential site for the future shelter; upon presenting the site to the province as part of the site selection process, it was identified that further analysis is needed prior to public disclosure of the site.

As more information is publicly available, it will be shared through The City's website at www.reddeer.ca/shelter.