City of Red Deer considering future with RCMP.. Police Review on Tuesday
From The City of Red Deer
City Council to discuss Police Review on Tuesday
City Council will discuss the Police Review at a Special Council Meeting on Tuesday, December 3, 2019 beginning at 9:30 a.m.
In November 2018, City Council directed Administration to undertake an independent review of policing services in Red Deer. The review is comprised of two parts, a Governance Review that identifies the opportunities and challenges with various policing operating models, as well as a Service Review with recommendations on enhancing services with the existing RCMP contract.
"The Police Review provides a comprehensive and independent look at delivery options for policing services in Red Deer," said Paul Goranson, Director of Protective Services. "The report does not make a recommendation on a preferred model but identifies opportunities and challenges with either option."
As part of the Service Review, Red Deer was compared to other cities with either RCMP contracts or their own municipal police service. The report shows that the cost of policing in Red Deer is comparable to other similar sized cities, while the Red Deer detachment has higher caseloads per full time equivalent employee.
"The Service Review makes eight recommendations to enhance services currently provided, however further study is required before implementation," said Goranson.
The budget for the Police Review was approved at $200,000.
For more information, review the following Q & A.
Police Review: Service Review and Governance Review
In November 2018, City Council directed Administration to undertake an independent review of policing services for Red Deer. The review comprises of two parts, a Governance Review that identifies the opportunities and challenges with various policing operating models, as well as a macro Service Review with service recommendations for the existing model with the RCMP contract.
Governance Review:
What policing operating models were evaluated as part of the Governance Review?The review looks at police governance options highlighting the opportunities and challenges with the existing RCMP contract and a Municipal Police Service.

At the onset of the review, additional governance options were considered. These included a hybrid model and a regionally-shared police service, however both were removed as standalone options in June 2019. The regionally-shared police service was considered a future expansion of a Municipal Police Service, and the hybrid option was not materially different than the contract with the RCMP or a Municipal Police Service.

Both the RCMP contract and the Municipal Police Service offer opportunities for hybrid policing through tiered policing and obtaining other specialized services from other police services.

How were the models evaluated under the Governance Review?City Council identified three categories to be considered for evaluation: governance and oversight, operating and capital costs, and operations management. Each model (both the contract with RCMP and the Municipal Police Service) were evaluated with this criteria.
Does the Governance Review make a recommendation in favour of one model?No, the Governance Review does not recommend one model over another. The report identifies challenges and opportunities with both models.

For example, under governance and oversight, the report indicates that The City of Red Deer, through a police commission could have greater local control over operational priorities with a Municipal Police Service. However, under the RCMP model, The City has significantly less risk and liability.

For operating and capital costs, The City, with the RCMP model, currently receives a 10 per cent federal subsidy. If a Municipal Police Service was established, the subsidy would be eliminated and there would be one time transition costs as well as a higher ongoing operating cost.
Under operations management, the RCMP model allows for access to specialized units, training and additional resources. With a Municipal Police Service, these services would be provided internally or through agreements with other police services.
4. What are the cost differences between the two policing models?
The RCMP operating costs are projected to be $43,755,000 in 2023. A Municipal Police Service operating costs are projected to be $50,899,000 with transition costs projected at approximately $13,583,000. These numbers are estimates only and could change based on a variety of factors.
Service Review:
How does Red Deer compare to other detachments?The cost of policing in Red Deer is comparable to other similar sized cities, however the Red Deer detachment has higher caseloads per full time equivalent employee. Red Deer budgets for 171 RCMP members, which are complemented by approximately 100 City employees with duties that range from traffic and bylaw enforcement, public services, policing support, records management, dispatching calls, and crime analytics.
A customer satisfaction survey was included as part of the Service Review, what were the results?In spring 2019, customers who either visited the detachment in person or called the police non- emergency line were asked to participate in a short survey about their satisfaction. Participants were asking for services, such as criminal record checks, police certificate or to report a crime. Overall, 92 per cent of respondents indicated that they were either satisfied or very satisfied with the services received.
What recommendations were made as part of the Service Review?The consultant identified the following opportunities to consider as ways to enhance services provided under the RCMP contract:

 Expansion of a tiered policing model to manage labour and associated personnel costs
 Alternative service delivery for police checks and collision reporting
 Use of technologies to increase the efficiency of officers
 Achieve full complement of planned officers or reallocate funding to other policing priorities
 Greater use of community policing and investment in prevention
 Expanded use of intelligence led policing
 Establishment of service level standards
 Monitoring and reporting of service level performance to counter perceptions and drive improvements
Further study is required prior to implementation of some of the above opportunities.
Red Deer is Canada's most active community. Celebrate with free activities at the Collicutt Centre!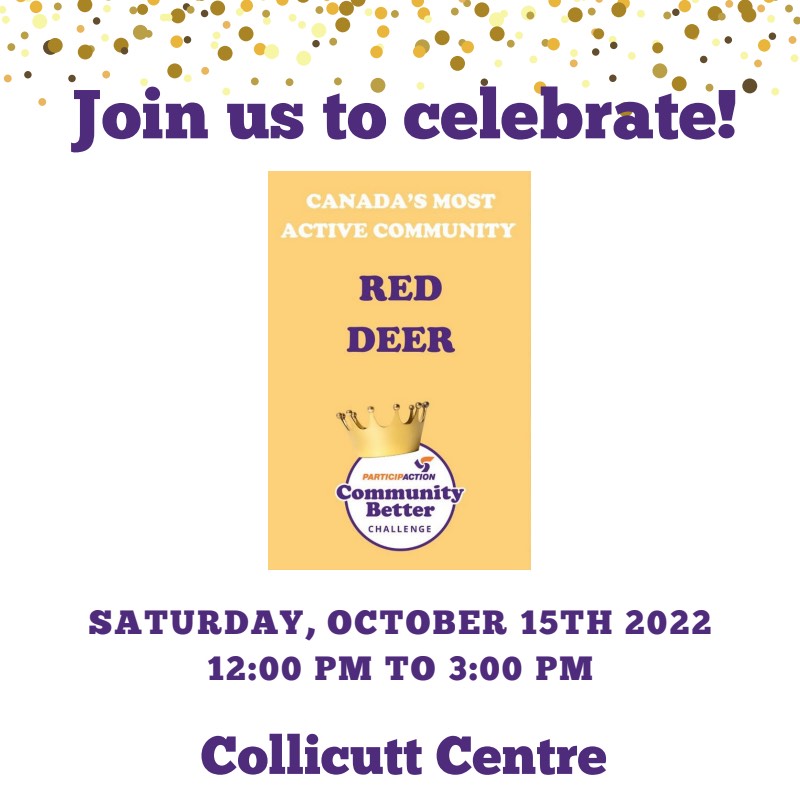 News release from the Red Deer Primary Care Network
Residents are invited to celebrate Red Deer winning the Community Better ParticipACTION Challenge and the title of the "Most Active Community" in Canada.
October 15, 2022, Collicutt Centre
In June, Red Deer Residents participated in the ParticipACTION Community Better Challenge.
This challenge saw our citizens and community organizations tracking over 19 million minutes of physical activity. We had over 700 community members and 35 community organizations showing a total of 153,010 people participating in organized community events and tracking their activity on the ParticipACTION app or website.
This support by our community helped Red Deer WIN the title of Canada's Most Active Community. Along with the title we received the $100,000 grand prize to be put back into our community to stay active and healthy.
As recognition and to thank everyone for their efforts and celebrate this victory, we welcome all Red Deer citizens to join us at that the Collicutt Centre on October 15th, 2022, from 12:00- 3:00pm.
There will be a warm welcome address by Mayor Johnston between 12:00-12:15pm followed by FREE Swimming, Skating and activities in the Field House for everyone to participate in. There will also be the opportunity to connect with community organizations showcasing their services on mainstreet in the Collicutt.
City still working out details of homeless shelter site with Province of Alberta
City and Province of Alberta continue discussion about potential site for future shelter in Red Deer
A future shelter site for Red Deer continues to be a priority for the Province of Alberta and City of Red Deer following a meeting between Mayor Johnston, members of City Council and Provincial Ministers in Calgary on Tuesday.

While The City had hoped to be in a position to release its recommended site today, further considerations pertaining to the recommended site are being jointly explored by the Province and City to ensure its suitability prior to publicly disclosing any information about a potential site.

"We know our community has been patiently waiting for us to identify the potential future shelter site in our city; this is a big decision, and we must ensure that we are making the best decision possible for our community – and that we are making that decision in good faith and partnership with our provincial colleagues," said Mayor Johnston. "We are continuing to move forward with our provincial partners, and we want to have a decision for our community very soon."

The narrowing of potential sites comes on the heels of an extensive site selection process that initially included 96 sites. The selection process also involved intensive public participation with more than 820 participants engaging with The City about the project. These participants included residents, businesses, social agencies, and people with lived or living experience of homelessness.

"I am proud to be working closely with the City of Red Deer to ensure that we are aligned on a shelter model and location that is best for Red Deer. We will continue to work closely together in collaboration to improve the support we offer homeless people in Red Deer and make the community safer as a whole," said Jason Luan, Minister of Community and Social Services

"Alberta's government remains committed to providing $7 million in capital funding to support the Red Deer integrated emergency shelter. We will continue to plan and work with community partners and the city to address the need for a larger, more functional space to meet demand. Our shared objective is to ensure Red Deer residents in need have access to a safe, accessible overnight shelter," said Josephine Pon, Minister of Seniors and Housing

"Selecting the right site for Red Deer requires pragmatic innovation that meets our joint vision for an integrated shelter in our community, and we will continue to work alongside the province, social support agencies and citizens throughout the entire process to re-envision the future shelter as a place that provides the support our vulnerable population requires on their journey to being housed," said Johnston.

During a closed meeting on September 12, 2022, Red Deer City Council selected a potential site for the future shelter; upon presenting the site to the province as part of the site selection process, it was identified that further analysis is needed prior to public disclosure of the site.

As more information is publicly available, it will be shared through The City's website at www.reddeer.ca/shelter.