Christmas 1924 by Michael Dawe features excellent historical photos of early Red Deer
byMichael Dawe
Another Christmas will soon be upon us. Since people often like to recall "old-fashioned" traditional Christmases, it is interesting to look back to the Christmas of 94 years ago in 1924.
The early 1920's had been a tough time for Central Alberta. A severe depression set in following the end of the First World War. Unemployment soared to nearly 25%.
The Red Deer Memorial Hospital went bankrupt. The City struggled to meet its payroll even though expenses had been cut to the bone. The public school trustees went door-to-door to see if they could collect enough in delinquent taxes to pay the salaries of the local teachers.
By December 15, temperatures plunged to -46.1° C and the following two days dropped even further to more than -50° C.
Finally, by the mid-1920's, the economy began to slowly improve. Local farmers in particular got a boost following the organization of such cooperatives as the Alberta Wheat Pool, Central Alberta Dairy Pool and the Farmers' Cooperative Egg Marketing Association.
The opening of the Provincial Training School (now Michener Centre), as the provincial institution for the residential care and education of mentally handicapped children, created a large number of very welcome government jobs in the community.
The hope that better times were returning created a cautious sense of optimism for the local businesses. As Christmas approached, a number of merchants put attractive displays in their store windows.
Of particular note was an elaborate display of electrical and mechanical toys at Brazier's Store, some beautiful French ivory pieces in the window of Porter's Drug Store, toys and hockey equipment in the window of E.G. Johns Hardware and imported English foods in the front of Lowes' Grocery.
Soon, the local papers were full of ads with gift-giving ideas and Christmas specials. Dolls were offered for $1 to $3 at Braziers. Johns Hardware advertised CCM "automobile" ice skates for $6 a pair. The Gaetz and Ewart Department Store sold silk hosiery for $1.95 per pair and silk bloomers for $2.75.
Unfortunately, just as the Christmas shopping season was getting under way, Central Alberta was hit with a terrific blizzard on December 13. 58.5 cm of snow fell in three days and high winds created enormous drifts. By December 15, temperatures plunged to -46.1° C and the following two days dropped even further to more than -50° C. It was difficult to tell what the actual temperature was in the City as most thermometers stopped working.
The passenger trains ran several hours behind. The local schools closed for a few days. Milk, bread and grocery deliveries were often suspended. Wiltshire's Bakery had to use a sleigh for its deliveries for the first time in four years.
Towards the end of the week, things had improved slightly. On December 18, the lows for the day were only -45.6°C. Nevertheless, local farmers found it impossible to make it into town. Many City residents remained loath to venture out of their homes.
Merchants put warm winter clothing on sale. Some put signs on the windows that said "Come In and Get Warm". Still, the downtown area became very quiet.
Fortunately, the weather warmed up a bit in the final days before Christmas. The local churches were able to re-stage their annual Christmas concerts and the children's parties that had been postponed due to the terrible weather.
The Red Deer Welfare Board continued to gather Christmas hampers for the needy. Great assistance was provided by the newly-formed Rotary Club and Elks Lodge. The Rotary Club also purchased a 4-tube radio for the Christmas enjoyment of the patients at the Red Deer Municipal Hospital. It was the first electric radio to be installed in a public hospital in Alberta.
On Christmas Eve, temperatures "soared" to just below the freezing mark. Hence, the local churches were packed for the usual Christmas Eve Services. Christmas Day was also sunny and relatively warm. Thus, people were able to get out and enjoy the outdoors, between the gift opening in the morning and the enormous family Christmas feasts later in the day.
Despite all the challenges that had beset the community, people were able to wish each other a "Very Merry Christmas" and heartfelt wishes for a better New Year in 1925.
by Michael Dawe
Michael was born in Red Deer, Alberta March 7, 1956, a fifth generation resident of Red Deer and Pine Lake. Elected to Red Deer City Council in 2017, he served as the City's Archivist/Historian for 38 years, retiring from the role in 2017.
Share a special night with Great Big Sea's Sean McCann this Saturday for the Child Advocacy Centre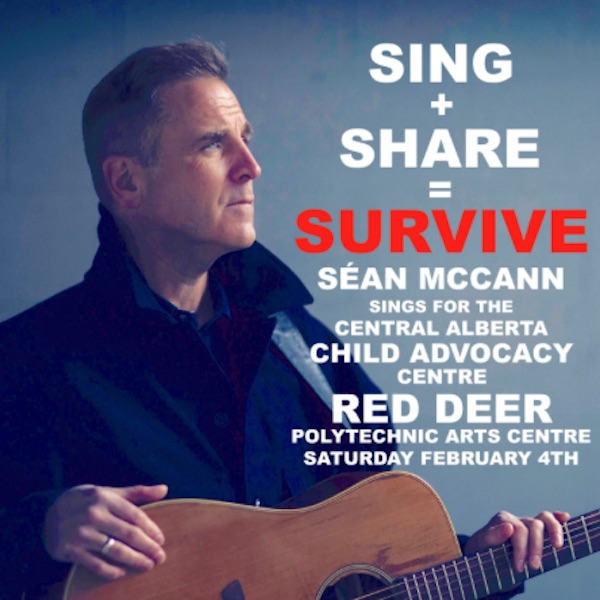 Tickets selling fast for Séan McCann – Sing, Share, Survive
In support of the CACAC
Séan McCann from Great Big Sea will be performing in support of the Central Alberta Child Advocacy Centre this Saturday, February 4th!

Tickets are selling fast! In this powerful live music and storytelling event, you'll learn the meaning of resiliency. Séan will be joined by special guest Sheldon Kennedy for this special performance!
Tickets are $50 each through Red Deer Polytechnic ticket office.
About Séan McCann –
A survivor of sexual abuse as a teenager, Séan has spent the last ten years touring North America as a musical keynote speaker, singing and sharing his story with theatre audiences, front line workers, teachers, students, patients, inmates, veterans, and anyone who has struggled with their mental health. Séan believes that music is medicine and a song is never more powerful than when it is sung with a friend.
As part of this event, the CACAC is benefiting from an
online silent art auction, operated by JRADCLIFFE Auctioneering.

These artworks were created and curated by Kathryn Fellowsand donated to this auction in her memory by her daughter Sharon Moffat.

Watch on social media for a link to this auction, which opens on February 4th.
We're building a path forward for victims of child abuse, neglect, and sexual exploitation. The Centre of Excellence will house many partners in one building, including teams from Alberta Health Services, RCMP, and the Central Alberta Sexual Assault Support Centre.

We've created a strategic partnership with Red Deer Polytechnic to build this innovative centre right here in the heart of Central Alberta on RDP land.
Consider becoming a monthly donor today!
Your monthly contribution will help us #BuildtheFuture of healing, advocacy, and prevention. Click the button below, and select "recurring" to set up your monthly contribution to the Centre of Excellence.

Help us build the future…so every child can have a bright one.
Empowered, Happy and Healthy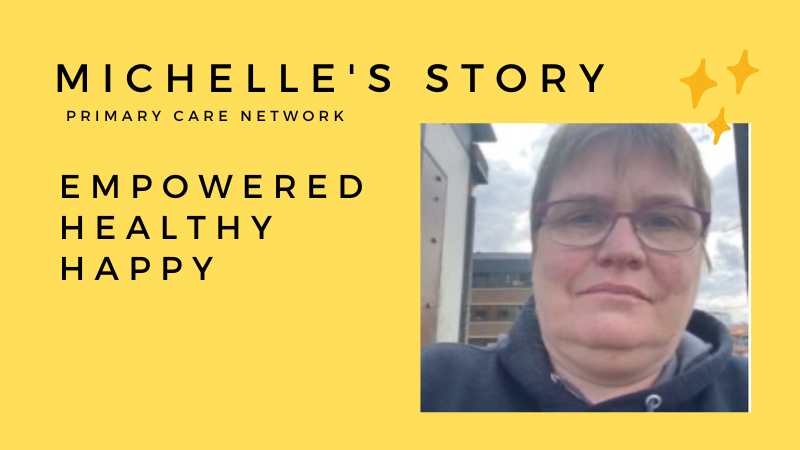 Michelle lost a kidney to cancer 20 years ago. Her blood pressure has been challenging to keep in a healthy range since. A busy life with little focus on healthy got her in trouble. In late December 2020, she ended up in emergency with extremely high blood pressure in the 200/150 range and a blood sugar of 25. She was very sick. She had a second similar episode in January. At that time, she was let go from her job. This turned out to be the best thing that happened as she now had time to focus on her health.
The RDPCN family nurse recommended she attend Diabetes the Basics as well as providing her with ongoing one-to-one support for several months. She also got connected to a weight management program, supervised exercise and Heartwise.
Fast forward to 18 months, she has decreased her clothing size from 20 to 14. Her blood sugar is now 7 and her blood pressure is in the range of 138/95. Great improvements!
She is back to work. She walks about an hour per day and she feels amazing! She has used the portion control plate to help improve her eating habits. She is eating way better and enjoying it. One thing she could not give up was Pepsi. She used to have at least 3 cans per day. Now she uses Diet Pepsi in much smaller volumes, but she cannot get by without some Pepsi. Long-lasting insulin and using the Libre sensor have been great tools to help her live healthily. She feels very empowered, happy and healthy!!
Learn more about the Red Deer Primary Care Network. Click here.