China Rules: Will Trudeau Give Beijing Olympics His Blessing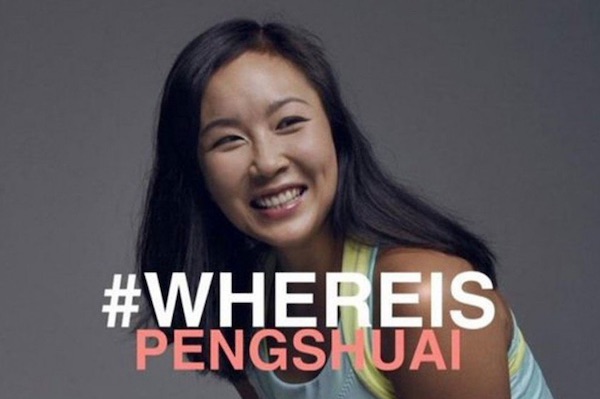 Q: How many Canadians does it take to screw in a light bulb?
A: Two. One to ask permission from CCP boss Xi Jingping and one to then screw it in.
The tennis world has been roiled by the sudden absence of Chinese star Peng Shuai. Peng seemed to have gone missing for two weeks after publicly accusing a high-ranking Communist Party apparatchik of sexually assaulting her. The repercussions of her reported abduction could have wide-ranging effects—including on the upcoming Beijing Olympics.
Her sudden disappearance drew the ire of Serena Williams ("Devastated and shocked") and the World Tennis Association. Steve Simon, the president of the WTA, says "`I remain concerned about Peng Shuai's health and safety and that the allegation of sexual assault is being censored and swept under the rug. I have been clear about what needs to happen and our relationship with China is at a crossroads."
Simon says the WTA is so concerned that it is willing to forgo billions from China if the case is not properly resolved. (This in stark contrast to NBA stars such as LeBron James who talk social justice about Kyle Rittenhouse in the U.S. but cravenly capitulate to Chinese authority when their running-shoe endorsements are threatened.)
The tipoff that China is concerned that Peng's absence might hurt the Olympics came when she was made available Sunday via conference call to IOC President Thomas Bach, IOC Athletes' Commission Chair Emma Terho, and IOC Member in China Li Lingwei.
Peng thanked the committee for its concern and explained she is "safe and well" in her home in Beijing and would like her privacy respected. But it was hard to know who controlled her words— especially as the interview was staged with IOC suits, who stand to lose a lot from any Olympic boycott.
Also lending credence to the conspiratorial nature of Peng's condition was the news that China has temporarily blocked CNN's feed in the country to prevent the network reporting the story (If it's true it would be the first story CNN has reported properly in a long time.)
The Peng kerfuffle is the latest example of China's tin ear on human rights. It comes as many are questioning whether nations should boycott the Winter Olympics, slated to start in February. Even U.S. president Joe Biden, who is hopelessly compromised on China by his son's grifting, has said the U.S. might do a diplomatic, not athlete, boycott to protest China's high-handed attitude lately.
There could be more. Many are now saying having the Games in a nation that sponsors concentration camps and suppresses democracy in Hong Kong is comparable to staging the 1936 Olympic Games in Berlin where Hitler was allowed to whitewash his regime even as it geared up for genocide.
It also recalls the reaction of the West in boycotting the Moscow Olympics in 1980 over the Soviets invasion of Afghanistan. The IOC has been traumatized ever since about politics and— witness Peng's sudden "appearance"—wants this snowball stopped.
Clearly the IOC— which awarded the Games to China— will make no stand itself on Peng. The collection of princes, plutocrats, klepto-rulers and time-serving criminals has never let a little human-rights violation get in the way of profit. Whether it's rewarding China or Putin (Sochi) it has major concerns when the IOC's alleged brotherhood hurts the bottom line.
For a struggling Biden, whose polling is tanking, the boycott issue could provide an easy win. Keep the politicians and state actors home, let the athletes have their medals, snub Xi and appear to be taking the high ground. (Better yet, send Kamala Harris and don't bring her back.)
The question will then be what will Canada do if the Americans engineer a diplomatic boycott? After the detention of Wauwei executive Meng Wanzhou and resultant Chinese retaliation would Justin Trudeau dare tangle with them again, particularly after earlier saying, "There is a level of admiration I actually have for China, Ahh, because their basic dictatorship is allowing them to actually turn their economy around on a dime"?
Why wouldn't Xi feel confident that no one in Canada will push back? After all, he kidnapped the two Michaels for almost two years and Canada's prime minister acted like the men had simply gone on an extended Carnival Cruise. Better yet, Canadian voters then rewarded said PM with another term. Xi is laughing.
Plus the federal Liberals are so far up China's butt they can see Hunter Biden's shoes. Former PM Jean Chretien and his family connections have long sought to appease the Chinese to protect investment there. Chretien tried to interfere on behalf of the Chinese in the Meng case. As Macleans wrote in 2019, "given the respect Chretien enjoys among senior officials in China, the fact he's advocating for the Trudeau government to interfere in the court case to make China happy will only serve to embolden Beijing."
With so much Canadian capital riding on smooth relations with Xi— plus the need to bring China into Trudeau's daffy climate schemes— does he dare anger the regime by insulting their Olympic propaganda coup? Canada knows this: If Trudeau shows backbone in a tough international dispute it will be the first time.
Bruce Dowbiggin @dowbboy is the editor of Not The Public Broadcaster (http://www.notthepublicbroadcaster.com). The best-selling author of Cap In Hand was nominated for the BBN Business Book award of 2020 for Personal Account with Tony Comper. A two-time winner of the Gemini Award as Canada's top television sports broadcaster, he's also a regular contributor to Sirius XM Canada Talks Ch. 167. His new book with his son Evan Inexact Science: The Six Most Compelling Draft Years In NHL History is now available on http://brucedowbigginbooks.ca/book-personalaccount.aspx
Corporate Capture & Youth Checkout: The Covid Scorecard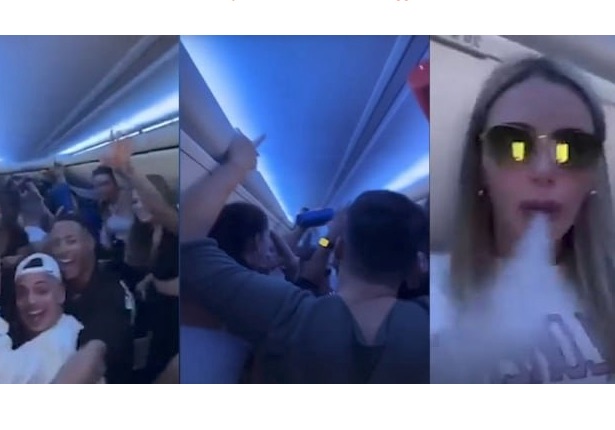 The decade past has witnessed a Great Realignment. (Mind we said realignment, not reset.) The election of Barack Obama through Donald Trump and Covid-19 has seen a tectonic shift in the plates beneath society. Alliances have been broken. Power has shifted. Loyalties have disappeared.
The result is a new coalition, a cult alliance of tech, knowledge-based industry, culture and corporatism. Under cover of social unrest and virus paranoia these former antagonists found common cause in punishing the middle and lower classes of society for not acknowledging their elevated, superior status. (Translation: they voted for Trump.)
These woke apostles are unapologetic. Through censorship, cancel culture and financial, leverage they've created an oligopoly unabashed in bare-knuckled self-interest. And to constantly remind you that they're in charge.
To understand how revolutionary this alliance is one need only recall the dirigiste fervour of the 1960s. While it seemed to everyone at the time that society might tip in the maelstrom of riot and protest, the corporate side never blinked. They viewed the Weathermen and the Red Brigade as fringe outfits that would never see power. They held to the status quo (or privilege in today's CRT newspeak.)
That has changed, because of writers such as French socialist economist Thomas Piketty. Thanks to him Corporate America is now obsessed with Environmental, Social and Governance (ESG), not shareholder value. It is dominated by HR departments deeply committed to radical notions of social justice and racial equity. Inspired by the example of Michelle Obama, they've made Wall Street into Woke Street.
As we wrote in February of 2021 "the New Left now ruthlessly employs Big Tech, Wall Street and the media against its idealogical enemies— including some of its former allies… the Democratic Party of 2021 has morphed from brave to slave, dedicated to intellectual conformity, not contrary opinions. Gone are the civil libertarians like (William) Kunstler. In their place are AOC and her brigades of SJWs purveying hate-speech laws and attacking deniers of the "true climate religion". First amendment rights have been replaced by cancel-culture indictments."
Jordan B. Peterson, who recently resigned his tenured position at University of Toronto, describes the corporate submission: "What in the world is wrong with you? Can't you see that the ideologues who push such appalling nonsense are driven by an agenda that is not only absolutely antithetical to your free-market enterprise, as such, but precisely targeted at the freedoms that made your success possible?
"Can't you see that by going along, sheep-like (just as the professors are doing; just as the artists and writers are doing) that you are generating a veritable fifth column within your businesses? Are you really so blind, cowed and cowardly?"
While this corporate surrender has transpired, another schism has developed under cover of the Covid-19 pandemic panic. Its effect could be just as enduring. This one is based on age.
The group in society most vulnerable to the ravages of the pandemic is the 55+ cohort, the aging Boomers— the same one orchestrating the reaction to the virus. They are also the most afraid of its impact on them personally. It would be no exaggeration to say those health concerns have been reflected in the overbearing lockdown, mask, distancing and detention policies used against the virus. The generation that once worshipped free speech was quick to abandon civil liberties in its panic to save its own hide.
But younger generations who are far less vulnerable to the virus are tired of being participants in the psycho-dramas of aging the Boomers and their death phobia. And they've reached their end. They now flock to clubs, arenas and stadiums to see their friends. They know some of them will get sick, but 99.99 percent of them will be fine even if infected.
They are dismissive of the political shell game of their elders and the autocrats of Big Health. And, as we can see from one of the major sports, they're headed in a new direction.
NHL players, God bless 'em, have recognized that old people's worries are not their worries. For months the league has gone with the Covid catechism to please politicians. Players were ordered to be vaccinated. Anyone testing positive from the wonky PCR test was sidelined. Even asymptomatic players. Games were played with undermanned rosters.
With 100 percent vaccinated, the league still saw 70 percent of players test positive. So the NHL now says "No more". Only players who show symptoms will be removed from play. Excellent athletes are not 81-year-old U.S. senators shaking in their Depends.
With the accepted narrative now collapsing— Britain has abandoned the mask and lockdown mandates— more jurisdictions will do contrition for overshooting the mark. Dottering Joe Biden can talk about belatedly sending out 400 million masks, but he's lost the room. Under 50s have moved on.
The only question is how long the ESG folks propping him up will wait before he's sent overboard. While health is important, everything is second to their power.
Bruce Dowbiggin @dowbboy is the editor of Not The Public Broadcaster (http://www.notthepublicbroadcaster.com). The best-selling author was nominated for the BBN Business Book award of 2020 for Personal Account with Tony Comper. A two-time winner of the Gemini Award as Canada's top television sports broadcaster, he's also a regular contributor to Sirius XM Canada Talks Ch. 167. His new book with his son Evan Inexact Science: The Six Most Compelling Draft Years In NHL History is now available on http://brucedowbigginbooks.ca/book-personalaccount.aspx
Fortress Australia Gets Its Scalp, Tosses Djoker Out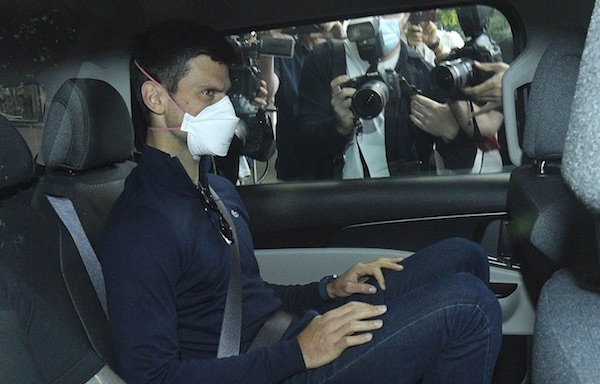 The ceremony of innocence is drowned;
The best lack all conviction, while the worst
Are full of passionate intensity. —W.B. Yeats
There has always been a large reservoir of affection for Australia in the West. The sun-kissed land down under. Kangaroos. Beaches. Crocodile Dundee. Aussie Rules Football. Men At Work. Foreigners embraced all the clichés gleefully.
The Australian Open tennis tournament was part of that scenario. The first Grand Slam, played in scorching sunshine while the Northern Hemisphere freezes in January. TV coverage was laced with tourist entreaties to fly 14 hours to the Great Barrier Reef and Gold Coast.
But with the nation's behaviour in fighting Covid-19, this is all (in the words of Yeats) "changed, changed utterly." The fever-swamp regime now running the nation has gone off the rails with detention camps for unvaxxed, flying squads of police roaming the streets and total lockdowns in emulation of the Chinese.
Australia's heavy-handed "cures" for Covid would make Curfew Quebec look a model of tolerance. While America is moving away from draconian lockdowns, (Associated Press is now asking its writers to play down Covid numbers) Australia is still singing from the 2020 WHO hymn book that pretends lockdowns save lives. For example, mask mandates were recently re-imposed when five— count 'em— five local cases were spotted in Perth.
Look, Australia is entitled to run their nation any way they want. They have the constitutional right to act like so many scared kookaburras in the face of a virus that will spare 99.98 percent of them. But don't push the "shrimp on the bar-b" hokum on the world when the tennis begins.
This whack-a-mole mania culminated in Sunday's expulsion of Covid rebel Novak Djokovic. After granting the No. 1 men's player in the world a visa to play, Australia's Minister of Immigration Alex Hawke said he had cancelled the 34-year-old's visa for a second time on "health and good order grounds, on the basis that it was in the public interest to do so". He said Djokovic's example was— wait for it— a threat to his people.
Good order? Hawke and his government have to lock up the population because their Island Fortress strategy isn't enough to curb Omicron's arrival. Yet Djokovic is the threat, not their frantic search for a fifth column of viral killers in Canberra.
Djoker knew he was going into headwinds as he sought to play in the Open as an unvaccinated player. He was less than forthcoming on his entry documents. So his highly political stance made him a target. But a threat to the people of Australia? Please. (The cops escorting him to the airport was reminiscent of Judy Garland being shooed from the country in the 1960s for being too drunk to perform.)
The Australian PM Scott Morrison, with his eyes on re-election, greeted the expulsion, mumbling about needing to "keep our borders strong and keep Australians safe… It's now time to get on with the Australian Open and get back to enjoying tennis over the summer."
Djokovic's argument is that the Australian government that initially granted him a visa is now using him as an easy target to whip the natives in line. The independent, unapologetic Djokovic has certainly served the Aussie politicians well as a convenient whipping boy for the petrified millions who put their faith in governments and health "experts" to save them from the dreaded virus.
(Sounds like France, which never misses an opportunity to enforce the status quo, will emulate Australia by banning an unvaxxed Djokovic if he ventures there in June for the French Open.)
The "burn the witch" frenzy feeds into the non-vaxxed insanity currently underway in Canada and the U.S. There are demands that those who declined the juice be denied healthcare or fined or have their taxes audited. Immunity is dismssed. Cobbled hospital numbers are conflated with truths. Instead, images of gap-toothed hillbillies saturate progressive media who find their allies have been unable to halt the virus as promised.
Inconveniently, polling by Abacus in Canada has shown that the typical anti-vaxxer is not a swaggering tennis player, a bow hunter or toothless yokel but is in fact a 42-year-old Ontario white woman who votes Liberal.
The bright side of this Kafkaesque farce is that Omicron is fading like old Xmas decorations. Many are predicting that it is peaking now and will be a spent force by February. The tinpot tyrants in Australia, having booted Djokovic, will need something else to reinforce their desperate grasp on power.
Ditto here in North America. Unless a follow-up variant can be swiftly produced (remember that subsequent viruses are always weaker) Skippy and Biden will be left to explain their enforced vaccines and virus solutions to a public disinterested in their ongoing need for power.
To use a tennis analogy they'll be down two breaks and facing Djokovic's best serve. Should be entertaining.
Bruce Dowbiggin @dowbboy is the editor of Not The Public Broadcaster (http://www.notthepublicbroadcaster.com). The best-selling author was nominated for the BBN Business Book award of 2020 for Personal Account with Tony Comper. A two-time winner of the Gemini Award as Canada's top television sports broadcaster, he's also a regular contributor to Sirius XM Canada Talks Ch. 167. His new book with his son Evan Inexact Science: The Six Most Compelling Draft Years In NHL History is now available on http://brucedowbigginbooks.ca/book-personalaccount.aspx