Check Out The Progress On Red Deer's Newest Elementary School!
(Centre front – Millie Campbell Back row left to right – Julie Hansen, Jessica Hartel, TJ Hartel, Jan Ludwig, Jeff Ludwig)
Written by Sheldon Spackman / Photos and Video by Lindsay Wiebe
Construction on Red Deer's newest elementary school is running on budget and ahead of schedule. That, according to Red Deer Public School District officials who say they will be able to take possession of the new building on May 2nd, well ahead of the first day of school in September.
It's anticipated 350 students will be there on opening day, with initial capacity to be 500 and room to grow with the help of portables from there. The school on Irving Crescent in Inglewood will serve students from that neighbourhood and Ironstone as well, plus the Vanier/Vanier East neighbourhoods.
Jan Ludwig is the late Don Campbell's eldest daughter and says her father would have been "Over the moon" if he were here to see the school. School Board Chair Bev Manning says Don Campbell Elementary will help alleviate crowding pressures currently being felt in other elementary schools. Principal Cam Pizzey says he known the Campbell family for decades and is honoured to be it's first Principal.
District officials are proud of the school's amazing learning spaces, including 2 outdoor classrooms. A partnership with the City of Red Deer is also anticipated to provide space for community activities and events.
DeSantis to expand law critics call 'Don't Say Gay' into HS
Florida Gov. Ron DeSantis answers questions from the media in the Florida Cabinet following his State of the State address during a joint session of the Senate and House of Representatives, Tuesday, March 7, 2023, at the state Capitol in Tallahassee, Fla. DeSantis' administration is moving to unilaterally forbid classroom instruction on sexual orientation and gender identity in all grades, expanding the controversial law critics call "Don't Say Gay" as the Republican governor continues a focus on cultural issues ahead of his expected presidential run. (AP Photo/Phil Sears, File)
By Anthony Izaguirre in Tallahassee
TALLAHASSEE, Fla. (AP) — The administration of Florida Gov. Ron DeSantis is moving to forbid classroom instruction on sexual orientation and gender identity in all grades, expanding the controversial law critics call "Don't Say Gay" as the Republican governor continues a focus on cultural issues ahead of his expected presidential run.
The proposal, which would not require legislative approval, is scheduled for a vote next month before the state Board of Education and has been put forth by state Education Department, both of which are led by appointees of the governor.
The rule change would ban lessons on sexual orientation and gender identity from grades 4 to 12, unless required by existing state standards or as part of reproductive health instruction that students can choose not to take.
DeSantis has leaned heavily into cultural divides on his path to an anticipated White House bid, with the surging Republican increasingly pursuing a conservative agenda that targets what he calls the insertion of inappropriate subjects in schools.
Spokespeople for the governor's office and the Education Department did not immediately return an emailed request for comment.
The measure comes after DeSantis championed a law last year that prohibited instruction on gender identity and sexual orientation in kindergarten through third grade.
The law drew widespread backlash nationally, with critics saying it marginalizes LGBTQ people, and kicked off a feud between the state and Disney, which publicly opposed the law.
At the governor's request, the Republican-dominated Legislature voted to dissolve a self-governing district controlled by Walt Disney World over its properties in Florida, and eventually gave DeSantis control of the board in a move widely seen as a punishment for the company opposing the law. The board oversees municipal services in Disney's theme park properties and was instrumental in the company's decision to build near Orlando in the 1960s.
The rule change was first reported by the Orlando Sentinel.
ACAC Indoor Track Championship Day 2 Update, Queens win gold and Jenica Swartz takes home three top finishes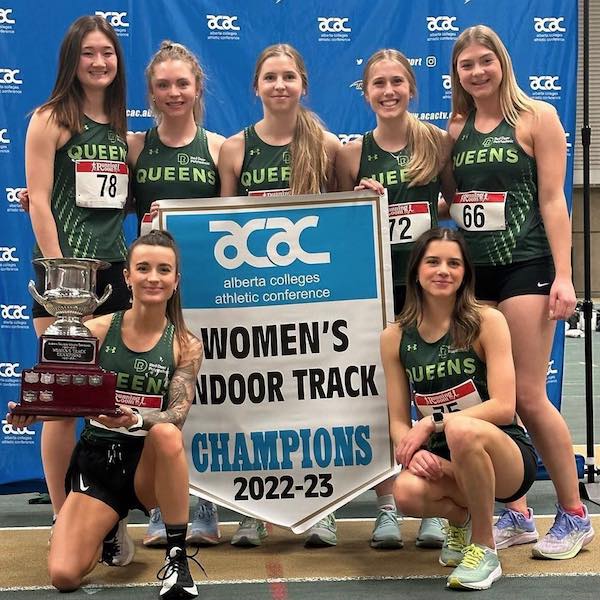 Gold medalist Red Deer Polytechnic Queens Track Team. Janice Swartz (top left) took 3 gold medals at the ACAC Indoor Track Championships
The Red Deer Polytechnic Queens Indoor Track Team are ACAC Champions as they took home multiple first-place finishes with Jenica Swartz (Bachelor of Science in Pre-Med) winning three individual gold medals and helping the relay teams to first-place finishes.
Day 2 started out very well for the Queens as Swartz picked up her third gold medal of the championship. She just beat out SAIT Trojans runner Jasmin Salmon by 73 milliseconds in the 600m. Loami Rautenbach finished fifth in the race. In the men's event, Ethan Duret (Bachelor of Commerce) placed fifth with a time of 1:27.39 which was 36 milliseconds off from the third-place runner, so it was a photo finish.
In the 1500m, Swartz was finally dethroned off the top podium position but still finished in second place as she crossed the finish line in just over five minutes. But the first-place runner from the Trojans broke the championship record with a time of 4:44. Myah Cota (Open Studies) and Justine Larson (Bachelor of Education) finished one after another for the second race of the championship as they crossed the finish line in fifth and sixth. Daniel Szucs (Bachelor of Business Administration) and Duret picked up sixth and seventh place respectfully which put points on the board for the Kings Indoor Track team. Jordan Coen (Open Studies) followed his teammates in eighth place with a time of 4:31.
The Queens 4x400m relay team took the top spot six seconds in front of the Trojans who took first place at the Grand Prix in Red Deer a month ago. This clinched the team victory for the Queens as they finished the championship with 81 points which were 17 points ahead of the second-place Trojans. The Kings relay team finished in fifth and the overall team just missed a medal as they finished the championship in fourth, four points out of third.
This caps off the 2022/2023 season for the Kings and Queens Indoor Track Team.