Celebrating Volunteers In Central Alberta! Part 3 Of 3
By Sheldon Spackman
This week is National Volunteer Week across Canada and Central Albertans are joining millions throughout the country in celebrating volunteers and what they contribute to our communities.
Provincial officials say more than 70 per cent of Albertans volunteered with organizations in their community in 2015-16, contributing an average of 11 hours each month to support initiatives and programs that matter to them.
Volunteers support the work of Alberta's non-profit sector. Based on the most recent statistics, the sector generates an estimated $9.6 billion in annual economic activity and employs more than 176,000 Albertans.
Several communities throughout the province including many in Central Alberta, are marking National Volunteer Week from April 23rd – 29th with special events and activities. In Red Deer, Volunteer Central which works with over 105 local non-profits and charities, invited its partner organizations and their volunteers to join the Board and staff at a pancake breakfast at the Scott Block Theatre downtown this week.
Click here to find your Volunteer Opportunity!
In Part 3 of our 3 Part series highlighting Central Alberta Volunteers, we feature Red Deer's Diane St-Denis, a dedicated volunteer and Athletics Director at RDC!
Addiction Recovery: City hosting full day information session on "Recovery Oriented Systems of Care"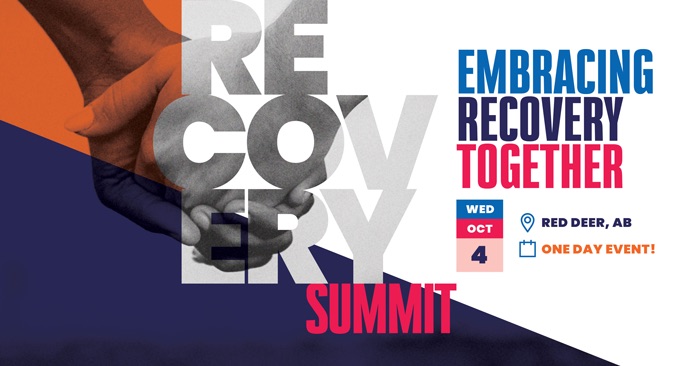 Embracing Recovery Together
Come together in Red Deer for a one-day conference focused on building an understanding of what a Recovery Oriented System of Care is, and what implementation can look like for Red Deer specifically.
Join industry, not-for-profits, government, and interested members of our public to learn, grow, build and start a journey towards recovery.
The word "recovery" can have various meanings in various contexts. For the purposes of an ideal coordinated response, it means helping individuals maintain forward momentum toward better wellness and fulfillment, across all dimensions of their life – physically, mentally, emotionally, spiritually and culturally.
When:
Wednesday, October 4 – 7:30 a.m. until 4 p.m.
Where:
Westerner Park (4847A 19th Street)
Event Details:
7:30 – 8:30 a.m. – Breakfast & Registration
8:30 – 9:15 a.m. – Welcome & Opening Prayer with Mayor Ken Johnston and Elder Lynn Jonasson
9:15 – 10:15 a.m. – Opening Plenary: Let's Get to Work with Alison Jones Webb
10:15 – 10:30 a.m. – Coffee break
10:30 – 11:15 a.m. – Breakout Option #1: What is Recovery, Recovery Capital and Recovery Oriented Systems of Care (ROSC) with Paul W. Sobey, MD
10:30 – 11:15 a.m. – Breakout Option #2: Understanding Trauma and Behaviour with Elicia Miller
11:15 – 11:30 a.m. – Break
11:30 a.m. – 12:15 p.m. – Breakout Option #3: Conversation with Elder Lynn Jonasson
11:30 a.m. – 12:15 p.m. – Breakout Option #4: Panel discussion with Kath Hoffman, Reed Charbonneau, Ben Borger, Samantha Shortneck and Sarah Fleck
12:15 – 1 p.m. – Lunch break
1 – 3:30 p.m. – Afternoon Keynote: "Whole of Society Approach" to Recovery with Dr. Alina Turner
3:30 – 4 p.m. – Closing remarks with the Honourable Dan Williams, Minister of Mental Health and Addiction
More information about the facility, including directions, can be found here: https://westernerpark.ca/
More information about Red Deer, hotels, what to do, and restaurants, please visit Tourism Red Deer
Thank you to the Government of Alberta for providing financial support for this event. For more information about the Provincial Government's approach, please read the report here: Toward an Alberta Model of Wellness
*Note: If the cost of the conference is a barrier to attending, please reach out to [email protected] and we would be happy to work with you to ensure everyone has the opportunity to attend.
Speaker Bios
THE JACKPOT IS OVER $14000 AND THE WINNER WILL TAKE HALF!!!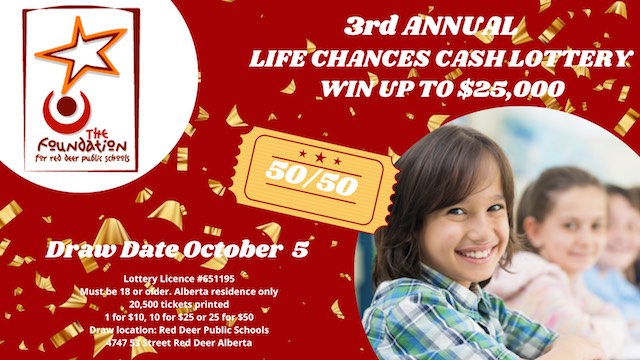 GET YOUR 50/50 TICKETSTODAY!!!! Winner could take home up to $25,000!!!
The Foundation for Red Deer Public Schools supports programs that have a significant impact on the LIFE CHANCES of students across the Division. By purchasing a ticket to support our 50/50 cash lottery you are giving students opportunities to have better life chances.
From giving kids a Bright Start to school to reconnecting with students so they graduate and cross the Finish Line, the Foundation helps students who face challenges in school and makes things better. We motivate struggling students and inspire them to read and write through Reading College. For students who come to school without basic needs, we give them that needed Step Up.
With the support from the Foundations 50/50 Life Chances Raffle, you are providing a student with opportunities that will improve their life. They can't always control the situations they're in but with your help students will continue to have these chances.
Don't miss your chance, CLICK HERE to buy your tickets today – Draw will be held on October 5! Good luck!
NOTE: This raffle is open to all community members in Alberta and over the age of 18.