Catholic Social Services raises over $3.1 million to help refugees settling in Edmonton, Red Deer and Central Alberta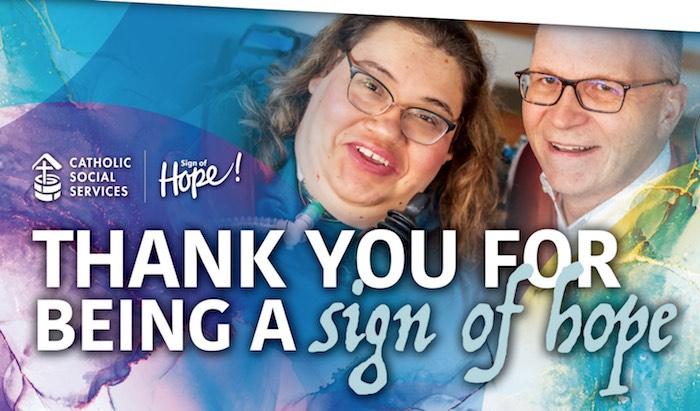 2022 Sign of Hope campaign raises $3.1 million
For the second year in a row, Catholic Social Services surpasses its fundraising goal
Catholic Social Services (CSS) today announced its 2022 Sign of Hope fundraising campaign surpassed its $2.6 million goal and raised $3.1 million for programs and services supporting vulnerable Albertans. This is the second year in a row that CSS has exceeded its goal. In 2021 CSS aimed to raise $2.1 million and brought in $3.3 million. Prior to that, the last time CSS raised more than $3 million in a single year was in 2014.
"We are absolutely overwhelmed and humbled by the support we continue to receive from Albertans," says Dr. Troy Davies, CEO. "We know times are tough for many. We see it every day, in the work we do. That makes the ongoing success of our fundraising efforts all the more meaningful; it tells us Albertans support our work, and believe in CSS's ability to help those who need it most during these hard times."
Sign of Hope, the charitable fundraising arm for CSS, provides funding for more than a dozen programs, including shelters and homes for victims of domestic violence, programs for seniors experiencing isolation and abuse, supports for recently and vulnerably housed Albertans, and refugees fleeing war, conflict, and persecution.
Catholic Social Services is one of the largest providers of social services to vulnerable people in western Canada, serving as many as 20,000 each year. Donations to CSS' Sign of Hope campaign fund programs which are unable to rely on sufficient government funding to meet the demand in the community.
"We have seen an increase in demand for nearly every service we provide," says Dr. Davies. "At the same time, the needs of the clients we serve have grown increasingly complex."
In 2022, donations to Sign of Hope allowed Catholic Social Services to:
Provide emergency relief to 2,300 refugees and 2,500 Ukrainian Nationals arriving in Edmonton, Red Deer, and other communities across central Alberta.
Offer safety and support to 430 women and their children escaping domestic violence, at two shelters and one transitional housing program.
Help 56 formerly homeless individuals remain housed.
Provide mental health support and counselling services to 1,200 individuals and families in Edmonton.
And, offer supplemental funding to countless other programs, touching nearly every area in which the agency operates.
"While this is a 'good news story,' it is not the end of the story," says Dr. Davies, of the Sign of Hope campaign's success. "This is our calling to work harder, and keep pushing to raise more, because we know how many people are counting on us to do so."
Sign of Hope accepts donations throughout the year and runs a dedicated fundraising campaign each fall, from September to December. Anyone interested in donating can do so online at cssalberta.ca or by calling 780-439-HOPE(4673).
Background:
The Sign of Hope campaign funds multiple Catholic Social Services' programs each year including shelters and supported housing for vulnerable women and children, subsidized counselling services, supports for seniors experiencing abuse, supports for new immigrants and refugees, and supports for the recently housed.
For 60 years, CSS has been providing help to the most vulnerable. Today, CSS works in three priority areas, serving newcomers to Canada, serving individuals with disabilities, and serving individuals, children, and families. Each year, more than 21,000 Albertans in 12 communities across central Alberta, are uplifted and empowered through CSS.
EDMONTON WEATHER FROM HIGH HEIDI
Electronic Signature Technology
E personal vpnssoft.net/5-reasons-why-you-should-use-digital-signatures-and-barcodes-to-prevent-fraud/ technology helps businesses expedite deal signing and make it easy for clients to sign their deals online. In addition, it helps cut costs and increase turnaround times meant for contracts that require multiple signers.
Whether it has new job long term contracts, housing contracts, non-disclosure agreements or other legal papers, e personal unsecured software is essential for a smooth, helpful workflow. It offers real-time status information on the course of the doc signing process, which means that the two signees and companies can easily track improvement.
The at the signature technology you choose should adapt to your specific processes, solutions, user management and authentication requirements. It should also incorporate with your organization systems and reliability policies, and become based on internationally accepted standards.
It should be capable to support all types of signatures, including online, inlayed, link-based, large and API based. It should also be searchable to enable fast access to authorized contracts during audit or a legal dispute.
In terms of secureness, e personal software must be able to validate the integrity of a digital signature. To do this, it uses a digital certificate that contains the exclusive key with the signer. This kind of key is then simply used to encrypt the personal.
To ensure that a great e-signature is valid, it must contain information about the document it truly is applied to, such as its hash value and a time stamps associated with the unsecured personal. The hash value is then weighed against the content of the document. If they happen to be different, the personal unsecured is considered flawed.