Carbon Levy's Impact On Local Businesses Concerning For Chamber Of Commerce
By Sheldon Spackman
After three and a half months of Alberta businesses living with the new Carbon Levy, the Red Deer and District Chamber of Commerce is voicing concern over the impact it's having. The Chamber sent out a survey to 121 of it's members from a cross section of industries recently to find out more about what impact, if any, Alberta's Carbon Levy is having on them and the results are raising concerns.
Interim CEO Rick More points out most Central Alberta businesses are reporting higher costs and reduced profits during a fragile economic climate of low growth and high unemployment. The Chamber shared these statistics to paint a clearer picture of what is taking place:
75% of polled Central Alberta businesses are facing higher costs from their vendors and suppliers because of the carbon levy but only 32% passed on cost increases to their customers.
As a result of the carbon levy, 44% of businesses report they expect to reduce their spending, 22% expect their sales to decline, and 60% expect their profits to decline.
27% of businesses made changes to their operations to reduce or mitigate costs incurred from the carbon levy. Some methods included cutting the frequency of transportation activity, heating buildings less, and installing LED lights, other businesses had to resort to reducing hours, wages, and even cutting staff.
Globalive boosts Freedom offer with network and spectrum sharing deal with Telus
Toronto – Globalive Capital says it has signed a network and spectrum sharing agreement with Telus Corp., in an effort to boost its bid to purchase Freedom Mobile.
Freedom is up for sale as a result of Rogers Communications Inc.'s $26 billion deal to buy Shaw Communications Inc., Freedom's current owner.
The sale of Freedom is expected to be a condition of that deal's approval by Innovation, Science and Economic Development Canada, and is seen as the best way to maintain competition in the wireless space while allowing the merger to move forward.
However the deal is facing opposition from the Competition Bureau, which argues the merger should not go ahead even if Freedom Mobile changes hands.
In May 9 filings to the Competition Tribunal, the regulator said the sale of Freedom Mobile would fail to add competition to the telecom sector, arguing that the new owners "are likely to provide less effective financial, managerial, technical or other support," making it harder for the carrier to go up against Rogers, BCE Inc. and Telus.
The Globalive agreement is conditional on its successful acquisition of Freedom Mobile.
Globalive founder and chairman Anthony Lacavera said his firm's ownership of Freedom would ultimately lead to cellphone bills coming down and will provide customers with "the same network experience" customers of Canada's big telco companies get.
Lacavera also said that he will continue to invest in Freedom and build out the network if Globalive's bid for the carrier is successful.
"We're planning on going forward and acquiring more spectrum in upcoming auctions that we will then subsequently share in the spectrum and network sharing agreement with Telus and further expand the capabilities of the Freedom network," he said in an interview.
Lacavera added that his bid will address the Competition Bureau's concerns regarding the sale of Freedom and the Rogers-Shaw deal overall.
In addition to Globalive, Quebecor Inc. has expressed interest in the carrier. Meanwhile, rural internet provider Xplornet Communications Inc. has reportedly been presented to regulators as a potential buyer.
Lacavera has said he'd like to see a U.S.-based carrier such as T-Mobile step in, if Globalive isn't the successful bidder.
Freedom Mobile, formerly known as Wind Mobile, was founded by Lacavera in 2008. After financial troubles and foreign ownership challenges, Wind Mobile was sold to Shaw in 2016 and underwent a rebrand.
This report by The Canadian Press was first published May 19, 2022.
– With files from Craig Wong
Companies in this story: (TSX:T, TSX:RCI.B, TSX:SJR.B)
Red Deer Brewery to hold Beer Tasting on the Ross Street Patio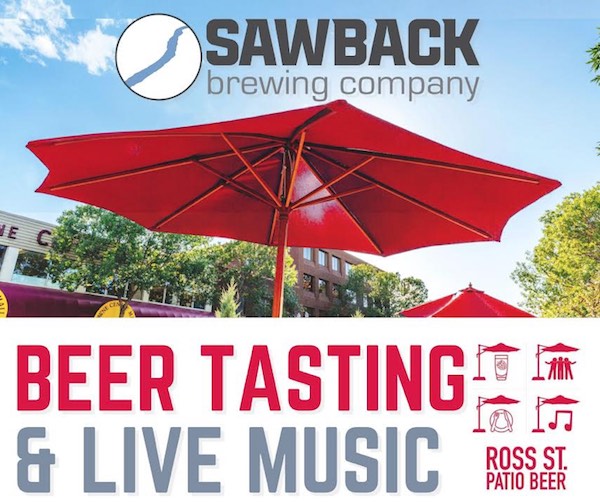 Sawback Beer Tasting on the Ross Street Patio
The Ross Street Patio is celebrating its 10th summer and Sawback Brewing Co. is releasing a new Raspberry Ale named after the Downtown's most loved feature – The Ross Street Patio!
On Friday, May 27th, the Downtown Business Association and Sawback Brewing will host a free tasting from 5-8PM, complete with live music from Paeton Cameron and James Adams and a light snack from Chubby's Jerk BBQ & Kitchen! Visitors can then grab a seat on one of the adjacent restaurant patios for a full-sized Ross Street Patio Beer and enjoy the show. This event is free and open to the public.
Amanda Gould, Executive Director of the DBA says, "This is such an exciting time for the Ross Street Patio and Downtown. We have so much planned over the summer and the next natural step is to license the entire patio through council deeming it an Entertainment District. We will find out in the beginning of June if council approve the bylaw and, straight after that, you can start enjoying full-sized beverages right on the patio while enjoying the summer entertainment!"
The Ross Street Patio is the hub of downtown entertainment, and the DBA is proud to be programming it for the summer season – summer activities include art installations, live music and family fun activities. "Follow us on Facebook to keep updated on what's going on and when. If you are a community group or an event organizer wishing to bring some activity to Ross Street Patio, please direct message or call the DBA to find out about the support, including financial support, that we can provide to help your event or activity come to life."
The Downtown Business Association has been operating in Red Deer for over 30 years, serving approximately five-hundred business owners in the Downtown area. Through partnerships and leadership in advocacy and promotion, the DBA is the catalyst for a vibrant and prosperous downtown that is the place to live, work, play and do business.