Car stolen at gunpoint in Blackfalds
From Blackfalds RCMP
Blackfalds RCMP investigate car jacking
The Blackfalds RCMP are looking for two males who are alleged to have stolen a car at gunpoint on Jan. 1 in the evening.
At 9:30 p.m., the RCMP were dispatched to a complaint of an armed robbery which just occurred on Range Road 272A.  Four males were sitting in two separate cars, when a green Dodge Ram truck stopped on the road.  Two males from the truck showed what appeared to be shotguns, took the keys belonging to the occupied Mitsubishi Lancer then drove it away.  Before leaving, they slashed the tires on the second vehicle, leaving it not driveable.
One suspect male fled in the Dodge Ram, one in the Mitsubishi.
The male suspects, who are both believed to be in their early twenties, are described as:
Suspect #1
–          Caucasian
–          Approximately 5'8" to 6' tall / slightly chubby
–          Blonde eyebrows
–          Wearing a green bandana on his face / black hat
–          Tattoos on his neck and hands
Suspect #2
–          Caucasian
–          Approximately 5'5" to 5'8" tall / skinny
–          Clean shaven, one tattoo on his hand
–          Wearing a grey hoodie
They were last seen driving south on Highway 2A.  The Mitsubishi Lancer is grey, 4 door. The Alberta license plate is CDS4455.
If you have seen this vehicle, or have information about the identity of these males, please call the Blackfalds RCMP at 403-885-3300.  Based on the information provided, these males are believed to be armed and should not be approached. If you wish to remain anonymous, you can contact Crime Stoppers at 1-800-222-8477 (TIPS), online at www.P3Tips.com or by using the "P3 Tips" app available through the Apple App or Google Play Store.
Train Derailment south of Lacombe: 1 rail car leaked liquid asphalt
News Release from Blackfalds RCMP
Blackfalds RCMP advise of train derailment – Update
Blackfalds, Alta. – On July 2, 2021, at 8:15 p.m., Blackfalds RCMP received a 911 call of a train derailment along Highway 2A in Lacombe County.
Initial reports suggested a number of oil cars were leaking oil and possibly on fire. A nearby residence was evacuated as a precaution, and multiple emergency crews responded.
Emergency crews were able to determine that 23 train cars had derailed, four of which were carrying Tar Oil (liquid asphalt). Upon further inspection, only one of the cars was found to have a leak while the remaining were intact. No fires had started.
No injuries were reported and those evacuated were able to return home.
CP Rail and Lacombe County Emergency Management remain on scene and Highway 2A is expected to be blocked to traffic for several more hours while crews investigate and cleanup.
CP Rail Police has taken over this investigation.
$100,000 to the winning community – Come on Red Deer – we can do this!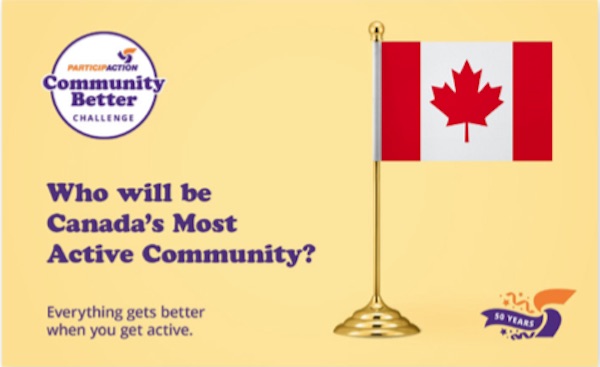 The Red Deer Wellness Network is excited to announce that Red Deer will be participating in the ParticipACTION Community Better Challenge from June 1st – June 30th, as we strive to be named Canada's Most Active Community.
The ParticipACTION Community Better Challenge is helping strengthen communities through physical activity and sport because everything gets better when you get active. ParticipACTION is awarding $100,000 to the community who rallies the most participants and accumulates the most active minutes during the challenge. There is also a new this year, Provincial Prize. Participants can also win individual prizes through the ParticipACTION app when activity minutes are logged.
We are encouraging all residents aged 17 and older to download the app and track their activity to support our Community Better challenge! You can also track it on the website. 
It's as easy as 1, 2, 3!
1. Download the new ParticipACTION app
2. Track and contribute to total active minutes from June 1st to June 30th.
3. Invite your friends to do the same! You can also create a team on the app to encourage one another along the way and win team prizes.
Schools, Sport Organizations, Workplaces and Gyms are encouraged to track their activities as a group on the ParticipACTION website. Families can track for their whole family on the website and groups can track for large group participation.
Steps to log as a group:
Step 1:  Go to www.participaction.com/challenge
or scan this QR Code.
Step 2: Sign up as a group organization or as a family with a name and e-mail
Step 3: Start tracking activity minutes from June 1-June 30th. You may enter daily or all at once.  Example: School Name, 500 students, 60 minutes of activity/day, 10 days
Step 4: Deadline to enter all minutes is July 1st at midnight
The Red Deer Wellness Network is an umbrella organization for a variety of non profit groups in the city that have a focus on wellness, active living and healthy nutrition.