"You Have To Take The Emotion Out Of Investing" – Are You Considering Buying In?
Are you? You may not be the only one. We have seen stock markets like the Toronto Stock Exchange take major hits over the past two months due to the effects of Covid-19 taking its toll on almost every industry. With some recent rises in markets continuing to build investor confidence, we are still left in the unknown for why this is happening. Living through a historically unprecedented time uncovers a long list of questions and concerns for our livelihood as individuals, quality of life for the future, and how best to navigate through this time. I'm sure during the Irish potato famine in 1845-1849, there were many people asking – what's going on with all the potatoes?
In a survey undertaken by the group "500 Startups" based in Silicon Valley, surveyed a group of investors to report on how they have been affected by the pandemic. The investor group consisted of venture capitalists, angel investors, corporate venture investors, and family office investors. The report showed 83% having their investment activity and plans be affected by Covid-19. As seen in the chart below, 62.6% of the group feel that startups and early-stage investors will be feeling the effects of the pandemic for 1-2 years. Their advice to startups during this time is to simply decrease costs and to increase their runway for how long they can stay in business.
Data taken from 500 Startups report on The Impact of COVID-19 on the Early-Stage Investment Climate
We spoke with Kevin Skinner, an investment advisor for Servus Wealth Strategies, who gave us some insight and knowledge pertaining to open concerns for novice investors who may be seeking to enter the market or simply are in the dark for what to with their holdings. Kevin has been working in the financial services industry for over a decade and is a top investment advisor in their St. Abert branch.
Considering what we have seen so far in stock markets, Is it a good time for new long term investors to buy now or continue to wait?
Striving away from the idea that fortune-tellers exist within trading, which is not true, a good education on markets is always a good pre-market investment of your own time. In regards to those looking to be a long term investor, he mentions:
"If you're a long term investor the adage is that it's always the best time…so question number one has to be, can you afford to invest the money right now…the second question is, what else can you do with this money. If you have $10,000 in the bank and $10,000 in credit card debt, always better to pay off the debt than you are investing that money."
We want our money working for us right? Having a solid grasp of how your money is working for you may allow you to make a better-educated investment without adding any financial risk. The idea that there are smoke signals in the market to tell you it is the right time to invest, he mentions:
"If it was that easy, I would be sitting on my private island somewhere enjoying the world…It really is about investing correctly and investing to your plan. If your plan is to have the money for the long term, You need to have an understanding of your risks and your comfort."
What if I have money to invest right now, should I wait for the bottom line?
Kevin advised the dollar cost average tool to take the emotion out of investing. With so much volatility in the market, we revisit the concept that fortune-tellers exist to tell other investors when to buy; there is no way to fully identify the risks. To ensure you're getting good value for your money, Kevin offers an example of the dollar cost average approach:
"Take your pool of money, call it $12,000. You invest $1,000 a month in a particular fund. You catch the market as it wobbles, so you don't necessarily buy it all at the bottom, you're definitely not buying it all at the top. You're averaging your cost date and to get a good value for what you're buying."
Do you have an opinion on panic selling at a loss?
Straight out of the gate, Kevin is a firm believer that anything that involves the word "panic" is never a good thing. Investopedia's definition of panic selling refers to the sudden, wide-scale selling of a security or securities by a large number of investors, causing a sharp decline in price. We have seen this as a result of the COVID-19 pandemic. Panic selling can be directly related to having an emotional connection to your investment, but to ensure the doom and gloom doesn't get the better of you, having an objective view allows you to stay logical and stick to your plan. Kevin mentions:
"you have to do whatever you can to pull that emotion back out. Panic selling immediately is focused on the emotional side of it. You have to remove the emotion from investing."
Not as easy as it sounds right? We are going through an emotionally ramped up time during this pandemic, not to mention dealing with all the other unknown realities of how our economy will bounce back or when the non-essential business will be reopened. Kevin recommends choosing places to move your investments to take the panic out.
"You don't call a realtor when your house is on fire. That's where we're at in the market right now, we know the house is on fire. We don't know how long it's going to last, how bad it's going to be, or what it's going to look like when it's put out."
Can you offer any comment on the fear of more lows, or what are the key indicators that we should be aware of?
We have seen stocks rise over the past week due to economic stimulus measures and the actions being taken to gradually reopen global economies. Experienced investors are forward-thinking individuals, they take into consideration the risk-reward for having objective optimism in certain industries. Kevin encourages to take the view that the rises we have seen are temporary for now, he mentions:
"Know that there's another drop coming. Know that we don't know how bad it's going to be. And we don't know how long the recovery is going to take. which is why we're saying it's going to be 2021 at least before the flooding of the market recovers"
We are expecting a long and slow road to recovery, but finding the bottom line can be almost impossible. Ask yourself, what happens to market optimism if a vaccine is made available tomorrow? Does that mean the market will become flooded with investors? It is impossible to know; by choosing a trusted investment advisor they can assist with taking the emotion out of your investments, and you can lean on their knowledge of markets to offer that objective optimism. For individual investors, it is useful to be aware of the activity in that sector to aid in growing your confidence, or the counter, it may give you key information to avoid a bad buy right now.
How have you been navigating through this time?
Kevin is one of many continuing to work from home during this period of self-isolation. With any new environment carries challenges. He is thankful for Servus Credit Union for the support he has received and the efforts put forward by the whole team. He has been spending some time in the welcomed sunshine playing sports with his 12-year-old son in his driveway.
What has Servus Credit Union been proactively doing to support its customers right now?
Servus Credit Union released their response to COVID-19, issuing kind words to their members that they are here for them during this time. Their CEO, Garth Warner also released a personal letter to all of their members speaking on behalf of the team doing everything they can do to support their members. Kevin mentions:
"Our members are truly members, they're all owners. Everyone who deals with the credit union holds a piece of the credit union. Right now we're trying to keep our whole business, our owners, and our members afloat…so whatever we do, is what's best for us as an organization which means it's also what's best for our members"
What are you personally looking forward to after this period of self-isolation?
"I coach sports. Of course every kid's sport is canceled right now. We lost the end of our sports seasons for the winter, we're going to miss the beginning of our sports season for the spring. And that's what I miss most is getting outside with the kids and just having fun."
If you would like to learn more about Servus Credit Union, Servus Wealth Strategies or Kevin Skinner, visit their website or social links below.
Facebook Twitter LinkedIn Instagram YouTube
For more stories, visit Todayville Calgary
OPEC+ weighs large oil cutback to boost sagging prices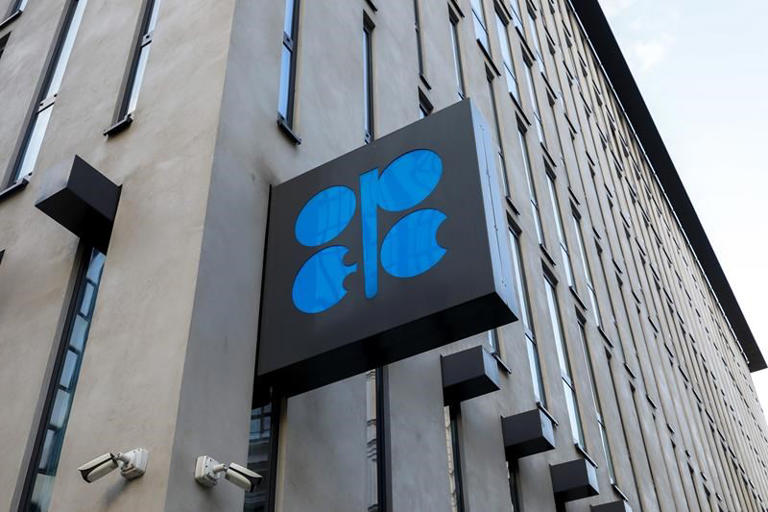 FRANKFURT, Germany (AP) — The OPEC+ alliance of oil-exporting countries on Wednesday will debate a potentially large cut in the amount of crude it ships to the global economy — a move that could help Russia weather a looming European ban on oil imports and raise gasoline prices for U.S. drivers just ahead of national midterm elections.
Energy ministers from the OPEC cartel, whose leading member is Saudi Arabia, and allied non-members including Russia are meeting in person at the group's Vienna headquarters for the first time since early 2020 at the start of the COVID-19 pandemic. Russian Deputy Prime Minister Alexander Novak, who has been sanctioned by the U.S., was attending the meeting in Austria's capital.
A production cut could benefit Russia by establishing higher prices ahead of a European Union ban on most Russian oil imports, a sanction over the invasion of Ukraine that takes effect at the end of the year, analysts at Commerzbank say.
Russia "will need to find new buyers for its oil when the EU embargo comes into force in early December and will presumably have to make further price concessions to do so," the analysts wrote in a note. "Higher prices beforehand — boosted by production cuts elsewhere — would therefore doubtless be very welcome."
Moscow also faces a separate push by the U.S. and the other Group of Seven wealthy democracies to impose a price cap on Russian oil by Dec. 5. The EU agreed Wednesday on new sanctions that are expected to include a price cap on Russian oil, an EU official said.
Oil prices surged this summer as markets worried about the loss of Russian supplies from sanctions over the war in Ukraine, but they slipped as fears about recessions in major economies and China's COVID-19 restrictions weighed on demand for crude.
The fall in oil prices has been a boon to U.S. drivers, who saw lower gasoline prices at the pump before costs recently started ticking up, and for U.S. President Joe Biden as his Democratic Party gears up for congressional elections next month.
It's unclear how much impact a production cut would have on oil prices — and thus gasoline prices — because members are already unable to meet the quotas set by OPEC+. Yet Saudi Arabia may be unwilling to strain its relationship with Russia even if the world's largest oil exporter had any reservations about cutbacks and has recently has drawn leaders from Biden to German Chancellor Olaf Scholz to talk about energy supplies.
The Commerzbank analysts said a small trim would likely see oil prices fall further, while the group would need to remove at least 500,000 barrels day from the market to bolster prices.
Such a production cut "would undoubtedly signal to the market the determination and resolve of the cartel to support oil prices," said UniCredit economist Edoardo Campanella. But supply would drop by less than announced.
"If the group cuts target production by 1 million barrels per day, actual output would likely drop by about 550,000 barrels per day — as countries like Russia or Nigeria that are producing below quota would see their formal target decline but remaining above what they can currently produce," Campanella said.
At its last meeting in September, the group reduced the amount of oil it produces by 100,000 barrels a day in October. That token cut didn't do much to boost lower oil prices, but it put markets on notice that OPEC+ was willing to act if prices kept falling.
International benchmark Brent has sagged as low as $84 in recent days after spending most of the summer months over $100 per barrel. U.S. oil prices fell below $80 per barrel Friday. Ahead of the meeting, U.S. crude traded at $86.38 and Brent at $91.66.
The White House declined to comment before OPEC leaders made a final decision on oil production, but press secretary Karine Jean-Pierre told reporters Tuesday that the U.S. would not extend releases from its strategic reserve to increase global supplies.
"We're not considering new releases," Jean-Pierre said.
Biden has tried to receive credit for gasoline prices falling from their average June peak of $5.02 — with administration officials highlighting a late March announcement that a million barrels a day would be released from the strategic reserve for six months. High inflation is a fundamental drag on Biden's approval and has dampened Democrats' chances in the midterm elections.
Gasoline prices recently turned up because of refinery outages in California and Ohio, and vary widely, from over $6 per gallon in California to under $3 in some parts of Texas and the Gulf Coast, according to motoring club federation AAA. The national average of $3.80 is up slightly but down from a record high on June 14.
One major factor weighing on oil prices has been fears of recessions in places like the U.S. and Europe and slowdowns due to China's strict COVID-19 measures.
Higher inflation is sapping consumer purchasing power, while central banks are raising interest rates to cool off overheating prices, a step that could slow economic growth. Oil prices at their summer highs, and higher natural gas prices boosted by Russian cutbacks to Europe, helped fuel inflation.
___
Associated Press reporter Josh Boak contributed from Washington.
David Mchugh, The Associated Press
Musk says he wants Twitter again and will pay $44B price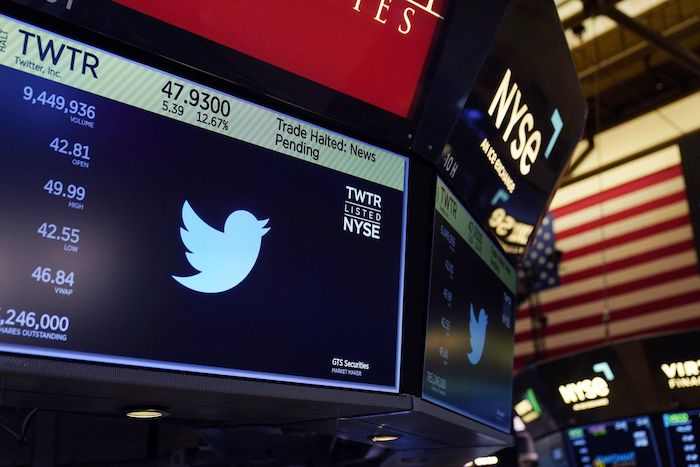 By Tom Krisher, Matt O'brien, Randall Chase And Barbara Ortutay
Elon Musk wants Twitter again — and Twitter is game. The billionaire Tesla CEO has proposed to buy the company at the originally agreed-on price of $44 billion, bringing the tumultuous, monthslong saga another step closer to a conclusion.
Musk made the surprising turnaround not on Twitter, as has been his custom, but in a letter to Twitter that the company disclosed in a filing Tuesday with the U.S. Securities and Exchange Commission.
It came less than two weeks before a trial between the two parties over Musk's attempt to back out of the deal is scheduled to start in Delaware. Musk also faced a scheduled deposition by Twitter attorneys starting Thursday.
In response, Twitter said it intends to close the transaction at $54.20 per share after receiving the letter from Musk. But the company stopped short of saying it's dropping its lawsuit against the billionaire Tesla CEO. Experts said that makes sense given the contentious relationship and lack of trust between the two parties.
"I don't think Twitter will give up its trial date on just Musk's word — it's going to need more certainty about closing," said Andrew Jennings, professor at Brooklyn Law School, noting that the company may also be worried about Musk's proposal being a delay tactic. After all, he's already tried to unsuccessfully postpone the trial twice.
Trading in Twitter's stock, which had been halted for much of the day pending release of the news, resumed trading late Tuesday and soared 22% to close at $52.
But even if the deal now goes through without a hitch, it's too soon to call a victory for Twitter, said Jasmine Enberg, an analyst with Insider Intelligence.
"The deal will solve some of the short-term uncertainty at the company, but Twitter is essentially in the same place it was in April," she said. "There is still plenty of uncertainty around what Musk intends to do with Twitter, as well as the future of a company with a leader who has wavered in his commitment to buying it. And if we've learned anything from this saga, it's that Musk is unpredictable and that it isn't over yet."
Musk's proposal is the latest twist in a high-profile saga involving the world's richest man and one of the most influential social media platforms. Much of the drama has played out on Twitter itself, with Musk — who has more than 100 million followers — lamenting that the company was failing to live up to its potential as a platform for free speech and had too many bots.
While some logistical and legal hurdles remain, Musk could be in charge of Twitter in a matter of days — however long it takes him and his co-investors to line up the cash, said Ann Lipton, an associate law professor at Tulane University.
A letter from Musk's lawyer dated Monday and disclosed by Twitter in a securities filing said Musk would close the merger signed in April, provided that the Delaware Chancery Court "enter an immediate stay" of Twitter's lawsuit against him and adjourn the trial scheduled to start Oct. 17.
Attorneys for Musk did not respond to requests for comment Tuesday.
Musk has been trying to back out of the deal for several months after signing on to buy the San Francisco company in April. Shareholders have already approved the sale, and legal experts say Musk faced a huge challenge to defend against Twitter's lawsuit, which was filed in July.
Eric Talley, a law professor at Columbia University said he's not surprised by Musk's turnaround.
"On the legal merits, his case didn't look that strong," Talley said. "It kind of seemed like a pretty simple buyer's remorse case."
Musk claimed that Twitter under-counted the number of fake accounts on its platform, and Twitter sued when Musk announced the deal was off.
Musk's argument largely rested on the allegation that Twitter misrepresented how it measures the magnitude of "spam bot" accounts that are useless to advertisers. Most legal experts believe he faced an uphill battle to convince Chancellor Kathaleen St. Jude McCormick, the court's head judge, that something changed since the April merger agreement that justifies terminating the deal.
Musk remained mum about the turn of events on Twitter until late Tuesday afternoon, when he tweeted that "Buying Twitter is an accelerant to creating X, the everything app" without further explanation.
____
Associated Press writer Marcy Gordon in Washington, D.C., contributed to this report.